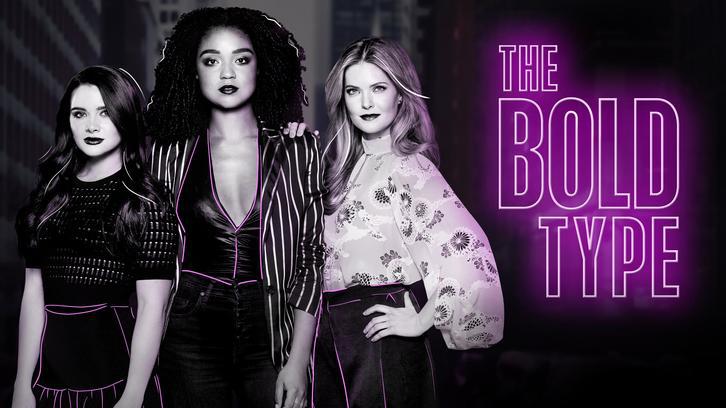 This week on the season premiere of The Bold Type, Jacqueline has been fired for the latest issue of the magazine and the board is refusing to release it. So Jane, Sutton, and Kat have the brilliant idea to steal a copy so they can show it to Jacqueline and hopefully rekindle her spirit to fight. But they hand it out to more than just Jacqueline and the issue leaks. They were caught on camera and are about to lose their jobs but the issue caused quite a reaction online which Kat uses to her advantage. She convinces the board to release the issue and rehire Jacqueline. Patrick quits his job. Ryan returns early from his book tour. Richard takes a sabbatical from work to go to San Francisco.

Like a boss: Kat was on fire this week. Total MVP. Not only did she make Patrick re-evaluate his life choices with one conversation, but she also managed to change the minds of old white guys with numbers and facts. Give it a few years, she'll be running the place. Seriously, though. Kat has grown so much over the course of this show. And losing the election has clearly not slowed her down. Because we have to remember that while it's been nearly a year for us, for Kat that was only a few days ago. But maybe it was for the best. It would've taken up so much of her time, that can now be spent on her career at Scarlet. And I think it will be an impressive career indeed.

Do crime in style: You know, often with a hiatus, I tend to forget certain details of characters. When you watch as many shows as I do (and read as many books), things start to blur together a bit. But this show wastes no time reminding us why we love these characters. Sutton is sad, so she puts on a gorgeous designer dress. No one even bats an eye on the fact that Sutton is walking around the office in a designer gown. Just a normal day at the office for Sutton. And then when they go to steal a copy of the magazine, you'd think she'd change into something less memorable. Nope. I'm curious to see how her long-distance relationship with Richard will go this season. Sutton is not the jealous type, I don't see that being an issue. But between him being busy at his new job and Sutton being busy at hers, I think finding the time to talk will be their biggest issue. And what if it goes so well for Richard that it becomes a permanent thing?
Tiny but persistent: If Jacqueline had a cheerleading squad, Jane would be its captain. I actually love how committed Jane is to Jacqueline. Kat explained it correctly to Patrick. Jacqueline does have this quality about herself that makes you want to risk your job for her. And Jane is probably the one who worked closest with Jacqueline out of everyone at the office (perhaps with the exception of Andrew). So for her, this is extra personal. I've mentioned it before but I really love how this show does boss-employee relationships (not just Jacqueline, Oliver as well). Yes, Jane risked her job for Jacqueline but you know that Jacqueline would do the exact same for Jane, and for everyone else that works for her as well. I fact she made it a condition of her return that their jobs would be safe. I'm starting to think that "tiny Jane" is no longer an adequate nickname. Yes, she's still tiny but she's also a force to be reckoned with if you go after the people she cares about.
I sense trouble: While things went from bad to great for Jacqueline at work (aside from that "all-digital" thing), I have a feeling her home life is going to start to suffer. At least, her marriage. Her husband has let Jacqueline have her career while he put his job on hold to take care of the kids (they were relatively young if I remember correctly). When she lost his job, he started to look for work again and it seems like he's going through with it even though Jacqueline has her job back. Which is understandable. But his job does take him away from home which means Jacqueline will need to be home more to take care of the kids. She was counting on Patrick taking on part of the workload but that doesn't seem to be happening. And I think that while Jacqueline will try her best to be home more, it will not be that easy. This is a time in her career where she needs to prove herself again. And while her husband wants to support her and has always done so, I think he has his limits and is about to reach them. I hope I'm wrong.
Gimme more: While we've already seen quite a bit of Alex over the past few seasons, Sage and Andrew have mostly stayed in the background. But they are such scene-stealers and drop these great one-liners. I want to see more of them. I mean, we know next to nothing about them, aside from the fact that Andrew worships the ground Jacqueline walks on. Give me some backstories.
Best quotes: Andrew: "Yeah, I'm gonna be sick."
Andrew: "So, I can't lose this job because I cannot do anything else. Oh my god." Sage: "It's okay. Come on. Alex and I are chugging… Uhm, testing Rosé." Andrew: "Oh, I can do that."
Kat: "Maybe Andrew has one. We should call him." Jane: "Me? Andrew hates me." Kat: "He does not hate you." Sutton: "Yeah, he kinda does. It's a territorial Jacqueline thing."
Kat: "I dropped the wine, guys." Sutton: "You had one job, Kat.".
That's it for this week. Check in again next week for an all-new review and let me know in the comments what you thought of this week's episode.
Please be respectful in the comments, any unnecessary rudeness isn't welcome.