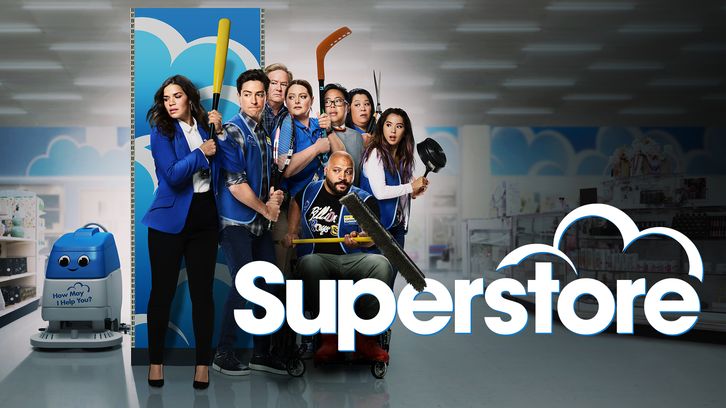 This week's episode of Superstore begins on a sombre note: Myrtle has died. For those of you who might not know, the actress who portrayed Myrtle, Linda Porter, passed away in September of last year.


Though Myrtle was so old that Cheyenne was amazed she had a Yahoo email account, Sandra reflects that Myrtle had gotten less racist as she aged. Sure, she still called Sandra Moana, but that was an improvement and for Sandra that's why representation matters.
A silver lining during the tragedy occurs, though, when an envelope is dropped off for "Sweet Prince Jonah from Cloud 9" and in it there are $1000 from Myrtle. Jonah just hit the inheritance jackpot (okay, it's more of a scratch-off prize, but some money is better than none).
The other Cloud Niners are incredulous, especially Glenn, who drove Myrtle to her doctors' appointments, and who got nothing. They believe that it's just another example of the rich getting richer. When Jonah pushes back that he's got mountains of student loan and credit card debt, Cheyenne asks him how many cruises he went on as a kid, and he sheepishly admits that he grew up comfortable.
This brings me to a point that I've been wondering about for the last couple of seasons: what exactly is Jonah doing at Cloud 9? At the beginning he stayed there to woo Amy, but once that mission was accomplished he's still there, and not really going anywhere. Last episode we learned that Mateo was the previous floor manager and Glenn has that job now. With he and Amy in a stable relationship, isn't it time for Jonah to get back on track on whatever pre-business school dropout plan he was on before Cloud 9?
While Jonah is counting his cash, Glenn is in the dumps, Myrtle's death hitting him hard. So hard that he didn't even name the snail that he found in his car that morning. Jonah tries to cheer Glenn up by saying that Myrtle is all around them but Glenn takes this idea to the extreme and proclaims that Myrtle is trying to talk to them through ketchup packets and cleaning supplies.
The two story lines converge when Jonah gives Glenn the $1000, telling him that Myrtle probably meant to give it to him anyway. There is one loser and one winner from this arrangement: Amy is the loser, since she wanted to use the money to take a vacation to Florida with Jonah, and Pastor Craig is the winner when he scams Glenn into giving him the money so that Myrtle can get into heaven. Prosperity gospel for the win, y'all!
In other goings-on, Myrtle's death affects Dina in a little bit of a different way. Watching people feel bad about the death, she wants her absentee father, Howard, to feel the same way, so she enlists Sandra to call him up and tell him that Dina has died. As a response to him abandoning her for 23 years I'll label that as harsh but fair.
But Sandra, sweet, kindhearted Sandra, can't quite pull it off and tells him that Dina is about to die. He's so distraught that he manages to track down the phone number to Cloud 9 and makes the 45 minute drive in 40 flat to see what's going on with his daughter. Upon seeing her long-lost father Dina melts into a puddle of goo and become a daddy's girl, showing him around the store (and breaking many security policies as a result) in an effort to make him proud.
When he sees how much of a strong, successful woman his daughter has become, Howard muses that maybe it was good that he left his family to follow his dreams of manufacturing belt buckle knives all those years ago. That flips a switch in Dina, who tells him that her becoming the woman that she is today had nothing to do with him and that it's too late for him to be a part of her life. There's something about this storyline that feels incomplete so I wouldn't be shocked if Howard makes a return appearance sometime in the future.
Finally, we have Cheyenne making big bucks selling Lucy May multi-level marketing cosmetics (otherwise known as being a part of a pyramid scheme). Mateo at first scoffs at her being gullible enough to fall for the scam, but once he sees the wad of cash in her hands he has a change of heart and wants in. Unfortunately his first instinct was right - Cheyenne has over a van full of cosmetics to sell before she even breaks even. Her friend Corona, who suckered her into the scheme and is above her on the pyramid, is the one making the money, so much that she gets a staph infection while rolling around in all those dirty bills.
I also feel duty bound to mention that Garrett gets some Lucy May hand cream that makes his hands smooth but also makes him smell like Hawaiian Punch, which he is embarrassed about when people start making comments. I don't know why he's embarrassed, Hawaiian Punch smells awesome.
Odds and ends:
Favorite quote: "She didn't know what she was doing but she could really move things around." Could apply to so many of our Cloud Niners, but Dina talking about Myrtle.
Favorite blink and you'll miss it moment: Pastor Craig is calling Glenn from Lake Cuomo, aka where George Clooney vacations.
Jonah and Amy actually being cute alert!: They joke about how Amy will propose and that Jonah can pay Amy what he owes her in sex. They seemed like a real couple in this episode, one that actually likes each other.
Anyone else thinks that Amy and Jonah wedding banter will lead to them walking down the aisle this season? Maybe a double wedding with Sandra and Jerry? Thoughts and comments go below!