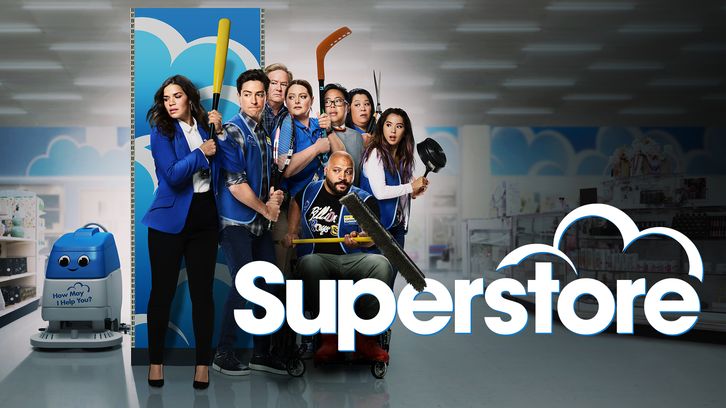 This episode of Superstore opens in the employee lounge with Amy and newly promoted floor manager Glenn doling out assignments to the assembled Cloud Niners. Tensions rise when it's discovered that Amy forgot to put Jonah's time-off on the calendar. When she tries to switch his scheduled shift with another employee a mini-revolt erupts.

More than one person has noticed that Amy has her favorites (it seems she did not invite everyone at the store to her daughter's quinceañera - awkward) and the backlash, plus Marcus threatening to call HR, has Amy doing an about face and leaves Jonah having to find someone to switch with him. Hint: no one wants to switch with him.

Amy does herself no favors when she later orchestrates an employee switch with Dan at the vision center to get Mateo back on the Cloud 9 side of things as her new assistant. Mateo has reached his breaking point with having to give Dan's wife's lifts to other places in Indiana, which I am sure is outside of any sort of "other duties assigned" catch-all that has me doing graphic design at my job against my will. The joke's on my boss, I'm awful at it!

Also, it turns out Myrtle was Amy's previous assistant, and I'm not sure if this was a nugget previously addressed that I just missed or something the show has just pulled out of its bag of plot tricks. Either way, Amy convinces Dan to give her Mateo in exchange for the long-limbed and expert box carrier Eugene while both stay on the books of their previous bosses.

All's well that ends well? Not quite, since Marcus, Justine, Sayid and some other background no-named characters see this as further proof of Amy showing favoritism to certain people. After another threat to call HR Amy agrees to open up the assistant job to everyone, while secretly planning to rig the process to keep Mateo. Things go to plan when Justine announces that her past as a dog groomer has made her "good with hot tempered bitches" (yikes) but quickly turn south when it turns out that Marcus has some admin skills that put Mateo's to shame.


Marcus ends up being better than Mateo at negotiating with suppliers, not killing Amy and singing. Ouch. He even wins the race to write a memo, but that's mostly to Sayid and Justine's alliance thwarting Mateo from finding the printer.
Marcus is super pumped to finally have a desk job, until Amy flat out tells him that even though he was the best she's not giving him the job since Mateo needs it since he's still undocumented, contrary to what she said earlier in the episode. Marcus is willing to cede the job to his friend, but on one condition, relayed in a super creepy, innuendo filled voice.
The show cuts to Marcus sitting in the warehouse at his new desk and Amy in her office, swivel chairs holding up her stuff here her desk used to be. Verdict: fair compromise.
In other storylines, Jonah, while trying to switch his shift, gets jealous when he finds out that Garrett has get-togethers with his bros where he is not invited. The rest of the plot involved Jonah being increasingly annoying and heavy-handed in trying to show Garrett that he can be a bro too. So mostly just regular Jonah stuff.
Finally, new corporate overloads Zephra have mandated that their tech junk be given displays in the store and there's a tug of war between Dina (pro tighter security) and Glenn (pro pretty displays) on how best to do so. Stuck in the middle is Sandra, who's so stressed trying to satisfy the demands of her two higher-ups that she fears she'll go bald before her wedding. She ends up locking them together in a storage cage to that they can hash out their differences but at the end of the episode they're still in there, their only entertainment Glenn's really sucky harmonica playing.
Odds and ends:
Favorite quote: "The only thing you have to ask Glenn is how is how a man turns sixty without reaching puberty."
Favorite blink and you'll miss it moment: Justine has a boyfriend in Ghana. I hope she brings him to the wedding! (Just joking he's probably fake. Right?)
Thing that made me go huh?: Amy keeps mentioning the Limitless pill and no one gets the reference but wasn't that movie so successful they made a not so successful television show out of it? As references go it's not as obscure as the show tries to make it out.

Next episode is the wedding of the century! Will Sandra and Jerry get to say their I dos or will Carol ruin their big day? Comments and thoughts go below!