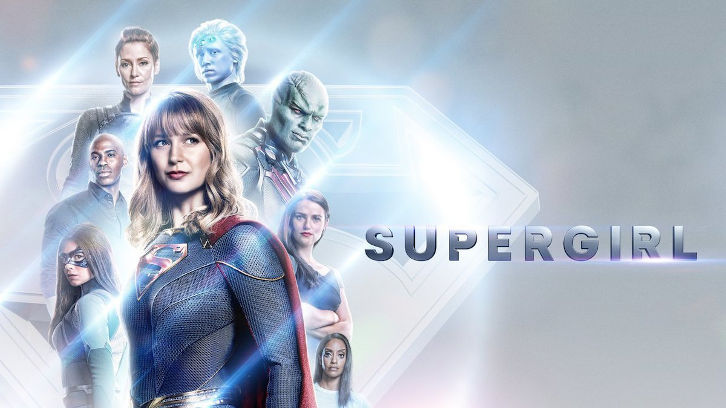 Supergirl 510

Welcome to the return of Supergirl and a new Earth. Earth Prime is now where all the heroes reside as well as a few villains hiding their true colours and it's all a bit confusing not just for us but for our girl of steel.

(As for Crisis some of my fellow Spoiler tv reviewers and I have done a two-part round table review be sure to check it out.)

Previously on Supergirl, we had Lena Luthor channeling her brother Lex with a maniacal scheme to improve humanity that was very similar to myriad, in fact, she stole the myriad tech revealing she is not ok with the betrayal by her best friend. Thankfully she was stopped before her plan could succeed and even the pleads from her former best friend did little to dissuade her intent. In Crisis her anger was still there though she did her best to save the world and you know the road to recovery for these two friends might just be past the point of no return. I hope not as I am not a fan of the whole Lena turning evil Luthor plot even though I felt it was always on the cards.


So, where does that leave us now, we have an Earth where Lex Luthor is very alive, thanks to the book of destiny and little Sis is safe and knows everything too. The Superfriends know the truth, otherwise, that would be very confusing, thanks to J'onn's psychic abilities and the DEO has another new boss ... Lex Luthor.
Lex soon learns he isn't the big bad in town as Lena warns him his newfound Utopia could be threatened by Leviathan, as previously mentioned she has her memories intact, searching the DEO database Lex's finds little about them but he could have a new surprising ally.
While Kara is moaning to Alex, about having to see good guy Lex everywhere and work for him. Alex has her own reservations about working for Lex. Of course, its advice from J'onn that puts her back on track, and you get the feeling Lex and Alex might bump heads a little.
Brainy isn't happy about things either but he finds more than he bargained for while out with Nia as another Brainy appears. Back at the DEO more arrive, and it takes a moment to realise what is happening. It seems while Lex may be everywhere so is Brainy. Escaping the destruction of their Earth's some Brainys' from other Earths', including a female version, find themselves on Earth prime. Unfortunately, something or someone is killing them as they have come to warn this Earth's Brainy. They quickly learn one of them is not what he seems and plans to bring his earth back, he managed to shrink it and put it in a bottle, something comic book fans will know is a Brainiac trait. However, bringing it back could destroy everything. Of course, the other Brainy and Superfriends aren't going to allow this to happen. We learn more about Brainy and how he has inhibited his emotions and kept himself closed off from the hive mind something he is warned he must do in order to save this Earth from the biggest threat Leviathan. The other Brainy's return to the collective leaving Earth's Prime's Brainy a warning and advice.
Andrea Roja's and her company are very much still controlled by Leviathan though she doesn't realise this due to events being rewritten. Gemma Cooper isn't who she appears to be.
Kara also finds a new ally in fellow reporter William as it would seem Lex's history isn't as squeaky clean on this Earth either.
Brainy has some hard decisions to make revealing his true and green self ( another nod to comic fans) and the hardest is turning his back on Nia, I adore the romance of these too, but it shows Brainy is focused on what he needs to get done whatever the cost. The warning from one of his counterparts was he needs to work with Lex that's one I didn't see coming but we will have to see if that's exactly what's needed to defeat Leviathan. Haven't they got a world of Superheroes too… Just saying!
The star of this episode though was Jesse Rath and his portrayal of the various Earths Brainiac's gave us a full range of emotions we don't often see from our Earth's inhibited Brainy. I do feel his character will be different moving forward. I also loved the guest-starring of his sister Meghan Rath as the female Querl Dox/Brainiac 5. It also gave us the perfect set up for what is to come in the next part of season 5, a season that has teased a few things but has failed to deliver us anything solid. Moving forward with this season 5 I feel at time's the viewer may find it confusing that what we may remember isn't as it was. While this can hide as previously mentioned in reviews a lot of mistakes made in story and timeline, the writers also need to remember that certain character's do remember event's so that needs to be made clear in the writing when talking about event's post-crisis. One Earth-Prime multiple possibilities.
Lex a good guy though! I am with Supergirl on this one it's like waking up in your worst nightmare. However, I have to say it a brilliant way to bring back Jon Cryer's Lex Luthor. Also, Brenda Strong as Lillian Luthor makes an appearance and you do wonder at Lena's intelligence if she falls for their schemes again.
Next week we have an old cast member returning but will his knowledge of the future help our hero only time will tell.
So, what were your thoughts on this week's episode?
Please post in the comments below.