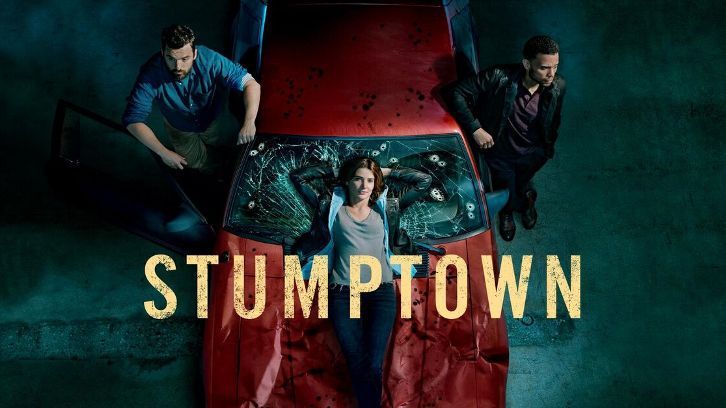 Repercussions of last week's mid-season premiere ripple through Episode 1x11 of Stumptown, The Past and the Furious and a new case brings up painful memories for Dex (Cobie Smulders). Fellow Spoiler TV writers Ellys Cartin and Marko Pekic and I discuss those topics and more in the latest edition of Stumptown Review Roundtable. Read our comments below and share your own at the end of the article. Don't forget to submit your questions for our next roundtable in the comments section.


Grey (Jake Johnson)'s first big undercover role moved quickly enough to induce whiplash. He fractured his brand-new partnership with Hoffman and essentially begged to be outed to the car gang he was infiltrating. Is Grey's recklessness in this episode consistent with his characterization so far in the series? Why or why
not?
DC -
Sadly I think it is consistent with how all over the board Grey's characterization has been written in the past few episodes. He becomes so infatuated with Max (Inbar Lavi) he lets his feelings for her guide his decision making. It goes to a pattern that a pretty face can easily cloud his judgment. The same thing happened with his previous girlfriend which ended up threatening his friendship with Dex. In this case, his misjudgment could cost someone their life. Although, just a side note, part of me thinks he's going to get blind-sided again when Max turns out to be an undercover federal agent.
EC -
Considering how calmly Grey navigated the Kane situation, I was surprised to see him start to buckle under the pressure of the undercover operation. He's been with them possibly no more than a few days. The implication that he's attracted to Max and thus doesn't want her to be arrested not only comes up too soon but also feels a little silly. Also, his speech to Max about whether she wants a normal life couldn't have been more of a giveaway. If we don't quickly learn that she's on to him, we'll have to question her intelligence too. He had no reason to even suspect she might be dissatisfied with her current line of work, so him waving the red flag directly in her face must have some repercussions.
MP -
I would say it is a combination of smart and reckless. Grey isn't playing games and he loves his life and while he wants to help Hoffman (Michael Ealy) he knows how this game is played. The smallest mistake can cost him his life and he won`t risk it. The push and pull with Hoffman are part of their off-beat chemistry and we all knew this collaboration wouldn`t be that smooth.
The show has been giving us two very different Greys in these past couple episodes. When Grey wasn't putting the pedal to the metal, he was helping Ansel (Cole Sibus) accomplish the latter's grownup bucket list which led to a surprisingly heartfelt scene. What is your take on the revelations here and what it might say about Ansel moving out?
DC –
While Grey does have a special connection and way of communicating with Ansel that is admirable, I in no way think he's the right role model for him. I think Ansel chose him for that part because he's likely to be the only male he's been around consistently. I think it was a guy thing that had Ansel going to Grey with his list rather than his sister, or as I suspect it was more he is, like any young adult, experiencing growing pains and wanted to be out on his own. Moving in with Grey was a compromise. As far as Grey helping him with his list, I don't think Grey makes the best choices when it comes to women particularly when it comes to asking a girl out.
EC -
Grey's recognition that Ansel was seeing him as a role model and the subsequent advice he offered was a lovely scene, even though I'm having a hard time reconciling slightly foolish undercover Grey with the one who is taking care of Ansel. The latter's list and hopes to ask a girl out indicate that he was feeling stifled at home with Dex. Perhaps he can't quite put it into words, but Ansel was aware he had to fulfill a certain role to maintain the balance with Dex, that of the younger kid sibling, and he didn't feel he could expand his horizons under her watch. We've seen that she lovingly treats him like a little kid, but he isn't one anymore.
MP -
It gives dimension to both Ansel and Grey. Grey is Ansel`s male role model. Ansel sees Grey and all the stuff he would love to have in his life. Grey being supportive towards Ansel just shows what type of person he is. For Grey, all that Ansel admires is coming naturally to Grey so he isn`t reading too much into it but for Ansel, it means the world.
One of the first things Dex did after Ansel moving out was throwing a wild party. Is she reacting as you expected her to? And what is your take on her impromptu confession in the church and what her admissions there could be telling us about Dex's past and future?
DC –
Dex had the wild party because she was in pain and couldn't face an empty house. Calling Tookie (Adrian Martinez) to bring tacos was, whether she recognized it as such or not, a roundabout way of calling for help. I loved how when he got there and saw the shape she was in, he tried to take her beer from her, and I believe he stayed with her until almost everyone left. It's exactly how she would have reacted. The confession was Dex challenging the only authority she may respect, God. She was questioning why she was still being punished for her one mistake, the one time she said she didn't want to take care of her brother. Her supposed failure as a good daughter and sister haunts her. Her lashing out is again Dex in pain, but it also shows how much she has grown. She realizes she has more work to do on herself and recognizing it is a good step yet it scares her to death.
EC -
Eventually Dex was going to throw a rager, and the wild party fit well into this episode in terms of her connections to the ever so slightly concerned Tookie and new client Jeremy (Robert Adamson). I think when she walked into the church that Dex saw a chance to voice her feelings to someone and talking at something was better than talking to herself. She clearly thinks that Ansel moved out because he felt he was somehow a burden, a feeling she traces back to something she said in anger during an emotional confrontation with their parents. This scene was quiet yet gripping just the way Smulders delivered it. I think we saw the next evolution of Dex here. She is much more aware of how she's choosing to respond than the Dex we met earlier in the season.
MP -
It was a pure Dex move, getting smashed so she doesn`t have to face her feelings. Dex puts so much pressure on herself and being there for Ansel, supporting him and giving him all he needs. Him leaving made her feel like she failed him and herself in protecting him and providing him a normal life.
Besides the things Dex confronted within herself this episode, by the end, she was also considering getting support for her PTSD, after some gentle encouragement from her client and fellow veteran Jeremy. This has been a long time coming for Dex. Will this be a turning point for her?
DC –
I truly love the way they are crafting and telling this PTSD storyline. The writers are being measured and careful in laying out Dex's PTSD journey. I think it took a fellow vet to see the signs and how much it was affecting her. He could see it more clearly than others because he had been there. It is a turning point that by taking the card he gave and later pulling it out shows she acknowledges she needs help with it. Whatever step she takes next, the journey is not going to be a smooth one.
EC -
First, hugely relieved that Dex didn't hook up with Jeremy, with whom she had great chemistry. I think that's another sign of growth from her. Jeremy being another veteran allowed him to recognize the symptoms of her PTSD and suggest a support group she could try out. This outreach coupled with her moment in the church signaled to me that she might be ready to face what she's been carrying. That said, I don't expect it to be easy for her. And if there isn't a scene next week with her storming out of therapy, I will be very much surprised.
MP -
The show is slowly working towards Dex getting help. With each episode, they are exploring parts of her fractured past and showing how she can't shake off her trauma no matter how much she tries to. A turning point I wouldn't say, she still has a long way to come. Dex knows she needs help but admitting to others she hasn't got everything in control would hurt her too much. Allowing herself to be vulnerable might be the stroke she might not recover from.
Jeremy's need to find his birth parents subtly touched on an emotional and complex real-world issue while also providing an avenue for the show to reinforce a story about family that has been lurking under the surface all along for Stumptown. It also brought new answers about Dex and Ansel's parents. Is it safe to say that some sort of resolution or reckoning is not only imminent but also necessary? Yes or no?
DC -
Her actions all season has shown us that Dex is by nature a fixer. She has a natural inclination to want to fix everything. And she's especially cognizant of that when it comes to family. Whether it was letting Ansel move out, her attempts to honor Benny's family's wishes and even this case to her family comes first often at the expense of some piece of her. That's why she tried so hard to get Jeremy to reconcile with his adoptive parents and then going to Sue Lynn (Tantoo Cardinal) to help him reunite with his birth family. And it's no secret I adore the dynamic of any scene between Smulders and Cardinal, just wish they had more together. I think a confrontation between Dex and her own parents is inevitable and in fact, necessary for her to fully heal. Forgiveness is the first step in that process and the first person next needs to forgive is herself for not being able to always take care of her brother like she believes she should.
EC -
Dex's sensitivity to situations involving siblings as well as parents and children is something the show has established as coming from her own history. That said, I don't think it ever crossed my mind that both parents, while fully alive, had abandoned their children. It can't have been easy for Dex to have gotten her brother out of whatever situation her parents left him in, and the scars of betrayal clearly run deep. It seems to have affected her far more than Ansel, and his feelings about their parents haven't really been addressed. I think that the season has been setting us up for at least one of the parents to return. That event will probably either be the season cliffhanger or the bowling ball that knocks over all the pins to kickstart the season's concluding arc.
MP -
Every story has two sides and while Dex`s side seems quite unilateral and without much space for discussion there is another side to this story, a reasoning. Is there a good enough reason for abandoning your children? Of course not. But getting a glimpse behind the scenes will certainly make us understand Dex and Ansel's characters more. Dex finally letting go of the burden her parents left on her heart and soul might be a way for Dex to accept her PTSD and move to recovery.
In this emotionally charged episode, there were a lot of standout or impactful moments. Which was the biggest in your opinion? Why?
DC -
As I mentioned in the previous question, any scene between Smulders and Cardinal are gold to watch. The complex relationship between these two characters is being so beautifully done and the actresses knock each scene out of the park. That said, the biggest moment in this episode was Dex's emotional confession, talk with God. Smulders was outstanding in taking Dex through the roller-coaster emotions of that scene where she was addressing her shortcomings and wondering why all she had done wasn't enough. It was another subtle cry for help and makes one wonder how much they are going to make her endure.
EC -
Sue Lynn bringing Jeremy's family to meet him at the end. Did I cry? Well, does a cookie crumble?! Whether by coincidence or not, whenever Dex drifts back towards Benny's world, the show just gets a bit more moving.
MP -
The Ansel-Grey scene towards the end was really heart-gripping. As said earlier it gave substance to both characters and showed how "spoiled" we are in some aspects of life. Ansel is very aware of his disability and struggles with his day to day life. So, seeing him struggle with asking someone out, one of the most natural things, was another well-executed slap into all our "spoiled" faces.
What was your overall impression of Stumptown 1x11, The Past and The Furious? What do you think will come next?
DC -
With each successive episode, I struggle to come up with superlatives for the power and depth of this series. From the directing, the writing and of course the insane chemistry of this superb cast, Stumptown has grown and evolved with each outing and this was the strongest episode so far.
EC -
One of my favorite episodes so far. A great mix of lighthearted moments, shenanigans, and bittersweet elements.
MP -
Generally a good episode with solid character development but with some odd pacing and story construction. At moments it felt a bit of a scramble but eventually, it all comes together very well. As for what comes next, they will definitely explore more of the Grey-Max chemistry and temptation she proves to Grey and Dex adjusting a life without Ansel and for her to live life for herself.