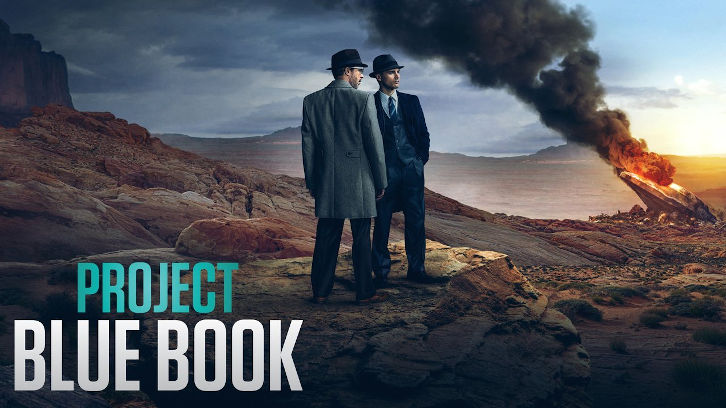 Project Blue Book
returns on Tuesday, January 21 for its second season, so I thought this was a perfect time to take a quick look at the final episode from season one: "The Washington Merry-Go-Round." Look for a preview of the first episode of season two coming shortly! The finale was written by David O'Leary and directed by Alex Graves. The finale was action packed and really set the stage for the second season.
The episode begins with Hynek (Aiden Gillen) rushing to Washington where he surprises Quinn (Michael Malarkey) and drags him to the Mall for a countdown to what seems like nothing until a group of UFOs show up! I loved the shot of Hynek peering around Quinn as everyone sees the lights show up. Quinn is convinced it's an attack, but Hynek isn't so sure. He does call Mimi (Laura Mennell), however, and tells her to stay safe. It's during this call that Mimi discovers the bug in the phone.
The Generals and Fairchild (Robert John Burke) disagree – Harding (Neal McDonough) is convinced the attack is by Russians and insists that UFOs don't act like this – they stay in the shadows. Quinn and Hynek are told to give the press a rational, scientific explanation. Alan insists that it's not the Russians, but when he's in front of the press, he tells them that they aren't on the brink of war – it's not the Russians. But that's as far as he goes with the truth. He tells the press that it was caused by natural phenomena. I loved the Quinn brings up cases from earlier in the season such as the "Lubbock Lights" as proof.
Hynek gets a note to meet the Fixer (Ian Tracey) and blows off Quinn to go alone. Of course, Quinn doesn't fall for it and shows up at the meeting only to be completely outnumbered in the end anyway. The Fixer tells them that it has nothing to do with the Russians – or Americans. He tells them that he has real proof – and that they want the same things. He tells Hynek that he needs him because he doesn't really exist – but Hynek does. He tells them about Operation Ivy.
Quinn and Hynek get a film of a UFO blowing up a rocket and show Fairchild. Hynek tells him that the truth will come out. Fairchild tells him that Operation Ivy had to do with thermos-nuclear testing. Hynek observes that the UFOs want them to know who is in charge of the skies. Fairchild asks them to help brief President Truman (Bob Gunton). Hynek writes it up, stating that UFOs are real. Quinn remarks that everything is going to change, and Hynek suggest maybe things need to change. And then, Fairchild is blown up in his car! I was sad to lose Burke from the show.
Quinn and Hynek show up the next morning and Harding and Valentine (Michael Harney) are waiting. Harding is still maintaining it's Russians and he tries to intimidate Hynek, but Hynek completely bitch-slaps him! Loved it! Truman wants to speak to Hynek, recognizing that he's the guy with the answers – or so Fairchild told him – and Valentine is not happy. Truman tells Hynek that Fairchild trusted him, so Truman does now too.
Meanwhile, Quinn goes up to lead a squadron against the lights – to get a close-up view of them. He tries to keep up with them and shoot, but he ultimately loses control. Just as we've seen happen before.
Meanwhile, back at home, Mimi calls Susie (Ksenia Solo) and shows her the bug – how ironic! She agrees with Mimi that it's likely the government, but by the end of the episode, we see that Susie has managed to frame the next door neighbor, Jack (Kurt Evans), by putting the surveillance equipment in his basement. She will also, no doubt, find a way to frame him for Donna's murder.
Because she doesn't feel safe in her house, Mimi asks to stay at Susie's. She's abandoned Joel to a friend's house. And really, after Hynek called and told her to keep Joel safe, you'd think her own son would be a bit more of a priority, right? Anyway, as the two sip tea and watch I Love Lucy, Susie puts her hand on Mimi's knee, prompting Mimi to put an end to any possibility of romance. She tells Susie that she loves her husband and her family and that their one kiss could never happen again. Susie seems to accept it, but looks hurt and slightly angry.
There is a short time jump, and Hynek and Quinn have been called to testify. Quinn tells them that it felt like "it" was in his head when he was flying, and that he hit it several times which only made it get brighter. When asked if it was a Russian spacecraft, Quinn said no. And then Hynek completely shocks Quinn by saying that he firmly believes it was all caused by naturally occurring phenomena. The hearing was then sealed and classified. Quinn is pissed as they leave and accuses Hynek of selling him out. Hynek points out that if they don't believe, they aren't a threat, and everyone will leave them alone. Quinn gets it and tells Hynek that he's a "tricky son-of-a-bitch!" Hynek says that they'll come again, and there will always be the same question: Do they come in peace of do they come for war?
Hynek arrives home, and Mimi is happy to see him. He then goes off to the observatory and opens a letter. The Fixer tells him that he can't protect him anymore and he should return to his old life.
Valentine wonders what Truman's next move will be, but Harding doesn't care. He points out that Truman no longer matters – he'll be gone is 6 months and they'll have a new leader: Eisenhower.
Quinn is having a drink in a bar when Susie arrives and joins him. She tells him that her husband is gone for good… so it looks like there will be romance – of a kind – for these two.
Finally, the Fixer is seen at either the north or south pole. He has the alien device with him and "turns it on." It in turn, turns on a mysterious Obelisk.
Lots of interesting balls in the air as the first season closed! I can't wait to see where they go with it from here. I think we can be pretty sure that Quinn and Hynek will be investigating new cases together and that Susie will be up to no good! What did you think of the finale?? Let me know your thoughts in the comments below!