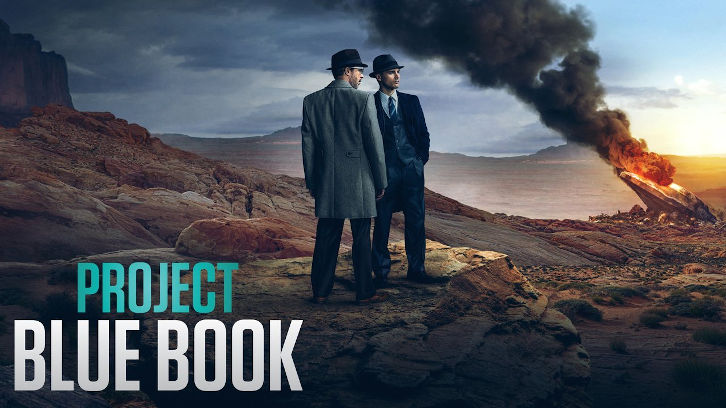 Project Blue Book
"The Roswell Incident – Part II" was written by Sean Jablonski and was directed by Deran Sarafian. There's quite a bit of humor in the episode, but there is at least one pretty extreme scene that some viewers may find disturbing.
It isn't a spoiler to tell you we pick up right where we left off with sirens blaring. One of my now favorite moments in the series happens as Quinn (Michael Malarkey) and the others run out of the base. Quinn asks Harding (Neal McDonough) what's going on. Harding answers, "Something crashed" and Quinn answers "Again?" It's hilarious! Not surprisingly they all look stunned when they get to town and see what we saw in the final shot of the last episode.
We find out who is responsible for all the mayhem in the last episode. Hynek (Aiden Gillen) refuses to take orders from Harding. Hynek and Quinn find something unexpected. Quinn doesn't think Hynek's joke is funny – but it is!
Hynek and Quinn find another witness to the events in 1947. Several stories from Part I turn out to be not quite true. Someone is not who they said they are. We get a little trivia too – the Enola Gay was based out of Roswell. Hynek gets under Harding's skin.
Hynek and Quinn get some of their most explosive evidence yet. They also disagree. Both Hynek and Quinn are welcomed home warmly. Valentine (Michael Harney) has an interesting theory.
This is another episode that will keep you on the edge of your seat. Don't forget to tune in to
History, Tuesday night at 10pm
!
And just a few dialogue teases….
Is this a joke?
Don't be nervous.
You're going to wake the dead.
Can I ask you a serious question?
Are you calling me a coward?
He's in my custody now. Trust me. He's done.
You've got to be kidding me!
Maybe he's hiding Santa Claus in the attic.
You're not very good at this.
Twenty minutes to know the truth.
You've got to leave, or they'll throw you in jail.
The name of the game is control the narrative.
The world needs to know what's really going on.