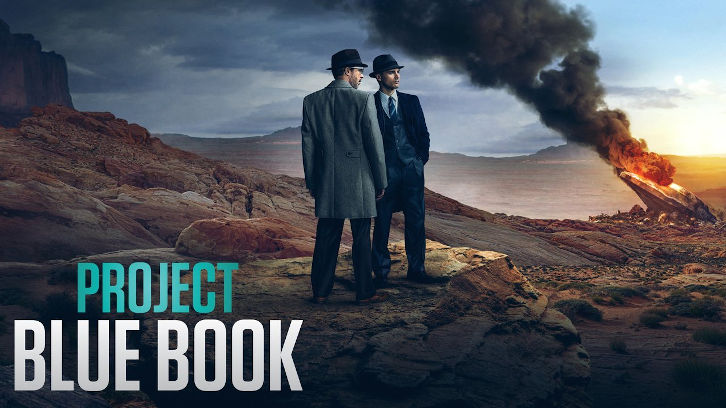 Project Blue Book
returns
tonight at 10pm on History
for its second season with "The Roswell Incident – Part I" written by showrunner David O'Leary and directed by Deran Sarafian. The second season picks up where the first left off with just a bit of time having passed. Everything I really liked about the first season is back - great period sets, costumes, and cars, and the terrific chemistry between Malarkey and Gillen.
There seems to be some dissension between Quinn (Michael Malarkey) and Hynek (Aidan Gillen) and between Generals Valentine (Michael Harney) and Harding (Neal McDonough). Quinn is having some doubts about what he saw. Harding wants Project Blue Book to do for Roswell what it did for Washington. Spencer Garrett guest stars as General Blackstone, an old friend of Harding's.
A strange box reveals some clues. Hynek has a new and surprising source of information. Hynek asks a lot of Quinn. Hynek finds something surprising in a backyard. Harding surprises Quinn and Hynek.
Mimi (Laura Mennell) has a new hobby and a new friend – Evan (Keir O'Donnell). Susie (Ksenia Solo) also has a "new" friend…
The second season is off to a great start with lots of action and twists – and this episode ends on quite a cliffhanger as you'd expect as it's part 1 of 2! Don't forget to tune in
tonight at 10pm on History!
And here are a few line teasers to keep you guessing…
I got right up close to it.
You see anything unusual out there, I want you to call me right away.
What is it? I know that look.
What does the FBI want with civilian UFO groups?
There's obviously something going on here.
It's a theory.
We are dangerous.
Doesn't mean every case is a cover up now.
The whole desert's on fire.
Who does that?
Tell them it's a national security issue. Tell them to keep their mouths shut.
I don't want to lose my license again.
The unofficial version of events at Roswell is quite compelling, Captain.
He's hiding something.
Are you willing to do that with me?