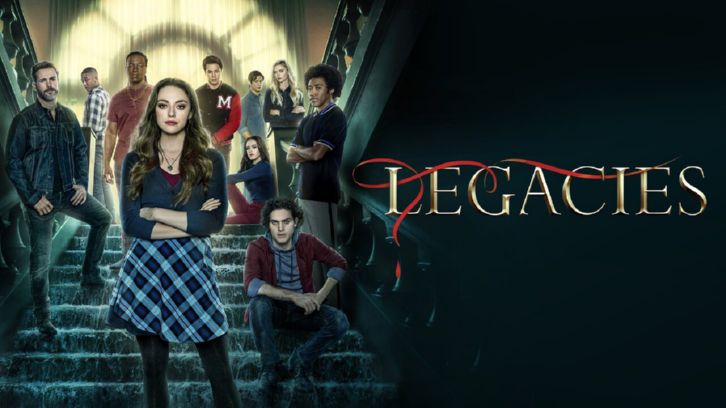 This week on Legacies, Ted sends a Fake!Cupid to distract everyone from the prison world. Which works surprisingly well. Alyssa is locked up and refuses to tell Hope were the ascendant is. Hope gets MG to try and seduce Alyssa to get the location but MG backs out which leads Allysa, under the influence of a powerful arrow, to attack Kym, who leaves the school afterward. Hope and Landon fight all episode about him being a hero until he saves her from Fake!Cupid by getting his heart eaten and he manages to float. And, Emma and Dorian got married, also under the influence of an arrow.

Big mistake: What were they thinking? They ended last week's episode on a big cliffhanger with Alaric, Josie and Lizzie in the prison world with Sebastian. And then this week… nothing. Not even a teaser at the end. All we got was a filler episode. Because let's face it, you could've skipped this one. I know that the CW ordered extra episodes of this season, I can't help but wonder if this was one of them. Regardless, episodes like this are exactly the reason why I prefer shows to have shorter seasons. Maybe we should go back to 16 episodes next season.

The elephant bird in the room: So, this episode was very Hope/Landon heavy. A bit too heavy if you ask me. First things first, what was up with Landon trying to fly? Where did that idea come from? And yes, he managed it in the end, even though I'd call it floating rather than flying. But I don't really like how they introduced this power, or how their handling Landon being a phoenix. Are these not the same writers that gave us vampires, witches, and werewolves on The Vampire Diaries? The way these new species are being written just comes across as sloppy. Landon has been a phoenix his whole life. Are you seriously telling me that this week he can suddenly float, despite never having shown any signs before, in the same week he tries to fly? And then there was the relationship drama. Hope clearly is not as much of a team player yet as she should be. Sure, she lets Josie and Lizzie help but that seems to be where she draws the line. But there have to be some other competent students that she can ask for help. But I'm glad she's starting to let people in and that their argument is over. Although let's admit it, Landon's plan was so stupid. What if he hadn't resurrected because he didn't have his heart? Just another reason why we need to know more about phoenix'.
Wasted opportunity: But as I said, there was too much focus on Hope and Landon. With 3 of the main characters not in this episode, the writers should've taken advantage and focused more on other characters. And yes, MG did get a storyline this week, but I would've liked to have seen more focus on Kaleb. He's still mostly the funny side character. I want to see him take the lead for once. And then there was Emma and Dorian who got married and into a fight with a werewolf. A fight that we didn't even get to see. And am I the only one who would love to know a bit more about little Pedro?
Unlucky in love: MG has not had much luck in the romance department. I mean, he's not blameless. He's made some questionable choices (like this week). But MG does tend to fall for the girls he can't have. Lizzie showed no interest in him, then the gorgon girl. I liked her but with Malivore we knew it was doomed from the start. And now Kym, Kaleb's sister. Dating your best friend's sister isn't exactly uncomplicated. But he never really got the chance to. I mean, considering what happened this week, I'm surprised Kym didn't run away screaming. But it's a lot for a non-supernatural to take in. Maybe MG should just try dating guys.
Questionable choices: MG did have luck with Alyssa, but only because she was under the influence of that arrow. And yes, the arrow only enhanced feelings that were already there but that still does not mean that any of this was morally correct. I'm glad MG didn't go along with it (even if he did agree with the plan at first) because if he had, there is no way that would've counted as consent. I'm actually shocked that Hope would go this far, I would've preferred it if she tortured Alyssa.
Best quotes: Hope: "Wade said you were outside trying to fly?" Landon: "Yeah, it seemed more reasonable than it sounds coming out of your mouth."
Hope: "Looks like she's really into French Bulldogs, talk about that." MG: "How am I supposed to just bring that up, Hope?" Alyssa: "These strawberries are to die for. Delicious." MG: "Almost as delicious as French Bulldogs." Hope: "Not like that."
Landon: "What are we waiting for?" Pedro: "You."
That's it for this week. Check in again next week for an all-new review and let me know in the comments what you thought of this week's episode.
Please be respectful in the comments, any unnecessary rudeness isn't welcome.