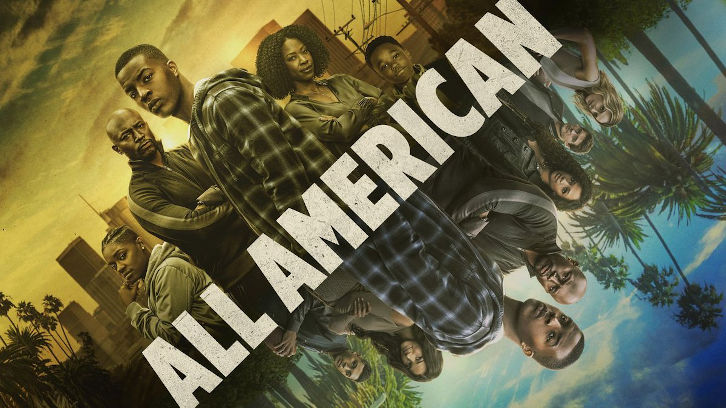 This episode of All American, "Protect Ya Neck", left me with a lot of feelings: good, bad, and some confusion. I'll go into more detail in my review, but I'll warn you: I didn't really love this episode.

Before I get into why I didn't love this episode, I'll start with something positive: Olivia's podcast. Her podcast was amazing, and I'm so proud of her. She's really found her passion, and I hope she keeps going with the podcasts and journalism. She's been looking for something that she excels at besides being a good friend and daughter, and I think this is it.

The episode focused on Olivia and her cotillion. When the episode started I could tell Olivia was a little irritated that Asher had missed her cotillion practices, and it gets worse when NFL MVP, Cliff Mosley, convinces Asher to skip her last dance practice so he could get more time in for football. Olivia finally has enough and decides Spencer will be her date instead.
The cotillion itself was nice. Olivia looked beautiful, and Spencer was a pretty great date knowing all the dances. Olivia even was presented an award! Even though Olivia and Spencer did look great together, I couldn't help but wish that Asher was there with her instead of Spencer. He just needed to show up, apologize for being a jerk, and show her that he realizes how much this meant to her. Yes, Olivia should have told him that it was important, but he should have already known that and made the effort to be at her practice.
While he does show up, he immediately gets jealous after seeing her with Spencer and gets into a fight with Olivia. At the end of the episode we see that he is taking steroids. This explains his mood swings and his temper. But I just don't understand! He told Olivia that football is all he has, but that's not true. Olivia has been my his side through everything. And now he's back to just caring about football. I feel like this episode just threw a year and half of character development down the drain.
If the show wants to put Olivia and Spencer together, that's one thing, but to completely destroy Asher's character just to do it makes me angry. And I'm scared for him since all he wants is to succeed at football. Hopefully, he'll stop using the steroids before something really bad happens to him. We don't need two of our guys being rushed into the ER.
I think this goes without saying, but I really don't like Cliff Mosley. He's obviously not good for Asher, and it sounds like he's trying to take Billy's job. I also could have also gone my whole life without seeing that booster again.
Anyway, moving on. Coop and Patience were also pretty miserable this week, and I have to wonder if they're over. I also wonder about Spencer and his relationships. He says he'll wait for Layla, but he could be waiting a while. I'm that Layla is focusing on herself and her recovery, though, because that's what she needs. I also have to admit that I was kind of liking her scenes with Jordan this week. It was the most that I've liked Jordan in a while. And of course Kia is still in the mix, too. The problem is that all of these people are too pretty and have chemistry with everyone.
Now, on to that ending... Spencer was shot! I have no doubt that he will survive, but how will his injuries affect his ability to play football? He shoved Olivia out of the way, too, so will she feel guilty about this? Will Asher feel guilty since he wasn't there to protect Olivia? I'm just irritated that this show brought back Tyrone, and he's causing so much destruction. And he better not hurt Darnell!
I'm sorry that this review wasn't very positive. I was very much enjoying season two until this week. Hopefully it'll get back on track soon.
What did you think of "Protect Ya Neck"? Discuss below!