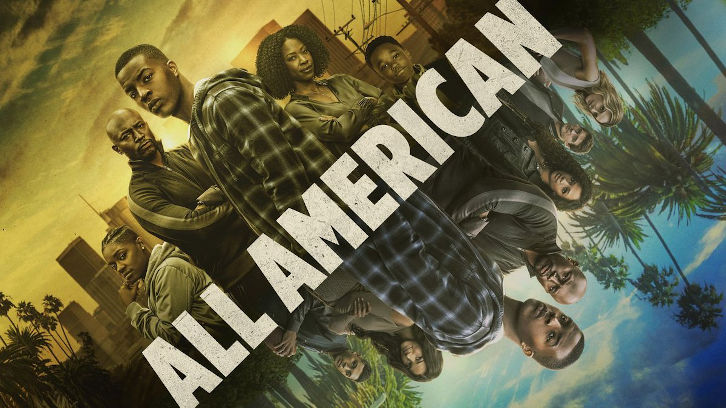 All American is finally back from longest winter break ever, and I am so happy! I don't know what I'm going to do during the summer because this seven week hiatus already felt like an eternity. "One of them Nights" had several stories including the return of Tyrone; racism by "Crenshaw Cathy"; and Layla working through her problems in therapy.

The other big story was the racism that everyone, but especially Spencer and Kia, experience at the fro-yo store. Spencer, Kia, Olivia, Asher, Jordan, and Dillon just want some frozen yogurt and don't want to cause any issues. But after Dillon and Spencer get into an argument, the woman at the store asks them all to leave. She says she doesn't want any problems. This lady made me so mad especially after she calls the police and reports them for loitering!
Finally, we got to see Layla at her therapy group. It looks like she's made real progress sharing how she felt like she had to be perfect all the time. I'm happy she got released and she's ready to go back to her friends and family. I'm glad she and Olivia are friends again, and I'm relieved that Layla was okay with Olivia and Asher's relationship. I also wonder what will happen with Layla's relationship with Spencer now? I know Kia and Spencer aren't together, but I have to wonder. Anyway, the most important thing is that Layla got treatment for her mental health and is moving forward with her life.
Their conversation about racism was also important. Asher says that he had no idea how bad it was until today, and Olivia states that they need to get out of their Beverly Hills' bubble more often. This leads her to create a podcast about her experience with racism, and I'm thinking she has a future in journalism. Maybe this will be Olivia's passion that's she's been looking for.
I also liked that we got to see more of Kia. It's obvious that Spencer and Kia still have a connection, and I would like the show to explore this more. I do hope we get to see more of Kia (regardless of if she gets back together with Spencer or not) because she's a great character. She seems to be a good friend to Olivia, too.
Other Thoughts:
- Coach Baker was awesome with the cops. He was amazing in standing up for his kids, his players, and Dillon and Kia.
- I loved that Spencer and Asher had a little moment together. Not only do they get along, but I think they might be friends now. Asher has made so much progress throughout this show. Note to writers: Can we keep it this way? I think Spencer and Asher could be great friends, and I like them better as friends than rivals.
- I'm glad Spencer and Dillon made up. I completely get why Dillon was angry: his dad died and Spencer's been working so much he hasn't been around. Hopefully Spencer will rejoin the football team soon and can cut back his hours at work so he'll have more time to spend with Dillon.
- I really want to hear the pet names that Asher and Olivia have for each other.
Favorite Quotes:
Billy (about Olivia and Asher's relationship): Are they a thing?"
Jordan: "Oh yeah. Pet names. PDA. Heart emojis. It's gross."
Dillon: "Aren't you the same dude who didn't even want Spencer at Beverly?"
Asher: "It's called growth lil homie."

What did you think of "One of them Nights?" Are you as excited as I am that All American is back? Leave a comment and let me know!