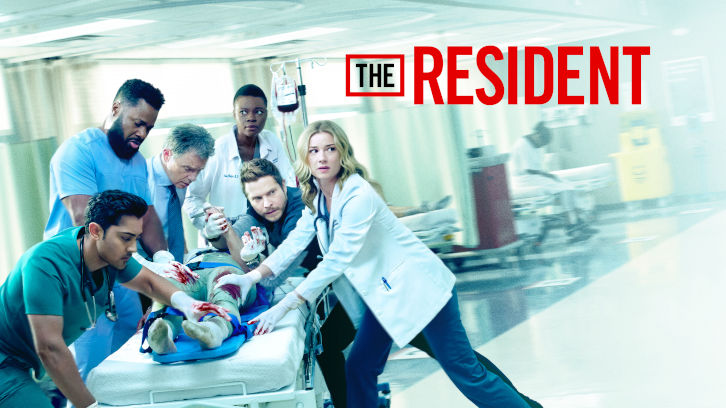 The Resident is at its best when the team is fighting against a higher power. "Out for Blood" set this up perfectly. The episode was suspenseful and dark, putting some relationships to the test. The episode was also balanced with some heartwarming at moments. "Out for Blood" was overall a great episode and a nice preamble to the fall finale.

Conrad is facing a lawsuit in "Out for Blood", and Red Rock is doing nothing to help it go away. Kim hopes he gets convicted. This will help him get rid of Conrad, without receiving Marshall Winthrop's fury. It's proving more difficult than anticipated, as Conrad is well liked in the hospital and extremely valuable. Even Bell does everything in his power to back Conrad. The CEO does not believe the lawsuit is anything to worry about; the judge will side with the doctor, like they usually do, especially in a case like this. While at first Bell doesn't understand why Kim is giving Spiro so much importance, he starts to understand what is happening when two unqualified lawyers come to Conrad's defense. Bell hasn't always been on Conrad's side, but he assures him that he is this time. When Bell lets Logan Kim know that Conrad deserves a good defense and that he is bringing in the old legal team, Kim tells Bell that it's either him or Conrad.


"Today, Red Rock asked me to turn against one of my own doctors, and tomorrow they'd just ask me to do something worse." -Bell
Bell, in the end, did what was right, but he took some time getting there. He is still a wild card. Along the way, he hoped Devon would turn on Conrad. He wanted to save his job and I was disappointed in him. Before Kim could fire him, Bell resigned as CEO, but he is still working at the hospital as chief of surgery, and it should be extremely hard for Kim to fire him. Bell confided in Vaus about the ultimatum Logan gave him and I'm glad he has someone to confide in, especially someone with such high moral standards. She brings the best in him, like Lane brought out the worst in him.
Cain continues to be arrogant, he and Kim barge into Bell's office like they own the place, like he is Bell's boss. Is that foreshadowing? Is Cain next in line for the CEO position? It's also easy to see how much the neurosurgeon despises the resident. When discussing patient care, Cain and Conrad's conversations are cold. Just like Kim, he wants him gone. Kim thinks a whistleblower is a liability, but I believe that for Cain, the motivation lies elsewhere. I can't stand Cain's arrogance.
A Princess comes into the emergency room following a fall during her jog. After bonding with Devon, she requests him to be on her team. Since Conrad is the best diagnostician in the hospital, Devon and his ex-mentor must work together to figure out what is wrong with the aspiring DJ. They do some tests to try to figure out what is wrong with her. Conrad gives Devon what help he is able to give but as they are bouncing ideas off of each other, but Conrad keeps getting paged to the ER. The intern feels like Conrad is making him pay for what is happening with his lawsuit. Conrad kept his cool when Devon brought up the torture, once again.
"It's not your fault" - Conrad
It wasn't anything that Conrad said or did that made Devon feel bad, he took it on himself. When Devon is taken to be interrogated, Conrad did not interfere, he did not plead or beg, he did not try to defend his case. He let him take his decision, and Devon took the right one. It could have gone either way, there was no way of knowing. In the end, the two doctors made peace, in the dark, seated side by side. It was quite a funny set up, but it worked. They have come to terms that they are different, but they respect each other. Maybe, just maybe, this episode marked the last one where we had to hear Devon tell Conrad he had tortured a man.
While juggling a lawsuit and Devon's patient, Conrad also assisted in the recovery of a woman in the intensive care unit. As the episode began, the audience witnessed a spinal surgery, but when the surgeon dials 911 as complications occur, it is quickly understood that all of this is not happening at Chastain. The woman is rushed to the hospital from a nearby outpatient surgery center where Vaus and Cain operate on her.
"Angels will not be ignored" –Kyle
Kyle is still volunteering at the hospital and is keeping Lynette company. They quickly form a bond; Kyle opens up to her, about his own battles with addictions, how he hasn't been the role model he wanted to be, it was a touching scene. When Lynette's monitor starts beeping, he fights for her to get care from a doctor; it proved how much he cares. Kyle is starting to grow on me, and on Nic too.
In other news, when Mina's friend comes to the hospital for a sonogram, they discover that the pregnancy is having adverse effects on her heart. She must choose if she wants to take the chance her heart will fail, while bringing her daughter to term, or deliver now and hope the complications are not too serious. The sooner she induces, the more risks there are to the baby. Adaku has faith that god will watch over them, but Mina does not understand. Let's remember that if something happens to Adaku, Mina will be the one to take care of little Michelle Obama.
I thought the episode was a great set up for the fall finale. I give it a 8/10.
"Conrad still has a target on his back, as do we all." –Bell