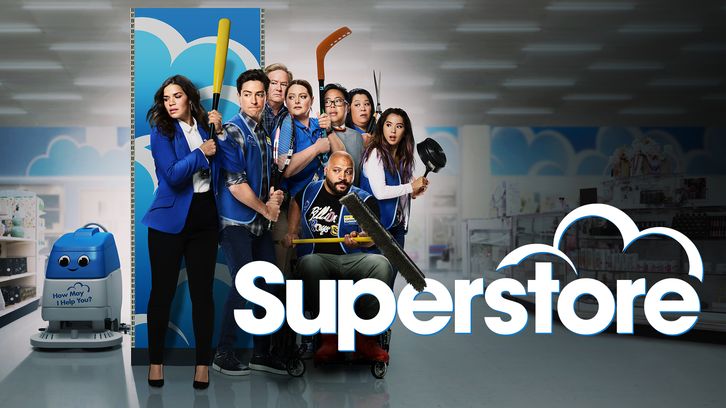 Wow, it took me a while to process this latest episode of Superstore. The show came back after a small hiatus with its "A" game. Major plot points were moved forward while some inter-personal relationship matters (Amy and Jonah, ahem) which I've felt had been ignored for too long were finally addressed.

The driving force of this episode were the union negotiations between the employees and corporate. I have to admit that I was surprised the union matters reached this point. After it was implied that Maya knew about the union vote I assumed that something would happen to derail the entire thing. But Jonah and Sandra got dressed up in their finest power suits, much to Jerry's delight, and met with their attorney to hammer out the details of the union contract.

Everyone at the store was fretting about the negotiations, with many pessimistic about how they would go. Amy was one of them, left behind to worry and stress, her powerlessness driving her to swearing and giving her a short temper. I really liked how the writers handled Amy here. They show her caring deeply about the union and the employees but still a bit caustic because things are out of her hands. She and Jonah also had some very nice couple scenes, with an "I love you" thrown in casually between them. For most of this season Amy and Jonah had acted more like colleagues who didn't particularly like each other so having them show affection with each other was welcomed.

While the rest of the Cloud Niners are waiting for word about the negotiations Sandra is on fire, ready to make breakfast, lunch and dinner of the opposition. There is a nice gag where a broken office chair undercuts her confidence but she makes it work.

However, she and Jonah are given a reality check by their attorney, who is more cautions in the negotiations than expected. When she's taken out of commission by a bagel incident Jonah and Sandra step in to continue negotiating by themselves, encouraged by Amy to settle things then and there instead of waiting months for another meeting.
The corporate negotiators (hi Ian Gomez!) are more than willing to talk down to Jonah and Amy but things take a turn when Jonah mentions the "S" word if they don't get more favorable terms - strike. The many suits representing the company ask for a sidebar and when Jonah and Sandra are left alone in the conference room Jonah is sure that he messed everything up by pushing too far too fast. But the representative for corporate comes back shortly after and says that the company agrees to everything in the employees' proposal. Success! Not bad for "chumps from the town dump."
Back at the store Glenn, Mateo and Garrett engage in a contest to see who is the better salesperson. They agree to try and sell something from the clearance bin chosen by one of the others. These include Mateo stuck with a microwaveable heated sweater, Glenn was given a ... something shaped like a pig and Garrett was tasked with unloading a Tony Danza popcorn machine which only used Tony Danza popcorn kernel cartridges (not included). All three men try with varying degrees of aggression to sell their respective item but the closest any of them get is Glenn asking for more information about timeshares from the lady he's trying to sell his pig to.
Amy is buzzing with nervous energy as she waits to hear news about the union negotiations, and upon seeing a "dystopian nightmare" Christmas tree which the store's raccoons probably had sex in and with she decided to go buy a new tree. But as she, Dina and Cheyenne are in Dina's truck to go tree shopping (they both agree Amy can't handle in on her own - she'd pay Douglas fir prices for an evergreen) they spot a beautiful looking tree right there on store grounds. Sure, it's still growing in the ground, but that's nothing an axe won't solve.
Dina recognizes that what they all need is a way to blow off some stream and the ladies take turns chopping down that tree with fury and glee.
The tree is loaded onto a forklift and Amy is pumped up on adrenaline and physical labor. That's when Jonah calls her to tell her their attorney is in the hospital and she tells him to keep on negotiating without her. Would she have given that same advice if she hadn't just Paul Bunyan'd a tree? We'll never know.
Unfortunately the tree falls on a transformer, plunging the entire store into darkness with the loss of electricity. Some of the Niners think that it's an act of sabotage by corporate. Amy blames it on teens "lumberjacking." But spirits are lifted when Jonah and Sandra announce the good news about the negotiations and there's an impromptu party with all you can eat melting dairy products.
When Amy gets a call from Maya while everyone is celebrating she puts on an act of being bummed the union got a win. But Maya drops a bombshell: Cloud 9 is being bought by a tech company named Zephra, which doesn't have to recognize their new union contract.
It's a blow that Amy keeps to herself while everyone celebrates around her. It's a gut punch for her and me.
Odds and ends:
Favorite quote: "Do you like popcorn but wish the process was more complicated?"
Favorite blink and you'll miss it moment: Glenn the Robot is back, with a jaunty Santa hat!
Nice to know: Medium used to be Glenn's sweater size.
Anyone else feeling gutted for the Niners? Just me? Comments and thoughts go below!