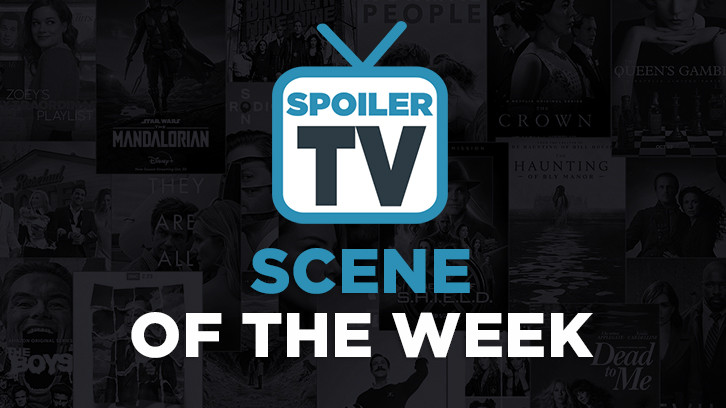 A weekly feature in which we're trying to find the most compelling, best acted, written, directed and just generally great, memorable scenes that we've seen in past seven days on TV.

9-1-1, "Christmas Spirit", December 2, 2019, Actors: Oliver Stark, Angela Bassett and more
The Scene: Buck brings Christmas to the station
Klutzy girl: It was so nice to see that he and Athena surprised everyone at the 118 by bringing along their family so nobody was unhappy on Christmas.

ARROW, "Purgatory", December 3, 2019, Actors: Stephen Amell, Katherine McNamara, Katie Cassidy and more, The Scenes: Mia and Oliver's final talk & Laurel and Oliver get attacked by Fyers
Justyna: This was such a brilliant episode. There's just so many things worth highlighting from the hour. It's fitting to have Oliver's final mission before the Crisis take place right where his story began - the island of Lian Yu, the Purgatory. During this episode we got to see a significant comic book reference with Roy losing his arm, one more (final?) fight of Team Arrow, an important advice from Oliver's old mentor, but also a lot of goodbye and thank you moments. Next to Roy's tragic loss, these ones hit me the most. In the end I decided to include here in the article Oliver's final conversation with his daughter before Crisis begins. Mia's emotional journey has never made a bigger impact on me than in this episode. The part where William stops her from going after Oliver but she refuses to leave her father alone and finally admits to herself that she can't let him die was especially powerful. I really enjoy the dynamics between this brother and sister duo, Mia opens up to William and he understands her better than anyone else at this point. His words truly get through to her and are certainly a big part of the reason why she's able to understand her father and his decision at the end. It was both heartbreaking and beautiful to see her saying thank you for "letting me be a part of your story, even if it was only for a little while." Katherine McNamara gave a really wonderful and emotional performance during this episode, probably her best one yet. It's clear how much Mia is trying to stay strong, but her voice breaks at the realization that she's about to lose her dad all over again. Their time together has been a gift, but it doesn't make this goodbye any easier. Stephen Amell continues to be a true star of the show this season, he has come such a long way from his first appearance on the series. Oliver's long goodbye has started last season and I still can't believe we're almost at the end. Very soon there will truly be "no Green Arrow stories to tell." I loved Oliver's words about the island, the way he's able to appreciate his time spent there, even though it's painful, because it's a big part of the person he's become. Someone so much better than he used to be. And now he's able to let go of his anger, most of it anyway. It's both too soon and but also finally time for the Crisis. Kudos to the cast & crew of Arrow for all their work on this hour and the series overall.
Marko: Laurel and Oliver get attacked by Fyers & co.

CASTLE ROCK, "Caveat Emptor", December 4, 2019, Actors: Tim Robbins and more, The Scene: Pop's reaction to his suicide vest not going off
Laura B: Pop starts laughing after his suicide vest would not go off. Although this was a tad predictable, considering how The Kid has reemerged back into the plot, the episode itself was extremely emotional with Tim Robbins giving a top-rated poignant performance. His character might not have deserved to live, but it was clear that he cared about his family and the town all the same, and unfortunately now he'll become a zombie and the Satanist may be one step closer at finding what they are looking for.

CHARMED, "The Rules of Engagement", December 6, 2019, Actors: Melonie Diaz, Madeleine Mantock
The Scene: Mel and Macy's heart-to-heart (picked by Marko)

EVIL, "Exorcism Part 2", December 5, 2019, Actors: Michael Emerson and more, The Scene: Leland finds out his protege accidentally killed himself
Laura B: Leland Townsend flips out after he finds out his protege accidentally killed himself. As a King fan, there was SO much I loved about this episode from all The Good Wife 'Lemond Bishop' references and familiar law firm setting with rather familiar guest stars, even a Braindead mini-reunion, but I chose this scene, because Michael Emerson continues to play one of the most disturbing characters of his career and the fact that he was so angered by losing the kid's potential to do evil, more than the kid himself, and totally losing it like Will Gardner or Maia Rindell was unlike those other two instances in just being soooo scary.

HIS DARK MATERIALS, "The Lost Boy", December 1, 2019, Actors: Dafne Keen, Anne-Marie Duff, Tyler Howitt and more, The Scenes: Billy's funeral & Billy is found
Justyna: Everything about Billy's brief return was absolutely heartbreaking. The emptiness around him could be felt through the screen, but nothing was more painful than Ma Costa letting her child go, telling him it's okay to follow his daemon and find peace. It was also a powerful experience for Lyra. She's the one who finds Billy and brings him back to his family. After he's gone she asks to see him one last time and the sight of this child on a pyre, about to be burned, is absolutely devastating. Everyone gathers around the fire for this final goodbye and to be honest the funeral is difficult to watch and endure. Perhaps that's why I wanted to highlight this scene the most. The impact it makes on the characters (and the viewers) can't be forgotten. A cruelty done to this child is beyond words. The pain felt by his family, by all the Gyptians and their allies, will keep them fighting against anything at this point. As the fire burns, Tony holds his mother, Lee Scoresby comforts Lyra and the Gyptians say their goodbye with an old song. It's heart-wrenching, a haunting image of humans and their daemons at the funeral that will surely stay with me for a while. Powerful performance by the cast, special shout-out to Anne-Marie Duff. Kudos.
Milo: Billy is found - Whilst this lacked the impact in the book it was still a super effective scene that nailed the atmosphere and horrifying backdrop of discovering poor Billy's fate. The reactions from the Gyptians and especially Ma Costa was devastating, and the show pulled out all the stops to make the weight of an important book scene be felt in all the best ways possible.

LEGACIES, "It Will All Be Painfully Clear Soon Enough", December 5, 2019, Actors: Danielle Rose Russell, Matt Davis, The Scene: Alaric hugs Hope
Jamie: This was such a small moment but very important. Especially after almost everyone kind of ignored her when they got their memories back. I look forward to seeing more scenes with these two.

MERRY HAPPY WHATEVER, "Ring In The New Year", November 28, 2019, Actors: Dennis Quaid, Ashley Tisdale, The Scene: Don reassures Kayla
Klutzy girl: After Kayla comes out, Don pulls his daughter aside and reassures her that she always has a home and he doesn't want to push her away. Then giving her a Pride keychain on top of that broke me. It was such an amazing, perfect scene capped off by a hug.

SCHOOLED, "The Pokémon Society", December 4, 2019, Actors: Tim Meadows and more, The Scene: Principal Glascott defends Lainey
Dahne: Principal Glascott defends Lainey from the complaining parents. As a teacher, I love how he spoke about all that teachers do and how ungrateful some parents often are. For many parents, the only time a teacher hears from them is when they have complaints. Glascott reminded them that teachers do a lot for not a lot of pay. It was nice to hear such an impassioned speech in defense of teachers.

SINGLE PARENTS, "A Place Where Men Can Be Men", December 4, 2019, Actors: Kimrie Lewis, Mia and Ella Allan, The Scene: The twins hug Poppy (picked by Marko)

STUMPTOWN, "The Other Woman", December 4, 2019, Actors: Cobie Smulders, Moon Dailly
The Scene: Dex and Naomi's first encounter since Benny's funeral
DJRiter: When Dex's case, brought to her by Sue Lynn, takes her back to the reservation she's not stepped foot on since Benny's funeral, she comes face to face with Benny's angry widow, Naomi. In an exquisitely written scene, performed to perfection by Cobie Smulders and Moon Dailly the tension between the two women, still in pain over the death of the same man was palpable.

SUPERGIRL, "The Wrath of Rama Khan", December 1, 2019, Actors: Melissa Benoist, Chyler Leigh, Katie McGrath, The Scenes: Alex and Kara talk about Lena & Kara and Lena at the end
DJRiter: Alex delivers some hard truths to Supergirl. In yet another stellar scene between Chyler Leigh and Melissa Benoist, Alex delivers some much needed and hard to hear truths to Supergirl about Lena Luthor. Seeing Supergirl blame herself for Lena's actions, Alex takes exception pointing out Lena's deceptions, and that even though she knows Supergirl will never treat her as a Luthor or a villain, she has to. Never before has Alex done so excellently what she has to do as both Supergirl's sister and as the head of the DEO. She lives what she told Supergirl they needed to do and was thinking with her head and not her heart, giving her sister the hard truth and making the hard decisions, that's what a leader does. Scenes like these are why Leigh and Benoist, aka Alex and Kara are the heart, soul and backbone of Supergirl. They are the show's A-team.
Jamie: Kara and Lena are both staring at the same photo. I mean, it's like they pulled this scene straight out of fanfiction.

SUPERNATURAL, "Last Call", December 5, 2019, Actors: Jensen Ackles, Christian Kane
The Scene: Dean sings with Lee
Klutzy girl: Although Lee had turned on him, it was really nice to see Jensen/Dean sing again! I love hearing his voice, along with Christian Kane's, and it was a great song choice.

THE GOOD DOCTOR, "Friends and Family", December 2, 2019, Actors: Freddie Highmore, Paige Spara, The Scene: The last scene
Diana: Shaun is having a crisis, then Lea comes in and hugs him. She's the only one who knows how to calm him down and I hope the show will deep more into their relationship - their bond is so pure, whether it's romantic or platonic.

THE MANDALORIAN, "Chapter 5: The Gunslinger", December 6, 2019, Actors: Pedro Pascal, Amy Sedaris, Jake Cannavale, The Scene: The Mandalorian saves the Child and Peli Motto
Laura B: The Mandalorian saves The Child and Peli Motto from the wannabe Bounty Hunter, Toro Calican. Definitely a fun episode referencing the likes of TPM, AOTC and ANH, while also being close to a Clone Wars episode, structurally. Amy Sedaris usually doesn't play characters I like, but this role was so perfect for her and felt incredibly Star Wars, not to mention I didn't know that Bobby Cannavale had a son who acted! It's for that reason I chose this scene, because the Mando taking out the Anakin-sounding Toro, who comes to threaten Baby Yoda and the lecturing mechanic, Peli Motto had the kind of hero's heart one would expect from Star Wars! Just another great episode in great series so far!