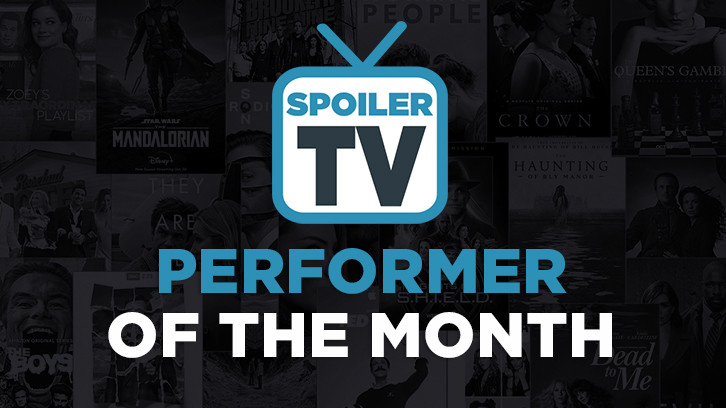 Results:

In the case of both the Staff Choice and the Readers' Choice both shot out to the front of the pack right from the start and nobody was able to catch either of them. They were both very clear winners, but the Readers' Choice winner did have some strong competition that gave a valiant effort to try to catch up to the ultimate winner, but just fell short in time.


Hailee Steinfeld is well known in the entertainment world for her brilliant acting and powerhouse music. Any role she takes on is sure to be something special and the role of Emily Dickinson on Apple TV+'s
Dickinson
is no exception. She earned immediate critical acclaim for her role and rightfully so. She is a breath of fresh air in a crowded streaming environment that has at times almost felt stale with mediocrity. Steinfeld and
Dickinson
brought something different and fun and the audiences showed up in droves to support the star and her new show. This version of Emily Dickinson is a bold character and there really was nobody better suited to play her than Steinfeld. In the episode,
I Have Never Seen 'Volcanoes'
(1x2), Steinfeld got to showcase her comedic and dramatic sides allowing Emily to be both bold and vulnerable all in the span of a short half hour episode. It is because of this performance that Hailee Steinfeld is SpoilerTV's November Readers' Choice Performer of the Month.
It takes a unique type of performer to take on the role of an iconic graphic novel character. Not only do you have to live up to the expectations of long-time fans, but you also must be dynamic enough to pull new fans in. Such is the case of Laurie Blake.
Watchmen
graphic novel fans know her as the Silk Spectre, one-time lover/girlfriend of Dr. Manhattan. The producers of the new, highly acclaimed series on HBO, have taken her 34 years into the future and presented her to us as FBI Agent Laurie Blake of the Anti-Vigilante Task Force. The producers needed a special actress for the role and struck gold by casting Emmy award-winning actress Jean Smart. In her characters' debut in the third episode of the series, She Was Killed by Space Junk, Smart makes an impressive debut as Agent Blake. Coming into an already stellar cast, Smart is a commanding presence in the episode as she brings her own brand of style and sass to the character. For her dynamic performance, Smart has been selected SpoilerTV Staff Choice Performer of the Month for November.
The winner articles for Hailee Steinfeld and Jean Smart will be out later this month. In the meantime, please feel free to use the comments to discuss these two brilliant actresses and their phenomenal fellow nominees.
Original Post:
November proved to be a strong month for outstanding performances. The nomination round identified the 10 that all of you thought were the best. All are very deserving nominees and it'll be very interesting to see who comes out on top.
Now it's time to determine who will be our November Readers' Choice Performer of the Month. The results will remain hidden for the duration of voting. The results of this poll and the Staff voting will be revealed after the poll closes.
2018 Staff's Choice Performer of the Year: Sandra Oh
2018 Reader's Choice Performer of the Year: Alycia Debnam-Carey
January Winners:
Readers' Choice: Jared Padalecki (Sam Winchester) - Supernatural
Staff Choice: Andre Braugher (Captain Raymond Holt) - Brooklyn Nine-Nine
February Winners:
Readers' Choice: Jensen Ackles (Dean Winchester) - Supernatural
Staff Choice: Hale Appleman (Eliot/The Monster) - The Magicians
March Winner:
Readers' and Staff Choice: Camilla Luddington (Dr. Jo Karev) - Grey's Anatomy
April Winners:
Readers' Choice: Matthew Daddario (Alec Lightwood) - Shadowhunters
Staff Choice: Jodie Comer (Villanelle) - Killing Eve
May Winners:
Readers' Choice: Tom Ellis (Lucifer Morningstar) - Lucifer
Staff Choice: Chyler Leigh (Alex Danvers) - Supergirl
June Winners:
Readers' Choice: Suranne Jones (Anne Lister) - Gentleman Jack
Staff Choice: Jared Harris (Valery Legasov) - Chernobyl
July Winners:
Readers' Choice: Alycia Debnam-Carey (Alicia Clark) - Fear The Walking Dead
Staff Choice: Nicole Kidman (Celeste Wright) - Big Little Lies
August Winners:
Readers' Choice: Hannah John-Kamen (Dutch/Aneela) - Killjoys
Staff Choice: Cara Delevingne (Vignette Stonemoss) - Carnival Row
September Winner:
Readers' and Staff Choice: Oliver Stark (Evan "Buck" Buckley) - 9-1-1
October Winners:
Readers' Choice: Stephen Amell (Oliver Queen/Arrow) - Arrow
Staff Choice: Cobie Smulders (Dex Parios) - Stumptown
Please remember that a performer can only win once in 2019. After that win, they will be ineligible to win again in 2019, but they will secure a spot in our year-end Performer of the Year contest.
Now comes the hard part where you can
only vote for 1 performer
. The poll will be live until
Wednesday, December 11th at 6 pm ET
. After you vote be sure to make a pitch in the comments section for what the performer you voted for most deserves to win.