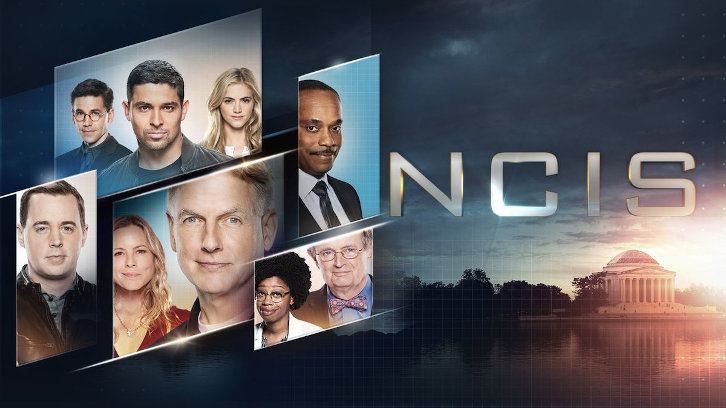 17.9 - "IRL"
Written by Christopher J. Waild
Directed by Terrence O'Hara
Reviewed by KathM

This episode could also be dubbed, "Phineas's Excellent Adventure".
A fun episode with Gibbs's new bro, Phineas, in a larger role. Still in a custody battle with her as-yet unseen ex, mom Sarah has to go out of town on short notice. Since she doesn't know anyone else in the entire DC area, she might as well let her son stay with Gibbs. I'm still not sure how well Sarah knows Gibbs, but Phineas likes him so hey, that works.
Gibbs is beyond pleased because he adores the kid, and it's fun watching him smirking lovingly as he calls Phineaus out on all the tech has had stored on him that his Mom said he couldn't use (one laptop and two phones, one in an ankle strap) and then tells him, "grab your gear", as they head out to drop him off at school.
But on to the case. I was never one for computer games, and certainly never kept up on their evolution but man, this stuff was weird. Sometimes I was amused (bunnies pre-assassin mode), sometimes I was horrified (bunnies in assassin mode), and sometimes I thought it was the best thing ever (cartoon-looking bear head filled with glitter). I actually understood the money part as my husband once worked with a man who quit his job because his wife was making so much $$ playing "Magic: the Gathering" that he didn't need to work anymore. Sponsorship are important. The whole, "look, old people can play video games!" angle was too overdone, but they had to get the retirement village idea in there somewhere.
Pauvre
McGee! Last episode no fish sticks, now no Elf King. And bested by a nine-year-old to boot. Someone is feeling their age.
The whole episode seems to be Gibbs and Phineas with a few things circulating around them, which is fine with me. It makes me think how Gibbs would be as a grandpa, especially since he'd be about the right age if Kelly had lived and had children. I don't think he'd spoil them by letting them play video games in MTAC, but you never know. Gibbs will go to any length to catch a perp, after all.
As for the main storyline, it was pretty easy to guess that curmudgeon, puzzle-playing Elmer was the culprit. He was stealing identities online through some code he'd programmed into the Wi-Fi at the Country Club Retirement splendor where he lived to finance his lifestyle. When he heard that poor Navy Petty Officer Rojas was going to come in and fix the Wi-fi so that it ran faster for his gray gaming friend, Elmer had to kill him because he'd discover all of the code Elmer had programmed in to help him nab everyone's personal info. So while the episode was able to link money and computers (stealing online personal info), it wasn't about killing virtual bunnies to get it (sponsorship).
Obviously, Phineas's afternoon stint as a Probie didn't go over well with mama Sarah, who told Gibbs that he couldn't see her son anymore. Gibbs is devastated but rallies, and when Sarah comes over to tell him that she acted rashly and of course he and Phin could spend time together he was quietly thrilled in his Gibbs way. After Sarah leaves there's a tiny "
ping
" sound coming from one of the old computers Phineas brought over when he was staying with Gibbs. When he opens it he finds an instant message from Phin, asking Gibbs how things went with his mom. Gibbs's smile is brighter than I can remember as he sits down to reply.
PS - Does anyone else get a "hinky" feeling about Sarah and her custody thing and needing money, etc.?

PPS - I wish Leon had been there! I'll bet his score is higher than both McGee's and Phineas's!
PPPS - Yay to Ellie for calling out kiddies basketball coach and online gamer/mysoginist Dustin Vanderschmitt. Shout out to everyone you can find about him and get him fired from coaching! I felt a little sad for his daughter, but not as sad as she'll be when she realizes what her dad really is.