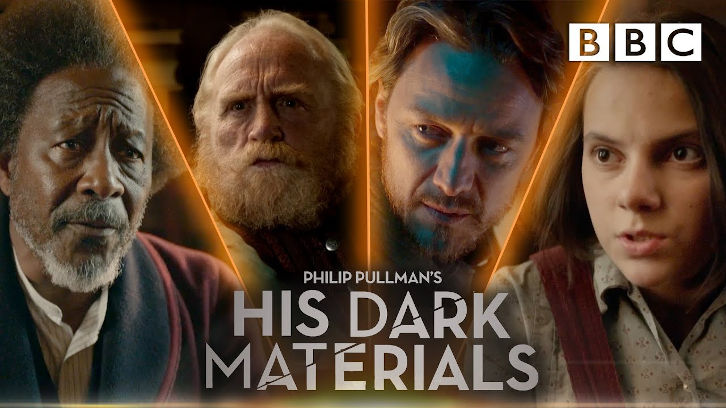 His Dark Materials split up the narrative for much of this episode focusing on Will Parry, the protagonist who wasn't introduced until The Subtle Knife in Pullman's trilogy but now we've seen an earlier appearance from the character it represents a desire for the narrative team to move events forward and have the events of the second book run in tangency with the first. Whilst much of the attention and rightly so is still on Lyra, who leaves the main group of Gyptians to go and investigate a village containing a 'ghost' with the help of Iorek and the alethiometer, the little bits and pieces that we got to see of Will and his mother represented an interesting beginning for the character. There was plenty of excitement here for book readers but I wonder how non book fans are liking the inclusion of the multiverse this early on, and for those of you who are doubting rest assured there is a larger payoff coming, it's just whether or not we will have to wait until Season Two to fully reap the rewards of Will's arc.

Lyra's arc meanwhile saw her journey into a small ghost town that felt straight out of a Stephen King story; particularly the entering of the small hut containing Billy Costa echoed Doctor Sleep, the film adaption at least and the vivid images that came with Danny's return to the Overlook Hotel. Crucial details however are left out of this scene that made it so much more impactful in The Northern Lights such as the fish that Billy holds onto for dear life, and arguably this is where one of the biggest weaknesses of His Dark Materials comes into play so far – the lack of emphasis on the daemons. Pan has been relegated to a minor role so far and as a result we don't really get – especially the fans who aren't familiar with the book – a connection to what it feels like to lose a daemon especially as a child. Billy's loss on its own is effective enough however, especially helped by the Gyptians understanding of what the child-cutters do and the revelation shocks them to the core. One day, His Dark Materials will let Ma Costa be happy, but that is not today. Anne-Marie Duff's reaction to her reunion with Billy almost made up for the loss of impact that this scene could have had if we were more connected with the daemons, but it is understandable that there is only so much CGI budget that even HBO money can get, especially given how expensive the series looks already.

The casting department continue to deserve every praise that they should get; James Cosmo and Ruta Gedmintas really sold their brief scene together as we got to meet Serafina Pekkala for the first time. Much of the past few episodes have been built around meeting fan favourite characters from the book and Serafina's entrance did not disappoint; Gedmintas sold the emotional connection that her and Cosmo's characters once shared, and it was just as quietly devastating, if not moreso than Billy's death and funeral.

Dafne Keen once again excelled as Lyra this episode as the show continues to give the character momentum as she makes her own decisions rather than resorting to being a passenger in her own story – the scenes with Iorek were effective and Kit Connor really sold how terrified Pan was of what they were about to see Billy. This all built up to the Gyptian camp being attacked in the middle of the night by Samoyed hunters and Lyra being turned over to the Gobblers – but for now, her identity as Lyra Belacqua remains unknown to them. Lizzie Brooks is the alias that she gives to the ruthless overlords of Bolvangar, and it is here – until Mrs. Coulter recognises her at least; that she must keep her identity secret in order to not draw attention.

Hints and subtle details were dropped here concerning the transformation of Lyra's character into someone so cunning that she will eventually trick the bears that cannot be tricked; but I won't go into much more here as that would tread into potential book spoilers territory. For now her development is becoming all the more clearer, even kept in the shadow of the biggest revelation so far: what really happens at Bolvangar.

If you haven't read the books is the alternate universe storyline working for you so far? And even if you have, did Billy's death leave as much as an impact? Let me know in the comments below.