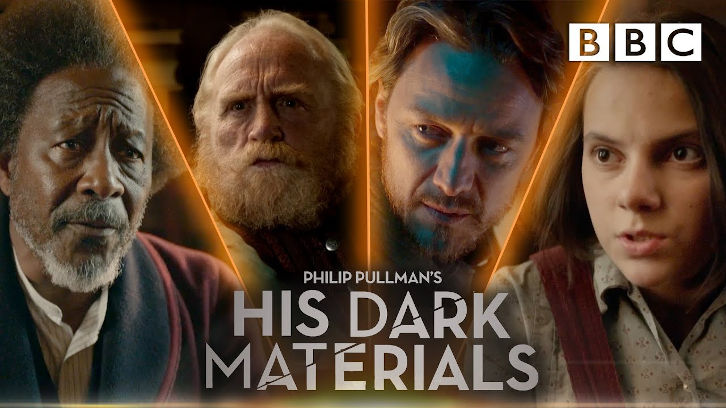 Scaling back the narrative for an episode that spent a good 90% of its runtime focused on Lyra this week was an excellent choice as The Daemon-Cages more than delivered one of the most exciting sequences in The Northern Lights, the high stakes siege of Bolvangar that The Hobbit series could have learned from from, restricting the temptation to go big and instead keeping the perspective of the battle almost entirely on Lyra. It helps when budget is concerned as even a show this expensive can't afford to go all out, hence why we only saw most of the battle unfold through trench-like terrain (again, something that the series has used in the past to keep Iorek in the background and not always in shot), but that didn't mean that we weren't in for an exciting and action packed episode all the same that moved things into the final act of the show and of the first book in style.

There's a lot to love about The Daemon-Cages, which ticked plenty of spots for me. Lizzie Brooks was only going to be a temporary disguise that fell apart the second Lyra was taken to have her daemon cut from her in the machine, there was no way were going to lose Pan and there was no way that Mrs. Coulter was going to risk having Lyra's daemon torn from her. It was terrific acting from both Dafne Keen and Ruth Wilson who both displayed an impeccable back and forth once Lyra resorted to crying out for her mother, and although Mrs. Coulter was surprised that she had found the truth she was willing to adapt and take her under her wing once more, promising that any friends of Lyra's would be kept safe from the experiments even if it was too late for Billy Costa. Behind Mrs. Coulter's back, Lyra had managed to win the support of her dorm-mates and even reunite with Roger, allowing her to put a plan in action and launch an escape plan once the fire alarm had been triggered.

It's clear that Mrs. Coulter still feels love for Lyra and seeing her tricked by the spy fly duplicate instead of the alethiometer was immensely satisfying, it paved way for some excellent tension between the two that did a good job at keeping Mrs. Coulter out of the frame allowing for Lyra to not just shut down the project but escape with the help of the Gyptians, who arrive to rescue the children in the nick of time, shutting down the guards and even Doctors who voiced their dissatisfaction with the current regime but didn't stop. "Just following orders" is never a good excuse, and seeing the cowering doctor get taken out by Ma Casta with a brutal neck snap was an incredibly satisfying moment.

I really liked Morfydd Clark's return as Sister Clara this episode even if it was a brief one. She'd had her daemon cut from her and Lyra was able to use that as an advantage to escape from her, but Clark was suitably chilling as a brainwashed servant. She's about to have an excellent 2020 if The Personal History of David Copperfield and Saint Maud are anything to go by, as having seen both films, she puts in impeccable performances in both. So, bringing her on board for His Dark Materials was a really good call.

Seeing the kids without their daemons in the secluded cells after seeing the daemons torn from them was cruel and heartless, and it was much more effective than seeing Billy for the first time alone. Roger's inspiring speech to rescue them gave him a Big Damn Hero moment of his own, and I just really enjoyed him working together with Lyra again this episode. It was suitably tense when it needed to be, and him joining Lyra rather than going with the Gyptians was never in doubt, these two are going to be inseparable until the end.

It was interesting to learn that the Gyptians aren't the only ones that Serafina has a past with and her scene with Lee on the balloon was a powerful one, especially now that we know what witches are capable of in a fight and seeing her unleashed on the hapless magisterium soldiers was a joy to behold. The direction from Euros Lyn (a BBC regular, having done some amazing work with the best Torchwood season: Children of the Earth) made clear sense of the chaos of the fight scenes, and sold the reunion between Serafina and Lee where Lee learned of his role: to guide the prophesised child to her destination.

But it's going to be harder for him than first appears, as no sooner does Serafina leave then they're attacked, and in a brutal, intense end to a brutal and intense episode that was a claustrophobic nightmare, Lyra falls from Lee's hot air balloon and ends up in the snow at the mercy of Iorek's rival and Mrs. Coulter's puppet, another armoured bear. It seemed rather appropriate to have a cliff-hanger following the confrontation with the cliff-ghasts, and the show left a brilliant impression that has me eagerly awaiting next Sunday's episode.

If there is one weakness to His Dark Materials as an adaption it could potentially be that the daemon and human bond is still not as clearly woven as it could have been although The Daemon-Cages did go some way to rectifying that and the daemons' importance to the characters. Regardless, Pan needs to have a more important role in this series, and hopefully this episode is only a starting point in the significant role that he has to play in the series to come.