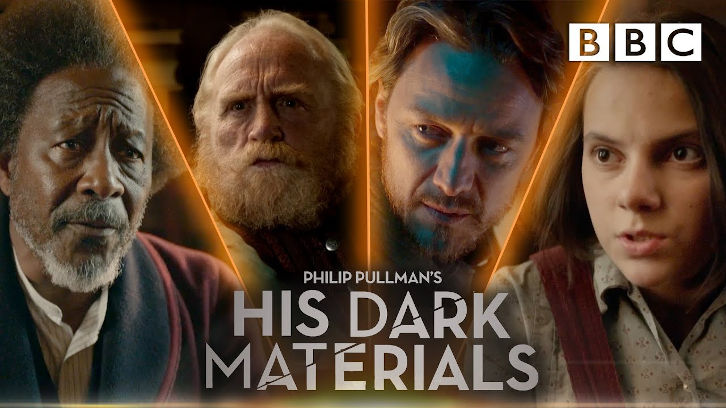 And so, the moment that I, among many book readers were dreading has arrived, something that we were holding out for the longest time wouldn't happen, because Roger, poor, poor Roger, has been nothing but a source of innocence and hope in this show when everyone around him has undergone character-defining journeys of their own. He's grown brave enough to accompany Lyra to the end of the road like Samwise Gamgee accompanying Frodo, but unlike Sam, there's no journey back to Hobbiton (or Oxford), for Roger, instead, he becomes a victim of Lord Asriel's nefarious plot to expose what dust really is and go to war with a bigger power than even the Magisterium: The Authority itself.

Lyra clashes with her father right from the start, bickering back and forth on anything and everything. Lyra accuses Asriel of daring to call himself a father, Asriel counters by saying that he never tried to call himself one. For all Lyra's journey to the North to bring the alethiometer away from Oxford College where she was safe to Asriel, it turns out not only does he not want her to be there as he needs to sacrifice a child for his goal, he also doesn't need the alethiometer at all. And in doing so, by having Roger accompany her rather than stay with the Gyptians, Lyra has led her friend to his death, this completing the ultimate betrayal. It was an emotionally charged and devastating moment befitting of a season finale, one that pulled out all the stops to deliver a memorable end to the arc of The Golden Compass and set the stage nicely for season two, which looks set to focus on the events of The Subtle Knife.

Both Dafne Keen and James McAvoy excelled in their constant standoffs, and the finale, which brought Mrs. Coulter back together with her one-time lover, culminated the emotional arc as both McAvoy and Ruth Wilson more than delivered in the climatic scenes of the episode. McAvoy's sheer conviction helped flesh out Asriel and make him instantly memorable, he cares about his daughter but the difference between him and Mrs. Coulter is that the mission will always be even more important, as while Mrs Coulter is willing to keep Lyra safe from having her daemon cut from her, Asriel would probably have been willing – if reluctant – to sacrifice her to achieve his goal. The look on his face at the end of the previous episode when he saw her was one of terror when he thought she was alone, and really set up the finale on a foreboding note which director Jamie Childs more than delivered on.

Bringing Will's storyline into the frame of His Dark Materials earlier has helped the transition between the two characters and worlds flow nicely and we get to learn more about his character in this episode as he finally ends up finding the portal and ending up on a collision course that will see him meet Lyra. His arc saw Lord Boreal tighten his grip and use connections with the police to make Will their target, and pushed him into hiding meaning there was no way he could go home. Following his path into the opening was an ending for his character whose arc I cannot wait to see continue in season two, with Amir Wilson doing a fantastic job at bringing is character to life.

We're in uncharted territory now, with The Golden Compass film having cruelly ended before Lyra could reach her father with Roger in tow. His Dark Materials pushed the boat out in the final episode to give us what felt both like the ending of the first chapter and the start of the next, but there have been weaknesses and not without flaws in a mostly excellent series. The biggest issue is that not even the massive HBO budget will allow the daemons to be in shot every time the characters are, cheapening their importance to the characters and combined with expositionary heavy dialogue rather than actions it has weakened their impact, even if I would protect Pan with everything. To the show's credit almost everything else has stuck the landing here and it's not taken away my enjoyment from the series at all as a book fan at least, and I'm very satisfied with how Childs and writer Jack Thorne brought Season One to an end.

The wait for season two is nothing short of infuriating.