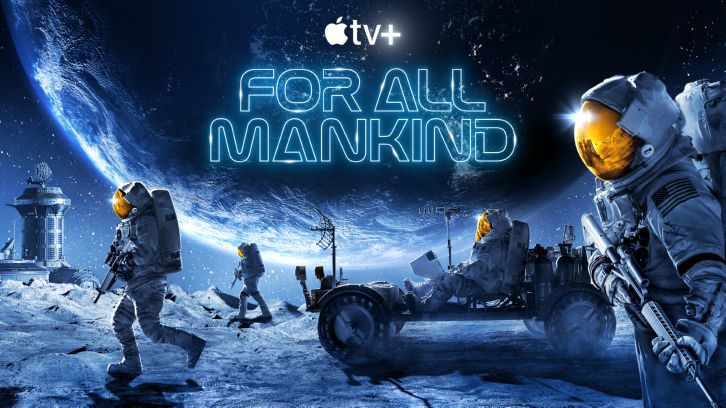 Author's Note: I watched and reviewed Bent Bird before I watched A City Upon A Hill, so please bear that in mind when reading the reviews.

For All Mankind 1.09 "Bent Bird" – Review:

For All Mankind delivered one of its best episodes yet with a nevre-wracking and incredibly dark episode that once again delivered on the emotional beats that this series has been doing so far. Opening with the planned rescue attempt of Ed Baldwin from space with Apollo 24 being broadcast live on television through a news reporter, the show wasted no time in kicking things into gear. The astronaut has now spent enough time alone in space to the point where it's starting to take its toll, and Bent Bird more than delivered on the first contact moment between the Americans and the Russians that we were expecting would come at some point in this series.

But first, let's look at Apollo 24 and 25. It's all been about bringing Ed home from the word go but a simple crowd-pleasing rescue mission would only evoke The Martian comparisons further, it wasn't going to be as easy as that. The show manages to capture the stakes that came with both Neil Armstrong and Buzz Aldrin's lives in danger if not with even more intensity, yes the audience knows about who those two people are but they likely haven't developed the same connection that they have with For All Mankind's version of the astronauts in comparison to the main cast, and Molly Cobb in particular, the first American female astronaut in space, and seeing her stranded in space was even more unpredictable and exciting.

And everyone is losing control. Ed is slowly going insane the longer he's stranded on the moon, isolated and without aid, still mourning the death of his son Shane. Back on Earth, Karen takes the loss hard too, as would anyone, and ends up getting high with Wayne whilst Molly is in space, a rare departure from the traditional mother role that we've seen Sharon Van Staten unfortunately limited to this season. Margo is struggling to keep the crew of Apollo 25 and Gordo in line and they openly disobey her orders, presenting problems further down the line for either party should the show address the fallout from this moment, which For All Mankind has largely been pretty good at so far this season. One of the more heartbreaking scenes of the episode was seeing Octavio arrested after finding out that Aleida was having two thoughts about going to the Kennedy School's advanced math and science program, and after we saw her perspective the previous episode it's time to see his side of things. Unfortunately for poor Octavio, things take a darker turn when the FBI continue to investigate Communist moles on a rampant witch hunt that sees Octavio arrested. It's hard to imagine Margo not being called into help at some point, as Aleida's future as an immigrant in the country is potentially called into question on top of this.

Most of the characters in this episode and of course, over the entire season thus so far, were put in a position where they were forced to confront with some kind of loss or tragedy, and For All Mankind more than delivered on that front, grounding the characters and making them do surprising things. Who could have called Karen doing what she did with Wayne? It leads to an interesting realization, and one thing's for sure, if she ever reunites with her husband, they're never going to be the same people as they were before Ed left for the Moon, which seems now, like ancient history.

With one episode left before the finale, Bent Bird did a fantastic job at keeping the audience on edge from the word go. It was nerve-wracking, and especially in the climatic scenes of the episode with Apollo 24 knocked off course and with no way of communication back to NASA HQ combined with watching Ed take out a Russian astronaut after inviting him on board when he might not have even been the same person who vaguely threatened him with a hammer earlier in their encounter, the series has gone out of its way to set up a finale where World War Three could potentially be on the line.

For All Mankind 1.10 "A City Upon A Hill" - Review:

For the final hour of the first season, For All Mankind pulled out all the stops to deliver an episode that replicated the tension that it had been building towards over the course of the season. It turned out that Ed wasn't able to kill the Russian captive Mikhail, and instead takes him on board for what turned out to be a heart to heart between the two. It gives Ed a chance to put himself back in the audience's good graces after the chilling end to Bend Bird, and ends the season on a high that justifies the premise, showing what For All Mankind could be capable of at it's very best.

We learnt about Mikhail's daughter back in Russia who will be told that her father is dead, and it's something that starts a gradual bonding session between the two men. Ed is smart enough to work out that there's only one rover that Mikhail is using and there is no help coming to him, but there is a hint that something more treacherous could be up in the air with Mikhail potentially gaining access to Jamestown Base when he's left alone whilst Ed prioritises the help of Deke and Ellen, and bringing them back to the moon, as they're currently off course to miss the lunar surface – and if they do, then there's no return to Earth for either of them – they just keep heading into deep space.

Deke is not quite fully accepting of Ellen's confession that she's in love with Pam, but he knows that keeping a secret like that could end everyone's careers, especially as we've seen what happened to Octavio in the previous episode. Once again it feels like Deke is keeping his eye on the program above personal issues. The decision to put Ellen in the spotlight for this finale was an excellent choice, especially seeing her replace Ed on the moon as he returns home, presumable to take Deke's place. It's a triumphant moment to see that Apollo 24 has made contact with the moon back in mission control but it's something that's cut short moments later by the devastating news of Deke's fate, that sees the body count on the lunar missions wracking up. There was no way there wasn't going to be a fatality and it made sense that Deke was the one to go, a character from a different era who has already passed on all he knew. It's going to be a shame to see a second season without Chris Bauer as his presence has been constant throughout the season, but by elevating Ellen to her role on the moon as the sole American astronaut present, For All Mankind gave room for Jodi Balfour to shine once again. I'm all for Ed taking a back seat (maybe in a new Deke-type role) next season and putting Ellen front and centre.

I did love a small but touching scene between both Gordo and Tracy this episode that was a powerful reunion scene between the two married couple, who I wish nothing but the best for. Gordo passing over the golden pin to Tracy gave his arc a nice moment of closure this season, in a powerful and touching moment that was another reminder about how all the emotional beats of the series have landed perfectly.

Pressure is affecting every character in the show and it ultimately comes down to a climatic scene where Ed tries to bring Apollo 24 to the Moon. It's something that feels earned, as a result of multiple triumphs, and it captures the uplifting moments even if followed by tragedy that this show needs, and I'm very appreciative that the writers didn't necessarily take a darker route, instead ending on something that could almost be considered hopeful: Ellen's press speech to the world acts as the season's closing montage, edited so that we follow the major characters in their various directions setting up their path for the second season, which it's been confirmed that the show is returning for along with currently, all of Apple's series. And hints too, are being dropped at where season two might take us - there may have been a moment for both Ed and Mikhail, but the space arms race is not slowing down any time soon.