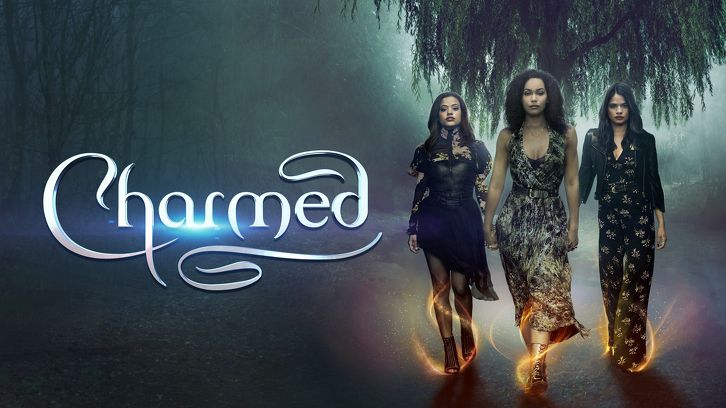 With Liz Kruger and Craig Shapiro taking over this season, I`ve had mixed feelings. This midseason finale almost vanquished all my concerns. An eventful and well-paced episode brought out all the best of Charmed, the sisterhood, the magic, and the drama. Kelli Williams directed the episode written by Zoe Marshall.
Let`s start with my personal MVP of the episode Melanie Vera. Gosh did she rock this episode! She was everywhere and for everyone and at one point even a fly. As the sisters were stripped from their powers at the start of the season Mel was left the most vulnerable. She identified herself so much as a witch and associated that with her powers that she felt lost and insignificant. Her fight to regain her confidence and strength was well layered over the 8 episodes, but it climaxed this week as she wasn`t able to protect her sister. Maggie`s decision to marry Parker so she could accomplish a change and safe witches her own way, shuck Mel in an (un)expected way. To protect her sister she even cursed herself into a fly, with no sure remedy. It was a beautiful sacrifice and a testament to how strong and fearless she really is.
Mel:: No, I am just as small as I allow myself to be. I may not have powers, but that doesn`t mean I am powerless. I am fierce, loyal, devoted to my sisters. And if that is all the power I will have, the power to love, it will be enough.
Mel eventually confronted Maggie with the news that Godric took the sacred fruit and that Parker is aware of them. That led to one of their most heartbreaking scenes to date. Even though a bit staged and with a confused Maggie, this scene really hit deep into the core. On one side we had Mel`s black and white vision, on the other Maggie`s rainbow grey area full of hope and determination. Maggie still believed her sister which led to a major fall out with Parker but a bit later on that. After Mel got booted out of the Wedding she let her rage go wild at the Command Center, which led her to the discovery of the upside-down tree and the Black Amber within it. The Black Amber didn`t bring back her freezing power but instead made Mel experience a new power, Molecular Manipulation. She was able to manipulate the gas out of the fire security system and solidify it so that Parker was unable to attack them. Mighty cool. It should be interesting to see how Mel will be able to manipulate other material forms and how her powers might work in combination with Macy`s pyrokinesis.
After seeing another witch fall, Maggie accepted Parker`s marriage proposal. It was an honest Maggie move. Again the writers used all the events of this season to fuel Maggie`s decision. She felt belittled in so many ways but was always so powerful within and she proved it as she took the weight of the whole witch world onto her small shoulders. As often stated Maggie is often emotional but that is where she draws her strength and it doesn`t make her a survivor it makes her fighter. And if it wasn`t for Godric and Abigael she now would've been a married woman. You gotta give to those two and especially Abigael cause they played the two love birds just the way they needed to come on top of them. The confrontation between Maggie and Parker was really powerful, some of Nick Hargrove`s best acting. Emotions boiled over as Parker`s jealousy was amplified by the sacred fruit. Him dipping into her mind was a major violation of privacy and I am glad the writers came up with a reasonable explanation for it, cause it indeed felt out of character. Maggie losing Parker surely will stir her new arc, I am here for it.
Last but not least, Macy had to do a lot of self-reflection as well. Harry`s insistence that Abigael might be all innocent in this story rubbed Macy the wrong way. That led to a heart to heart between Mel and Macy. I must say I squealed a bit when it actually happened. I am so thirsty for them bonding and it was really beautiful to see them share screen time as just sisters. Macy deflecting and saying it was Jimmy /Dark Harry she was thirsty bout felt unlogical but let's say we`ve bought it. The tension between Macy and Harry is insufferable, the angsty writing isn`t benefiting either character and it ways down heavy on the episode. Harry take a hit at Macy with her own medicine was a brutal blow. Mentioning her affection for Jimmy as a counter to her negging about Harry`s faith in Abigael was a nasty burn. Eventually, after everything boiled down, Macy self-reflected and realized that there might be some real feelings for Harry. Sadly TV writing mixed its fingers into it and Macy caught Abigael and Harry kissing just when she wanted to confess her sort of feelings. Macy went a long way since season one with discovering herself through Gavin and growing as a person. And her arguments towards Mel were mostly related to it being Harry, their Whitelighter, their honorary Charmed sister. He is the only whitelighter out there and a break up would be nasty, so it is understandable she is hesitant and afraid of her real feelings.
On the other hand, I understand Harry`s motivation for kissing Abigael. Just as with all the other characters, the writers put Harry on a journey. He discovered he is only "half a man" and started feeling incomplete and not good enough for Macy, as she apparently had feelings for his darker half. Rejected and feeling unworthy and unable to a man and proper Whitelighter Harry gave himself into the passion between him and Abigael. Cause what if he discovers his dark self this way and became finally appealing to the woman he loves. A major conundrum.
Other Tidbits:
- I loved seeing the main cast all glammed up. Such bombshells. The outfits Macy is getting this season are breathtaking. But there isn`t a bad apple in our Vacy-Vaughn family.
- Jordan faced his first Demon. Him standing up to Parker for being a prick was very swell. Hopefully, the girls find a way to keep him alive or if not possible turn him into a Whitelighter. The witches need protection.
- How badass was Abigael this week? That girl surprises me week in week out. Yes her accent annoys me but she is such a good villain. Also, can we meet her Mom? Alice Evans would be a proper choice, FYI.
The 6 weeks winter hiatus started and it will be dreadful. Luckily we weren`t left on a major cliffhanger only with a lot of Hacy angst. The winter premiere will bring in Eric Balfour`s character and Maggie`s and Macy`s dad into the fold, and I am here for all of it. In the meantime sound off in the comment section down below. Till next week. . .