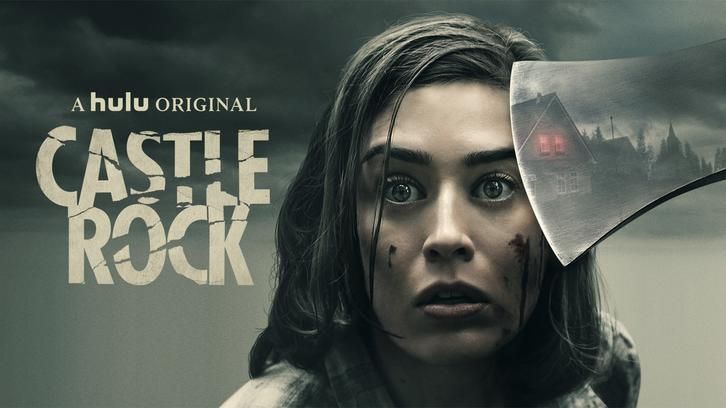 Castle Rock 2.09 - "Caveat Emptor" - Review

Castle Rock brought everything about the past and the present together full circle for an exciting hour that connected everything that has been so scattered throughout the season. Bringing Annie, Abdi, Pop and the entire surviving cast who hadn't been affected by the hypnosis under one banner was a fascinating moment as we got to learn more about the town in a richly rewarding siege episode that saw the main recurring cast members holed up in a makeshift fortress of their own against an army of the undead, and Tim Robbins naturally went out like a hero because Tim Robbins knows no other way.

One of the things that has been clear about this season is that Pop, no matter what he does, won't be able to earn forgiveness for his actions that he committed in the past and the conflict with his adopted family is still there. This episode was all about seeing him confronting his past demons in many forms, with him coming face to face with the realization that no matter how sick and twisted Ace was, he still loved Pop. The spirited defence of the building kept the survivors in one place for an exciting and tense hour that had all the stakes, from that opening truck chase that had echoes of other Stephen King stories to the final showdown where Pop tried to sacrifice himself only for the explosive vest to fail, allowing him the favour of one last victory cigar for being gunned down. Taking lessons from Peaky Blinders, Castle Rock managed to use a brilliant stirring tribute to one of the show's greatest actors with the aide of the always emotional What He Wrote by Laura Marling. Between Laura Marling and Johnny Cash, Castle Rock really pulled at the heartstrings this season.

Trapped in the lion's den, this episode brought a lot of confessions out for Annie as she found herself being questioned whether or not she was really best for Joy. Joy's friend – who saved Nadia and Pop only to be saved in turn by Abdi, still isn't on the best of terms with her and Annie believes that she was trying to steal Joy away from her ever since they arrived in Castle Rock. This episode hit the emotional beats pretty much everywhere and it's important not to overshadow how vital this episode was for Annie even if it was perhaps rightly a Pop-centric hour. She did get to add another grisly, gory kill to her bodycount though, dispatching Jay's eyeballs with the hands of syringes in a gruesome way that Stephen King would have, again been proud of. Hell, it was so bloody even Quentin Tarantino would have applauded.

This is a Pop who's smart enough to go head to head with Augustin, knowing why "Gus" has come to him. Gus needs the letters that Warden Lacy (remember him?) left behind that contain information about the Angel and the Kid, and Pop exploits that, recognising that Gus has been around even longer than he has and knows a thing or two. We learnt that it wasn't the statue itself but it was the sound that pulls people into a hypnosis, even if there are those that are immune to the spell and it's not completely invincible. Out of every episode in Castle Rock so far, it's pretty clear that Caveat Emptor has given the most answers yet, and they couldn't have come at a better time as the show ramps up pretty much everything.

We have answers to why some characters haven't been affected but not others – the survivors all have some kind of factor to them that makes them different and stand out from the pack – Annie's schizophrenia for example has kept her unaffected in comparison to the relatively normal Joy, whilst Evelyn's alcoholism likely saved her, and we all know about Pop's cancer, which takes his toll on him after an episode where Gus spends much of it taunting about how terrible of a human being he is. Pretty sure you aren't exactly right to claim the moral high ground here, Gus. But despite the show going out of its way to remind the audience that Pop wasn't a good man, it'll be hard not to miss Robbins' imposing presence on the series so far as we head towards the final hour, and Nadia not getting the answer that she wanted on the walkie-talkie as they escape the town into the woods was a devastating end, punctuated by the immaculate sense of foreboding and dread that the series has built up over the course of its second season.

There is a much greater sense of despair than before and the survival chances are a lot lower for the band of stragglers that have made it out of Castle Rock at least for now, and the episode left us in a very dark place indeed. Gus is sure to convert Pop and bring him back (assuming headshots are curable) gaining every information that he has through his memories about the papers even though he followed through on his plans to burn him, and it'll be a sad end for the leader of the Merrill clan, interposed by one last ironic defeat. A battle may have been lost, but the war for Castle Rock's soul is not over yet.

Castle Rock 2.10 "Clean" - Review:

Tying (almost) everything together with Castle Rock's place in the wider King-verse together in a brilliant, emotionally charged way, Clean delivered on everything far more than I could have hoped, setting the stage for the actual events of Misery to take place in a heart-breaking finale that pulled out all the stops to establish this season as one of the best Stephen King adaptions that we've had in a while. Most Stephen King stories fail to stick the landing to the point where even It: Chapter Two spent what seemed like half its runtime poking fun at King's ending, but thankfully Castle Rock more than delivered with a memorable climax that saw the final battle for Castle Rock take place.

In fact, the final battle was merely a footnote in Annie's story, the show may have pushed her to the side for the past few episodes but has proven time and time again that she is the show's main character, and always has been. Lizzy Caplan has put in compelling performance after compelling performance in this and once again, Clean is another showcase of what feels like her at her best. It may have been an expected ending but that doesn't make it anything less than a satisfying one, watching Chance, Abdi, Nadia and Annie team up for one final siege of the ancient Marsten household in a bid to destroy the statue of the Angel and free Castle Rock's townsfolk from Ace's influence. If anything, it feels more like two episodes combined into one, perhaps a little disjointed but regardless, ridiculously effective. Annie was always going to prioritise Joy over Abdi and Nadia, and eventually making it out alive with her, whilst getting one last, heroic send-off for Pop in the process, wrapped the first half of the episode off with an interesting cut-off point, never quite fully resolving the mystery of the Angel but leaving it open for a potential season three to incorporate the character once more should it so wish.

The second half decided to take us to Canada, as far away from Castle Rock as you can possibly get, as Joy decided to take Annie under her wing once more with their relationship having completely disintegrated. Yet something more sinister is happening to Annie, and keeps seeing hints in places that could be there or could not be, opting to believe that rather than abandon her completely in favour of emancipation, Joy has become under the influence of the witches that haunted Castle Rock and still has Amity possessing her. She catches Joy watching Blue is the Warmest Colour and seemingly knowing the language fluently, multiple drawings in her notebook spark further suspicion and the final straw is the phone call to a mysterious man, where Annie realises that something has to be done, and heartbreakingly, drowns Joy in the lake of the idealistic carehome, killing her.

Then what follows is an ambiguous closing montage that all feels too dreamy and optimistic to be fully real, set to the tune of Let the River Run, with both characters reaffirming their bond as mother and daughter/sister and doing all the things that a mother and daughter should be doing together, including going to see Annie's favourite author, Paul Sheldon – the writer of Misery's Quest, sharing their admiration for her favourite work. It's the snapshot of the two realities that contrast the one full of bitter despair with an optimistic and hopeful ending that never fully goes away, using the Misery books as a way for a happier, loyal Joy to be around whenever Annie wants.

It's a memorable ending, and although the tying of the first two seasons together does contradict certain elements of the first season it worked well regardless for me. From the start, the show was more about serving as a prequel to Misery than anything else, so even if it meant that some parts were more unsatisfying than others, as a fan of Misery itself, I felt that Castle Rock's second season worked wonders as an excellent stage-setter.