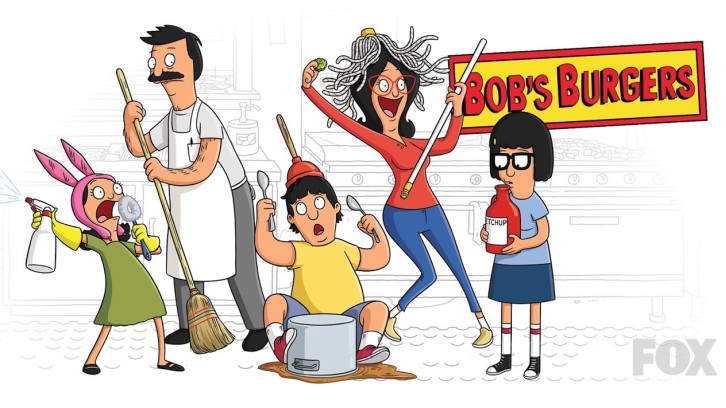 The holidays can be an expensive time of the year, and for the Belcher family that means Linda has a temp job sorting mail at the post office on Christmas Eve. Linda is very excited for this opportunity - she's basically Santa Clause, giving gifts to good little boys and girls and Andie McDowell. Just don't say that she has a big sack.


But the reality of post office life isn't as glamorous as Linda thought it would be. Her boss Donna is stressed, her coworkers indifferent and there's the ever present threat of human poop being in one of the packages. Linda keeps her peppy attitude though, and she even witnesses a Christmas miracle: a man needs to mail out a gift for his nephew but the post office is closed. He begs for the post office employee to take the package and eventually the man does, saving Christmas for a little boy. Yay!
But the package gets misplaced and stays behind as the last delivery truck of the night leaves. Linda finds the package and there are two things she could do: leave the package as Donna instructs and it'll get to it's recipient a day late, or break federal law and take the package with her to deliver it herself to the mail sorting plant. I'll give you one guess as to what she picked. Hint: the episode was longer than five minutes.
Meanwhile, Bob and the kids are dealing with their own holiday issues. Bob is worried that Linda won't be back from her job in time to deal with her parents and Gayle, who are on their way to the Belcher's for dinner. Apparently, between Linda's mother's criticisms, her father's phlegm, Gayle juggling the lies she's told her parents and a mysterious "ottoman incident" from last Christmas there's a lot to manage and Bob isn't up to it.
Tina has organized the first annual Belcher kids gift exchange, with a cost limit of one allowance - so not much. Gene and Louise slack off, which is very on brand for them, but when Louise gets a peek at Tina's gifts to them, she starts to worry. Tina has a special toy from a vending machine that Louise really wanted for Louise and Pinkles for Gene, his favorite brand of froyo toppings only found wholesale. The barrettes they'd planned to gift Tina aren't going to cut it.
A nice touch is that Louise feels bad both because she's shortchanging her sister and that doing so might make her look bad to Santa. Being selfish/selfless at the same time is very Louise.
After Linda commits theft she and the kids, who need to go shopping to find Tina better presents when her journal gives them no clues about what she'd like, set out to the mail sorting plant. Linda takes the package to the plant manager, who tells her to leave it in the bin outside his office and it'll get delivered, but not by Christmas. Linda has reached another crossroad: leave the package or take it to the boy, who Gene dubs Nephew Cracker, herself. Since it's only halfway through the episode, she and the kids set out to the next town over as a illicit Santa stand ins.
The professional mail people are not amused with Linda's free-styling. When the plant manager finds the bin he told Linda to put the package in empty he calls Donna, who then calls Mike, who vouched for Linda in the first place, to take care of Linda. Not gonna lie, I kinda thought, for like two seconds, that the postal service employees where planning on assassinating Linda. Then I remembered I'm watching Bob's Burgers and came to my senses.
When Linda and the kids reach the address on the package they find that Mike has met them there and he wants the package. Regulations must be followed and that package has to go back to the plant. Linda pleads for Mike to deliver the package himself, since he's a mail carrier, and as a sleepy little boy comes out of the house to see what's going on Mike walks back to his car. Linda is crushed. But then Mike returns with a handheld scanner - someone has to sign for the package. Christmas is saved!
The kids end up giving Tina an origami swan, courtesy of Mike, and hugs to Tina as their gifts. Tina and I are touched but still think they're lame gifts.
Meanwhile, Bob and Tina have found the best way to deal with Linda's family's issues: to talk them out rather than ignore them. They find out that the ottoman incident was Gayle getting trapped inside her parents' ottoman for hours when she tried to surprise them but got stuck when some heavy presents were put on top of the lid preventing her from getting out. It's ridiculous and fabulous at the same time. Things are smoothed out when Bob calls and pretends to be the bank telling Gayle that she has too much money in her account and it's a fire hazard. Still scratching my head over that one.
Odds and ends:
Favorite quote: "Another Christmas Even screaming through a fence."
The lies Gayle has told her parents about her life:
She's an eyebrow model abroad.
She's an internet doctor.
Gail's lover Dirk Money Rich flirted with Bob.
Best running gag: Linda giving out chocolate candy canes and telling people how awful they are. Now I want to try one!
Best blink and you'll miss it moment: Bob and Tina not knowing the words to Christmas carols.
Was this a worthy holiday episode of Bob's? Thoughts and comments go below! Plus, happy holidays to all those who celebrate!