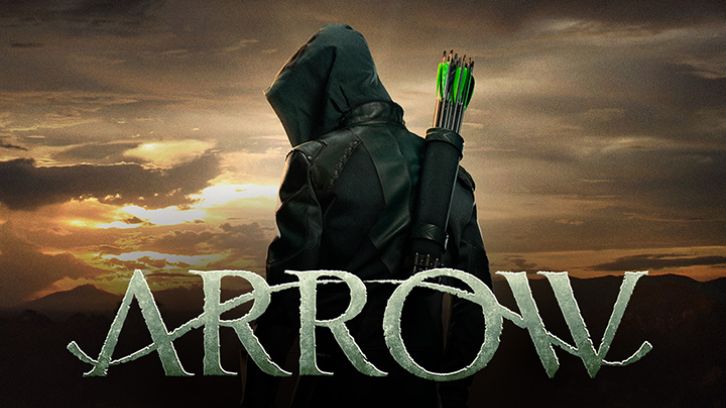 Arrow
"Reset" was written by the team of Onalee Hunter Hughes and Maya Houston and was directed by none other than Diggle himself – David Ramsey. Houston moves from writer's assistant to her first writing credit with this episode. Pretty good first time out! I was beyond thrilled to welcome back Paul Blackthorne as Quentin Lance! And Blackthorne really delivered in this episode, easily recreating Lance. Of course, this wasn't quite the Lance we've seen in the past – this Lance was actually a pretty happy guy who laughed a fair bit and was completely at peace with himself and those around him. I loved it. I also loved the story that kept playing out like Groundhog Day – even if I didn't like that every iteration ended with us losing Lance again. Kudos as well in this episode to Katie Cassidy (Laurel) who once again nails her scenes with Lance – just love these two together.
The episode picks up pretty much where we left off last week, only Oliver wakes up on his couch late for a fundraiser. I think another thing that I liked about this episode was that the "kids" were only ever in this one short scene. Yes. I do like Ben Lewis as William and Joseph David-Jones as Connor, but any episode with as little of Mia (Katherine McNamara) as possible is a win for me.
Oliver heads to the fundraiser and Diggle is already there – and so is Lyla (Audrey Marie Anderson). They explain that everything was a misunderstanding and that Lyla has been acting as a double agent, getting information on the Monitor (LaMonica Garrett) – all has been forgiven. Then Oliver discovers that the Mayor is Lance! There's a hostage situation at SCPD and of course, Lance insists on going in – and then a bomb explodes killing them… and Oliver wakes up on the couch again.
I loved how each time through, they figure out another piece of the puzzle. In the second go round, Oliver discovers Laurel is there – and I loved her assuming that he wouldn't remember the reset. She points out that they are the two who pissed the Monitor off the most, so he's clearly punishing them.
I loved the moment that Laurel first sees Lance and she's overcome. Even when they disarm the bomb, however, Lance ends up shot and dead. Reset. And then they realize that Lance's death is the reset button. There's a nice scene again between Lyla and Laurel as Laurel tells Lyla that she's going to remember and get her revenge.
We get a terrific scene between Laurel and Lance in which she tells him that in her timeline – and I loved that Lance just accepted what Oliver and Laurel told him without question – that Diaz shot and killed him and that he died to save her. Lance doesn't hesitate as her tells her that that's the best way he could have gone – saving her. Lyla shows up and tells Laurel that she can't fight it and shoots Lance. Reset.
Oliver and Laurel aren't sure what Lyla is up to, but Oliver thinks it's a test. When Lance is shot again, Laurel tells him that she's not giving up on him because he never gave up on her. She tells him that he's why she's been trying to be good. Lance tells her that she is a hero – they have the chance to tell each other that they love each other and then he dies – but it doesn't reset. Oliver tells Laurel that they'll fix it, but Laurel says that she's done. She can't go through Lance's death again. All she ever wanted was to say goodbye to Lance and now she has. She's satisfied. Reset.
This time Oliver goes to the lair and Lyla is there but not Laurel. Lyla tells him that Laurel got what she needed and now Oliver has to accept the inevitable – he has to learn how to do that. This time it's Oliver and Lance fighting it out together. We get a big fight and lots of specialty arrows. Lance is shot and the two are pinned down. Both are out of ammunition. Lance tells him that there's just no saving him. He's not giving up, he's giving in – accepting the inevitable. Lance takes off his bullet-proof vest and walks out to be killed. Reset.
This time when Oliver wakes up, he tells the kids that it's been a gift getting to know them – are we to believe that the Monitor orchestrated this? He also tells them that he's proud of them and that they'll be fine without him. He might as well have been talking to the actors who are about to take over his show. I will give the scene a nod for some awesome meta moments, but I'll also dispute that they'll be fine without Amell.
Oliver goes to the party again. This time, however, he asks Lance what made him decide that Oliver wasn't the enemy anymore. Lance tells him that his daughters convinced him that they were all on the same side, fighting for the same goal – and of course, he was going to trust them! Oliver thanks Lance for everything – and that's that. Rene (Rick Gonzalez) calls Lance away, and then Lyla shows up and congratulates him as now Oliver understands. Oliver agrees. He can't change his fate.
Lyla tells him that he needed to see it. She admits that she's worked for the Monitor for a while because it was the only way to protect her family. She tells him that there's an evil coming greater than anything they've yet faced. Lyla tells him that it was all a test and that it all had a purpose. They had to know he was ready – and he has one more mission to complete…
Oliver and Laurel wake up in a tent. Oliver tells Laurel that getting to say goodbye to Lance was her reward for not betraying him. Oliver also tells Laurel that Lyla said he had one final mission. They are joined by Diggle, William, Connor, and Mia – and they are all on Lian Yu.
As much as I enjoyed the resets and Paul Blackthorne, the Monitor plot continues to bother me. Just because they are stuck in this maze and manage to make their way out, suddenly they don't believe the Monitor is a threat anymore? They simply magically trust him? Even after he's manipulated them so completely? It seems a bit far-fetched to me. I'm still suspicious – and they should be too! And if the Monitor has been a good guy all along all the episodes so far this season have been a stupid waste of everyone's time. What did you think of the episode? Let me know your thoughts in the comments below!