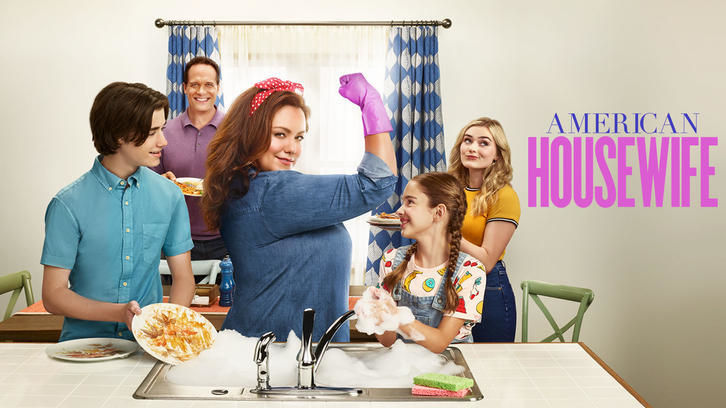 Katie and Oliver team up to advance her new lasagna business this week. Sounds like a recipe for disaster, right?

Katie is loving running her own business making lasagna. She already has 7 regular customers! Of course, Oliver is more-than-ready to burst her bubble, and volunteers to "Shark Tank" her, which amounts to him running the numbers and telling her she's only made a profit of $11. Even though Katie's less-than-happy to get this news, she's willing to take Greg's advice when he suggests that maybe she should employ Oliver to improve her business. And Oliver's actually willing to do it, for only a 10% cut. (He demanded 50%, but Katie threatened to call up his girlfriend's parents and invite them over for dinner and that was the end of that discussion!)

While Katie is busy attempting to advance her own professional endeavors, Greg finds himself stuck in a professional rut. He has no idea what to write his second book on. Angela offers to hook him up with a Youtube star client of hers who needs someone to ghostwrite their memoir, but Greg's not willing to stoop to that level until he gets a talking to - from Franklin!

Franklin's mother has dropped him off for the weekend while she goes on a "church retreat." Taylor's volunteered to supervise him to be able to check another thing off her "adulting list." But of course, there really is no supervising Franklin, and he helps himself to nose around on Greg's computer, where he discovers Greg's blank list of ideas for his second book. Franklin tells Greg he needs to be willing to go out of his comfort zone, just like Katie is by getting help from Oliver and like Taylor is by agreeing to watch him. And Greg actually decides to listen to his uninvited house-guest!

The only problem is that Greg doesn't know the first thing about Youtube prankster Lonnie Spears. Taylor and Trip show him a few of his videos, and it's obvious the guy is an idiot. His signature move is paint-balling people. Greg admits that he has no idea how to connect with him. Trip suggests he paintball him when they meet. And for the second time, Greg decides to take the advice of a seriously questionable source. So, he goes to meet Lonnie with Angela, and instead of shaking his hand, he shoots him with a paintball. And although Lonnie may like shooting other people with paintball guns, he's none too happy to get shot himself, and he quickly storms out!

Katie isn't having much better luck. Oliver changes the name of the business from Mama's Zazagna (which is what Anna-Kat said when she was little) to Coastal Farms Lasagna, because it sounds fancier. When the two go to register for "Flavor of Westport," a food festival where all the local restaurants give out free samples, Katie's shocked to see that not only does the guy in charge like the name, but Oliver's already anticipated another problem and found a way to solve it. All "Flavor of Westport" vendors have to have an actual restaurant, so Oliver dug up old paperwork proving that there used to be a brothel on the land their house is on, which due to some strange law, legally makes them a restaurant. But Katie does draw the line at Oliver's final attempt to change things. Apparently "Flavor of Westport" is a "healthy choices" food festival, which basically means all the ingredients that give the lasagna taste are not allowed. No gluten, no real cheese, no nothing! Katie refuses to change the recipe and even makes Oliver a batch of kelp noodles, cashew cheese lasagna just to prove how bad it is. And yeah, the new lasagna is really bad. Katie and Oliver decide they're still going to make their mark at the festival anyway, and plan to secretly give out samples, even if they aren't an approved vendor!


The two pack a bunch of lasagna servings into mason jars, stuff them in backpacks, and agree on a new name - "Mrs. O's Lasagna." At the festival, they secretly hand out samples and even get some orders placed! Katie calls in Greg to stealthily drop off a pan of lasagna from the house for an order. Oliver successfully makes the drop and two starts to celebrate the fact that they've yet to be caught - just when the cops appear! But the cops walk right past them, and head straight to Greg!

Apparently, Lonnie wants to press charges for the paintball attack. As Greg pleads with the cops not to send him to jail, Lonnie and his camera crew appear. Greg's been Punk'd. (Or whatever the Gen Z version of that is!) Angela convinced Lonnie to give Greg another shot, so Lonnie read his book on John Stuart Mill and decided he would be perfect for the job. He also decides to paintball him a few more times before letting him out of the handcuffs!

While Greg, Katie, and Oliver are skirting the law at the festival, Taylor's busy trying to up her babysitting game. After being criticized by Greg for plopping the kids in front of the TV to watch nature documentaries all weekend, Taylor decides on a game of hide-and-go-seek. (And I'm not sure who's more thrilled, Anna-Kat and Franklin, or Trip!) Although she finds both Trip and Anna-Kat fairly quickly (thanks in part to the fact that they've both got "Eye of the Tiger" stuck in their heads and are whistling it aloud...), finding Franklin is another story. The three searches for hours, before Anna-Kat, finally convinces Taylor she needs to call Greg.

Of course, Greg's busy getting fake-arrested at that time, and he doesn't answer his phone. So, Taylor, Trip, and Anna-Kat head down to the festival, where they finally find Franklin! Apparently, he hid under a blanket in the back of Greg's car, fell asleep, and took an unintentional trip to "Flavor of Westport."

Random Thoughts:
-Someone really needs to put parental locks on Greg's computer for the sake of Franklin's online shopping habit. I cracked up when fruit trees, a gazebo, and two llamas showed up for Greg!

-I'm really not surprised that Trip didn't catch on to the fact that a clear shower curtain doesn't actually hide him!


-Best lines go to Franklin, when telling Katie about why he's being dropped off for the weekend - "My mom's at a church retreat in Atlantic City. They're going to improve the church's finances' through the blessings of card counting," and Anna-Kat, when the topic of Taylor and Trip procreating is brought up - "If you two get married, you should think strongly about adopting."
Were you surprised that Katie and Oliver were actually able to work together? How do you think Greg's new side job will go? Let me know below!