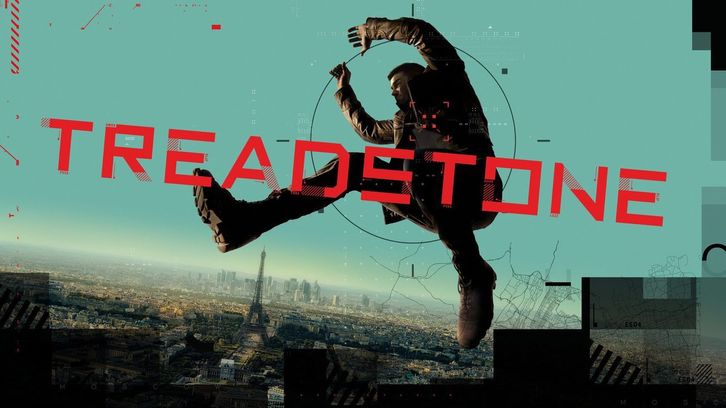 Our third outing of Treadstone, jumps straight into the aftermath of the car crash Tara and Kwon's daughter were in. The two have suffered minor injuries, managing to escape from their chasers and make it to the embassy. The episode jumps back to Bentley in 1973, he decided to return the headquarters where he was tortured and kept prisoner by the KGB. Sneaking past the guards, john makes it into the room where he fought Petra, only to find it empty with no bodies on slabs. He interrogates the cleaner and discovers the previous owners have moved out. Flipping to present day Moscow, older Petra walks into a flat which is empty and looks to have been for some time, no electricity and dusty. While trying to fix the electricity, she meets a neighbour who graciously gives her a fuse to fix the problem, inviting the woman into the flat Petra hits her with a kettle and the two fight. The neighbour fights very skilfully but Petra manages to subdue and kill her, examining the body Petra finds a gun strapped to her thigh.

The episode then takes us to Washington and Becker, who is meeting her husband for lunch. They discuss his success on the case on privacy rights, Ellen tells him she can't leave her job yet and before the husband can interject, the phone rings. The phone call is from Matt, who is outside the shooters (Haynes) flat. Ellen allows him to break in and says she'll keep looking into the victims. In the flat Matt and Wells find a room that is covered in scratches and dents, it appears Haynes went insane before murdering people. The episode cuts to Matt and Wells in a prison interrogation room with Haynes, Edwards asks him why, but Haynes doesn't know why he killed those people, he just felt compelled to. When Treadstone is mentioned, Haynes replies "they installed it", he says control sent a target package (place, time and photo). Matt gets frustrated and speeds up the questioning and speaks in a loud and angry tone, this causes Haynes to yell "WE DON'T ASK WHY!". Wells manages to calm him down and persuades him to undergo hypnosis, under hypnosis Steven (Haynes) spouts off a conversation he had when he joined Treadstone, Matt manages to find out a woman told him to kill the people. After this Steven breaks down and starts seizing, the guards carry him out.

The episode jumps to Doug, who's at home in Kentucky. He gets a phone call from his pal with an offer he promptly turns down. His wife, Samantha, comes in and the two chat about work before Doug suggests day drinking and dancing which Sam jumps at. He takes her to the bar, he staked out previously. At the bar he asks about the woman in the picture, a man at the bar seems to be keeping a close eye on Doug and staying out of his vision. The episode switches to SoYun, who is promptly told she's going to a party that night, she catches a glimpse of her husbands work which says Stiletto Six. Another jump to a new character, Nira Patel in New Delhi, India. She's serving people at a restaurant when her phone rings with a target package of a man, she immediately leaves work. The target is found mediating and she tails him when leaving. Nira manages to catch his attention and lead him down a quiet alleyway and sprays him in the eyes. She then walks away and leaves the man who sits at the curb of the pavement.

The episode jumps to the CIA Headquarters with Becker and Levine, who discuss the death of a 25-year-old man who just inherited a lot of money. He was in the Himalayas on retreat when he was sprayed with an aerosol and died 15 minutes later (eerie coincidence?). They then discuss the victims of the shooting, the stay at home mum was found to be a whistle-blower who was murdered before she got the chance to reveal any info. The Oil Company she was going to expose, is related to a Senator who was involved with the Black Briar hearings. Back to 1973, Bentley calls up his partner Frank asking to meet up and help him prove his innocence. The two meet up, Frank shows him the photos of 3 people whose bodies were found the same day John came back to the CIA. John reveals he knows them, that he shot them during his final test, but he isn't a traitor just brainwashed and he bursts into tears. Frank opens a door behind John and the section chief walks in with his gun aimed at John, he believes that Bentley was drugged and shoots Frank. He enlists Bentley to figure out how he was drugged and compelled to shoot those men, only then he'll be cleared. The chief tells him that the best place to start is Budapest since that's when he and the red-haired women were last seen.

The episode jumps back to Petra, who has sneaked into the house of the man she called at the station (Max). Holding a blade to his throat, she discovers Max didn't send the operative, but Yuri did because she doesn't serve any purpose now. Her watching over the missile isn't important and Yuri has secret plans for it, before she leaves, Petra slits one of his wrists. Back at Paris with Tara, the pursuers are identified as North Koreans and Tara calm and consoles Kwon's daughter telling her to stay strong. The Ambassador and Tara discuss Stiletto Six, that a group of North Koreans were going to buy the codes before General Kwon stopped them. He gives Tara a flash drive, that has the currency to buy the launch codes and help neutralise the missile. Tara phones Matt saying thank you and that she's heading to Ghana to figure out how to tell everyone about stiletto six.

Back to SoYun, she's dropping her son off to her grandmother. A guard walks up to her and tells her he knows she killed General Kwon because the syringe was found with her fingerprints on it. The only way to save herself and her family is to bring Colonel Shins' SIM card to him by midnight. The episode switches to Nira, who is walking through a crowded area trying to avoid the authorities, she is given flight instructions taking her to Beijing. Once more, back to SoYun who is now at the party. As the soldiers are having photos taken, SoYun tries to get the SIM card but drops it. A soldier tells her to play the Piano for the guests and is unable to retrieve the card, while playing she starts to freak out about the guard and her son. SoYun abruptly stops and runs out of the room.
The episode jumps to Doug, back home after being at the bar. The man who was watching him appears in the house and tells him to come with him for reprogramming or clean-up. Doug doesn't understand what's going on and refuses to go with him, the two get into a scuffle and the man subdues Doug. The man says, "you really don't remember anything, do you?" but before he tries to finish Doug off, Sam pulls a gun on him. The man recognises her and starts talking but is shot point blank before he can finish. That is where it ends!
For this episode, the story-line was certainly better. Each character's story-line is starting to connect, like with Stiletto Six (Tara, Petra and now SoYun). The lives of each character are getting more interesting; Doug's wife is involved somehow, Bentley is having to investigate what happened to him so that the CIA can copy it; SoYun is in serious trouble with that guard. The introduction of the new character is pretty cool, she's a spy or cicada that knows more of what is going on. However, the screen is starting to get a little bit too busy, the show has a little too much going on to keep up with new characters like Haynes and Nira. The assassination scene was definitely my favourite of this episode, it was clean and quick and done with precision just like what an assassin would do, looking forward to more of Nira. I do hope we are able to connect with the characters more soon, because now I'm not really feeling anything with most of the cast which is disappointing.
What did you guys think of the episode? Do you think the show is getting too busy? What are your thoughts on the new characters? What character are you wanting more or less of on the screen? Please let me know your thoughts in the comments!
- SarahR