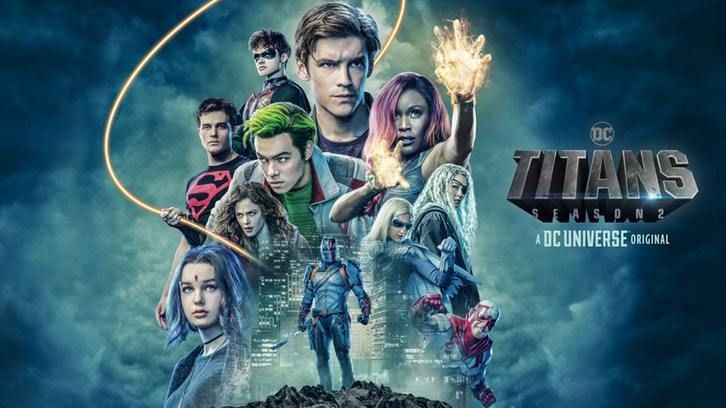 Titans - "Faux-Hawk" - Episode 24 Review

At long last we learned the truth about Jericho and his father. He did indeed jump into dad at the moment of his death and has been there these last five years. With only a two episodes left in this season of Titans, the final pieces are moving into place. Let's see where the game leads...

Oh Daddy Deathstroke massively messes up and stabs his do gooding son in the chest. He brutally pulls out his sword and removes his mask in an effort to save him. Just before his death, we see Jericho uses his power and leap into Deathstroke! In what seems to be a jump in time forward, Jericho and his father sit in a white room of the mind. Jericho is trapped here but has been trying to escape. He speaks to his dad and its great to see that in the unconscious he gets to have his voice back. They argue and chat about the Titans reforming once again. Slade makes his hatred known as he slowly turns out the lights on his son. He tells him that his hunting the Titans is a gift for him for what they put him through. Jericho turns it around though and tells his dad that he's only hurting them because they exposed him. Slade turns out the last light and we see that he is standing on a street corner. Jericho exerts some sort of control on him and forces Slade to take a step into the street where he narrowly misses getting run over by a passing truck. Deathstroke is shocked as hell.

Beast Boy is at a coffee shop getting an Oat Milk. After joking about getting his head on straight he freaks out and attacks the patrons. Oh no! Mercy Graves has done her work on him and its caused him to turn into a tiger and attack innocent bystanders. He leaps out a glass window and back into Mercy's van. He transforms back to human and has blood stains around his mouth. Gar is in a catatonic state, completely out of sorts, oblivious to horror he has just unleashed. Mercy tells him he did great. Brutal. Cadmus has completely weaponized Garfield.

Walter the executive from Cadmus watches a news report about Gar's terror attack and is alerted that his sushi has arrived. The delivery personal is none other than the superheroes Wonder Girl and Dove. They've intercepted his dinner order and do a great hot ditzy play to gain access to his house. He thinks he gonna get some but all he gets is strung up by a magic lasso, interrogated, and threatened. Donna suggests maybe reaching out to Hank but Dove shoots her down.


Hank has turned into a cage fighter. Yep. He dons his Hawk suit and kicks the crap out of whomever they stick inside with him. Big and small, short and tall he whoops some ass. He plays it up in the ring but as soon as he's done he sneaks off for a little toot of the ol' lady Cocaine. Back in the ring he fights against three costumed yahoos who lay into him until he turns the tide kicks their asses. Outside in the parking Hank gets picked up by a Hawk groupie and he takes her home with him. They get it on but Hank can't perform because he's in such pain. Eventually he gets into a comfortable position but falls asleep under the girl! D'oh! I love that she calls him Frank. Hank is definitely the kind of guy to use a different name but not change it very much. Too hard to remember Steve or something.
Starfire stands in the rain trying to use her powers but they're not working. Her flames just aren't coming. Not good. Blackfire trouble is coming and she needs to be ready. Rachel shows up and they get in the car. Kory receives an alert about Gar and heads them in the direction of San Francisco. They argue about leaving Dick and Kory calls Raven an intergalactic space witch. Ha! They chat and Kory reveals she is a bit lost and upset. They make up and Rachel agrees to head to SF to help Gar. Oh if only they knew how bad it is.
Jason Todd and Rose Wilson continue to hang out and play domestic. He cooks several types of hot dogs for her and rejects Rachel's call for help with Gar when it comes through on his phone. He declares he's done with the Titans. Rose tells him if the group gets back together her dad will come for them. Jason is curious how she knows her dad's plans so well and she gives him the old, we have to talk. Cue the title card to Three Years Earlier. Rose is on the ground after having been hit by a car. She awesomely knits herself back together and is healed in no time. Back at her house she questions her mother about why she is indestructible. Mom reveals she hardly knew her father. Three weeks later Rose is with Wintergreen at her father's place. She introduces herself to him by shooting herself in the hand and looking at him through the hole! Yes! She's a total psycho badass. But Slade is dismissive and threatening and sends her away. Weeks later Rose is getting ready for a school dance when her father pulls up in a sweet Rolls Royce. He wants her now and offers her a new life. A life like his. Taught by him. She jumps at the chance and goes with him. He gives her an outfit like his an it's on. She is schooled up in the ways of combat and swordplay in a crazy Kung Fu Panda training warehouse fighting her father over and over. Slade molds her into a skilled warrior like him. He then tells her about her murdered brother. He tells her his plan to destroy the "gang" that killed his son and gives her a million dollars. Back at the house she confesses to breaking out Dr. Light and setting up the Titans. Deathstroke tells her his plan to surgically strike Dick Grayson and take out her eye. Jason doesn't take it well and emotionally lets her have it. He's tired of being manipulated by everyone so he tries to bail. Rose lashes out and punches him trying to engage him but he's done. He leaves her behind. The phone rings so Rose answers it thinking its Jason but its her father telling her to get back to San Fran.
Slade and Wintergreen meet up to discuss the Titans. Wintergreen tells him only Donna and Dawn are around. No sign of Dick Grayson. He shows him the back of his car and Deathstroke examines the multitude of weaponry that sits there.
Dick slinks back to Jericho's mom's house and talks to her about Slade and his son. She informs him that Rose has been working against him the whole time and he's missed it. She tells him thats what Slade does, uses people. He tells her that he almost missed the signs of Jericho talking to him through Slade and she confirms he's in there. She asks Dick to get her son back and he tells her he's going to try.
Inside the fight cage Dove beats up on Hawk. They banter as she kicks his butt around the cage but it turns out it's only a dream. Hank wakes up in a stupor. Dick makes his way to a place called Stu's Handmade Shoes. Inside the shop owner gives Dick a hard time and it turns out it's because Dick burned his Robin suit and Stu is the one who made it for him. Sweet! We get to meet a superhero tailer. This guy knows who he is and who he runs with. Stu plays difficult for a bit but eventually after Dick apologizes he relents. After all Master Wayne said he'd be coming. Stu and, the miffed about burning the suit, Lily walk Dick around the totally cool secret lab behind the shoe shop. They walk him over to his new suit laying out the specs and when he sees it Dick is impressed. Nitewing has a costume.
In Hank's dingy Motel room he hears a news report on a man wearing a bird costume robbing a local laundromat. He checks his closet and sure enough his Hawk costume is gone. He returns to the scene of the crime and asks a guy in his underwear doing his laundry what happened. He tells Hank that Hawk's been fighting for cocaine and that he's sure the guy who robbed the laundromat is Hawk because he's streaming Live online. Hawk recognizes the place and races over there. Sure enough some dude is wearing Hank's outfit and blabbing online. Hank punches him in the face but then learns that he sold it to the guy for some blow and $200. Ouch. Pretty low. Hank promises the guy he'll pay him back, grabs the suit and leaves. Back in his room, confronted with the cocaine, Hank tries to keep it together.
Mercy Graves finds her employee all tied up and figures out it was Donna and Dawn who did it. Realizing she's been burned, rather than cancel another experiment, she decides to move it up. Looks like the carnival is going to be the laboratory this time as workers set up the rides and fencing for a large crowd. Inside a dark Cadmus Van Gar lies on the ground. As his triggering classical music plays, he awakens and flashes one of his green eyes.
This was an interesting episode for me. Not a lot happened to move the story forward, yet we found out tons of new information. Seeing Rose's story was interesting and I really liked her meeting her father and the murder world Slade trained her in. Seeing Jericho inside Slade's head was sad, especially thinking that he's been in there all this time, watching his father and his sister mess with his old friends. This was a spacer episode in that they couldn't do to much since the next episode is this season's finale and the debut of Nitewing. Can't wait to see how Nitewing handles Deathstroke and....who survives and who doesn't.