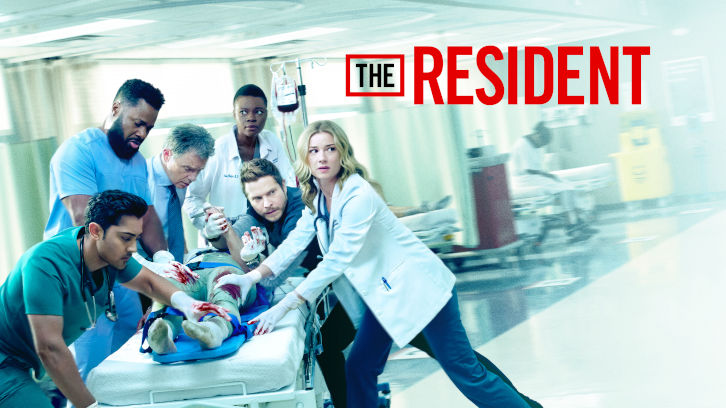 It's Thanksgiving at Chastain, and the characters all have different ideas on how to spend it. "Peking Duck Day" was a great episode for the show as new relationships are starting to develop. It was great to see characters that aren't usually paired together work side by side.

For the past few episodes, Bell can be found in the operating room more and more which is not getting on well with the new administration. It's his and Mina's ideal way to spend Thanksgiving, so that's where they can be found. It was nice to seeing them team up and work together in this one. I love how he is interacting with the other characters now that he's human. His complicity with Mina in the OR was great. She is happy to book them an OR together, so much has changed between them since season 1 when she was operating for him instead of with him.


"Dr. Bell, can you please do the surgery?" –Logan Kim
There is a power struggle between Kim and Bell, and by the end of "Peking Duck Day" it seems like Bell is getting ahead, but for how long? When a high profile case is brought to the hospital, Bell is pushed aside by Kim, who does not want Bell in the OR as much. He gives the case to a new surgeon so Bell sends Mina in as a spy, which she is happy to do. The surgeon is talented, but when the VIP patient later goes septic, Bell gets Kim on his knees, as he should, asking for his help. He's been treated like a second class citizen by Kim for a few episodes and that doesn't go over well. I have trouble understanding why he wants Bell out of the OR so much. It's the opposite of what was happening in season 1, when Bell would get surgeries on reputation alone, so maybe it's finally the return of the pendulum. Whatever happened to his tremor? Whatever happened to HoD? The tables sure have turned for him.
Devon and Irving have a bet on the number of Thanksgiving related injuries that will come through the doors, as Thanksgiving is seemingly the most dangerous holiday of the year. Elsewhere in the hospital, Jessica is still recovering from the accident and her brain surgery. She is having a hard time dealing with her extended stay in the intensive care unit. Irving organizes that the gang come together to improve her spirits.
Conrad and Nic's plans of a quiet Thanksgiving just the two of them are first interrupted by Kyle, then by their neighbour. The couple wanted to do a low-key Thanksgiving, order some take-out, but Nic's father had other plans for them. He wanted all the fix ins. Kyle brings Sadie, an ex-junkie, as his sous-chef. It's his way of coping with Jessie's death. He wants to stop her from OD-ing, save her like he couldn't save his daughter. It's a hard holiday for the Nevins, as it's also the day Nic's mother's health deteriorated and she went into the hospital to never come back out.
It's Nic and Kyle's first major holiday without Jessie and while they both tiptoe around it for a while, in the end, their emotions surface. It's not in front of each other though, they put up a solid front in front of each other even if they are both breaking inside. It is when Conrad gets home that Nic can finally surrender to her emotions, showing how their relationship has evolved and gotten stronger. It was heart wrenching to watch Kyle look back at the old videos of his daughters alone in the dark. They both miss Jessie dearly and the episode did a great job at showcasing how it feels during the holidays after the loss of a loved one.
Austin was more than happy to have his Thanksgiving plans interrupted when he received the call from Conrad who needed his help at the hospital. He is hosting Thanksgiving with his biological family and his adopted family. Austin is meeting his brothers for the first time and he wants it to be perfect but it's hella awkward at first. He is grateful for a job that keeps him far away from his family. While at first he doesn't feel like it's his family, since they have no shared history, after a conversation with Conrad, he realises their history starts today. He finally gets home and is eager to spend time with his new siblings, but they are ready to leave. It's Lamar that manages to convince the boys to stay which was a cute moment between the four of them.
While I was surprised to see his brother so different from him, and different from each other, Lamar is surprised by the Chinese delicacy to be served on Thanksgiving. While I do not find his character endearing, he did have some redeeming moments in this episode. His facial expressions are great, there is nothing that affects him that you cannot see. I absolutely loved how he reacted to Yee's positivism.
I have been thoroughly enjoying the holiday themed episode this season. I give it a 8/10.