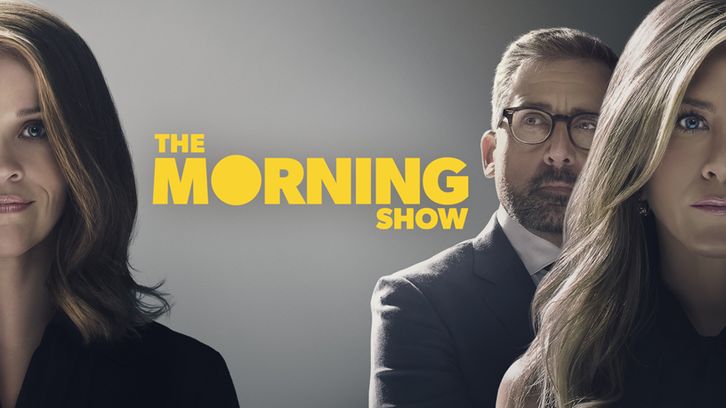 "Let's begin with the Salem Witch Trials" was my original opening for this review, in which I was going to lament at length the perplexing MeToo story within The Morning Show. I'm saving that 600+ word rant in case the show still deserve it at the end of its first season. With only three episodes so far, it is impossible to know where the show is going with this. Episode 3 in fact cracks open the door of possibility that Steve Carell's Mitch Kessler might embark on a voyage of discovery and introspection that will help him reframe his own toxic, privileged views. That episode confronts Mitch with some views that make him uncomfortable, and I saw a spark of hope that the show is going to shift accordingly. We see Mitch try to separate what he's doing from what the "first wave" of men were accused of doing. He speaks about the nuance of that discussion, and, ironically the show might not have the level of nuance to do that justice. The Mitch part of the show still feels too clunky in these early episodes, but it does introduce some weighty stakes (Billy Crudup's Cory Ellison is a newcomer to the network but he knows and uses to his advantage that network executives were more aware of the situation than they will admit.) and brain drains (How come Alex has to clamber through the woods in the rain in the dead of night to see Mitch but Chip (Mark Duplass) can just stroll up past reporters in the light of day with no repercussions?). The rest of the show, though, is so much better. It's even using reverse psychology to will a Gilmore Girls musical into existence! (And not that weird musical in the Gilmore Girls Netflix revival that poked fun at domestic violence either.)

The Morning Show
revolves around trio of diamond-sharp performances from Jennifer Aniston, Reese Witherspoon, and Billy Crudup. (Who would have thought the best kept secret of the show's vague promtional tour would be Crudup! Make no mistake. He should be on the poster instead of Steve Carell.) Whenver any of those three are screen, either with each other or solo, you will be glued to the screen and your seat at the same time. There is also a myriad of other characters played by some of the most phenomenal people in the business. It's freaking Christmas morning with Gugu Mbatha-Raw, Jack Davenport, and Karen Pittman as the big packages under the tree and TV favorites like Janina Gavankar, Adina Porter, Néstor Carbonell, Mindy Kaling, Marcia Gay Harden, etc popping up in guest and recurring roles as the stocking stuffers. At the end of the second episode, Aniston's Alex Levy hurls a game changer into the crowd by naming Bradley Jackson (Witherspoon) her new cohost. It's a decision she recontextualizes as having to take her rightful power from "bozos." That's not the whole story for Alex, who we get the sense was going through the motions of her job and had lost interest in it before the scandal, but the ripple effects inspire the other women in her sphere of influence. Mia Jordan (Pittman) leaps on the chance to produce Bradley in spite of Chip's disapproval, and Bradley gets a huge push forward in her career that she might not have had the confidence or hope to strive for on her own. A key point in these first three episodes is how Alex is in jeopardy of losing her entire career, as everyone was already scheming to oust her before Mitch's downfall. She wasn't a saint anymore than anyone else, and there's a testy history between her and Mia due to a past relationship Mia had with Mitch that Alex disapproved of. At the same time, you can't help but love Alex deeply, as Aniston is just superb in showing how this shakeup has actually reinvigorated Alex and given her something to fight for that she was missing before. She's also scared, and we long to root for her. When Alex reaches out figuratively to Bradley, confessing she picked Bradley on a desperate impulse, it is so dramatically satisfying.
Big Little Lies
disappointment in the dust. Bradley thinks she's a cynic, up to the point Alex is grilling her on live TV and suggesting Bradley staged her viral video. She is toting her own baggage of a career that isn't progressing as she hopes while juggling family concerns. As she tells Cory Ellison (Crudup), she started out as an ordinary kid who "dreams of a life that's less about manure and more about more ideas, things matter...only to grow up and realize that manure matters a whole lot." She's no fawn-eyed crusader either, a trope that TV journalists fall into, nor is she a brash, sassy rebel. Bradley just needs that push to reach higher. Many people will recognize that hesitancy and suspicion and deference that anyone on the bottom rungs of the ladder approaches every situation with. She's apologizing to Alex repeatedly, trying to suppress her awe at being in that high-rise hotel with the I'll-die-happy-now view, and concealing any excitement she might feel about her life-altering golden opportunity. I've felt that same nauseating need to be as modest as possible about achievements, even when years of hard work back them up. Bradley does want this, but she's been conditioned to deny her worthiness. Alex calls her out in the ladies' room, pointing out that if Bradley really didn't want to be there she wouldn't have come. By the end of episode three, we see Bradley start to assert herself when she charges after Alex to get answers. I am curious how we'll see Bradley adapt to life in New York City too.
The Morning Show
means for him to be so ruthlessly captivating, but he is anyway. His ambitions might drive him more than morals, but that seems to just mean that his morals are held in check by those same ambitions. He's an ally for Bradley and an antagonist for Alex whom he would show to the door in a heartbeat. That little dig at Alex before she goes up on stage by telling her they bought the award! Ellison is the sort of character who makes chaos their tool, which means Crudup's scenes are always in motion, always moving the story and character development forward.
Episode three ends just before Alex and Bradley take their seats for their first show together. It's the perfect tease, solidified by them holding hands for a moment and Alex quietly telling Bradley to not fuck it up. A quick prayer that the rest of this season does its cast and potential justice.
End Credits:

TV people, what was your favorite cameo? Which supporting character do you need more of yesterday!?
Is anyone else worried about Alex's daughter Lizzie? She seemed really stressed out on the way back from the gala. Also, how lovely is Alex's husband Jason who like Olaf clearly gives warm hugs?! (And, no, Mitch's creepy friend, hugs are not the problem.)
I was aware of most of the real-life nods throughout the episodes, but none of them really stood out except for Mitch's dressing room door-lock button….well that and that sharp Pioneer Woman diss. (Ouch!) Did any of you find the nods to be distracting? I felt most were seamlessly incorporated, although the big guest stars sometimes took me out of the show.
How long until someone tries to use Bradley's brother's addiction against her?
If Mitch's whole thing disappeared from the show, would you be just fine?
Weatherman and Claire? Let's just not bring it up.
I might be infatuated with Ellison, but let's not forget this awful (and true) comment he made--"Watching a beloved woman's breakdown is timeless American entertainment."
New York City! I am a huge fan of how much NYC there is in this show. None of those fake backdrops or samesie streets every show normally films on. And every time a character sits in front of a big window or looks out at the view, an angel gets its wings. I don't make the rules. I just love the overall quality of the show's settings.