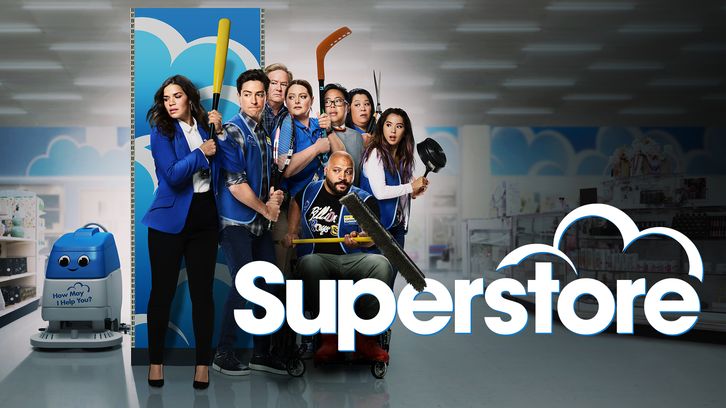 This latest episode of Superstore opens with Mateo trying to make himself look like a good, upstanding person for the immigration judge. It's not going very well since Mateo is, in reality, a mean person who likes to belittle others. The idea is for Mateo to host a toy drive in the store that will benefit some underprivileged tots (kids, not people who have dwarfism; there was some confusion about this), Jonah will make a documentary of his efforts and I guess the judge will be so impressed she will let Mateo stay in the country. I'm not sure how good a legal tactic this is, but there's a reason I'm not a lawyer (reason: I'm lazy).

But there's just one hiccup to this plan: people aren't donating. One person donated a book, which Mateo quickly rejected. I guess Mateo doesn't have a Goodreads list then. Mateo, Jonah and Amy figure out that there is a bell-ringing Samaritan outside the store who is sucking up all the customers' generosity before they get a chance to donate to the toy drive. Would people who throw in some change or a couple of dollars into a kettle really buy much more expensive toys as a charity alternative? Sometimes it's best not to think too hard about our favorite shows.

Kyle, the bell-ringer, is played by Fred Armisen. I'm not the biggest fan of Armisen, but I'm not sure if it's because of his acting or because he always plays annoying characters. So when Kyle ends up being a jerk, though not without some justification, I'm not surprised. It turns out Amy sort of gave Kyle permission by email to be outside the store, and he won't leave when she asks him to. He actually makes a big stink of how the huge corporation that treats its employees like dirt isn't interested in charity. It even, gasp, wants to make money! That little scene was an episode highlight for me.

Let's talk about Amy for a minute. As store manager she's making all these little mistakes that balloon into full blown disasters. Kyle was willing to leave if Amy admitted that she was a bad manager. She wouldn't do it, even though it would have gotten rid of a nuisance. I wanted Amy to just suck it up and admit that she was wrong, but instead she stubbornly held firm. I'm wondering if the store manager position is too much for her to handle. As I've learned firsthand, being a good employee doesn't make someone a good manager.

About halfway through my notes I quoted my girlfriend, who watches Superstore with me: "This episode is insufferable" (Hi honey, hope you're not still mad at me!). I have to agree. From Kyle not willing to leave, to Amy not willing to admit she was wrong, and Mateo being, well Mateo, this episode was an overload of d-bag behavior. The plot was lacking the sweetness that the best Superstore episodes have that balance out the sourness.
When Kyle ends up stealing all the toys from the toy drive it seemed right for the episode to end with one last act of bad behavior. Jonah will have to do one heck of an editing job with Mateo's video.
In other story lines, Garrett thinks that he's still dating Colleen, but she's just too busy with a sick aunt, a towed car, an overheated phone and a dad in a play to meet up with him. Cheyenne tells Garrett he's being ghosted. He disagrees. He's wrong. When posting a doctored picture of him on social media in front of the Eiffel Tower, shirtless and buff, doesn't get Colleen to call him up it's clear they're done. When Colleen posts a picture of herself on social media at a concert with a hot guy it's clear they're done.
I'm going to admit that I forgot about Colleen up until Dina mentioned the supposed plan for Garrett to pretend to date her to break her heart but in truth Garrett was just dating her. When Garrett has to pretend to be the dumper instead of the dumpee Dina's glee is contrasted with Garrett's sadness, which seems a bit disproportional for a short-lived romance. When Amy and Jonah brush aside Garrett's text request to meet up later because he doesn't want to be alone because they think he's joking I felt genuinely bad for the guy. Rejected by Colleen, rejected by his friends and earlier, rejected by Carol when she found out he wasn't asking for a threesome with Colleen. Ouch.
And finally, we have movement on the wedding of the year! Sandra asks Glenn to be the officiant at her wedding to Jerry - he is, after all, the only one who said he wished he could visit Jerry when he was in the hospital. After getting ordained on the internet, Glenn wants to find out more about the couple he's going to marry other than they're two people who look alike who want to get married. When he sits Sandra and Jerry down together and asks them about their relationship all he gets is some bland answers like "he's nice" and "she's great."
Glenn probes deeper. Glenn should not have probed deeper. It seems that Sandra's and Jerry's relationship is deep on a sexual level. Once they get talking about it they can't stop. Poor Glenn.
Odds and ends:
Favorite quote: "Oh Garrett. Girls never have aunts."
Unanswered question: Chicago Fire - show or fire?
Sign of the times: Why would anyone donate to charity if they aren't going to post about it to social media?
Blast from the past: Am I the only one who had no idea what "Chocolate Rain" referenced?
It was a nice thought?: Dina sends her haircut trimmings via mail to the hospital for cancer patients. Interesting.
Anyone else think that Amy's not doing so well as store manager? Comments and thoughts go below!