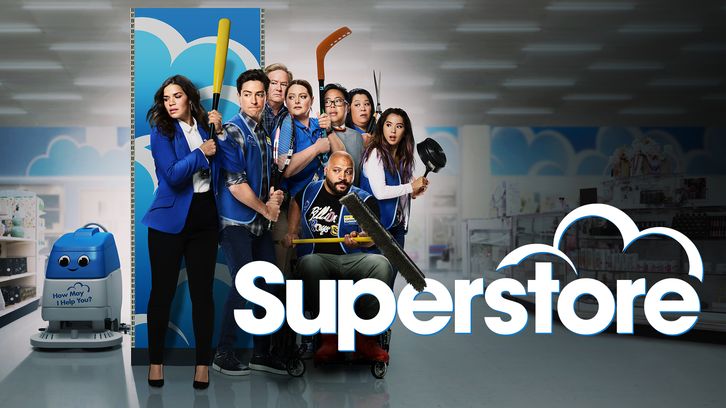 If there was a theme for this week's episode of Superstore it would be "trust." There are people breaking others' trust left and right, and luckily for us the viewers, various plots are furthered or put into motion by these decisions. Plus, there's movement on the question of Carol - good or evil? Hint: she's acting evil.

The episode starts off with Amy and Jonah talking about an unnamed show that Jonah overhyped to Amy and which she finds underwhelming (it's The Americans - watch that last episode Amy, it'll blow your mind!). They walk to Amy's office celebrating the fact that the unionization effort is far enough along that even if Maya knows about the union cards she can't stop it. When they open the door to the office, there's a surprise: Maya decided to stay another day at the store instead of visiting the Quincy store. This is not good, especially since Quincy has a skylight - it's a showstopper. Why would she spend another day at their store?

Amy is worried that Maya is sticking around to fire her and when Jonah mentions that Maya seems too nice for that Glenn points out that the friendly district managers are the ones to look out for. That does nothing to calm Amy since Maya can fire her for stuff unrelated to the union effort - like stealing hundreds of packets of Splenda from the cafe. We also get some more insight to Amy's and Jonah's relationship - they've combined Spotify accounts! If that doesn't mean happily ever after I don't know what does.

Amy is getting more and more worried about Maya, and not just because of the Splenda. It seems like the employees are going out of their way to make her look bad. Cheyenne lounges on a sofa while on her phone and Marcus and another employee, Russell, get into a fight during a team meeting, right in front of Maya. You know when the team meetings go off on tangents and it's hilarious (I'm remembering Baby Oprah and smiling)? They're not so funny when the district manager is there to watch the employees argue with their store manager about whether or not a plane or train accident is a good excuse for coming in late.

Amy comes up with a plan to make herself look tough in front of Maya. It is not a good plan. When a plan hinges on the cooperation of Bo, Cheyenne's baby daddy, it was already destined for failure from the beginning. Bo ends of screwing Amy over by doing a good job as a fake employee and when Maya wants to take Amy out to lunch after watching her flounder with "Dave," aka Bo, aka a fake employee, aka someone who is actually really good at setting up displays, Amy is sure she's going to be fired.
Glenn tries to cheer Amy up but he's pretty sure she'd going to get fired. When she leaves for lunch he steps back into the manager role since he's convinced she's not returning. First Bo backstabs Amy, then Glenn. Not cool Glenn! But it was interesting how easily he slipped back into his previous position. Foreshadowing for later?
It turns out that Maya isn't firing Amy; she's giving her a warning. She tells Amy that she's bright and that she has a future with corporate if she's careful. Maya is so nice, and she bonds with Amy over their shared Latina heritage and she thinks Amy has potential. So when Jonah tells Amy that Maya is putting on an act to prevent the union effort it stings. What's Amy to believe? And would she really want to work for corporate after all the horrible things they've done? Can't she go get a job at Target or something?
Next, let's talk about the story line that gives this episode its title. Dina is in charge of the store's shoplifter rehabilitation program. She asks Mateo for help since it involves a lot of yelling and that's something she thought he'd enjoy. Also, there's roll playing as an added bonus.
The program starts by Dina ordering everyone to rip up their workbooks; the ones that did failed the course for damaging company property. This included Bo, who has fallen for that same tactic three times already. The ones that didn't fall for Dina's trap are subjected to a Parade of Shame, complete with free samples of tomatoes; if people want to throw them at the suspected shoplifters then that's out of Dina's control. Mateo is right alongside with Dina until he finds out that the program costs $200 dollars and if people don't want to take the program the company calls the police. Mateo, still wearing his ankle bracelet from when corporate called immigration, is done with the program and tells everyone to go home. He's sick of the company and its shady methods. So sick of it that he pockets the fee the shoplifters paid, which he agrees to split with Dina.
Finally, we see Sandra planning her wedding to Jerry. They're going for a nautical theme since Jerry was born on a tugboat. And who do we see helping out with the planning? Carol, who seems really excited to help Sandra plan her wedding to Carol's ex, who Carol won from Sandra after a coin flip. Glenn doesn't trust Carol. Jonah doesn't trust Carol. Sandra doesn't trust Carol. Will anyone give Carol the benefit of the doubt?
Nope, because Carol is scary! She bakes Sandra a special cake sample and gives it to her in the creepiest way possible. When she shows Sandra some lingerie she slips and says she can't wait until Jerry sees her in it. At the very end of the episode she's driving Sandra to a great wedding venue - a remote, cliff-side venue. And there's not enough time to ask anyone else to come with them. Sandra wisely jumps out of the moving vehicle, tucking and rolling away from whatever nefarious plans Carol surely planned.
Odds and ends:
Favorite quote #1: Dina: "Your hands are like velvet." Mateo: "I sleep with gloves on."
Favorite quote #2: "Free eye exams. See your partner better, learn the truth."
Fun fact: No Funfetti cake at Sandra's wedding - Jerry's family is conservative.
Which story line are you looking forward to most: union effort or Carol's true motivations? Comment below!