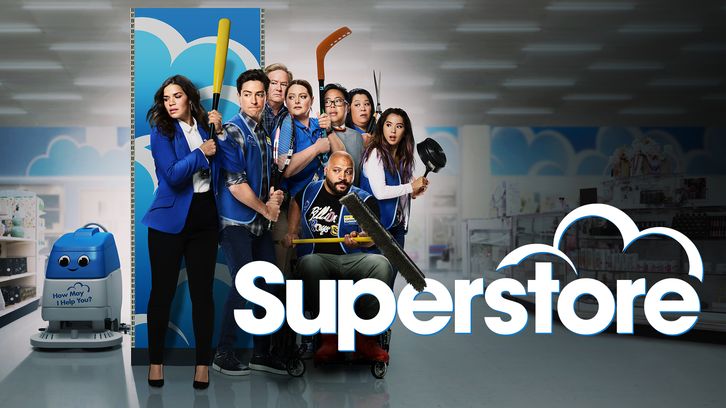 So far this season Superstore has dangled a few tantalizing threads in front of viewers: the union effort, a new district manager, Sandra's wedding and Carol's personality change are all story lines which I am looking forward to. But unfortunately the show is spinning its wheels when it comes to the core cast, leading the characters who we've enjoyed for five years to be parodies of themselves, if we recognize them at all. Most notably Amy.

This latest episode had three ideas: one that succeeded, one that at least got better as it went along and one that failed from beginning to end.

The successful story line has Dina leading a new corporate initiate: curbside pickup. The catch is that the company has mandated a 30 minute turnaround time, and seemingly no limit on customer orders. The first time an order came through as just "pot" it was funny for its randomness. The second time a vague request came through ("an anniversary present") it felt like the writers recycling a joke rather than something clever.

The highlight was the physical comedy, with the Cloud Niners being put into situations which required them to navigate customers' babies, impatience, car locks, dogs, balls, bikes and assorted other inconveniences while trying to make deliveries under almost impossible circumstances.

I say almost impossible because many of the issues the employees face are of their own making. Dina putting Glenn on apology duty rather than fulfillment and Cheyenne unplugging the machine where the orders are printed from are two situations which were intended as funny but came across as exasperating.

When true believer Dina is hit by a car while rushing around trying to deliver a forgotten item it was a shock - I was genuinely worried for her, but the last scene which had her nursing her injuries while finding out the company wants to have 20 minute curbside pickup for Black Friday did garner a chuckle.

A previous thread that had Garrett get roped into being Jerry's best man is picked back up in this episode, with Sandra setting up the two men to bond over the Oculus VR gaming system. Earlier she saw how excited Garrett got over the system so she entices him with a customer who orders the Oculus plus a bunch of junk food. Garrett should really meet this dude, shouldn't he? The customer turns out to be Jerry and when Sandra suggests that Garrett go play games with Jerry his love of gaming overrules any dedication to his job.
Once back and Sandra's and Jerry's place, complete with pinup of Guy Fieri in the background, Jerry's obtuseness about just about everything grates on Garrett until he thaws to the childlike wonder Jerry exudes. It's a nice moment of two humans with nothing in common finding an unlikely connection.
You may be asking where Amy, store manager, is during all this upheaval with her employees being run ragged by corporate. She spends the episode trying to set her hot gay brother, Eric, up with Mateo. What sounds like an interesting premise ends up as a mess, with Amy coming across as shrill, annoying and weirdly combative.
Her stated reason for trying to set up the two men is that Eric is staying with her and Jonah (and her two kids?) and she wants him out of the house. But Eric comes across as nice and cool, with Jonah's fawning over Eric undercutting that excuse. It's when Mateo initially rejects Eric that Amy goes overboard, her actions coming across as less trying to help her brother and more of her taking Mateo's rejection strangely personally.
This is just the latest misstep the show has taken with Amy. She was never the strongest character, with her aloofness and superiority complex evident since the show's early days, but her flirtations with Jonah and her care for her fellow employees always softened the character. Her promotion to store manager has lessened the camaraderie she previously shared with the other Cloud Niners and the stagnation of her relationship with Jonah has taken away the romantic aspect of her character, which in hindsight was a big part of her story previous seasons.
What's left of Amy is a store manager who seems to be floundering, her previously rebellious spirit stifled, her ambitions all but forgotten as she bumbles her way through whatever the writers give her to do. Her relationship with Maya, the new district manager, is promising, but there's an underlying dread there with the implication that Amy may have to make a choice between the union efforts and her career. And at this point in the character's evolution, I'm not sure which side she'd choose.
I'm not sure if I want to see Amy back to being just another employee, but there needs to be a change for her at Cloud Nine. I'd like to see her being actually good at her job, rather than lurching from disaster to disaster as she's been doing this season. I'd also like to see Jonah and Amy act like two people who at least like each other, let alone are in love and living together. The interactions between the two have been stale and uninteresting, lacking the mischievousness of their courtship. Relationships don't have to be boring! They're actually a lot of fun when you're with the right person. Are Amy and Jonah the right people for each other?
Odds and ends:
Favorite quote: "You two are a lazy waste of fee."
Blink and you'll miss it moment: Myrtle trying to deliver a washing machine! Not sure if this was Linda Porter's last episode before her death this year.
This is awkward: Was there a little too much suggestion of incest this episode? From Marcus and Justine finding out they share a cousin and should stop fooling around, to Amy repeatedly calling her brother hot, that comedy well was sucked dry.
Have I been too harsh on Amy's development this season? Comments and thoughts go below!