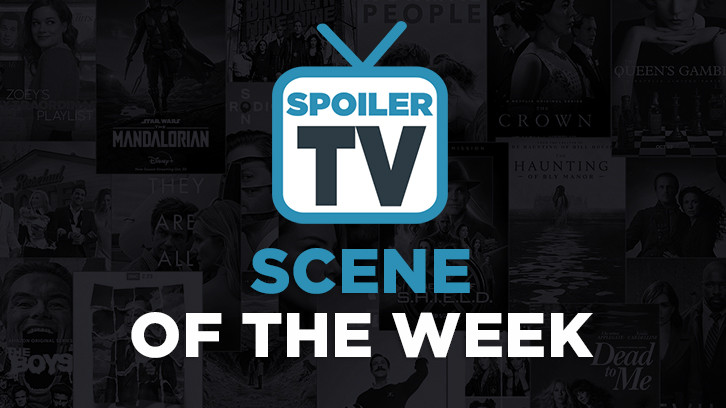 A weekly feature in which we're trying to find the most compelling, best acted, written, directed and just generally great, memorable scenes that we've seen in past seven days on TV.

A MILLION LITTLE THINGS, "Time Stands Still", November 21, 2019, Actors: Romany Malco, Chandler Riggs, Christina Moses and more, The Scene: Rome saves PJ's life
Justyna: It wasn't the only memorable scene from the episode but it was a clear highlight of the hour (and the season) for me. All the secrets, revelations, lies and complicated feelings lead PJ to this heartbreaking moment on the roof. He's standing on the edge, almost ready to jump and although he doesn't want to die, he also doesn't know how to live and process everything that's happened. He has been struggling with depression, he found himself completely lost and misunderstood by his loved ones. Just when he thinks that he finally managed to get some clarity, find a reason why he's been feeling a weight throughout his whole life and find a real family, even that turns out to be wrong. It's simply too much and it feels like he's all alone in his pain. That's when something truly special happens. Rome tells PJ what being a part of the family really means and helps him understand that he has all the love and support that he needs. He has his parents, his father who may not be like him, but loves him all the same (always did), he's got Rome, a true friend and a brother. "Family's the people who raise you, the people who love you." Rome decides to stand by his side on that edge and shares his own experience, about his own dark days but also the fact that there's still tomorrow and he will not lose another friend, another member of his family. Chandler Riggs and Romany Malco are truly wonderful in this scene. Excellent work by both actors. Also, I would like to give a shout-out to the rest of the cast, everyone who found themselves on the staircase during this scene. I can't even imagine how absolutely terrifying and painful it must have been for these characters to just stay there and listen. I'm so glad that Maggie was right about this one. To see PJ's parents realizing just how much their son is struggling was heartbreaking. As was Regina's reaction when she finds out that Rome is standing on the edge of a roof deck with PJ. Her fear luckily turns into pride and joy when Rome is able to reach PJ and the two embrace. It's truly inspiring to see how far Rome has come since his first appearance on the show. His journey is extremely important one to witness and I'm glad to see the progress he has made. Kudos!
Marko: Rome prevents PJ from jumping. The episode had so many great moments but this one stands out cause of the way it deals with mental health and people suffering from depression. Such strong work from all the actors, Rome and PJ in the forefront and the other ones shaking on the staircase. Beautifully written, exceptionally executed.

BATWOMAN, "Tell Me the Truth", November 17, 2019, Actors: Ruby Rose, Meagan Tandy, Christina Wolfe and more, The Scenes: Kate, Luke and Julia talk in the Batcave & Kate stands up for herself in the restaurant
DJRiter: Kate, Luke and Julia talk in the Batcave. This was a fun scene, a great breath of fresh air in the otherwise sometimes somber series. The rapid-fire banter between Kate, Luke and Julia during Julia's first visit to the Bat Cave in years was fun, flirty and held more energy than some on the show. The producers really need to consider making Wolfe a full-time member of this team. The chemistry between Wolfe and Rose was crackling and electric.
Jamie: Kate confronts the restaurant guy. I loved Kate in this moment, how she wouldn't back down and confronted the guy about his homophobia. I'm glad the show isn't shying away from moments like this.

HOW TO GET AWAY WITH MURDER, "Are You the Mole?", November 21, 2019, Actors: Alfred Enoch and more, The Scene: The return at the funeral
Jimmy: Wes returns. I'm super excited for this twist. It's going to make the 5 months before the next episode a very long wait.

LEGACIES, "That's Nothing I Had to Remember", November 21, 2019, Actors: Danielle Rose Russell, Kaylee Bryant, Riley Voelkel and more, The Scenes: Hope and Freya are reunited & Josie and Lizzie talk
Naomi: After Josie restores everyone's memory of Hope, the realization that things cannot just go back to the way they were sets in. Landon is upset and now has to choose to rekindle his relationship with Hope or remain with Josie. Rafael tells Hope he can't be her buddy anymore because the restoration of his memories brings baggage; he is in love with Hope. Hope feels all alone. That is until her Aunt Freya shows up. This was such a sad but heartwarming scene. Hope is strong but selfless so it was nice to see her reunite with someone who will offer her unconditional love and the same selflessness in return. Plus two Mikaelson witches will be kick-ass!
Jamie: Hope and Freya are reunited. Even though everyone remembers Hope again, she still ended up alone at the feast. And then Freya shows up at the exact moment Hope needed her most. This girl has already lost so many family members, it was so great to see her regain a family member for a change.
Marko: Josie and Lizzie talk. The sisterly bond is really strong here, despite being at odds they will always be each other's shadow protecting the other from pain and heartbreak. From the way it's shot to the execution a great heartfelt scene.
Jennifer: I never kept up much with The Originals, so this scene probably didn't land with as much impact for me as it did for others. But I almost didn't need any context from the other series. Hope has been cut off from the people she loves all season so far, and them finally remembering her didn't seem to have helped the problem so far, further bonding with Lizzie aside. Plus she's still considering getting erased again and all of it has been weighing her down. So this scene felt like a desperately needed release from the stress and isolation and pain that Hope has been carting around these last six episodes, both for the character and the audience, as she finally connects with someone again with no secrets or lie between them and lets all her walls back down again. Even if it's just for one hug.

NEW AMSTERDAM, "The Island", November 19, 2019, Actors: Ryan Eggold, Lisa O'Hare
The Scene: Max says a final goodbye to Georgia
DJRiter: Alone in the hospital's rooftop garden, Max realizes the time has come to finally say good-bye to Georgia. Anchored by the wonderful chemistry between Eggold and O'Hare, this was a warm touching moment when Max realizes it was time he could let go of Georgia and get on with his life.

SUPERGIRL, "Tremors", November 17, 2019, Actors: Melissa Benoist, Chyler Leigh, Katie McGrath, Azie Tesfai, The Scenes: Alex reconciles with Kelly & The confrontation between Lena and Kara
DJRiter: Alex reconciles with Kelly. The development of the Alex Danvers and Kelly Olsen relationship has been one of the highlights of Season 5. They are facing the ups and downs of a new relationship together. In a mature fashion, instead of having Alex retreating when Kelly broke up with her out of fear earlier in the episode, Alex went to Kelly to plead her case. She recognized Kelly's fear and reached out telling her they would face things together. It's refreshing to see the heartfelt and mature way the writers/producers are allowing this relationship to progress, having both characters acting out of more concern for the other than themselves.
Jamie: The confrontation between Lena and Kara. You know, this might be one of my favorites scenes of the entire show. There is so much great acting and emotion in this scene. This moment has been a long time coming, not just this season but ever since Lena showed up in season 2. And yeah, it was everything I wanted it to be.

SUPERNATURAL, "Golden Time", November 21, 2019, Actors: Shoshannah Stern, Jared Padalecki
The Scene: Eileen is resurrected
Klutzy girl: I've missed her and am so glad she's back! Thought she was going to be a ghost from now on once she returned but love that they found a resurrection spell. Sam's fear was palpable and I loved the hug between the two once she came back to life.

THE CONNERS, "Slappy Holidays", November 19, 2019, Actors: Laurie Metcalf, Sara Gilbert, The Scene: The argument between Jackie and Darlene
Popcultureguy: The recent tension between Jackie and Darlene escalates into a vicious argument that's capped off with Jackie slapping Darlene. This isn't a show I watch regularly, but I saw a clip of it and was so taken with the scene that I sought out the full episode. I'm far from the first or last person to note how great an actress Laurie Metcalf is, but she is phenomenal in this scene, both showing the bone-depth of Jackie's anger when she hurls the deceased Roseanne into the mix and then her instantaneous horror with herself after delivering the slap.

THE GOOD PLACE, "The Answer", November 21, 2019, Actors: William Jackson Harper, Kristen Bell, D'Arcy Carden, Ted Danson and more, The Scenes: Chidi finds his answer & The ending
Justyna: I've watched quite a few great scenes and shows this week but I think this one might be my favorite. I'm not sure if I realized how much I needed to see things from Chidi's perspective until this episode. It turned out to be kind of... well, perfect. This is such a clever series. It's a wonderful comedy but it also focuses on the deeply important and meaningful topics. It's a story about the good and the bad, life and its struggles, ethics, personal development, friendship and love. And quite possibly dozens of other themes that I haven't even thought of yet. Chidi has spent 300 years of his life (and afterlife) trying to find "the answer". The right answer to everything. He made it his life's mission to never make a decision until he knew it was a right one and he suffered greatly as a result. The one question that seemed to trouble him the most was the one about soulmates. This fact has been used many, many times against him in Michael's Bad Place, some of which we got to witness during this episode. Somehow, despite everything, his path has always led him back to Eleanor. They're not a perfect match, they had their fights and struggles, but ultimately they managed to overcome them and each time they ended up being stronger together. Because they chose to, not because they were meant to be. It's such an important moment when Chidi finally truly understands what he has spent all this time looking for and Michael shares what he believes to be right about soulmates. Chidi's realization is beautiful but also heartbreaking because it hits him right when he is about to have him memories erased at the end of last season. His request to Janet is a lovely touch, a way for the viewers to see Chidi finding his answer. The scene ends, but its conclusion comes a moment later, after Chidi returns to the group and asks Janet to see his note again. In the end there's no "answer", the journey matters far more than he realized. And Chidi's answer, the one he's been looking for, is Eleanor. Such a beautiful conclusion to Chidi's character development. I absolutely loved the episode. Kudos to the entire cast & crew for their fantastic work on the show. I'm truly going to miss this one after it ends.
Jennifer: There's a lot to love about this episode. The show finally feels fully on course again, we finally get to know more about Chidi, William Jackson Harper gets his own showcase after being partly sidelined this year, and of course the ending made me big cry. But the best of the best is the scene where we find Chidi just after his big goodbye with Eleanor last season. It shows how far both Michael and Janet have come, in the subtle changes and contrasts from their scenes with him earlier in the episode, which both Carden and Danson perform with subtlety and just enough melancholy as they say goodbye to their friend. But as with everything this episode, it's all about Chidi and Harper's performance. As Chidi finally comes to an important understanding after centuries of trying to grasp it, Harper lets his voice quiver on the line "What a time to learn." And then he writes the answer down on the mere chance he might be able to see it and learn it again, because of course he does, he's Chidi. It was the conclusion of a three hundred year (or three and half seasons long) character arc, and I'm so excited to see what this version of Chidi comes up with to save the universe.
Klutzy girl: After Chidi gets his memory back, he asks Janet for the piece of paper. "There is no answer but Eleanor is the answer" straight up broke me in a multitude of ways. I'm excited to see what happens next.

THE MANDALORIAN, "Chapter 3: The Sin", November 22, 2019, Actors: Pedro Pascal, Jon Favreau and more, The Scene: The Mandalorians show up to save the day
Justyna: I continue to really enjoy watching this show. I think it has the potential to be my favorite thing about Star Wars universum. It's been only three episodes and I'm already quite attached to the main duo - The Mandalorian and Baby Yoda. There were a few great scenes that I could highlight from Chapter 3. Mandalorian's determination to complete his assignment and leave for the next one is tested when he realizes that "the asset" he's recovered is in danger. It's clear that he cares about this child, no matter how much he would like to hide it. Whether it's part of his ship that the child has played with or his crib in the trash, all these little things do not allow the Mandalorian to let go. Instead he risks everything and comes back for the child. He manages to fight off the client's Stormtroopers, but is quickly surrounded by other bounty hunters after he leaves the building. He fights bravely but he's running out of options and just when the end seems to be near his fellow Mandalorians show up and save their lives, allowing him to get Baby Yoda out safely. I'm not exactly a Star Wars expert so I wasn't quite sure what are the rules and how the other Mandalorians would react to our main character's decision to rescue the child. I was so glad to see them fighting together. The effects were wonderful, the music worked beautifully and just the fact that "This is the way!" made me both very happy and really interested to learn more about the Mandalorians and their history and culture. Also, I couldn't help but think about Iron Man with all the jetpacks and Jon Favreau's Paz flying by The Mandalorian's ship. This one really got me... Thank you. Kudos for all the great work to the whole cast & crew. Can't wait to see what's next.

THIS IS US, "So Long, Marianne", November 19, 2019, Actors: Justin Hartley and more
The Scene: The flashforward twist
Klutzy girl: The show's already done this to us once before but I wasn't expecting it. Seeing Rebecca's decline was absolutely heartbreaking but finding out that Kevin has a pregnant mystery fiancee is intriguing. I really can't wait to find out who she is, and also hope that Randall and Kevin are able to fix whatever drove a wedge between them. Looking forward to the rest of the season to see how they got to this point!