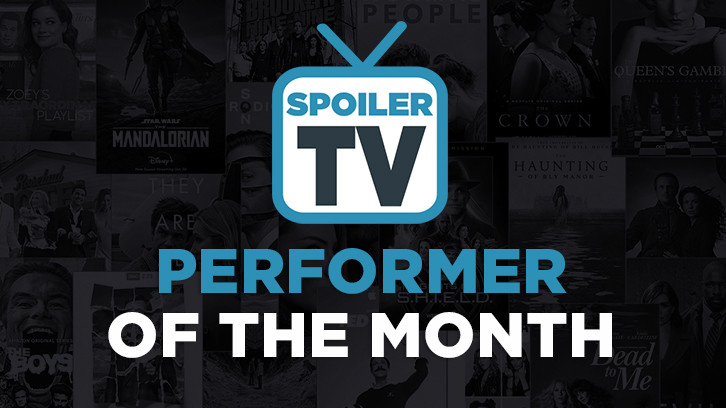 Results:

This proved to be a complex round of voting this month on the Reader side. It took a little bit of effort for us to verify the winner this month (more on that below), but we can say for sure that the below winner earned the title without question. The top spot on the staff side changed hands several times before the ultimate winner claimed the spot earlier this afternoon.


For seven seasons
Arrow's
Stephen Amell has brought Oliver Queen to life on his journey from vigilante to hero and devoted family man. His eighth and final season takes Oliver on a fateful quest to be the ultimate hero and save the world from the destruction foretold by the Monitor. His journey begins in the first episode of the season,
Starling City
that lets Oliver relive a bizarre version of his past in order to save the future. He finds himself on Earth 2 on a mission for the Monitor, alone and away from the friends and family he loves. There, he finds a very different interpretation of his history as we watch the Oliver that once was become the Oliver he is today. Amell brings a maturity and nuance performance to this character and for this reason, has earned the title of SpoilerTV Readers' Choice of Performer of the Month for October.
Longtime fans of Cobie Smulders were thrilled when it was announced she was returning to television in an adaptation of Greg Rucka's graphic novel,
Stumptown
. They always knew Smulders was talented but in just a few short episodes of the first season of
Stumptown
she is blowing away expectations. She especially shines as complicated PI Dex Parios in
Bad Alibis
(1x5). In this episode, she takes us through so many layers of this intriguing character combining humanity, humor, action and emotion. While trying to do better and get her PI license Dex is faced with disappointment and betrayal from those she considers close and fear of losing the person she cares about most, her brother. Smulders fabulous performance puts the many sides of Dex on display from protective sister, conflicted friend, action hero and warrior to vulnerable woman. In a rare win for a performer in a show in its first season, Cobie Smulders has been selected as Performer of the Month for October by the staff of SpoilerTV for her incredible work in
Stumptown
Bad Alibis
(1x5).
Please check back later this month to read the winner articles for Cobie Smulders and Stephen Amell. In the meantime please feel free to use the comments section to discuss these two worthy winners and their amazing fellow nominees.
During this round of voting, numerous irregularities and cheating attempts came to light. Some of those votes were disqualified. For future POTM polls, we will be carefully monitoring the voting process. Should the problem become too excessive the performer(s) could face disqualification.
Original Post:
We saw some truly outstanding performances in October. With such a high caliber of nominees, it'll be really interesting to see who will prevail this month.
Now it's time to determine who will be our September Readers' Choice Performer of the Month. The results will remain hidden for the duration of voting. The results of this poll and the Staff voting will be revealed after the poll closes.
2018 Staff's Choice Performer of the Year: Sandra Oh
2018 Reader's Choice Performer of the Year: Alycia Debnam-Carey
January Winners:
Readers' Choice: Jared Padalecki (Sam Winchester) - Supernatural
Staff Choice: Andre Braugher (Captain Raymond Holt) - Brooklyn Nine-Nine
February Winners:
Readers' Choice: Jensen Ackles (Dean Winchester) - Supernatural
Staff Choice: Hale Appleman (Eliot/The Monster) - The Magicians
March Winner:
Readers' and Staff Choice: Camilla Luddington (Dr. Jo Karev) - Grey's Anatomy
April Winners:
Readers' Choice: Matthew Daddario (Alec Lightwood) - Shadowhunters
Staff Choice: Jodie Comer (Villanelle) - Killing Eve
May Winners:
Readers' Choice: Tom Ellis (Lucifer Morningstar) - Lucifer
Staff Choice: Chyler Leigh (Alex Danvers) - Supergirl
June Winners:
Readers' Choice: Suranne Jones (Anne Lister) - Gentleman Jack
Staff Choice: Jared Harris (Valery Legasov) - Chernobyl
July Winners:
Readers' Choice: Alycia Debnam-Carey (Alicia Clark) - Fear The Walking Dead
Staff Choice: Nicole Kidman (Celeste Wright) - Big Little Lies
August Winners:
Readers' Choice: Hannah John-Kamen (Dutch/Aneela) - Killjoys
Staff Choice: Cara Delevingne (Vignette Stonemoss) - Carnival Row
September Winner:
Readers' and Staff Choice: Oliver Stark (Evan "Buck" Buckley) - 9-1-1
Please remember that a performer can only win once in 2019. After that win, they will be ineligible to win again in 2019, but they will secure a spot in our year-end Performer of the Year contest.
Now comes the hard part where you can
only vote for 1 performer
. The poll will be live until
Monday, November 11th at 6 pm ET
. After you vote be sure to make a pitch in the comments section for what the performer you voted for most deserves to win.