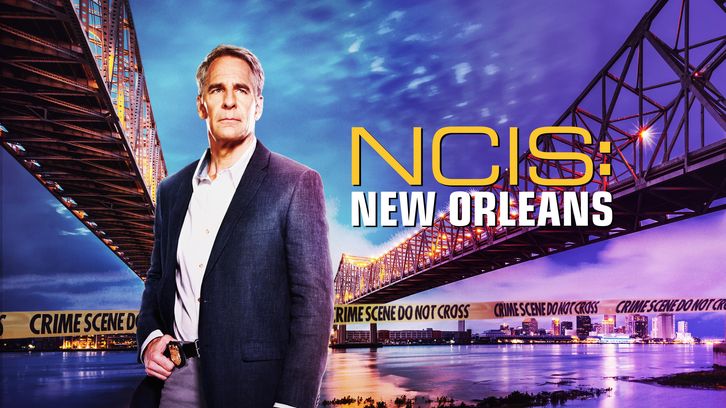 NCIS: New Orleans - Overlooked - Review: "Human Trafficking"
6.4 - "Overlooked"
Directed by Gordon Lonsdale
Written by Stephanie Sengupta
Reviewed by Kelly Anne Blount

Recap – ICE officers raid a birthday party. As they arrest and begin to detain people, Petty Officer First Class Elena Martinez and her father are separated. Martinez is brought to a terrifying private detention facility, Duvall, where she repeatedly tells the guards that she is a citizen of the United States and in the Navy. Her cries are ignored and she is shoved into a transport van.

Sebastian and LaSalle are in Alabama, trying to follow a lead on Cade, LaSalle's brother. They have footage of someone used his credit card at a gas station.

Gregorio and Khoury meet Martinez, who has just been released from custody, but is refusing to leave. No one will tell her where her father is being held. She tells Gregorio and Khoury that women are mysteriously disappearing from Duvall in the middle of the night, never to be seen again.


Turns out, employees at Duvall were accused of human trafficking and the FBI opened a case to investigate. Gregorio and Khoury head over to Duvall, where they are given the cold shoulder.
Pride is given access to the FBI case into human trafficking at Duvall. He's shocked to see that the agent in charge of the case was Ray Isler. Pride pays Isler a visit, where he finds him fishing off a dock.
While Isler admits to Pride that he struggles with addiction, Jimmy (Pride's brother) confides in Dr. Wade, that he's concerned about Pride. He reports that he isn't sleeping. She's confirms the same concerns. She shares that she gave Pride someone's name to help him process the trauma he's been through, but she isn't sure if he's paid her friend a visit or not.
Back on the Doc, Pride asks Isler about the human trafficking case he investigated at the Duvall Center. Isler admits that before they could bust the people at Duvall, all of the evidence went missing.
Pride asks Isler to cancel his leave of absence, reopen the Duvall case, and loop the NCIS team in on the latest. Isler agrees.
Sebastian and LaSalle follow up on a lead in Alabama. They leave with a local police officer to find a homeless man named Zeke Dalton. Zeke was the last person who used Cade's credit card.
Patton and Isler have worked their magic. They've found evidence that a driver who works for Duvall is making large sums of money that cannot be traced. The driver lies to Khoury and Gregorio, who play good cop and bad cop, tricking the man into thinking he's free to leave without any consequences.
The crew have a wiretap on the driver. The man immediately calls his wife and asks her to get money from the bank and he asks her to call their lawyer. His next call is to one of his bosses. Luckily, they can hear everything and move their investigation to his boss.
LaSalle, Sebastian, and the police officer find Zeke, the man who used his brother's credit card. Zeke says he found Cade's wallet out in the woods. He says that he left the wallet, but grabbed the credit card and the cash. LaSalle asks him to show him the wallet.
Khoury and Gregorio are talking about private detention centers when Martinez stops by headquarters. She is heading back to base and has located her father. She's worried that his asylum claim will be denied and that he will be sent back. As a journalist writing articles about a dirty government, his life would be in danger the moment he steps foot back in the country he was born in.
Triple P has a lead. Pride and Isler hit the road and begin tracking the driver Khoury and Gregorio just released a short time ago. The drive heads directly to a massage parlor, where he is met by armed gunman driving a large black van.
Pride, Isler, Khoury, and Gregorio hit the massage parlor, where shots erupt. Gregorio saves Pride's life as they search for the women being held there against their will. After Pride takes down an armed bad guy, he and Gregorio find a group of terrified women, hidden away in one of the massage rooms.
The agents grill the massage parlor owner. They inform her that she's going down for human trafficking unless she starts talking. With the woman's information, Pride and Isler work to secure a search warrant for the Duvall Detention Center. Isler gets the go ahead.
The team rush the center, arresting the employees and stopping them from shredding incriminating documents.
Zeke leads LaSalle, Sebastian, and the police officer to Cade's wallet in the middle of the woods. LaSalle is struggling. Poor guy! Sebastian helps him remain somewhat calm. The dogs are called in.
The women and men being held at Duvall are rescued and are being moved to new facilities. Gregorio is sick that they are going to three different crowded facilities. She wants better for the men and women that are arrested and detained by ICE.
The bad guys are arrested and led away in handcuffs.
Khoury, Isler, and Gregorio break some good news to Martinez. Her father is going to be allowed to remain in the United States while his case for asylum is processed. She is thrilled!
Pride is called to the morgue. Before he can leave, Jimmy expresses his concern for his brother. Unable to stay, Pride rushes to LaSalle's side. LaSalle tells Pride a touching story from his childhood about him and Cade. Cade stood up and took the blame for something LaSalle did as a young boy. LaSalle's voice is choked with emotion as he recalls Cade saying, "That's what big brothers do." He says, "Cade was a good brother." Pride rubs his back and replies, "You are too."
Dr. Wade and Sebastian emerge. The episode ends as she says, "I'm so sorry, Christopher."
Review/Thoughts – Phew! That ending left me in tears! How about you? Poor LaSalle. In addition to discovering Cade's body, the episode covered the inhumane behavior people are faced with in private detention facilities. Bringing light to difficult topics like this is important and I'm glad the writers are using this platform to do so. On another note, it was nice to see Isler again. I really enjoy this relaxed version and hope to see him in more episodes.

What did you think of this episode? I can't wait to hear your thoughts! Be sure to leave a comment below!

Also, have you missed an episode or two? Need to catch up or just want to refresh your NCIS - New Orleans memory? You can access all of my SpoilerTV reviews and interviews by clicking on the following link: http://www.spoilertv.com/search/label/KA