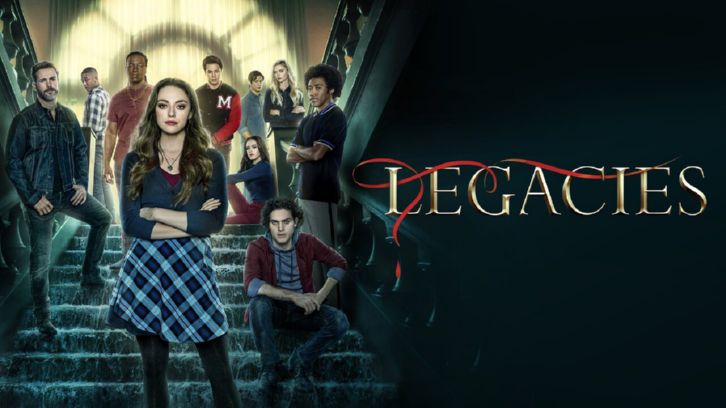 This week on Legacies, Josie (and Lizzie) experienced side effects from doing black magic. An ancient Japanese demon hunter shows up looking for an Oni (demon that possesses people) after being released from Malivore. Josie translates because apparently, she speaks Japanese. The demon possesses Raphael, then Landon, then Lizzie who manages to fight it off until Josie defeats it by drawing black magic from a demon-killing sword. This has some consequences for Josie who is now even more affected by the black magic and has to turn to Vardemus for help. Alaric likes the new sheriff but struggles with balancing a personal life and his responsibilities towards the kids. MG shows Lizzie that she's the only one who can see Sebastian, which has her seriously questioning her mental health but then MG can suddenly see him too. Lizzie wakes up in the middle of the night and remembers Hope. Turns out there is not one creepy guy in a hood but two and I still have no clue what they're up to.

MVP: Last season, I never thought I would say this. But Lizzie really stole the show this week. While I haven't been a huge fan of her storyline this season, being boy crazy over Sebastian, tonight's episode focused more on what she's been struggling with her whole life, her mental health. But let's review the facts here. Lizzie managed to fight off a demon who was possessing her mind while no one else could. And then she remembered Hope after meeting her once when no one else could. The Japanese guy may have said that a broken mind is more difficult to control, but after what I saw this week, I wouldn't call Lizzie's mind broken. I'd call it stronger than anyone else's. And it broke my heart to see her give up on herself. She's been fighting to stay healthy her whole life and just when she thought she was doing better, someone told her otherwise. I know from personal experience that a blow like that just as you're picking yourself up can be pretty devastating. I know next week's episode is going to be a crazy one (at least judging from the promo) but I'm actually looking forward to seeing more of Lizzie.

Could've gone better: I guess it was inevitable that Lizzie would be angry at the person who pointed out that she was the only one who could see Sebastian, but damn, MG could've had a bit more tact when he told her. But I do hope we'll find out more about Sebastian soon because none of my theories seem to add up. It's almost like he can choose who sees him and who doesn't. He was fully aware that MG was the only one who could see him at the end of the episode and didn't seem upset about it. I guess this gives more credit to the heretic theory but you'd think he would've mentioned it to Lizzie if he were also a witch. It would give them something else to bond over. I'm still not convinced he can be trusted. I still get shady vibes off of him.
If you play with fire…: I didn't realize there would be such severe consequences for Josie for doing black magic. I mean, we've seen plenty of witches in this universe to dark stuff and none of them got rashes or dizzy spell. I mean, sure, Bonnie died while doing dark magic but that was Spirit which I don't believe is the case here. I sure would like a bit more background on witches and magic. This is the third show in this universe and while we've had the origin stories for vampires and werewolves, we still know very little about the origin of witches or the different types of magic. And it feels pretty relevant at the moment with Josie headed down a darker path, even if she does seem to fight it. She really needs a better person to turn to in need than that creepy principal. Perhaps Freya can help when she stops by? If it's not too late by then.
Poor guy, he can't help it: Even without his memory, Raphael is still immediately back to crushing on Hope. As Josie pointed out last season, who wouldn't have a crush on Hope, though. I did enjoy their interactions this week and it seems like the writers haven't quite forgotten about this pair. I have to admit, out of all of Hope's love interests (and there are many), Raphael is probably my front runner. Personal opinion here, we don't all have to agree (I'm well aware I'm one of the only ones who ships it). But while Raphael mostly stayed on the sidelines this week, aside from when he was possessed, it was clear that he was still struggling, especially in places with lots of people. I have a feeling that going back to classes will be a challenge.
Upcoming: So while this wasn't really featured in the episode, aside from that small video, but I can't ignore the fact that we found out today that Kai will be returning. I don't think any of us were really surprised, we all assumed it after he was mentioned earlier this season. And now we saw him on a video recorder this week. I can't place that moment, by the way. Does anyone else know if it refers to someone on The Vampire Diaries or if it will be new? Anyway, obviously, his return will be connected to Lizzie and Josie. But if the heretic angle pans out for Sebastian it might be tied to him as well? It doesn't matter to me, though. Kai is always entertaining to watch and seeing him interact with all these new people should be interesting.
Best quotes: Alaric: "And you didn't think that was something I should know?" Hope: "More like I was afraid of what you were gonna say after that." Alaric: "Hope, you need to go back to the Salvatore School." Hope: "That was it."
Landon: "Well, do you speak anymore? I mean, ever since you got back to school your sentences have averaged three words each." Raphael: "That's not true." Landon: "That's three words."
Lizzie: "Dress rehearsal! Please come to our full historical reenactment performance on Commonwealth Day."
That's it for this week. Check in again next week for an all-new review and let me know in the comments what you thought of this week's episode.
Please be respectful in the comments, any unnecessary rudeness isn't welcome.