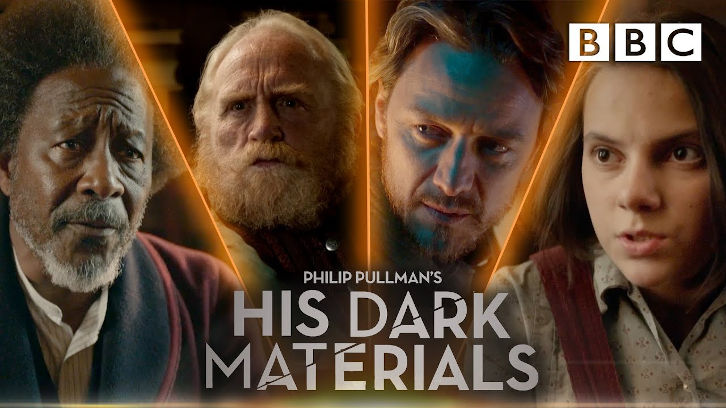 Lin Manuel-Miranda's casting as Lee Scoresby was one of the most anticipated casting news about this series, almost coming out of left field with such a high-profile name involvement. But from the first few minutes that we are introduced to the eccentric, loveable rogue we know that Manuel-Miranda nails the character almost instantly, singing (as one would expect), high in the sky with his hare daemon Hester that becomes a fast favourite of mine. Despite being set in the North, Armour felt the most like a western; Scoresby walking into a tavern and challenging people to cards only to get beaten up and thrown out screams WESTERN, and that – coupled with the Gyptians' arrival (everyone must witness their boats from the air air, it seems), creates an instant atmosphere and mood setting that carries through most of the episode. Dafne Keen seems to have chemistry with anyone she meets on this show and Lyra's scenes with Lee, particularly that ending scene where she kept stealing his bacon and went behind the Gyptians back to manipulate both him and Iorek into joining the Gyptians' cause against their will was another demonstration of why this character is so iconic, and as hyped as certain introductions were this episode, it was arguably Keen's best performance yet as the show continues to allow her room to breathe and the results are paying off really well.

Much of this episode was devoted to convincing Iorek to join the cause of the Gyptians, John Faa buys into the gossip of the townsfolk that Iorek is a town drunkard in the form of a bear, but Lyra is smart enough to figure out that the bear was manipulated and imprisoned. Both her and Lee try different routes to getting the armour with Lee going directly to the Magisterium to try and claim that he won it fair and square – with a surprise appearance from Harry Melling, aka Harry Potter's Dudley Dursley – who has one bad day too many in this episode. It was fun watching Melling and Manuel-Miranda square off in this episode, and then seeing Iorek go head to head with the Magisterium officer in the final conflict was a tense one.

Elsewhere, Ruth Wilson again delivered her A-Game as Mrs. Coulter. Her trip to the Magisterium to require an alethiometer of her own was an interesting one; to find out more about Lyra's identity, because now she's facing greater pressure too and has become even more dangerous knowing that she has to deliver as the Magisterium will only wait for so long. Being cunning enough to take advantage of a missing Iorek with an easily manipulated armoured bear of her own, Mrs. Coulter now has Lord Asriel captive – and is bribing the bear with false promises to get her way. This episode sets up Iorek's arc nicely, and puts him on a collision course with a return to the kingdom that he was exiled from. Seeing the fury of an armoured bear unleashed on the townsfolk once he escaped from his cage with Lyra's help brought about questions how anyone in the Magisterium would be able to stand a chance against him – and having a bear on the side of the Gyptians could be a very good asset indeed. I did feel it a bit odd that Faa wasn't quite so keen to have Iorek working with him from the get-go, but by placing him at odds with Lyra gave her more material this episode which further helps the character come into her own.

Although we never got to properly meet Ruta Gedmintas' Serafina Pekkala this episode, both Farder Coram and John Faa were able to communicate with her daemon, confirming Faa's belief that the daemons of Witches don't need to be close to their subjects. I wasn't expecting to be introduced to Lee, Iorek and Serafina in this episode – so holding back the arrival of Serafina did a good job at keeping the audience's anticipation present, and seeing that she agreed to help if she was needed was a nice touch indeed. Witches are fans of dramatic entrances, after all. Lyra putting her usage of the alethiometer to good use paid off in her favour too.

There's still a few episodes left of this first series (BBC shows are all too perilously short), and so far His Dark Materials has excelled when it's come to balancing the demands of book and non-book fans. Whilst the majority of fans I've spoken to have read the trilogy, I know a few people who aren't book fans who are liking the series so far – and it's good to see that the show is capable of striking the right balance. As a book fan it's something that four episodes in, I've completely fallen for – and its' the strongest fantasy show I've seen since Game of Thrones' heyday (note: this isn't a comparison, these two shows are completely different). Long may its good form continue.