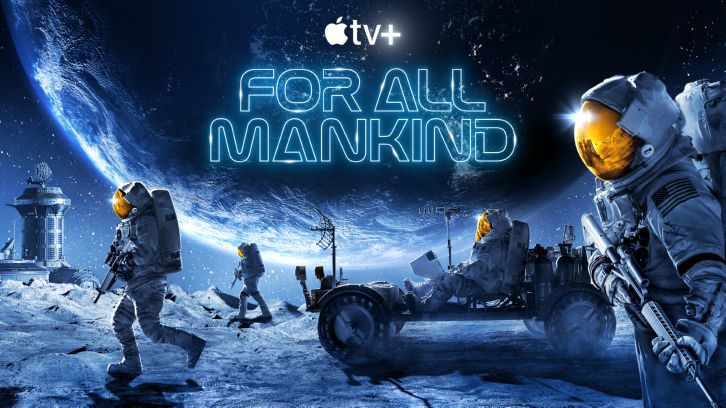 For All Mankind opens in the wake of the tragic accident after the previous episode, following the death of Patty Doyle in a tragic fireball that caught many audiences by surprise. The survivors are hanging out at the bar, recognising among themselves that things are going to only get tougher and harder for them from here – even if they are allowed to continue in the first place. Every action they do will be put under the microscope – they don't just have to be good, they have to be the best. There's a clear sentiment around the room that none of them will make it into space after this, the program will be cancelled. The doubts run clear across every astronaut candidate present – Tracy goes and asks Gordo whether or not she's doing right by her kids, but Gordo, initially supportive, tells her that her kids want her to jump at this chance: how many moms are going into space and helping them with their homework at the same time?

Ed takes the loss of Patty hard and Karen, who has been against this program from the beginning, urges him to place the blame elsewhere. When Karen finds out that Gordo is being replaced by Molly on the Apollo 15 mission by Deke, who won't allow the Government to push him back and forth, Karen is even angrier – and does what she can to try and talk Ed into getting Molly off the program. Both Ed and Deke know that it'll likely be their word against Molly's, especially when at first she's a fighter, stubborn and determined, a pessimist that's not taking things as seriously as she should, going head to head with Margo in training exercises. She's never been a team player, and Margo has to pull her aside to warn her that if Molly does even one thing wrong, the fallout will be huge. She has to put behind her past if she's to be an astronaut.

Deke meanwhile is under pressure from The White House to shut down the program and focus his effort back once again solely on the lunar base now that they know the Russians have had fatalities of their own trying to get to the water before the Americans, doing their best to keep their disasters secret. John Glen is brought on board to convince Deke to pull out of the program, but rather than follow John's advice, he goes ahead and promotes every single one of the remaining five in a surprise press conference that earns him as a position on Nixon's shit-list, and given what happened to von Braun in the previous episode, being on Nixon's shit-list is very much not a good thing to be on. Furthermore, at the end of the episode, Deke gets a call from Nixon himself as Apollo 15 launches – he appreciates the good press that Deke has brought him, but if something goes wrong, it's his ass on the line.

The back and forth between the Russians and the Americans wanting to constantly one-up each other is taking its toll on the division between NASA and the Government, the Government want a win and fast, but NASA are more focused on finding the right spot for a moon base, particularly according to Margo who knows that in the race for the base, slow and steady may be the best course of action. Something's got to bite soon and we've already seen how deadly Nixon's Government can be, especially with the threat of an election and a Ted Kennedy presidency looming. The ending of the Vietnam War with a renewed priority for Nixon may score him some points, and I'm suddenly finding myself really looking forward to an election for the first time in a while – enthralled at the prospect of this new alternate reality where anything is possible. How would a Ted Kennedy White House look? Is For All Mankind actually a clever stealth prequel to Watchmen and this is all leading to a Robert Redford administration?

Molly, Tracy, Ellen and Danielle's promotion takes its toll on Gordo, who loses his position on Apollo 15 once Molly is elevated in his place. He takes the news hard especially once he learns that his wife is going away for training for an extended period of time, and Karen comes down hard on Gordo's side. When Molly goes out drinking with Ed she finds him patronising and obnoxious, and it takes time for both to build gradual trust between one another on the various training missions that they undertake up until the eventual launch of Apollo 15. The fact that we saw Apollo 15 go up in this episode signals For All Mankind's attempt to keep things moving, and its fast pace is very much working strongly in its favour.

Gordo doesn't take his demotion well at first, but switches gears and embraces Tracy's new status as an astronaut. Now faced in a difficult position where his wife is doing what he did, Gordo takes some adjusting to getting used to his new role. In a cleverly edited sequence we see both Molly and Ed at home with their supportive other halves – both having different viewpoints. Molly is reminded that Ed probably doesn't know Molly yet – but he will, and he's underestimating her. The clear friction between the characters keeps things uneasy right up until launch, when Ed, reading the room, lets Molly walk in front of him as For All Mankind does another one of its slow-mo montages set to catchy songs. The music in question this time is Petula Clark's The World Song, which is upbeat and reminded me a lot of the music for Ridley Scott's The Martian. The careful blend of a variety of space dramas keeps For All Mankind fresh, exciting and optimistic – there's a bit of Interstellar here, there's a bit of Gravity, there's a bit of Hidden Figures. Four episodes in and it's rapidly finding its own voice that establishes first and foremost what the series is trying to do.

Meanwhile, Aleida's arc continues throughout the episode and we learn that her father has brought together enough money for a two-way ticket to see the launch of Apollo 15 in person, an unforgettable event for a young child. It's clear that her life is shaping up to be defined by the space race – but it was perhaps interesting that the goodbye to her father could almost be read as a final goodbye, and whether or not she intends to make her trip a one way journey remains to be seen. What the series' plans for the character remain unclear, but I'd expect her to be involved in a big way at some point. I wouldn't be surprised if she was a stowaway on board one of the lunar missions in the future.

For All Mankind continues to peak at the end of the episode, offering a slow start with a rewarding, rich payoff. This feels very much like the first part of a two-part episode, so expect the next episode to hopefully pick up immediately where Prime Crew left off. There's plenty of drama and plenty of tension riding on what comes next, so if the series replicates its success in pulling off the depiction of the high-stakes Apollo 11 mission, audiences could be in for a treat.