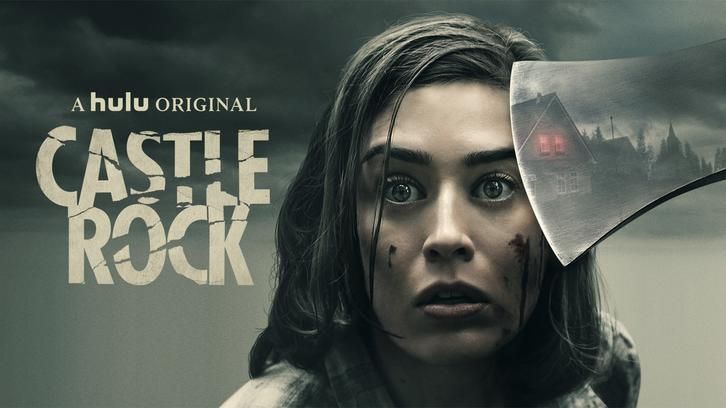 The fourth episode re-introduces us to the younger versions of Nadia and Abdi when they were younger, on the verge of moving to America before war breaks out in their country. Abdi comes back home with a gun which his mother angrily takes off him, disappointed. His mother later shows up just as American soldiers attack Nadia and Abdi – forcing them to the ground and then killing their mother in front of them because she wields the gun which Abdi and Nadia know she will never use. It's a chilling episode that sets the tone perfectly for what is to come, reminding audiences about the harsh brutality of warfare and how lives can be taken away suddenly and without warning. It makes things clear from the get go that it's all about the two siblings and their relationship with their foster father, that by the end of the episode, is all but irreparable.

Castle Rock opens after the title sequence with Joy on the street and alone at night in town, which is never a good thing to be. Ace follows her down the street and offers her a lift, knowing full well that she's bleeding and hurt. Whenever Ace is in town, he means ill, and you get a sense of foreboding that this new, this dangerous Ace, is even more unpredictable than the last one. At home, a panicked Annie searches frantically for her daughter, walking in on her friend who was told to pack her things. Naturally, Annie is desperate and on edge, wanting to unite with her.

But Joy is talking to Nadia, convinced that it's all her fault and convinced if she broke it she can fix it. Nadia knows this from experience, and gets behind Joy, seeing much of herself in the young Wilkes child, who is pleading to stay with Nadia. Nadia warns her that they either have to call the police or her mother, and Nadia is still on edge, understandably, because Joy is covered in blood and so was Annie, who at least is smart enough to hide it. Joy's friend knows that Annie almost killed her last night, despite how reluctant Annie is to admit it. Her daughter is, after all – better with her than with anyone. Annie insists that they weren't in danger until Nadia tried to help, but Nadia counters, saying that she can't let her back at the hospital and she can't go to Joy.

Annie, being Annie, immediately goes to Joy, and is greeted by Abdi with a gun. Abdi is insistent that Joy's not going anywhere, having been told what Annie did, and but Annie is showing more and more signs of being dangerous and unhinged than ever before. She tries to manipulate Nadia too but it's not working – she's smart enough to see through her and has been in charge all along. Nadia herself brings her own issues with her this episode, and it's good to see someone at the forefront that isn't necessarily Annie as this ensemble has already proved just how strong it can be. She sets out to try and save Pop's life this episode but is attacked by friends of Ace, who want to send Abdi a message. Yet again, Nadia gets the drop on them, pulling a gun on her attackers. "This bitch grew up here," Nadia says, knowing exactly what they're going to do and how they're going to react. She's more than in control. Meanwhile, Ace is watching past videos of his old life, reflecting on his family. The incidents that happened to Abdi and Pop are piling up on them, and Ace is told that he wouldn't even be able to live with them. Of course, it's a new Ace, who can live with a lot. He's learning about his past, as we see where both iterations collide.

Pop has a lot on his mind, a past that he wants to get rid of before he dies, and goes to see a priest about it. The priest asks him what cost the confession will have on Pop, and he ends up very much cleaning house. Merle Haggard's Are The Good Times Really Over kicks in as he talks to Chris at the bar, knowing full well that his chemo didn't go well and only bought him a few weeks, meaning that he's living in overtime. The wake, he tells Chris, is his, and he wants to organise something grand. Cormac Marnall's Bog Down the Valley-O provides the backdrop for the wake when it happens, with Ace enlisting the help of the estate agent that he jumped at the abandoned home in the previous episode to keep a watchful eye on his father. It's important to remember that Ace is no longer who he once was, unafraid to stop at risks that his previous self would have had to think twice about.

At the wake, Pop tells the crowd that he adopted Nadia and Abdi due to a debt that can't be settled, no matter what, after being told that it's the only decent thing that he ever done. But Nadia is at the wake, determined, and marches towards her father. Meanwhile, Ace takes his brother out away from the party, telling him about the history of Jerusalem's Lot telling him how it was called New Jerusalem and what happened to it whilst the estate agent kills a man at the bar as the police officer strangles the councilwoman in the bar. Yet his brother keeps following him down underneath the Church. He's creating a fellowship, he says, stabbing Chris and inviting him to the brigade. No matter how hard Chris tries to fight back, Ace is clearly the one in control. Chris is able to escape – but the Priest arrives seemingly to get help for him, only to find out that Ace got to him first, too. His followers seem to be everywhere and there is no way of telling the difference between who has been changed, and who hasn't.

Whilst this is going on, Nadia confronts Pop at the pub with The Dubliners' Molly Malone playing in the background, accusing him of being there and as to why her mother was killed. For all the stories that Pop has about places he fought, he never talks about Somalia in 1993, and Pop finally comes clean, trying to repent for his sins but knowing there is no coming back from this. Bringing the episode full circle to the flashback at the beginning of the episode from Pop's perspective this time, Pop tries to console Nadia but isn't given the opportunity – she walks out on him, distraught and in disbelief, leaving Pop alone, unaware that his two offspring have been replaced by whatever Ace is controlling, putting the townspeople of Castle Rock in dire straights as the series almost reaches the halfway mark, setting both Abdi and Nadia up as the series' protagonists whilst positioning Ace and Annie as the two main antagonists, both of a very different sort. It still remains unclear as to how Joy is going to fit into the picture, but based on the scene at the beginning of the episode with Ace, his intentions for the Wilkes are possibly even worse than the old Ace.