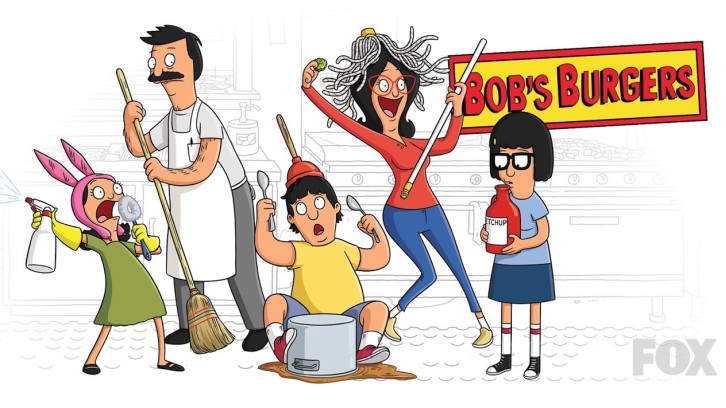 Who knew that Bob and Linda Belcher had cool friends? The type who live in artists' lofts and have parties that start at 10 p.m.? Well, they do. And they're willing to ditch their kids to go to one of these parties.

This latest episode of Bob's follows the Belcher parents as they go out of their comfort zone of drinking wine and watching the Earl Grey Murders as a way to unwind after a long day. And that's only when their kids (was having three too many?) aren't literally bouncing off the walls. RIP TV watching wine.


The decision to go out and socialize with other adults comes late, but luckily their standby babysitter, Jen, is willing to interrupt her game of Hungry Hungry Hippos to come over and watch the kids. Tina is a bit peeved that she wasn't put in charge but is slightly mollified when Jen arrives and starts talking about her hot cousin Dave. I don't know what's weirder: Jen referring to her own cousin as hot or Tina's reaction to learning about said hot cousin. Probably Jen since Tina is just being Tina.
Bob and Linda are on their way to the cool kids party, but first take a detour at a gas station for Linda to take a poop and to grab some party snacks. That's called efficiency right there. When they finally make it to the party it's everything they thought it would be and more - interesting people, beautiful setting and strong drinks served in jars (though Linda does feel bad they ran out of glasses).
The nice evening takes a turn, however, when the hosts, Maya and Beckett, let the Belchers know it's a performance party, where everyone takes a turn showing off a creative skill. Bob and Linda panic since they don't have any creative skills. In a pinch they decide to sing like Bobby McFarrin and Linda Ronstadt since they share first names. What they don't share are the more famous duo's talents and they end up making fools of themselves. Though it would be pretty hard to top the other guests who make ukuleles, speed paint and dabble in acrobatics.
Meanwhile, the kids take advantage of a lax babysitter when they learn that Jen is borrowing her hot cousin's truck, which turns out to be of the ice cream variety. Unfortunately there's no ice cream since it's winter. Fortunately they can still get in it and have some fun. While Louise is the main instigator of this plan, Tina, still miffed that she is being babysat, is cheering her on. If Tina isn't in charge then she's going to let loose!
While taking the truck out for a spin, and harassing passersby with the microphone, the weather turns for the worse and the roads get slick. The truck spins out and they can't get traction to move. They're stuck and things get worse. The floor sprinkle Gene ate was probably not a sprinkle. Ice cream trucks don't have heaters (makes sense). Things look bleak. And then Jen remembers that hot cousin Dave works nearby and they can warm up there. Tina is all in on this plan.
She is even more in on the plan when hot cousin Dave's place of employment turns out to be Pickles, a male strip club. Tina sees abs. Tina is happy.
An additional little gag was that Louise didn't quite get that they were at a strip club. She wondered if everyone who worked there were first responders, due to the police office, doctor and firefighter costumes. It was a nice reminder that despite how conniving Louise is she's still a kid and more adult situations go over her head.
Jen is keeping Bob and Linda abreast of their adventures by leaving phone messages and when Linda eventually checks her phone and finds out the dire straights their kids are in she and Bob hightail it out of the party, a little tipsy so they have to walk. Or they try to walk. The ground is frozen over and the end up slip-sliding around the neighborhood. Maya and Beckett follow them to help and apologize for not realizing that they were pressuring their guests to perform.
When the adults make it to Pickles they find the kids safe and warm, and Maya and Beckett are amazed at how exciting the Belcher's lives are. They should do it again next week! Bob and Linda counter with dinner at 6, Maya and Beckett agree to brunch at this time, and Bob enjoys a big fat pickle at Pickles the strip club (a literal pickle people - get your minds out of the gutter).
Odds and ends:
Favorite quote: "Are you guys the Lost Boys?" Linda, after being invited to the late party. Someone recently invited me to a movie at 10. I gasped out, "At night?"
Favorite blink and you'll miss it moment: Tina transforming back into a sensible teen after letting loose stranded them on the side of the road.
Never change, Gene: He thinks that Encino Man was a fine documentary. Is Gene immortal? Or does he just watch a ton of TV?
I really enjoyed the strip club twist in this episode. Anyone else thinks it was strangely delightful? Thoughts and comments go below!