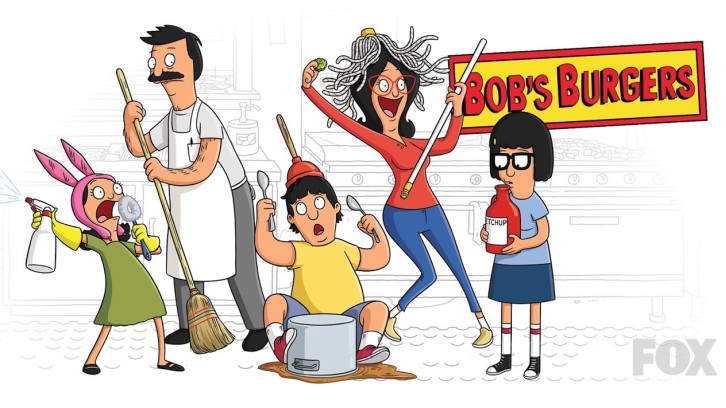 Time for total honesty: I was a little lost during this episode of Bob's. Characters and plot points from a season 5 episode, Hawk & Chick, are referenced, and since it wasn't an episode I'd seen previously it took a few minutes for me to understand what was going on. But eventually the pieces fit together (with some help from the internet) and in the end I was able to enjoy another half hour with the Belcher family and their friends.

The episode starts off with Louise getting the restaurant ready for a movie screening, complete with popcorn machine and VIP booth. The movie in question is part of Louise's and Bob's favorite franchise, Hawk and Chick, and they just so happen to know the star, who will be the screening's special guest. Even better, they're showing the long lost director's cut of Hawk and Chick vs. the Cephalopod Monster, which is a rare find. Louise is very excited - she's pretty sure she's going to get the biggest bell of the Nobel prizes for organizing everything.

She tries to drum up some excitement at school for the screening, but most of her classmates haven't heard of the decades old Japanese film series; plus Rudy broke his arm by falling out of the top bunk of his new bunk bed and he's getting well deserved head pats and other attention for his misfortune. Louise is not happy with sharing the spotlight.

Then another hurdle pops up: the collector who owns the director's cut of the movie wants a deposit of $1000 for loaning out his rare possession for an amateur screening at a burger restaurant. I can't really blame him. Bob balks since they don't have the money in case something goes wrong. However, Louise is not one to take no for an answer. Instead she takes Bob's check book and forges his name for the deposit. Gene and Tina are her accomplices, Gene more willing than Tina, as shown in her nervous breathing and rambling. If the Belcher kids ever graduate to more serious crimes they'd have to watch out for Tina; she's obviously the weak link of their little gang.

The day of the screening the guest of honor, notable Japanese actor Shinji Kojima, arrives and greets Bob with a big hug. There's obviously a lot of love between Koji and the Belchers, with Linda dying to see some pictures of his new grandbaby and everyone just really happy to see him.

So that's why it's jarring to see Koji steal the second half of the movie during the screening, run out of the restaurant, and refuse to speak to his friends to explain himself. The Belchers figure out that whatever has their friend acting not right it has to do with a cut scene from Hawk and Chick vs. the Cephalopod. There are different theories about what the scene could be about: a ghost haunted the set and she was captured on film, Koji owed money to a disco and he was forced to include the owner's no talent relative in the movie and a love scene ("not hard R, but right on the line") that was too close to Koji's heart to stay in the movie.
After Louise finds Koji due to an overly formal text message tips her off to his hiding place, the drama turns out to be something a little more jaded. Koji had the scene cut from the movie because another actor was better than him. That actor ended up as a teacher doing local theater rather than becoming the superstar that maybe he should have been if he had remained in the film. Koji is embarrassed by his long ago fit of vanity that may have robbed a talented man of a promising career. The Belchers encourage Koji to try and make up for his past, and if the end credits scene, which is usually a musical number but instead this week had a trailer for the director's cut of Hawk and Chick vs. the Cephalopod, is any indication then he at least tries.
Odds and ends:
Favorite quote: "You feel like a marshmallow wearing a t-shirt."
Blink and you'll miss it scene: Rudy's cast glows in the dark. Silver linings.
The kids are alright: The Wagstaff students wanted to throw Rudy a Cast Off party when he got his cast removed. They aren't little monsters after all.
Anyone else this was a pretty heartwarming episode? Leave any comments below!