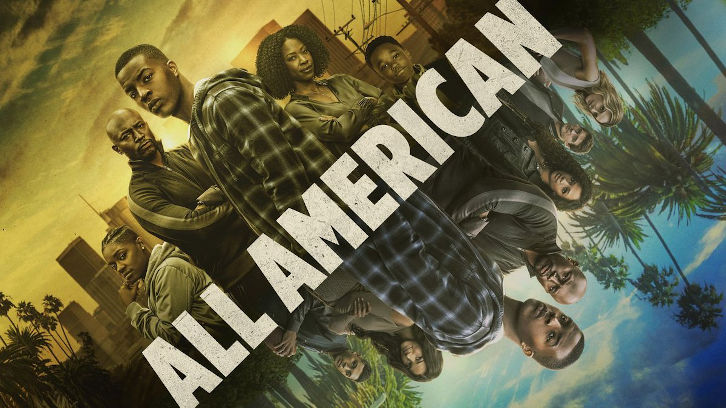 Before I start my review I want to apologize for the delay; I was on vacation this week. However, I want to jump right in since this episode of All American was completely amazing as usual. It delivered excellent performances from our favorite actors and some of the events will have major consequences.

"Bring The Pain" begins with an intervention for Layla which doesn't go over well to say the least. Layla is hurt and mad at Spencer and Olivia especially for calling her father. She ends up leaving with her dad while Spencer also leaves to take care of his family issues. At Spencer's house he learns his dad left. Dillon is upset and Spencer lashes out. He tells Dillon that Corey isn't a husband or a father; he's just a disappointment.
Layla decides to throw a birthday party for Olivia and Jordan and gets JJ to kidnap them. It was kind of funny to watch JJ throw Olivia and Jordan in that van. That's about the only thing fun for the Bakers at this party. Jordan spends the first part of the party trying to avoid Simone, and Olivia looks miserable while JJ plans "hide and go get it" which sounds terrible. The only good thing that happened was Asher showing up and asking if Olivia was doing okay. He looked so happy to see her.
Things get worse when Layla confronts Olivia and basically accuses her of trying to steal Spencer. When Olivia tells her that she and Spencer care and that Corey left, she gets upset. Then Layla kisses Asher after seeing Spencer and Rochelle talking. Listen, I know that Layla only did these things because she's in pain and needs help. But she really hurt Olivia so I wonder if there's going to be any repercussions? I don't know if I could forgive Layla easily after all of this.
I also wonder if Spencer will actually get back together with Layla. Before this week I thought I thought he would after she went to therapy, but he did confide in Rochelle about his feelings toward his dad. And, I have to admit, even after she confessed what she did, I still kind of liked their moment together. I wonder if the writers are just exploring their options or if they really are not planning on reuniting Spencer and Layla.
Back at the party, Asher finds Olivia and wants to clear up any misunderstandings about Layla kissing him. Then he gives her a birthday present: a pre-paid cell. I loved that he programmed her sponsor in there because he knows that's important for her sobriety. He also programmed his number in and told her he's available for ice cream deliveries. How cute is that? She thanks him and tells him that this is a big deal since it was her only gift. The two almost kiss, but are interrupted by Laura. I was so irritated that their moment was interrupted!
After Laura shows up we learn Layla sent her the picture of Olivia and Jordan partying. The party was payback. Layla says some really terrible things to Olivia and Laura including that she never wants Olivia to speak to her again. Like I wrote earlier, I wonder about the fallout. I don't know if Olivia and Layla's friendship will be the same after this. I am glad that Layla's dad finally stepped up and took her to therapy. He also explained that her mom suffered from depression. I think this information helped Layla decide to get treatment. I truly hope the therapy and her dad can help her recover.
Jordan left the party early and headed over to talk to his dad. I knew what he was going to say: he got a girl pregnant. I know I shouldn't feel sorry for Jordan since he has been a complete jerk this season, but in that moment I just wanted to give him a hug. Luckily Billy is there for him and tells him they'll figure this out together. Maybe this news will bring the Bakers back together as Billy decides to move back in. Jordan is going to need the support of his entire family.
The next morning Asher shows up at Olivia's with ice cream. This moment was absolutely perfect and probably my favorite moment of the entire series so far. I liked that he wanted to make sure they were on the same page, and I loved the smiles on their faces after this kiss... which lead to another kiss. I'm just so happy that we are getting Olivia and Asher, and I can't wait to see where this goes. I'm also glad that something good happened for Olivia since her birthday was a complete disaster.
And finally, Spencer has figured out that Dillon could be Coach Baker's son. He thinks for a second that this is why Corey left. When Grace tells him that's not why his dad left, Spencer thinks he was the reason. It completely breaks my heart that Spencer thinks he isn't good enough. Daniel Ezra was amazing during this scene, and I could feel how devastated Spencer was.
The entire cast of
All American
deserves recognition for this episode as well as the writers. Tell your friends, family, etc. that if they aren't watching this show then they are missing out. I always look forward to a new episode, and I can't say that about every show I watch.

What did you think about "Bring The Pain"? What do you want to see happen next? Discuss below in the comments!