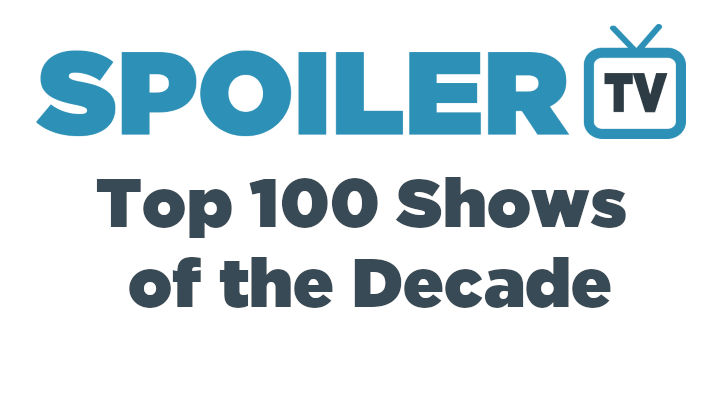 After weeks of going through SpoilerTV's top 100 shows, we have now reached our TOP 10! The race for the top spot was a tight one with the top 2 going back and forth in the voting process right down to the deadline. Congrats to our #1, which won by just a few points.

Honourable Mention-86
85-71
70-56
55-41
40-21
20-11
Comments

10.Stranger Things


When Stranger Things was announced as in development I was extremely intrigued and it quickly became one of my most anticipated releases. Thankfully, it did not disappoint and in most parts, it surpassed my expectations. The writing was fresh, the characters were well developed and the 80s setting allowed for many clever throwbacks. Season 2 and 3 followed the same trend building on the initial story arc and taking the audience deeper into the mystery of the Upside Down.

While the premise of Stranger Things may be supernatural the characters and their emotions come across as grounded in reality due to the incredible portrayals by the Stranger Things cast. It is impossible to single out a particular cast member as they are an extraordinary ensemble, each bringing life to their characters in such a specific and unique way that you could not imagine anyone else in the role. Stranger Things also draws from the strength of the relationships that are present throughout the seasons. In particular, the friendship between Mike, Dustin, Lucas and Will, the familial bond between the Byers (Joyce, Jonathan and Will) and the development of a father-daughter relationship between Hopper and Eleven. The situations and relationships are relatable ranging from dysfunctional families to single parent homes and a grieving father. Stranger Things also excels at bringing in new faces each season who have a purpose and contribute to the storyline, rather than simply being there as cannon fodder for later episodes.

The perfectly crafted setting mixed with comical dialogue, phenomenal performances by the actors, clever 80s references and amazing visuals make for a very entertaining series that has me waiting (impatiently) for the next season.

- Raina

09. Breaking Bad


"You're Goddamn right". I can't think of any most influential show for its time than Breaking Bad (2008-2013). Everyone and I mean everyone was watching it, discussing it, and quoting it. From beginning to end Breaking Bad never faded out of the pop culture sphere until it went out with a bang and took Walter White with it. The AMC crime drama had a simple enough premise; dead-end job high school teacher gets a cancer diagnosis and, to pay for his treatment, teams up with his ex weed dealer student to make some meth. No one apart from the creative minds behind it could have predicted the insane things that would follow; becoming a drug lord, making an enemy out of the biggest fried chicken and meth dealer in new mexico, joining forces with his wife who ran a money laundering car wash, just to name a few. In 5 seasons the story came to a perfect conclusion for all its intricate and three-dimensional characters, some more bloody than others without a drop in quality, something rare for its genre.

There will be moments no one will ever forget and characters that are still well loved. It is no coincidence the show spawned a spin-off (Better Call Saul) and a sequel movie has been released on Netflix (El Camino). So what was the lesson from this story of corruption, crime, and self-preservation? Did Walter do it all for love or did he only stay in the game because he finally felt in control of his life? One of my personal favourite things about this show is the many sides to the story which we view through the supporting cast: Walter's wife Skyler (Gunn), their son (Mitte), their sister in law (Brandt) and her DEA husband (Noris), or Jesse Pinkman (Paul) Walter's partner in crime who faced so much abuse at his expense without ever deserving it. I especially loved how despite its male-dominant cast and storyline, the show reversed the ignorant trophy wife trope by having Skyler face off with Walter multiple times including exposing him, running his business books, and eventually cutting ties with him when he became too reckless. Many shows since have tackled similar storylines achieving big successes (Narcos, Ozark) but Breaking Bad was one of its kind for (mainly white) American serialised TV before the big netflix era.

- Nikos Manesis


08. Orphan Black


When it first debuted, and from the very first shocking five minutes, Orphan Black was unlike any show I'd ever seen before. At the core of this complex and brilliantly written and acted show was the mesmerizing performances of Tatiana Maslany. And yes, performances, plural, is the right word to use. During its five year run, this amazing actress played a minimum of 15 different characters, all clones of one another. In a career-making turn, Maslany gave each one their own distinct characteristics and personalities and often did it in compelling and heart-stopping scenes with herself!

- Donna

07.Agents of S.H.I.E.L.D.


1. at's a show to do when the movie universe juggernaut it's based on implodes S.H.I.E.L.D., the fictional government agency that the Agents of S.H.I.E.L.D. are … well, agents of? Get awesome, apparently. AoS was a fun and well cast but somewhat bland action series that got a shot of adrenaline when it had to course correct for the machinations of the MCU. It rose to the challenge admirably and shifted focus from the original concept – and then just kept shifting. From rogue spies to a computer-simulated world to dystopian space opera, the series has flowed from subgenre to subgenre, often multiple times per season, as the agents save the world under the MCU's radar. Some of these shifts work better than others – although which storylines are best seem to vary depending on whom you ask – but it has kept the series fresh longer and more consistently than most of its contemporaries. And AoS certainly outlived the flashier, more planned out Marvel series (RIP, Netflix shows) and has been the resilient underdog of the Marvelverse. Agent of Shield is a great series to boot, so it has more than earned its spot on the list.

- Jennifer Panzera

2. As soon as it was announced that this series would star Clark Gregg as Coulson, I was in - and I've never regretted it! Just when you think you know where this show is going, it turns on a dime and takes you somewhere else. The idea of joining it with the Marvel movies never really took off - too hard to schedule all those release dates - and finally petered out completely when Joss Whedon left the helm of the movies, leaving his brother Jed Whedon and Maurissa Tanchareon still firmly in place as terrific showrunners. The entire core cast, Ming-Na Wen as May, Chloe Bennet as Daisy/Skye, Iain De Caestecker as Fitz (just check out how many times he's been a performer of the month on SpoilerTV!), Elizabeth Henstridge as Simmons, and Henry Simmons as Mack are all terrific. Other regulars have included Brett Dalton, Nick Blood, Adrianne Palicki, John Hannah, Jeff Ward, and Natalia Cordova-Buckley. The list of amazing guest stars and recurring are too numerous to list here! The show also boasts some of the best special effects on television as well as some of the best fight sequences ever. The dialogue never fails to satisfy, and the cast always delivers, special mention to Gregg, de Caestecker, and Simmons here! The show has never shied away from reinventing itself and its characters. One of the most interesting things it did was deliver three distinct 8-7 episode story arcs in season four: Ghost Rider, LMD, and Agents of Hydra. This was a brilliant way to mimic the shorter seasons which are becoming more common now within the traditional 20-24 episode season. This show really has it all, action, humour, great acting, and great effects.

- Lisa

06. 12 Monkeys


1. Forget Bruce Willis, Madeline Stowe and Brad Pitt — Syfy's remake of the 1995 feature film has Aaron Stanford, Amanda Schull and Emily Hampshire. Sure, they may not be box office names, but they (along with Barbara Sukowa, in particular) are outstanding at connecting you with the characters, and being thoroughly entertaining while doing it. Hampshire's portrayal is especially enthralling in the same way that opening gifts is: you never know what is coming next, but there is palpable excitement about it. The key to making time travel shows, first and foremost, is to make it as accessible as possible. 12 Monkeys has periods where it is confusing, and where you don't fully understand everything in the timeline. But co-creators Terry Matalas and Travis Fickett always know, and so it becomes possible to accept temporary confusing in the knowledge that it will make sense eventually. There is always a seriousness to this show, with the fate of the world often hanging in the balance as the characters look to reverse an apocalypse-causing virus, but it's also damn good fun from start to finish. This is a very watchable, very enjoyable, very good television show.

- Bradley Adams

2. 12 Monkeys boasted some of the best time travel writing I've ever seen on either a big or small screen. Forget the movie - though if you were a fan of the movie there are lots of easter eggs in the first season. Terry Matalas is the through-line as creator and then showrunner for seasons 2 through 4. You have to pay attention, but the payoff, in the end, is huge. Think there is a loose thread? No worries. It will get woven into the fabric of this show. The scope of 12 Monkeys ranges from historical periods as far back as 1491, and including a terrific masquerade ball in 1700s France, to a dystopian, apocalyptic future in which a plague has wiped out most of humanity and an organization lead by the mysterious Witness, who is trying to wipe out the rest of it. The cast is absolutely terrific with Aaron Stanford as Cole, Amanda Schull as Cassie, Emily Hamsphire as Jennifer (special praise here!), Kirk Acevedo as Ramse, Alison Down as Olivia, Todd Stashwick as Deacon (again, extra praise here!), and finally Barbara Sukowa as Dr Jones - and she was my personal favorite! Finally, the show won two awards for its terrific cinematograhpy. This is a fun ride that you will enjoy from start to finish!

- Lisa

05. Fringe


A man tears open a hole in the world to save his son, and then he uses terrible means to give a little girl powerful abilities to fix his mistake. Fringe began as an X-Files knock-off with more procedural elements and a wacky mad scientist consultant – remember The Pattern? John Scott? No? Things changed when the show dove deeper into its mythology and switched its more procedural aspects from mostly people using weird science to commit crimes to stories that combined the wildest of science fiction with the mundane tragedies of love, fear, and grief.

As the show added in multiple universes and scrambled timelines, it not only found its footing, it gave the cast a workout. Blair Brown portrayed the calculating Nina Sharpe in multiple decades; Jasika Nicole and Lance Reddick played two versions of their characters with some especially heartbreaking storylines for their alt-selves, and Joshua Jackson had to hold the emotional centre of the show through every new change. As the lead, Anna Torv contended with multiple versions of Olivia and Fauxlivia. Original Olivia was a serious, driven agent with boundless empathy and universe jumping powers; Fauxlivia was a ruthless soldier, but also more playful with less emotional baggage. Torv found the nuances that connected the characters and yet at the same time made each version distinct, and the complexity of her acting, as well as the writing for the Olivia's, was impressive. And finally John Noble's mad scientist Walter Bishop, a man who pushed the boundaries of what is scientifically possible and broke two worlds doing it. But we rarely saw the arrogant genius he was, but rather someone who had to live for almost two decades, locked away and losing touch with his sanity, isolated with only his mistakes to think about. Noble's performance was intricate and inspired, especially when he was showing how fragile Walter could be. His speech about the white tulip, which became a running motif through the rest of the show, is a personal favorite.

That's only the tip of the iceberg with this show, of course. Fringe has the literal world-building of the Red Universe and the dystopian future, the creative things they found to do with technology, the episode 19 tradition, Gene the cow, and a whole lot of Leonard Nimoy. In my opinion, it's not only one of the best shows of the decade, but one of the finest examples of its genre, and has more than earned its place in the top five.

- Jennifer Panzera

04. Fargo


Most of the debate surrounding Fargo tends to involve which season was the best. The thing that is never in doubt is that this FX crime black comedy-drama, inspired by the 1996 Coen brothers film of the same name, is consistently outstanding through each of its three seasons. Even in the slightly curious moments — the appearance of the UFO causes this writer to consider season two the weakest, albeit among an extraordinarily strong bunch — Fargo has better quality, is more fascinating, more brilliant, and more engaging than virtually any show. Visually and structurally, nothing on television since the latter stages of Breaking Bad rival Fargo. It is a five-star buffet of performances, writing, storytelling, direction, cinematography, sound — with humour as a delicious dessert. Its first season is, start to finish, a perfect ten episodes; a demonstration in making flawless television, genius at its most Einstein-like. There was surely no topping the magnificent Martin Freeman and the menacing Billy Bob Thornton. Then came Ewan McGregor's wonderful nervousness, Carrie Coon's perpetual deity-standard performance, and David Thewlis's relentlessly psychotic but relentlessly absorbing turn. The Coen Brothers probably didn't imagine Fargo could be as good as this. But it can be. And it is. FX's version is a masterpiece.

- Bradley Adams

03. Person of Interest


1. This CBS drama was critically acclaimed when it first hit our screens in 2011, and for good reason. Person of Interest changed how people perceived the spy drama as a genre, by making it so much more intriguing and breath-taking than ever before.

The premise on itself was rather simple: Wealthy programmer Harold Finch creates a machine capable of predicting crimes before they happen (though it can't tell if the person involved is the future victim or the perpetrator) and hires Ex-CIA agent - who also happens to have been presumed dead - John Reese to help him stop crimes in New York; but each episode created such a tense and compelling atmosphere that it was hard to look away even for a moment.

- Thomas Cori

2. In any discussion about Person of Interest, it's worth remembering that — no matter your thoughts on the series — its prescience cannot be doubted, having premiered two years before Edward Snowden became a household name. Worth remembering, too, that this was a show which bucked the trend of its network. So regularly do CBS produce those run-of-the-mill police procedurals that Person of Interest's mere existence — and its 103 episodes — is a testament to its quality. Here was a show which dealt with hugely complex themes in an accessible and wildly entertaining manner, addressing the realities of the modern technology-heavy world. Set in a world where The Machine, artificial intelligence built by Michael Emerson's Harold Finch, sees everything and detects crimes before they happen, Person of Interest is George Orwell's Nineteen Eighty-Four for the 21st century, genius modern-day media. Come for the well-choreographed fight scenes and quips between Emerson, Jim Caviezel, et al., stay for the aforementioned exploration of technology and its impact on the world. Relentlessly entertaining, this show challenged the boundaries of what network television can ask its viewers to follow in a way that perhaps only the likes of LOST ever had. By the end of its second season, it was the best show on network television — by the end of its fourth, one of the best on television outright. From a promising procedural in its early days to a slick, stunning serialised drama by its conclusion, Person of Interest thrilled from beginning to end.

- Bradley Adams

02. The Leftovers


1. Damon Lindelof's redemption song that reminds audiences of just how good he is, The Leftovers is a tour-de-force of emotional melodrama that is one of the most compelling sagas on television ever. Rather than address the hows and whys as an apocalyptic-scale event sees 2% of the world's population disappear – The Leftovers explores what happens to those left behind and the consequences that it has on them. Sound familiar? It probably does – this series could almost perfectly exist in the nice little gap between Avengers: Infinity War and Avengers: Endgame with a few minor changes. The series uses the event as a springboard for some of the greatest television performances ever – including a star-making role for Carrie Coon who has never been better. The series itself pulls all the strings and pushes characters on paths that feel natural for their development, and whilst if you go in expecting answers you'll be disappointed, the ending will nonetheless be satisfying and deeply touching. Ann Dowd's performance as Patti Levin, a key player in a twisted cult known as the Guilty Remnant, is also worth commending, as is Christopher Eccleston's and Justin Theroux's, the latter who plays a tortured police chief who must keep everything together in these troubled times. Based on the novel by Tom Perrotta, The Leftovers is entirely deserving of its position on this list.

- Milo

2. Whatever you expected of a Damon Lindelof show after Lost, it is pretty much guaranteed The Leftovers will simultaneously top it, twist it, turn it over its head and leave you wondering "what did I just watch?". One of the greatest shows of these last few years, or even decades, The Leftovers has it all: suspense, heartbreak, a healthy dose of supernatural elements that you'll never really get to grasp the full extent of, and it goes in directions you'll never see coming. For those who were disappointed by Lost's lack of answers, The Leftovers may be the answer because over three seasons, while it leaves a lot of things open to interpretation, it is very well-written and you get the sense the whole story was (mostly) planned from beginning to end before the show even premiered. Not so much a show but an actual experience, it is truly a work of art in TV's golden age.

- Cecile L

The Leftovers
, no such backlash occurred — mostly because its sum total of viewers is about the same number of original series Netflix has, but also because sometimes it is easier to simply be thankful for what was made than be angry at what more could have been. Quality over quantity, and all that, although, on the evidence, there is little doubting that Damon Lindelof would have made just as wonderful a season four as its predecessors. Season one has its critics, but even the harshest markers realised Lindelof was doing something special by the time season two came around (Andy Greenwald, then of Grantland, was among those who saw the light). Haunting, gripping and heartbreaking,
The Leftovers
sent viewers through the emotional ringer: sorrow, loneliness, the occasional laugh, horror, awe. You name it, it was there — even happiness made the odd appearance on the bleakest, most gutting show in recent memory. Exploring how the world copes after 2% of the population disappears without explanation, each moment of the tragedy which comes to the fore is hard-felt and heartfelt. Its perpetual Emmy snubs is a sad reflection on the Academy and offers the worrying thought that, with the awards a marker for television throughout history,
The Leftovers
might be forgotten. The tour de force performances of the relentlessly magnificent Carrie Coon, Justin Theroux, Christopher Eccleston and Ann Dowd, the beautiful Max Richter score, the jaw-dropping direction, the gorgeous writing — these are things that deserve to be remembered.

- Bradley Adams
4.
The Leftovers
was perfection for three seasons from beginning to end; the writing, directing and acting. I remember watching the finale and just crying for the entire episode. It touched me on such a deeply emotional level. My mom passed away a few months before the finale and that's what
The Leftovers
is really about; dealing with loss. It is a universal part of life that we will all experience in one manner or another. This wasn't a sci-fi show about people mysteriously disappearing in one fantastic moment. It was about losing someone you love and dealing with that heartbreak. And somehow finding a way to move on or maybe not moving on at all. Justin Theroux, Carrie Coons and Ann Dowd were incredible; the heart, brain and soul of
The Leftovers
.
- Claire Serowinski
The Leftovers
will go down as one of the best shows in TV history, with the quality in writing, directing and acting, the show was absolutely mesmerizing as a deep exploration on what it's like to be human and have to deal with the unthinkable. It perfectly shows how people can have vastly different reactions to the same loss, the same pain, and the way the story was told was masterful. On the first season, we found out little details, bit by bit, some were even only revealed by episode nine. There are definitely more shows that have done this, but very few can even compare to this one in quality. Some stories are just a product of their time and can only exist as such, but this is something that can be rewatched years later and it's still as poignant as ever, if not more, and that is no easy feat, which is why we find Damon Lindelof's masterpiece at the top of this list.
- Luana AC
01. The Americans
1.
The Americans
excelled where so many other great shows failed: they stuck the landing with their final episode. The finale of
The Americans
is more than just a satisfying ending to a great show. It is the culmination of threads and arcs and plans that unfolded before us for six seasons. The train scene didn't just cause gasps of surprise as a cheap twist. It made sense for the characters, especially Paige, for it to unfold as it did. There are shows that invite debate about how they end, but
The Americans
has evaded that type of scrutiny by delivering an ending that was true to the story it told. Not nice and tidy with a happy ending, but raw and messy and more than a little unkind.
- Abby Crofton
2. I've always thought of
The Americans
as
Alias
meets
Mad Men
– an intricately-plotted espionage thriller crossing paths with an intense family drama, all wrapped up in a blanket of historical fiction. Keri Russell and Matthew Rhys delivered powerhouse performances every single week, and the writing really never faltered. This is another case where everything worked together to create a singularly special television experience: the scripts, direction, performances, sets, wardrobe, and music (the montages!) are all worthy of praise throughout. In fact,
The Americans
delivered perhaps the most satisfying series finale of all time, which capped off a final season that stood as one of the series' greatest achievements. It is incredibly rare that a show so packed with plot is able to seamlessly stick the landing, but
The Americans
did so in an absolutely stunning fashion. I still tear up thinking of certain moments from the final episode, and I can't wait to watch the series from start to finish again to relive it all.
- Maximilian Conte
The Americans
. It is one of those rare series that begins strong, ends strong and keeps you interested the entire way through. None of its seasons left you feeling like the creative team dropped the ball one bit.
The drama and intensity of the acting often made me feel like I was intruding. Watching the Jennings be slowly shattered into fragments of themselves as they try to keep one foot in the spy game and another in the suburban fantasy created for them was heartbreaking. This is a testament to the power of the show. Here we are rooting for characters who are villains in all of the traditional ways we define them. But somehow we want them to win. To make it out alive. To have a chance at a real-life after every foul thing they've done. Thanks to great storytelling and phenomenal acting, they did make it, but rightfully so, they paid a very heavy price.
If you haven't seen it yet, you have no idea what you are missing!
- NaomiAnna
4. The reason
The Americans
is so magnificent is its razor-sharp focus. Make no mistake: this is not a show about spies. This is a show about family, relationships, marriage, grief, misery, adjusting to new environments and status quos — which just so happens to feature spies. Philip and Elizabeth Jennings (Matthew Rhys and Keri Russell respectively; Rhys given a long overdue Emmy in 2018, Russell cruelly and wrongly denied six statues during the show's six seasons) are Soviet spies in the USA in the 1980s, and the allure of the series for newcomers is undoubtedly that. But the core of the series is their lives outside of their work, how espionage and lying and kidnapping and torture and murder affect them and their family. Philip spiralling after a mission goes south only works because of the time and effort put into establishing him as a character with whom the audience can empathise, with whom the audience can relate. Few free citizens have left a man to die in the cold in the woods; many parents will know the feeling of their daughter hiding things from them. The writing is always crisp and in total control, with each of the first four seasons a gradual increase in quality, culminating in a fourth season which would fit nicely into a discussion over the greatest seasons of television ever made. Rhys and Russell are supported outstandingly by a cast who make their roles their own, with Noah Emmerich and Alison Wright especially deserving of recognition. Rarely, too, has a show included so many perfectly edited montages to pull at your emotional core. Fans will already know the impact felt by U2's "With or Without You". For the uneducated, just know this: television without
The Americans
is television made lesser.
- Bradley Adams
The Americans
is a powerhouse of a television show. In its six-season run, it became a prolific story of a husband and wife -- who are Russian spies living in Washington D.C. in the prime of the Cold War -- and how the dualities of life catch up to them, slowly unravelling the family they crafted for themselves. Elizabeth and Philip Jennings' story could've easily turned into a drawn-out, dragged out spectacle but instead,
The Americans
so masterfully churned out a wrenching, moving, twisted tale. It only helps that the action, the disguises, the wigs, the spy codes and other tricks balanced the slow-paced drama unfolding in their personal lives. Keri Russell and Matthew Rhys's performance will forever be imbued in my brain. They were phenomenal, losing themselves in every character they played on-screen. Their chemistry and acting prowess are what elevated
The Americans
even further. The story was so well-developed that by the end, you didn't think you'd root for the spies but you can't help yourself. What distinguishes the show from the rest of its peak TV compatriots is that
The Americans
really stuck the landing with a great final season, capping it all up with only the best-written series finale ever. START, much like the entire show, was a gut punch no one saw coming. It's why
The Americans
deserves all the awards for perpetuity.
- Saloni Gajjar
Congrats to
The Americans
for taking the top spot! Do you agree with the following list? Any snubs? What are your own Top 10 shows of the decade? Leave your thoughts in the comments section below!
Links for below:
85-71
70-56
55-41
40-21
Comments
---
Bones (Honourable Mention)
*Editor's Note*
Bones received enough votes to place #99! However, upon further review, this 2005-2017 crime procedural drama has been deemed ineligible. Only shows that debuted before 2007 were allowed if they had aired the entire decade. Bones somehow fell through the cracks having gone through the team voting, the fan tiebreakers and the write ups before being noticed. Having aired a good chunk of the decade, it is only right to honour Bones instead of omitting it and thus, we bump it down two spots to Honourable Mention.
Bones started in 2005 and lasted a very accomplished 12 years, running until 2017. The main cast of the first season was comprised of Emily Deschanel (Dr Temperance Brennan/Bones), David Boreanaz (FBI Special Agent Seeley Booth), Michaela Conlin (Angela Montenegro), T.J. Thyne (Dr Jack Hodgins) and Eric Millegan (Dr Zach Addy). At this time, the only shows that involved science were the 3 CSI shows (of which I am also a fan) and it gave viewers a new perspective to your average crime procedural. Watching it myself, I found it easy to empathize and relate to the quirky nerds who worked at the Jeffersonian, since my childhood was spent as being the quirky and slightly awkward nerd who loved science. Each week, the show gave us a new, weird and wonderful/disgusting murder where the characters pursued the truth based on the scientific evidence. Bones and the Jeffersonian crew (squints) looked at the evidence, which usually included a completely ridiculous experiment from Dr Hodgins and Dr Addy and some awesome art from Angela. Booth and Bones would meet up at a coffee shop (at least 3 times per episode!!), discuss the evidence and by the end of the 45 minutes, catch the bad guy and solve the case.
The characters didn't always get on, mainly Booth and squints, but throughout the series I watched all their personalities and relationships develop and change, making them all a close-knit family who always came together at the end of each episode. I loved the way the BONES family wasn't filled with characters who were one dimensional or all the same but different with their own strengths and weaknesses, making every one of them loveably human. If you are looking for a show with well designed and developed characters, good storylines, interesting big bads and sometimes some educational science, then I will stop here and recommend you watch the pilot. Trust me when I say that you will not be disappointed.
- Sarah R
100. Southland
Southland
, from the first episode till the end, pulled you into this gritty, realistic representation of what it means to be a police officer aka cop in a large American city. The storylines were intense and you learned to care about the characters. The actors delivered every episode. Michael Cudlitz, who played John Cooper the veteran cop who passes along his wisdom to rookie cop Ben Sherman played by Ben McKenzie, was the heart and soul of this show. The supporting cast was just as powerful and included C. Thomas Howell, Regina King, and Shawn Hatosy to name but a few. The storytelling was not always pretty, but nevertheless powerful and real. One of the few shows real-life police officers didn't cringe watching.
- Gina Kern
99. Peaky Blinders
This was a show I never saw coming. A period crime drama about Irish gangsters didn't seem like my cup of tea, but boy was I wrong. Strong acting and just plain ole' great storytelling helped make
Peaky Blinders
one of the best shows on television.
As always, Cillian Murphy completely embodied the role of Tommy Shelby as did Paul Anderson as the crazy big brother, Arthur Shelby.
Though not large in stature, Tommy possesses the heart and courage you'd expect of someone ten times his size. His interactions and relationships with his family are what propels the plot. How the Shelby's react to their changing environment and the many enemies they collect keeps you invested in what will come of them.
Tommy emerging from the hall intending to run for Parliament had to be one of the best and most triumphant season endings I had ever seen. Luckily, more series are on the horizon to complete the story of the Shelby clan.
- NaomiAnna
98. The Knick
I love this show! From director Steven Soderbergh, this turn of the century medical drama only lasted for two seasons from 2014-15, but it left a lasting impression on me. Set in 1900 New York City at the fictional Knickerbocker Hospital, it was loosely based on the historical figure Dr. William Stewart Halsted.
Clive Owen portrayed Dr. John Thackery, a cocaine-addicted surgical genius who kicked his cocaine habit by picking up a heroin one. The supporting cast included a brilliant pre-
This Is Us
Chris Sullivan, Andre Holland, Juliet Rylance, Andre Holland and newcomer Eve Hewson. The cast was stellar as were the writing and visuals. I am a history buff which is probably why I was drawn to
The Knick
, but I was hooked from the first few minutes. It was like stepping back in time; Soderbergh's attention to detail was superb. The series covered many fascinating subjects such as: women's rights, or thereof when women were basically considered property, eugenics, an African American doctor trying to make a name for himself in 1900 NYC, abortion, discriminatory class system, the heartbreak of death during a time without vaccines or antibiotics, a Typhoid Mary esque story, early practices of medical hygiene (imagine your doctor not thinking it's important to wash his hands!). I was sad that
The Knick
ended after twenty episodes, but like another one of my favorites,
The Leftovers
, sometimes a show is so amazing that two to three seasons is enough. When I look at what has happened to
The Handmaid's Tale
after a disappointing third season, I am convinced of this more than ever.
- Claire Serowinski
97. The Man in the High Castle
The Man in the High Castle
is still Amazon's finest show. I still remember the feeling Season 1 gave me when I binged it. The world they created was unlike anything I'd seen before plus the complex characters were an instant draw. The character of Juliana Crane is by far one of the strongest characters I've ever seen in a TV show. You are constantly engaged with her story and her point of view. Her determination is powerful, you root for her no matter what. The acting on
High Castle
is beyond superb and it is a real travesty that it isn't being recognized by the award shows. Alexa Davalos & Rufus Sewell, in particular, are phenomenal, showcasing the vulnerability, strength and determination in their characters. Honestly, all the characters in
High Castle
are fascinating and each actor does a wonderful job bringing them to life. I've found myself, many times, to be enthralled by the intricate character layers/backstory. The mythology that is revealed with every season continues to be such an exciting and intriguing revelations, especially with the strong world-building (the set design team doesn't get enough credit for their talent). This story is just so well written, it always makes you understand the motivations behind a character's choice and it is also deeply engaging. The struggles the characters face still feel relevant, humanity is still there despite the circumstances. It is never black and white. That is one of the reasons this show is such an amazing show, it subverts your expectations on what you think you'd expect from the setting and situations. I know aspects of this piece of writing are vague but I feel like it is better to go into this show unaware of some things like I did as I enjoyed it that way. I'm truly grateful to have watched it and I won't forget it.
The Man In the High Castle
deserves more attention than it ever received and I am so happy to see it being able to conclude on its own terms this November.
- Nirat
96. You're the Worst
Love stories come in all sizes and shapes which is why
You're The Worst
is one of the most endearing shows of the decade. This show stepped in the mud of what happens when two imperfect people find each other and carve their own path to love and one's definition of happiness. Jimmy Shive Overly and Gretchen Cutler are a mess both together and individually, but who isn't? Through the show's 5 seasons the viewer was taken on a journey that made them feel like their imperfections are still valid and should be seen through the lens of scripted television. They tackled Gretchen's depression in a realistic and touching manner without the perfect bow of a 'cure' at the end. They showed that people are flawed and can do awful things to one another, yet still recover through understanding and devotion. You're the Worst was truly engaging and underrated television that stays with the viewer even after the screen fades to black and is well deserving of a spot in this list.
- TheTVGirl
95. Pretty Little Liars
Pretty Little Liars
wasn't just addictive, it was a literal obsession for millions around the world. If you didn't live under a rock, you must have heard about -A at least once. Not surprisingly this show ended up being one of the most watched teen dramas of the decade: it was visually stunning, it kept you guessing with its mysterious characters and it was able to build one of the biggest mysteries on television, while tackling important issues like bullying. Even though it was a murder mystery, the friendship between Aria, Emily, Hanna and Spencer was the core of the show. It is the love for these characters that made the fans stay no matter what, and we will miss them forever.
- Lip
94. Penny Dreadful
Showrunner and writer John Logan's ability to turn 19th century prose into modern television scriptwriting was nothing short of masterful. And to see the dialogue acted out with such captivating performances by an incredibly talented cast, including Eva Green, Rory Kinnear, Timothy Dalton, Harry Treadaway, Billie Piper, and Josh Hartnett, made this gothic horror show all the more magical to behold.
Chief among this cast was Eva Green as Ms. Vanessa Ives. Over the course of the decade in television, we had seen some incredible performances by actresses such as Tatiana Maslaney, Jessica Lange, and Viola Davis, but far often overlooked was Eva Green's revelatory performance. In
Penny Dreadful
we saw her portraying the duality of both this defiantly faithful and vulnerable Catholic woman in fear of the darkness overtaking her, and then this dastardly and insanely, possessed woman. It was simply captivating to watch Green seamlessly switch from one personality to the other. The highlight of the show was the only three scenes Green shared with Rory Kinnear's John Clare. The understanding between these two kindred spirits - one who is ugly on the outside, but has the soul of a poet, the other physically alluring but filled with darkness - evoked such raw emotion and at times, because their lives couldn't be any more different, heartbreak. Their interactions, though few and far between, really acted as the crux of what defined
Penny Dreadful
as a show - poignant, emotional, and deliciously provocative.
- Kollin
93. iZombie
iZombie
is a show that caught me, and many other viewers, off guard. I stumbled upon it by accident and was expecting a cheesy drama, but instead, I was left with a true appreciation for the characters and the world that it brought to life. The show recently aired its final season, and even at its weakest moments, the creativity and excitement of the show were still capable of holding my attention in a way that many shows cannot do. The show was a surprisingly delightful blend of crime, comedy, drama, and sometimes even horror. Unlike many other zombie-centric shows,
iZombie
managed to keep friendship and humanity at the core of its story which allowed for it to connect with viewers in a way that many of them never initially expected.
iZombie
has always remained self-aware and has never tried to be anything that it's not. Combine this with a well-rounded cast of characters, and you have the perfect recipe for an entertaining show where you're never left feeling unsatisfied.
- Sierra Schade
92. Star Trek: Discovery
Every bit as worthy of the
Star Trek
name as the more established shows among its franchise, Discovery is a serialised, big budget sci-fi extravaganza that doubles down on the insanity with trips to the mirrorverse, big space battles, double agents and Klingon Wars in its first season alone. The second season moves away from its Klingon-centric focus towards a more optimistic approach, featuring a young Spock and a pitch-perfect portrayal of Captain Pike by Anson Mount that sees Pike enters the ranks of one of Star Trek's greatest Captains, offering as the perfect counterpart to Jason Isaacs' duplicitous Gabriel Lorca. Performances from Sonequa Martin-Green as Michael Burnham, Spock's half-brother and de-facto protagonist alongside Shazad Latif, Michelle Yeoh, Wilson Cruz, Anthony Rapp, Doug Jones and Mary Wiseman brought compelling depth to this diverse and inclusive series that is clearly carefully plotted with each season following a different storyline across mostly serialised episodes. The investigation behind the identity of the Red Angel was one of the highlights of Season 2, and with the CBS All-Access series renewed for another season that looks set to move the series away from its current status as a prequel to the franchise, wrapping up loose ends in the process, now is the perfect time to get on board one of the best series currently airing.
- Milo
91. GLOW
I'm not a fan of wrestling but decided to check out
Glow
anyway, and am thrilled I did. It has everything - eighties nostalgia mixed with the dark side of the decade, including LGBTQ issues such as homophobia and the AIDS crisis. Bash's struggle with his sexuality is heartbreaking while Artie comes out after a hate crime, empowered by the horrific actions of others. It is a fun show to watch, although devastating at times and it deserves several more seasons.
- klutzy_girl
90. BoJack Horseman
BoJack Horseman
is a defining show for this generation. There is such depth in its humor, especially in the way it tackles the difficulty of dealing with depression and alcoholism through its central character. BoJack is a complex, flawed but very well-written protagonist. The way the show reflects Hollywood -- our obsession with it and the narcissism of everyone involved in the industry -- is fantastic. I love how the show takes real-life actors, movies, and situations and involves them in its world. The voice cast, especially Will Arnett and Amy Sedaris, is magnificent. BoJack Horseman is a show you don't expect to resonate with but it surprises you. Episodes like "Ruthie," "Time's Arrow," "Free Churro," "Yes And" are the biggest proof of how an animated show about talking animals will churn you emotionally.
- Saloni Gajjar
89. Longmire
I have never been particularly drawn to crime dramas nor series with a western feel so my immense love for
Longmire
took me by surprise. When I began watching the series off a recommendation of a family member, I was convinced I would need to force myself to continue watching. It only took one episode for the characters, the relationships, the storylines and the scenery to grab me and there was no looking back.
The cast feel as though they were made for their roles. Robert Taylor's portrayal of the silent, strong and morally good Sheriff Walt is one I will never forget. Katee Sackhoff as Deputy Vic and Lou Diamond Phillips as Henry Standing Bear also deserve equal praise for their amazing and emotional portrayals of their characters. The series is visually stunning and is accompanied by well selected music that often aids in driving the storylines. The characters are relatable and the relationships feel deep and well crafted.
Longmire
has a certain charm about it which comes from a mixture of compelling dialogue, tackling relevant issues with care and the slow but satisfying way the episodes introduce you to the characters and the world they reside in.
- Raina
88. Supergirl
The adventures of the Girl of Steel have had quite the journey. The show first aired in 2015 on CBS to critical acclaim but struggled in the ratings. The network and producers showed their faith in the show by moving it the CW network for its second season where the show gained footing and has grown into one of the strongest shows on the network. The move to the CW allowed the show to broaden its storytelling and address meatier storylines. It recently completed what many feel was its strongest season.
From the beginning,
Supergirl
was the show female superhero fans had longed for, a quirky Kara Danvers in her secret identity becoming the hero Supergirl. The show has the action comic book fans wanted. But it has something more, that intangible factor that elevates it to something special. What made and continues to make
Supergirl
a standout series was the casting of Melissa Benoist as Supergirl. The success of the show rests firmly and confidently on her shoulders. In four seasons, fans have watched Benoist's Kara and Supergirl grow from awkward girl into a confident woman and superhero. At the core of what makes Supergirl special is its heart, whether it be from the charming mentor/mentee relationship of Kara/Cat Grant (sadly Calista Flockhart departed the show when it moved its production from Los Angeles to Vancouver), or the warmth and support of friends.
However, there is no doubt that the very heart and foundation of Supergirl is the bond shared between Kara and her sister, Alex Danvers. The genuine sisterly bond of love and affection between Benoist and her co-star, Chyler Leigh as Alex, translates easily onto screen into Alex and Kara, easily making the Danvers sisters the most important relationship on the show. Since the first time they grasped hands in the pilot, moments between these provide the series some of its most powerful moments. The show illustrated just how powerful that bond was in the fourth season with a risky storyline involving erasing Alex's memory of Supergirl. Ultimately, their bond was so powerful it broke through showing that the Danvers Sisters are truly El Mayarah, stronger together. Add in the wonderful David Harewood as their father figure J'onn J'onzz and you have one of the strongest family units on television.
Another factor that makes
Supergirl
a standout is their courage in tackling difficult social issues. In four seasons they've tackled such topics as LBGTQ issues with Alex's beautifully told coming out story; immigration and hate crimes with the Agent Liberty storyline; racism with James Olsen; losing a loved one to dementia; women's rights and in season four became the first show to feature a transgender superhero with the addition of Nicole Maines as Nia Nal, Dreamer. One final factor in the continued growth and success of
Supergirl
is the show's respect and love of the comic book genre. They've paid homage to iconic comic book moments, brought in iconic comic book villains such as the marvelous Jon Cryer as super villain Lex Luthor, and brilliantly cast guest stars such as Lynda Carter, Carl Lumbly, Dean Cain, Helen Slater, Teri Hatcher, Laura Vandervoort and Kevin Sorbo, to name a few, all noted for playing other comic book heroes. Famous comic book fan, director Kevin Smith has even come and directed multiple episodes, publicly declaring his love of the show.
Supergirl
has grown into a show with quality acting, ambitious writing, movie level stunts and effects that deserves far more respect from the industry than it receives. The upcoming Season 5 will likely show that
Supergirl
continues to grow stronger.
- DJRiter
87. The OA
The OA
has been canceled way before its time, but Brit Marlings and Zal Batmanglij gave its viewers one of the most unique, genre-bending cosmic odysseys of our time. Starting out being about a blind girl returning home seven years later with sight, the series chronicles the mystical unknowns of the beyond, as it becomes a harrowing story about people being taken hostage for near death experience research only to transform into a love story that extends itself to the mystery of parallel universes! It visually was almost unlike anything else on television, willing to explore mysteries or conspiracies in the most surprising of ways! It also was very character driven, making sure the mysteries never took precedence over the heart strings that characters were often providing.
- Darthlocke4
86. Humans
Humans is one of the most realistic and raw sci-fi shows I have ever seen. Set in a parallel version of our familiar world where Synths are used in everyday operations, this show follows the story of two families trying to find their place in society. There is the Elsters - David, the creator of the Synths; Leo, his son who was turned half Synth after an accident; then Mia, Niska, Fred, Max, and Karen, the first Synths - and the Hawkins - your typical dysfunctional upper middle class human family who navigate their meaning in a world where work is autonomized. As Synths are found to have emotion, uprisings begin and human fear manifests.
Humans
is completely surreal and haunting upon first watch, but the second watch gives it such a different feel - moreso than most other shows. The characters reveal bits and pieces of themselves slowly and you get a completely different character in the end.
Humans
is one of the few shows I restarted the second time andd I finished watching. The show is so stunning and it is a crime it never got a proper ending.
- Zoé Fleury
85. The Good Fight
The world has gone insane and
The Good Fight
is here to remind you of that. And it does so brilliantly by incorporating the controversial US president as its main villain. Throughout its 3rd season, the show points out how dreadful it can be to live under the Trump administration. Two of the main characters, portrayed by the always fabulous Christine Baranski and the glorious Audra McDonald, even join an anti-Trump group and actively work toward getting him out of the White House. While the show was already excellent before it started, focusing on the disaster that is the current US administration, it got more relevant and more daring once it started commenting on real-life politics. There is an episode about the President's golden shower tape and an episode in which Lucca, a black lawyer, is accused by a white woman of stealing her very own baby. The show, in general, focuses a lot on race and on the inequality that comes with the topic. However, the series also clarifies that there are many different shades of grey between all the black and white: Diane Lockhart, one of the main characters, despises the president with every fibre of her being and is a member of the resistance group while her husband is actively working for the Trump family. Still, their relationship is not very much affected by their differing views. A plot further showing how life is really never just black and white is the storyline around the anti-Trump group. Over the course of season 3, the resistance group resorts to ruthless methods, not stopping short of killing people. The show is decidedly anti-Trump, but also makes it clear that not everyone fighting him is necessarily fighting the good fight. This show is a significant outlet of criticism that, in my opinion, should be protected at all costs.
-Julia Krassnik
84. Good Omens
Good Omens being turned into a show is said to be Terry Pratchett's dying wish. Based on the book that he and Neil Gaiman wrote 30 years prior, this show is about the end of the world going oh so terribly wrong. An angel and a demon become friends, the Antichrist doesn't really fancy being so, and John Hamm just wanted to be a part of it all. It is a wonderfully humorous story and is a delight to watch from start to finish. It's also quite unique in its way of telling the story. This show has started a lot of internet controversy (there was that one time a church started a petition to get it cancelled from Netflix, despite the fact that it was already over, and it was an Amazon Prime show) and inspired some incredibly passionate fans.
As a big fan of the books, I was jumping with joy from the moment the news came out. David Tennant and Michael Sheen was the most genius casting and just made me even more excited. The minute it came out, I went on a binge. It exceeded my expectations and I have rewatched it multiple times just to catch all the wonderful little Easter eggs. This is not a show to miss.
-Zoé Fleury
83. Mr. Robot
For as long as computers have been around, there have been cliche-ridden super-genius characters capable of using their television powers to hack into the most secure servers and systems in an instant. It is exceedingly rare to see this subject matter portrayed realistically, but that is exactly what showrunner Sam Esmail managed to achieve with
Mr. Robot
. Esmail's groundbreaking vision and direction rapidly elevated
Mr. Robot
into the top tier of television, and the series was very much deserving of its Golden Globe win in 2016 for Best Television Series - Drama, with lead actor Rami Malek picking up the Primetime Emmy Award for Outstanding Lead Actor in a Drama series in the same year.
As Elliot Alderson sets about dismantling the enormously powerful global conglomeMre, E-Corp,
Mr. Robot
brings with it a look and feel that's yet to be replicated since it premiered. Its cinematography is award-winning and truly unique, with my favourite example coming in Season 3's fifth episode, which was shot in a way that allowed the episode to be viewed as one long take. The series' sound design and the score are equally impressive.
A superb catalogue of supporting cast and characters keeps
Mr. Robot
engaging and thought-provoking, and that combined with some superb, dynamic storytelling and many of the other finer aspects that makes this series as well-regarded as it is, should be more than enough to convince someone that is interested in computer-savvy themes to give this series a shot. They won't be disappointed.
-Jimmy
82. Teen Wolf
It took me forever to try
Teen Wolf
. I had so many excuses for why I wouldn't like it: it was a teen show. It was on MTV. I was sick of werewolves. Luckily, I was finally talked into it and I was hooked from the pilot. Very few shows have pilots that move as quickly as
Teen Wolf
's did and yet it still took time to establish the characters and the all-important bromance of Scott and Stiles.
Teen Wolf
ended up being nothing like I expected. It was a quick-paced adventure story that never forgot that its heart lies in the relationships its characters formed to help them through the worst times and to celebrate the victories. Like Buffy before him, Scott had his core pack, each with their own talents and character development with the females just as likely to kick butt as the males. However, unlike Buffy, the parent and child relationships were equally important, especially as the series progressed. It was a shock to see how positively most of the parents were portrayed and the mutual respect shown. That's not something you see on most teen shows. Also, because of its usual 2-parts per season format, things that would take months to be revealed on other shows play out in 10 episodes so nothing feels drawn out, especially in the early seasons. While
Teen Wolf
goes from good to better in seasons 1 and 2, season 3 is where it really hits its stride. Season 3A had one of the best bromance scenes in 'Motel California' and developed its female characters more thoroughly, especially Lydia. Season 3B is still one of the most enjoyable seasons I have ever watched and it allows Dylan O'Brien to stretch as an actor, taking the beloved Stiles character from sarcastic best friend and lovable goofball to something much more raw and emotional. Overall,
Teen Wolf
is far better than I ever hoped it would be and I am so glad I took a chance on it. The adventures of Scott and Stiles and the rest of the pack are not to be missed.
-Dahne
81. Halt and Catch Fire
One of the best shows that nobody watched,
Halt and Catch Fire
is more than just an imitation of of
Mad Men
, first focusing on the computer industry in the 1980s but then evolving each season into something special. With a perfect lead quartet of Lee Pace, Kerry Bische, Mackenzie Davis and Scoot McNairy, this character driven storyline spotlighted the key role of women in the tech industry set against an instantly iconic era-defining soundtrack and theme song (curated official playlists are available on Spotify). Taking place between the first version of Microsoft Word in 1983 and the invention of the Windows 95,
Halt and Catch Fire
never questioned the audience's disbelief, keeping their expectations grounded and exploring the sacrifices that the characters have to make to run a tech company from the ground up. And what's most important of all is that
Halt and Catch Fire
kept its subtle, entrancing tone right all the way to the end, with the audience falling in love with the characters every season right up to a finale that at once manages to be both heartbreaking and incredibly optimistic.
-Milo
80. Salvation
As an alternative to repeat programming during the summer of 2017, CBS took a risk with Salvation, a 10-episode series based on the premise that an asteroid is going to collide with earth, bringing all life to an end in 186 days and there are only a handful of people that can save the planet.
Salvation
paid off for the network, big, with this high-concept series that featured some very impressive computer effects, and was surprisingly effective, considering it aired on CBS, a network not known for successful sci-fi series. It had an interesting premise, borrowing from the plot of the successful film,
Deep Impact
. While true, it was high-concept, this premise would not have been successful for a full series run but seemed perfect for suspenseful summer-fare. The pilot was well written, well-acted, and did an excellent job setting up the ticking clock for the end of the world, and it was smart. The whole first episode was the set-up, and introduced and positioned players on an intriguing chess board with just the right amount of conspiracy thrown in. They came to grips with the discovery of the asteroid and then made a series of moves as they learned to trust each other enough to work together to save the world. The cast was very appealing and had very nice chemistry together.
Salvation's
second season set out to prove the network's faith in this unique show was justified. And it did just that and more. From the very first episode of the second season, the show elevated its quality and storytelling giving their characters added layers, never letting up on the intrigue and intensity of the situation at hand and most of all, well-written and at times jaw-dropping twists. So yes, the show proved the network did the right thing in giving them a second season, but they did something else, they expertly used those same tools to lay out exactly why this show deserved a third season. Smart, intelligent characters and a well-written and gripping story. The final two episodes of the season and it turned out to be the series – Hail Marry and Get Ready - put an exclamation point on the biggest reason of all, a third season was needed because this wasn't the end of the
Salvation
story! Quite the contrary, this story was just getting started and it is this writer's opinion CBS made a mistake in letting it go!
-DJRiter
79. Chicago Fire
A show that sparks a decade defining franchise deserves a spot on the 'best of list' and that is what
Chicago Fire
is to the 2010s. As we have navigated the later 2000s, first responder scripted television seemed to fade to the background until 2012 when Dick Wolf decided to spotlight a City's heros through the perspective of firefighters and paramedics.
Chicago Fire
defines 'found family' through its heroic characters and engaging storylines. To put it in the 'procedural' box and move on would be a disservice to what the show did for NBC and the city of Chicago. We follow these characters and care about their heartache, journey and triumphs. Each fall it is like coming home when the engines roar and our fictional characters don their gear to go entertain and touch the viewer for another season. I am not sure when the mothership will close its doors as we move forward, but I sure am grateful for the ride
Chicago Fire
has taken us on thus far.
-TheTVGirl
78. Grace and Frankie
In a world where sexism and ageism are omnipresent -in particular in film and television- a show like
Grace and Frankie
is a gift from the (female) gods of television. Jane Fonda and Lily Tomlin dismantle one ageist stereotype after another and shine a light on what getting older really is like – the good as well as the bad. The entire cast has an exceptionally great chemistry, in particular Fonda and Tomlin who have been friends in real life pretty much ever since they were embryos. The show does not shy away from talking about sex beyond sixty and even built an entire storyline around vibrators. Furthermore, the series spotlights two gay men in their late seventies in a committed relationship and dares to let a woman have a relationship with a man who is about 15 years her junior. Show me another show that does that, I'll wait.
-Julia Krassnik
77. Community
Community
is a show that was ahead of its time and almost designed for the streaming era, despite airing for most of its life on NBC. It featured a host of recurring jokes and very subtle nuances that might only be caught while binge-watching. Backed up by a severely underrated cast, this show gave us Joel McHale, Ken Jeong, Alison Brie, Danny Pudi, and a pre-Childish Gambino Donald Glover. This show, like another NBC critical darling,
Superstore
, is one of those rare instances in television where a complete group of strangers with no apparent similarities can be friends and is actually believable. The best episodes were the most absurd, like the multiple paintball episodes and ones that suspend reality like during the Darkest Timeline. While it was never a smash hit during its initial run, the cult-like following of this absurd series is one that, like its fan base calls for, deserves SIX SEASONS AND A MOVIE!
-David Latimer
76. Dead to Me
Created by Liz Feldman, starring Christina Applegate and Linda Cardellini, this 30-minute black comedy will catch your attention since the very first episode. Filled with twists you never see coming, incredible performances by these two talented actresses and witty dialogue, this show is about Jen (Applegate), a widow who begins going to a grief group and meets Judy (Cardellini), who then become quick friends as Jen searches for answers as to who killed her husband, but it leads her to many shocking discoveries along the way. It also has excellent cinematography, and morally-grey characters for the most part. It has all the makings of an award winning show, and it already has been renewed for a season 2 (which is awesome, considering the big cliffhanger it ended its season 1 with).
-Alejandra Molina
I've always taken a liking to black comedies for depicting bleak subject matters in a rather unconventional way. That being said, I'm also sceptical towards such content because certain topics don't always land smoothly within the genre.
Dead to Me
, however, remains alluring for the fact that it carefully examines the difficulties surrounding grief through a rather disjointed friendship. Christina Applegate and Linda Cardellini's chemistry makes the rapport between their characters Jen and Judy believable as it Is embedded within pain and humour. Viewers become invested in their dynamic as we quickly realize that their unique bond prompts the two to persist amidst personal turmoil. The sunny yet vibrant Californian backdrop effectively created a stark contrast with the dark storytelling that unravelled throughout the season. Most importantly,
Dead to Me
placed Christina Applegate's talent at the forefront by probing deeply into Jen's emotional devastation through a variety of angles. This not only showcased Christina's range, but it solidified the fact that after 4 decades she remains a notable force to be seen onscreen.
William Koné
75. Russian Doll
Produced by Amy Poehler and the brainchild of Natasha Lyonne, I don't think it was a surprise that
Russian Doll
would be good. But I don't think anyone was quite ready for the head-tripping, time-looping, philosophically challenging genius that was this show's first season about a woman who keeps dying and waking up to repeat the day over and over, Groundhog style. Like most of the best shows dealing with the impossible, the series roots itself in the foibles of two regular people; computer programmer Nadia (Lyonne) and routine obsessed Alan (Charlie Bennett). It dug into all the messy things they wanted to hide from and why they were on such self-destructive paths before the universe (or whatever) decided to intervene, and forged a connection between the pair as the world literally disappeared around them. And that's on top of being surprisingly, darkly funny, with the recurring deaths (and attempts to avoid them) often twisted into effective morbid humor. It is one of the most original series in recent memory and made it onto this list after only one season. I can't wait to see what it does next.
-Jennifer Panzera
74. Orange Is the New Black
Though it wasn't even Netflix's first original series, it does feel like "Orange Is the New Black" – based on Piper Kerman's memoir of the same name about her experiences in a minimum-security women's prison – was the first show of our modern Binge TV era, the one you cleared your schedule for the day it dropped and watched as many episodes of as you could before your eyes drooped shut. While it began as the fictional Piper's fish-out-of-water story, its core of characters quickly expanded out into an impressive ensemble diverse in age, race, and sexuality. The show also had an incredibly deep bench; a side character could seamlessly slide into the main narrative without it feeling contrived. "Orange Is the New Black" also deserves accolades for the way it balanced its comedic and dramatic elements, both in the themes of individual seasons as well as within episodes. And while it wobbled in later seasons, the show always remained topical, as we saw with the immigration focus of the last season. Finally, its influence is felt on-camera and behind-the-scenes in the shows we love today – "GLOW," "Russian Doll," and "The Handmaid's Tale" to name a few. So if you've never seen it before, as the theme song goes, you've got time. And it's well worth the time.
-popcultureguy (PC)
73. The Bold Type
This show is the perfect example of a new way to portray young women as fully fledged out characters, with their strengths and their flaws, it has all the ingredients to be an entertaining show we could've categorized as a rom-com, but it decides to tackle real, deep issues, women everywhere have to deal with every day, going from discrimination to sexual assault, and yet, it still manages to maintain the entertaining factor and show one of the best female friendships on TV right now. We can only hope for more shows like this one in the future.
- Luana
72. Leverage
I am a massive fan of heist movies and finding a show that does a heist every episode, it was a dream come true!
Leverage
started in 2008 and had five beautiful years before ending in 2012. The cast is composed of Elliot Spencer (Christian Kane) the hitter, Alec Hardison (Aldis Hodge) the hacker, Parker (Beth Riesgraf) the thief, Sophie Deveraux (Gina Bellman) the grifter and Nate Ford (Timothy Hutton) a former insurance investigator now the brains of the operation. Together, each episode, the team pulled off awesome and ridiculous cons on the episode bad guy/girl/company while bickering like old married couples. Each season expanded on the personality and backstory of each character, giving you (the audience) a chance to connect with each of them. All the characters worked so well together, the chemistry between them made everything – the action, the comedy, the drama – just flowed perfectly and in the end made this show one of my top ten shows to recommend to people even if they aren't heist fans. Altogether it made for some high action and hilarious comedy each episode, especially when nothing went according to plan. I would highly recommend
Leverage
to anyone, even more so to those have enjoyed the Ocean's trilogy and/or Ocean's eight or enjoy
Robin Hood
with a modern twist.
-Sarah R
71. Justified
This show centred on US Marshall Raylan Givens (Timothy Olyphant) who has a past that he just can't seem to get away from. After his unorthodox and generally violent methods land him in hot water, he finds himself sent back to Kentucky and embroiled in the criminal goings on of his hometown, Harlan. The series was based on a series of books by Elmore Leonard and was helmed by Graham Yost. The dialogue and acting were really terrific and the storylines maintained their excellence throughout the entire run of the series. The series also starred Walton Goggins as Boyd Crowder and old friend of Givens now turned adversary. Goggins should have received multiple awards for his performance and he is one of those "villains" you just keep pulling for. Margo Martindale did receive an Emmy for her run as Mags Bennett and Jeremy Davies won one for his portrayal of Dickie Bennett. It's a modern wild west - complete with Givens ever so present and much beloved Stetson. This show really had it all - great writing, great acting, terrific storylines, and wonderful cinematography.
- Lisa
70. The Marvelous Mrs. Maisel
Rachel Brosnahan brings to life one of the best representations of a woman in the 50's and 60's. After trying to do everything that is considered "correct" she decides to carve her own path and begins a journey that's constantly going against the current and defies everything people have normalized about women, and their place in the world. Written by Amy Sherman-Palladino,
The Marvelous Mrs. Maisel
is a fast-paced comedy-drama, something that also goes against what we'd expect from a story set in that particular moment in time, and it presents many crazy situations that come from that conviction to not follow the rules. It also contains this rule-breaking spirit that made it such a surprising hit and secured a place on this list.
69. Schitt's Creek
If there is a TV equivalent to putting on a warm blanket and feeling comfortable, that is what
Schitt's Creek
is. The Rose family had it all on paper until they didn't, which led them to a quirky town called Schitt's Creek. At first, the sharp comedic writing carried the show, but slowly
Schitt's Creek
became a beacon of hope and love for viewers navigating the trying times in the outside world. The sweet embrace that Dan and Eugene Levy built with their team made it known that all are welcome and none are turned away. Through endearing character growth and deeply enriching stories,
Schitt's Creek
defined itself as truly generational storytelling. The world at large is better for having a show like
Schitt's Creek
in it.
-TheTVGirl
68. Modern Family
At the end of its eleventh and final season, next year
Modern Family
will have aired around 250 episodes. Looking back to its first season in 2009 it is helpful to remember just how great it was right out of the gate. Premiering to almost universal praise on ABC it reinvented the family sitcom.
Modern Family
ushered out the days of a hot mom and a schlubby dad dealing with kids and work to a canned laugh track. It was not the first single-camera comedy but it was probably the most successful. It was also not the first show to have gay characters in its main cast but it did do a lot to illustrate that gay people are the same as everyone else, just people in search of love, family and fulfillment. America followed Mitch and Cam's relationship at the same time the United States was legalizing same-sex marriage in real-life. Even if you didn't know a gay person you knew Mitch and Cam.
Modern Family
ushered in this decade in spectacular fashion. Here's hoping it ends the decade, and its run, just as well.
-Abby Crofton
67. Bodyguard
Bodyguard
came from seemingly nowhere to become a record-breaking cult classic in just six episodes that aired beginning in late August 2018, but when you take a closer look at the key players in the political thriller miniseries, the pedigree for success was certainly there. Jed Mercurio (
Line of Duty
) created the series and also wrote every episode, and key stars Richard Madden and Keeley Hawes each have several big-name projects on their resumes.
Bodyguard's
initial concept was fantastic. A war veteran who suffers from PTSD is assigned as the principal protection officer for a politician whose politics and stances go firmly against his own beliefs. Despite this, David Budd and Julia Montague begin a steamy affair, but the dramatic first half of the series set up a truly spectacular second-half transformation in which David Budd finds himself on the run and trying to prove his innocence after his one-time fling is assassinated.
Bodyguard's
six-episodeepisode run was on the shorter side among miniseries standards, but it never missed a beat. It truly blew me away, and everyone I've recommended the series to has had the same reaction.
-Jimmy
66. True Detective
Nic Pizzolatto's true crime anthology has now completed three, self-contained seasons. Its first season with Matthew McConaughey and Woody Harrelson was a huge critical success and won four Emmys. The show has brilliant cinematography to go along with terrific writing and acting. There is plenty of suspense to go with the mystery. The first season was shot in Arkansas but set in Louisiana and followed a pair of homicide detectives in their 17-year pursuit of a serial killer. McConaughey, in particular, was brilliant as his character slowly unravelled. The story was told primarily in a series of flashbacks. The second season, starring Colin Farrell, Rachel McAdams, and Vince Vaughan was largely panned, particularly for Vaughan's performance. The season followed a group of detectives from several different departments as they investigated a murder in Ventura, California. The show really returned to form for season three which starred Oscar-winning actor Mahershala Ali and Stephen Dorff over three separate time periods as detectives in the Ozarks as they try to solve the disappearance of two children. Carmen Ejogo also starred as Ali's wife who writes a book about the incidence which catapults her to fame. All three leads are terrific, but Ali was particularly outstanding portraying a character who, in the present timeline, was also dealing with progressing dementia.
True Detective
Seasons 1 and 3 are highly recommended!
-Lisa
65. Parenthood
I was always going to watch
Parenthood
because 1. Jason Katims (of
Friday Night Lights
fame) was at the helm and 2. It featured Lauren Graham, aka one Lorelai Gilmore. But you know how some shows seem great on paper and turn out to be disappointing?
Parenthood
was the opposite. It was a show about a family, first and foremost, and you couldn't help but want to join the wonderful fold that was the Bravermans. I certainly wouldn't say no to being invited to Bonnie & Zeek's house, or one of their famous family dinners, either. The whole cast was fantastic, and each storyline is brought on with care and subtleness, playing out naturally but almost always hitting the mark (and bringing tears... mostly mine). It managed to somehow perfectly balance emotion and humor, storylines for all the characters whether adults, teens, or children, and addressed subjects that aren't often depicted on TV. Although I'm glad the show ended on its terms and didn't get dragged out, I miss catching up on their lives and feeling like everything was going to be OK for an hour. If you haven't yet, give this (comfort) show a shot. It is more than worth it.
Cecile L
64. The Walking Dead
Based on the graphic novel of the same name, the show has at times differed widely from that storyline and at other times, such as Glenn's (Steven Yeun) horrific death, paid homage to the comic storyline. The show features terrific cinematography to go along with amazing, primarily practical special effects due to Greg Nicotero's magic. The show has also featured a number of wonderful actors, including Chandler Riggs, Danai Gurira, Melissa McBride, Norman Reedus, and Andrew Lincoln. Through various storylines, the show looks at what power does to leaders and what it takes to survive in an Apocalypse and to remain human.
-Lisa
The Walking Dead
is one of the few shows, if not the only, that truly rivalled
Game of Thrones
in terms of its sheer impact on pop culture throughout the decade.
Having now just entered its tenth season, the zombie survival horror show has continued to endure with no end in sight, though some detractors (increasing by the season) have felt that
The Walking Dead
has gone way past its expiration date.
Nevertheless, the show continues to go on and what has made
The Walking Dead
such a success is its timeless theme. On the surface, the show seems like just another zombie drama, but digging deeper,
The Walking Dead
philosophically explores humanity and the choices the survivors as human beings are willing to make in the most extreme situations, as the world crumbles around them.
Zombies had been all the rage throughout the decade, and it is all owing to this AMC hit drama. Some would dispute its quality, especially in the later years, but there is no denying the cultural sensation that is
The Walking Dead.
-Kollin Lore
63. How to Get Away With Murder
This is one of the most brilliant thrillers of this decade, filled with jaw-dropping moments and outstanding performances. Oscar-winner Viola Davis stars as Professor Annalise Keating, and she's f*cking amazing. This show, even though the storylines are great, wouldn't be what it is without her. Viola Davis portrays a brave, strong, determined and unapologetic black woman that the television landscape was missing (Davis was the first black woman to win the Emmy for Outstanding Lead Actress in a Drama Series for her role in this show).
How to Get Away with Murder
is always able to keep me on my toes and never ceases to amaze me, mystery after mystery. I think a lot of people feel the same way, and needless to say, we will deeply miss it when it comes to an end in Winter 2020.
-Lip
62. Castle
A show about a writer and his muse, created by a writer for his muse. There was a beauty in the simplicity of
Castle
. A procedural, in a sea of procedurals, with tropes galore, that stood out – because of its leads. Because of chemistry.
Castle
was a love story, hindered by walls and trauma - and Josh. Kate Beckett was a force of nature, with the brains, endurance, and strength to be the best kind of role model for many. And Richard Castle was a lovable goof with a heart of gold.
Castle
made many people write again. So enthralled by this story of the writer and his muse, the show inspired excellence in fanfiction writing and fans not only produced quality fanfics but many have since gone on to become published writers.
Castle
prevails to this day. It was a comfort show, one you could turn to on bad days, to wrap around you like a favourite comforter and warm your heart. The fandom is as strong as ever, still supporting each other in creative endeavours. And the love story, Castle and Beckett? They're timeless.
-Bex
61. The Magicians
Fantasy shows often fall into well-trod patterns. They bend towards glossy, tidy conclusions that guarantee no one is left too forlorn by the aftermath.
The Magicians
didn't get the memo. Based on a series of equally subversive books that ultimately opt for the happy ending, the show carves out its own identity. There's a magical school, other realms, and all manner of creatures and spells. It appears to be business as usual for a young adult fantasy adventure. Don't be fooled. From the first moments that Quentin (Jason Ralph) and Julia (Stella Maeve) attempt to gain admittance to Brakebills, the series enthrals and unsettles in equal measure.
The Magicians
doesn't hold back from exploring more mature themes of sexuality, recovery, and brutality. A good portion of its most beautiful episodes revolves around the standout performances of Hale Appleman and Summer Bishil whose near inseparable characters Eliot and Margo deftly juggle the funniest and weirdest and saddest and most kickass storylines. In later seasons, the show sails away from its source material, taking creative risks that are almost always satisfying. You can't ever put the show in a box, because it's always changing its shape.
The Magicians
is the rare show that you can't take your eyes off of. Just when you think you've figured out its tricks, it surprises you again.
-Ellys Cartin
60. Hannibal
Bryan Fuller is no stranger to creating shows that are multi-layered and are visually stunning or artistically unique. His adaptation of Thomas Harris' iconic Hannibal Lecter books was no exception, as he was able to read between the lines of Harris' work by fleshing out a lot of the novels' ideas, while also making the
Hannibal
series not so gritty like most of the film adaptations by providing a Gothic and tastefully atmospheric scape that always felt like Hannibal himself. The cast was another thing to admire, as Mads Mikkelsen captured the flavor of a younger vibrantly curious Hannibal, while Laurence Fishburne made for one the most present and powerfully stoic Jack Crawfords, and Hugh Dancy made for the most innocent and unsuspecting of stray dogs in Will Graham. It was truly one of the best psychological thrillers about serial killers ever made. I hope one day, Fuller can finish what he started, because his metamorphosis is near perfection.
-Darthlocke4
59. The Originals
A spin-off from
The Vampire Diaries
,
The Originals
chronicled the ups and downs of the Mikaelson family. Following Elijah, Klaus, Rebekah, Kol, Fin, and eventually Freya, we learned that family always comes first. The centuries long story of their lives and multiple deaths was told and acted with so much emotion and just like a real family, with humor.
I could see so much of my own family in the Mikaelsons. Vampires and hybrids aside, they were brothers and sisters before all else. Fighting, making up, and fighting some more,
The Originals
revealed one of the greatest lessons that we can learn. No matter what, the love of family should be "Always and forever."
-NaomiAnna
58. White Collar
When I want to recommend
White Collar
to someone, my first question is usually "Have you seen Catch Me If You Can?". Even if the answer is yes or no, the next thing I say is usually "You should watch
White Collar
, it's amazing!".
White Collar
started in 2009 and lasted for six years, finishing in 2014, which in my opinion, was too soon. The show has two main characters that it is based around, Neal Caffery (The Con-Artist) played by Matt Bomer and Peter Burke (The FBI Agent) played by Tim DeKay. In the pilot, we are introduced to Neal as he escapes from prison to find his missing girlfriend, and Peter as the agent sent in to catch him. Quickly, the show threw them together, solving cases involving art heists or forgery even sometimes murder and bank robberies. We were also introduced to many other characters in season one which I came to love instantly (especially mozzie!!). We've got Elizabeth Burke/Mrs Suit (Tiffany Thiessen), Mozzie (Willie Garson), Clinton Jones (Sharif Atkins), Diana Berrigan (Marsha Thomason) and Diahann Carroll (June). This is the show on Netflix that I always go to, I've seen it all at least twice! The characters personalities and chemistry were fantastic, nothing feels forced and watching the characters develop and become friends and family was beautiful to watch. Even if you aren't a fan of cop shows with civilian partners or shows with shorts heists, I would still highly recommend
White Collar
for its overarching story from each season and the characters - both aspects are done incredibly well. I'd recommend – as episodes to try the show out – Burke's Seven, Power Play and obviously The Pilot, just a few of my favourite to try.
- Sarah R
57. The Expanse
Based on the best-selling novels by James SA Corey,
The Expanse
imagines what the world would look like in the future preceding Star Trek. There is no FTL, humans have not yet explored other galaxies, but they have reached and colonized the far reaches of their own system.
What makes
The Expanse
so great is that it really is in a genre of its own - it is considered a hard sci-fi space opera, but it also mixes elements of horror, political thrillers, film noir, and murder mysteries.
The show can be a slog to some as the world of
The Expanse
is so rich and so dense, but once you get familiarized with the world and all the characters who inhabit it, it is quite the ride to be on. I did not think that I could get a hard-on from watching a spaceship leave its station, but
The Expanse
somehow achieved that when the Nauvoo launched in Season 2. You really do feel like you are going along for the ride, thanks in large part to the absolutely breathtaking visuals and soaring music. As far as some of the battle scenes in this show goes, don't get me started.
The Expanse
also has an amazing cast who really own their characters, all of whom are so thoughtfully layered. Among them, Amos Burton - a man with sociopathic tendencies who does not quite understand emotion, yet is driven by an innate compassion and loyalty to those he cares for. The latter of whom - Naomi, Jim, Alex, and others along the way - continue to steer him on the path of righteousness despite him having no moral compass. Amos is just so wonderfully drawn out and actor Wes Chatham absolutely nails this role to a tee.
The Expanse
recently made TV history having been cancelled by Syfy then revived by Amazon Prime, following an astounding campaign by actor Cas Anvar and his PR team, and the fans who raised enough money to fly a #SavetheExpanse banner over Amazon's headquarters and launch a miniature 3d model of the Rocinante into space! It makes sense that Amazon Prime would bring back
The Expanse
because the space opera imagines a future that is much closer than we think, a world that visionary founder of Amazon Jeff Bezos often dreamt of.
The Expanse
will go down as one of the great space operas to ever grace the small screen because of its incredible world-building, its genre-bending storytelling, and its soul, deep at the heart of the narrative. Amazon made the right choice to bring
The Expanse
back, hopefully it stays to tell its whole story.
-Kollin Lore
56. 13 Reasons Why
Where to start? This show was an absolute revolution on TV/streaming history, the following seasons have normalized it, to a degree, but nothing can take away the impact the first season had on so many people around the world. Hannah's story was deep, and hurtful, and sometimes misunderstood. And even then, it was proving to be the perfect portrayal of adolescence, showing how even the little things people tend to dismiss, can be felt so intensely, and even become a turning point, for someone else. To many, this was an invitation to explore their own pasts and feelings, to others, a reminder that our actions have consequences, and sometimes we can be unaware of the damage we are capable of inflicting upon others. And that, especially in this moment in time, is not something to be brushed aside.
-Luana
55. Criminal Minds (Season 6+)
When it first came out in 2005, this CBS procedural gave a fresh twist to the good old cop show. Unlike most of its peers, it relied on the team and their intellectual abilities instead of science to solve crimes.
Each episode brings about a new case, more disturbing than the last, and more often than not has the team run against the clock to stop the next kill by analyzing the killers behaviour before he can strike again.
Surely, the most memorable thing about this show are its characters, not only by their diversity but by how well they complement each other's skillsets and how close they've become over the years. Let's not forget that
Criminal Minds
is heading into its 15th season, giving more than enough room for character development and growth over the past 14 years.
- Thomas Cori
54. The Middle
Premiering in 2009, this sitcom succeeded because it was realistic and comfortable; people could relate to it from living paycheck to paycheck to having a child who can just not catch a break. Who could relate to an unrealistic show such as
Friends
?
The Middle
was an antithesis to shows like Friends. Sometimes I thought the writers must be looking into my windows and writing about my life with three quirky kids. It was just fun and a nice escape and we cared about the Hecks and their friends and neighbours. Neil Flynn and Eden Sher were definitely the standout stars. The writing, directing and acting was not always stellar and the show went on two seasons too long, but
The Middle
felt like home.
- Claire Serowinski
53. American Horror Story
Ryan Murphy's TV empire was already established with
Glee
(2009) but when the world ran out of 2010s pop songs to cover, Murphy and Falchuk turned to the horror genre for ideas and the result was a legacy of some of the most terrifying, bizarre, and often downright absurd TV storylines.
AHS
was an immediate critical success with its freshman season (retroactively dubbed "Murder House") boasting a flawless ensemble including Connie Britton, Dylan McDermott, Sarah Paulson, Taissa Farmiga, Evan Peters, Jamie Brewer, Frances Conroy, Zachary Quinto and of course the incomparable Jessica Lange. The show delivered on scares, emotions, ghost plot twists and somehow recreated the magic through its second bigger, scarier, and weirder season: the memorable
Asylum
which rotated the remaining cast and introduced new faces while also putting Paulson and Lange in the spotlight for seasons to come.
Coven
was next and by the third time around, the show started delving more into its camp side with the addition of Kathy Bates as an immortal French aristocrat tyrant, Angela Basset as the Salem voodoo queen, and Emma Roberts and Gabourey Sidibe as teenage witches wreaking havoc and competing for the title of Supreme.
Almost a decade later - after freakshows, cults, true-crime retellings, a hotel run by a vampire Lady Gaga, and a literal apocalypse lead by Satan personified alongside a throwback crossover of Murder House and Coven - its new slasher 80s flick inspired season is soon to be released and AHS will be remembered as one of the most well-known anthology TV series ever but not always for the best reasons. With the departure of some of its stars including Lange and Paulson and a thirst for spectacle over substance, AHS has become more of a pastime than a cultural phenomenon. You tune in for the drama and the costumes and the blood and by the end of the season, you're left wondering if anything you saw had any real meaning? Will there ever be another season that truly lives up to its thematic potential instead of squandering it halfway through for the easy way out? In any case, we are thankful to have Jessica Lange own the screen as a head witch in charge and Sarah Paulson act her heart out through every nightmarish scenario her characters are tortured in.
- Nikos Manesis
52. Ozark
Ah, the crime drama that is often cited as the poor man's
Breaking Bad
and for good reason - both shows deal with an everyday man caught up in the crime world while trying to keep his family together. But the similarities stop there. While
Breaking Bad
dealt with a man leading a double life, in
Ozark
Jason Bateman's Marty Byrde lets the cat out of the bag in the first episode, and his whole family gets involved in his dealings from the get-go.
While
Breaking Bad
had tighter writing through its first two seasons and a protagonist of mythical proportions, it can be argued that
Ozark
has the better ensemble. While star Jason Bateman cannot be commended enough for his portrayal of the calculating and intelligent, yet emotionally wrought Marty Byrde, it is Laura Linney who stands out as wife Wendy Byrde - a self-assured, defiant woman who will do anything to keep her family together. Slowly we see her develop into the more ruthless of the Byrde couple, as she gets her hands dirtier and dirtier, and it is a joy to watch.
The most standout character though is Julia Garner as Ruth Langmore, the young spitfire, take crap from no one, sidekick to Marty Byrde. The character could easily have turned into just another archetype, but the writing and especially the performance of Garner gave her so much depth and growth. She breaks hearts as much as she breaks noses - one of the best characters not just in
Ozark
but on TV this decade.
The Netflix crime drama on its own is a thrilling, emotionally complex, and simply gosh darn entertaining show. And with only two seasons under its belt,
Ozark
has so much potential to achieve even more.
- Kollin
51. Timeless
Here was another show that fans brought back for a second season - after it had already been cancelled in a timeshift worthy of the show itself. The show is about a ruthless organization that steals a time machine and sets about changing the course of history for its own ends (world domination). Showrunners Eric Kripke and Shawn Ryan crafted a terrific show that let them really highlight and showcase under-represented historical figures. Historian Lucy (Abigail Spencer) goes back in time with Wyatt (Matt Lanter), a soldier, and Rufus (Malcolm Barrett), a scientist who helped develop and now pilots their time machine, to thwart the bad guys and keep history on track. The show's greatest strength, however, is the history lessons on the plight of black Americans and women in particular. The show featured Katherine Johnson before Hidden Figures came out for instance. The excellent cast was rounded out be Sakina Jaffey, Claudia Doumit, Paterson Joseph, Annie Wersching, and Goran Visnjic, the villain we loved to hate, who naturally dies a hero (spoiler alert!).
- Lisa
50. Nikita
I started watching
Nikita
halfway through the first season. By the time I caught up on the episodes, I was hooked. Part of what made this show so great was the cast. Everyone had such great chemistry and Nikita, portrayed by Maggie Q, is still one of my all-time favorite female characters. The show had a relatively brief run, with a very short final season (I still say we should've gotten more than only 6 episodes), but still managed to acquire quite the loyal fanbase. The show ended nearly 6 years ago but I still miss it very much. If the CW ever wanted to revive this one, I would not be opposed (granted that the original cast returned, of course).
- Jamie Coudeville
49. The Big Bang Theory
A lot has been said about
The Big Bang Theory's
nerds and their quirks. We initially tuned in to laugh at the fact that they dressed in costume for Comi-Con, or could spend hours arguing comic books. But we stayed because these stereotypes became people whose relationships grew and changed. Without that change the show would have been canceled years ago. But watching the two most stereotyped characters, Sheldon and Wolowitz, become 3-dimensional characters that began to grow and mature, kept the show growing and improving. Watching all of these characters grow and build their bonds with each other strengthened my bond with them as a viewer. I cheered when Penny and Leonard got married. I was giddy when Sheldon and Amy got married, and the births of Howard and Bernadette's children was a joy. Sadly, Raj never found the love he was looking for and I still hope he does. 12 seasons wasn't easy. Spending the bulk of a decade at the top of your game is rare. Finishing those 12 seasons at the top of your game is nearly impossible. This show accomplished the impossible.
- Prpleight
48. Better Call Saul
When a show — particularly one so successful and so beloved as
Breaking Bad
— produces a spinoff of some kind, there is inevitably trepidation. Will it be as good as its parent show? Will it destroy its legacy? With
Better Call Saul
, the legacy has been enhanced; the quality increased. The reason the memorable scenes from
Breaking Bad
are brilliant is because of the character work;
Saul
has that in spades and then some. In Bob Odenkirk it has the most charismatic performer across the two series; in Rhea Seehorn a simply wonderful actress who has regularly been at the heart of
Better Call Saul's
highlights; in Michael McKean an absurdly talented character actor who slinks into his role so that you often need hindsight to realise just how good the performance is; in Jonathan Banks a man whose straight-faced, no-nonsense demeanour looks easier than tying your shoelaces but whom you could listen to just as long as Odenkirk with his flamboyant mannerisms.
Breaking Bad
creator Vince Gilligan pops in occasionally, but in general
Saul
is run by Peter Gould, who worked on the entirety of Bad, and he and his team capture the spirit of the original show perfectly. Fewer interactions with drug dealers and severed heads on tortoises there may be — instead, conversations about embezzlement and elder law — but the series is endlessly fascinating, forcing viewers to think deeply about what they're seeing and understand the nuances of the script and performances. When the show premiered, there were concerns over whether it would be any good as a show in its own right. Now the debate is whether
Better Call Saul
is better than
Breaking Bad
— there is a convincing argument to say it is, and that is a compliment of the highest order.
- Bradley Adams
47. The Mentalist
Created by Bruno Heller (Rome, Gotham),
The Mentalist
tells the story of Patrick Jane, an independent consultant that works in the fictional California Bureau of Investigation (CBI) for the team lead by Agent Teresa Lisbon, using the skills of observation and deduction he developed during his years as a fake psychic. Though he closes a lot of cases with his abilities and wit, his main reason to be part of the police is to catch Red John, the serial killer that years ago, murdered his wife and daughter.
At first sight, it might seem like another regular procedural, but the development of the main story, its characters, their interactions and chemistry and the beautiful soundtrack composed by Blake Neely, made it different from other shows, which was what made me love it from the first moment. It also featured one of the saddest pilot endings I've seen that sets very well the story that will unfold.
During most of its seven-season run, we followed Red John's footsteps along with Jane, discovering new clues and making theories about his identity and getting surprised by quite a few shocking twists. Simon Baker's performance as Patrick Jane was amazing, as someone with a natural disregard of rules, laws and authorities, that seemed not to care about other people's feelings but deep inside is a damaged and caring man looking for redemption and liberation from the guilt he feels for his family's death. Robin Tunney, Tim Kang, Owain Yeoman and Amanda Righetti complete the main cast, that go from colleagues to friends to the family that keeps Jane in the ground and supports him in his quest. Aside that this show will always be special to me, since thanks to it I met great people online (and some even in real life), and it was also the reason I crossed paths with SpoilerTV for the first time about 10 years ago,
The Mentalist
place in this ranking is well deserved.
- María Sol
46. Downton Abbey
From the very first moments we arrived at Downton with the telegram that upended the lives of all its characters, viewers were obsessed. The show gave everyone something to care about, someone to root for, and someone else to love to hate. Who can forget the sensational early seasons with Lady Mary's scandal, a whole war, and all those heartbreaking deaths? Even an utterly dour fourth season was peppered with gems such as Lady Edith leaning into her power. The later seasons took on the most playful of tones, which was questionably balanced by making sure one or both of the longsuffering Bates was miserable. These flaws pale in comparison to the show's triumphs. Dame Maggie Smith's Lady Violet Crawley is celebrated on every continent, and one of the show's most rewarding storylines was her conflict-turned-friendship with Penelope Wilton's Isobel Crawley. Another stellar element was the character growth of Thomas Barrow (Rob James-Collier) who gave us the show's most satisfying evolution from actual villain to beloved member of the household. Downton Abbey, blessed with perfect casting, often found its richest drama in simple conversations between its characters; but there were also countless parties, blackmail, at least one bride abandoned at the altar, not one but two faithful Labradors, scandals galore, and so many elegant dinners. It brought unbridled joy into living rooms every Sunday night, fueling a global appetite for the show that has resulted in a major motion picture to continue the story. After all, what are weekends without Downton Abbey anyway?
- Ellys Cartin
45. Dexter
There was no shortage of criticism of this show's final half, but its importance on TV can't be denied. Dexter was one of the first popular TV anti-heroes, a villain people could root for, which is a genre that has certainly grown after this. The show was funny, charming and it played with a lot of people's predilection for bad boys, a clear trend at the time. Falling in love with a psychopath is certainly not a healthy thing, but it is something a lot of people are unable to avoid, and it naturally brought up questions about what people were able and willing to empathize with, since, ironically, this psychopath made the list.
- Luana
44. Supernatural (Season 6+)
1.
Supernatural
is quite the rarity in not just in its longevity, but also its consistency. Many a show after a few seasons introduces side characters to freshen up the dynamics and especially romance to engage with its female demo. All of my favourite shows saw a drop in quality and viewership when they became soap operas. Aside from some very brief romances here and there, and a revolving door of secondary characters, not to mention the awesome Castiel, Bobby, and Crowley
Supernatural
has largely always stuck to the boys and the brotherly love between them. As Dean explicitly says in the show, "no chick flick moments," and the writers have indeed stuck to this motto. The Sam and Dean dynamic has consistently been the heart and soul of
Supernatural
, and it has rarely gotten repetitive, thanks in part to the actors themselves but also the superb strength of the writing.
Granted, over an astounding 202 episodes aired in the 2010s (not including the latter half of Season 5, which technically also aired this decade, and the final Season 15), there were quite a number of filler episodes and
Supernatural's
post-season five run never reached the same heights as its glory days. But yet despite all that, there is no denying the continued impact
Supernatural
had on pop culture throughout the entire decade. Not to mention, classic gems like The French Mistake, Sacrifice, Scoobynatural, and especially Baby (my personal favourite of not just the entire series, but in TV all-decade), along with several more episodes to count, proved why us fans still tune in and why
Supernatural
deserves to be in any, at the least, Top 50 conversation.
- Kollin
Supernatural
family. Creator Eric Kripke insisted on a dark palette, helped by director Kim Manners of
The X-Files
to establish a distinctive look for the show, which has arguably been watered down through subsequent showrunners. Kripke also insisted on a hard rock musical backdrop which also set the show apart from other shows. The show has featured both dramatic and comedic episodes and has carried a meta-storyline throughout, acknowledging the fans and satirizing itself, successfully and artistically breaking the fourth wall on many occasions. The show has benefitted by a host of wonderful guest stars but has been anchored by leads Jensen Ackles (Dean) and Jared Padalecki (Sam) from the Pilot. They were joined in season four by Misha Collins (Castiel) as a regular and in subsequent seasons by Mark Sheppard (Crowley), Mark Pellegrino (Lucifer), and Andrew Calvert (Jack).
- Lisa
3. No show has sucked me in so deeply or inspired me so much as
Supernatural
. Sure, I had been obsessed with shows before like
Buffy
and
The X-Files
, but
Supernatural
grabbed me from the pilot and sent me whirling into fandom like nothing else. At its core, is a brother story - Dean and Sam Winchester - heroes sacrificing themselves for the greater good and, even more so, for each other. It is this bromance that first attracted me to
Supernatural
and it is this bromance that had me watching for far longer than any other show. While the first 3 years are by far my favorite, season 6 ushered in Supernatural 2.0 and some classic SPN episodes. Having closed the main first five seasons' arc, season 6 and further on does feel different but the relationship between the Winchesters remains the pinnacle of the show. It is the power of Dean and Sam's appeal that allows viewers to transverse the rougher spots. Still, season 6 does a great job in spotlighting other characters as well, particularly Bobby Singer, the brothers' father figure, and Crowley, the King of Hell.
Supernatural
has done the impossible and has grown from a bubble show on a network actively trying to kill it to being a staple of The CW, the veteran show that could. It is only right that they end on their own terms this season. Whatever lies in store for the Winchesters this final season, they will always have a place in my heart and in TV history.
- Dahne
Supernatural
since the very beginning and although there's been missteps along the way, it is still a great show, one that I'm going to miss next year when it ends, even as I'm excited to see what the cast does next. It's one of my favourite shows - and Sam and Dean my favourite characters - for a reason. This past decade has been a rough ride for the Winchesters and their friends (now family) but Sam and Dean have saved the world so many times and I'll be right there anticipating their ending, no matter how much it may hurt. Sam and Dean's relationship may be co-dependant as hell but I'll always love it and how much they love each other. The soundtrack will be amazing and I can't wait to hurt when that final
Carry on My Wayward Son
recap starts. There are no words to fully explain how much this show has meant to me for fifteen years and life will definitely be different without it.
There's been a lot of fantastic episodes and arcs over the years - soulless Sam, demon Dean, Mary's resurrection, and the introduction of more amazing characters - Rowena, Jack, Eileen, Charlie, Anael (Danneel Ackles finally guest starring was something many hoped for years and her episodes haven't disappointed). It means a lot to many people for a multitude of reasons.
- klutzy_girl
43. It's Always Sunny in Philadelphia
It's Always Sunny in Philadelphia
proves that even characters with no outward likeability can actually be the most likable, despite their obvious flaws and shortcomings. While most television comedies tend to follow a formula that features a conflict that the characters resolve and learn from,
It's Always Sunny
turns that on its head and often does the opposite. At one point or another, each character has served as both the moral center and the foil, often changing throughout the episode. Most episodes find their conflicts either going unresolved, resolved at their own expense, or at the expense of someone else. Topically, the show has never shied away from controversy, tackling race, sexual orientation, guns, and molestation (and that was only in its first season). While none of these topics are funny on the surface, the writers find a way to poke fun at society through the lens of the characters, allowing them to challenge their views and grow from it. After 13 seasons of television,
It's Always Sunny in Philadelphia
continues to be as fresh as ever.
- David Latimer
42. Merlin
After spending several years in development hell,
Merlin
hit the screens in the fall of 2008, joining other BBC fan favourites
Doctor Who
and
Robin Hood
in the Saturday evening tea time slot. From the start, one of the objectives was to make this an origins story, in much the same way Superman had been approached in
Smallville
a few years earlier. The core characters of Merlin and Arthur as young men on the cusp of their legendary adventures together were more or less structured before any others were added to the mix. The casting of Colin Morgan and Bradley James, as Merlin and Arthur respectively, are also a large part of what made the show go on to become as popular as it did throughout its run.
It may have had a few flaws here and there over its five-year run, yet it's fan base is as fiercely loyal now as they were when it ended nearly seven years ago – which, after that controversial finale is saying something. The show certainly had broad appeal, with epic fights, good triumphing over bad, witches, goblins, princes and princesses, magical beasts and mythical tales of wonder. And banter, lots of banter. Mostly between Arthur and Merlin, but also among the knights as the Round Table slowly formed over the seasons. In this time of revival TV, Merlin's continued popularity surely means that it is only a matter of time before it gets eyed as remake material.
- Sandi
41. Line of Duty
Line of Duty
is something special. Created by talented
Bodyguard
showrunner Jed Mercurio it is the British iteration of
The Wire
, and with five seasons under its belt, it is one of the most compelling police dramas around that gets better and better each season. Casting a spotlight on the world of police corruption by giving us protagonists in the form of the anti-corruption organization of AC-12, we quickly fall in love with Superintendent Ted Hastings and officers Steve Arnott and Kate Fleming, played with conviction by Adrian Dunbar, Martin Compston and Vicky McClure. Each season tackles a different case but the individual episodes are serialised, and usually, there are lots of overlap between the seasons especially later on with plenty of material for you to dig your teeth into. The revolving door of guest stars can count Lennie James, Thandie Newton, Keeley Hawes, Daniel Mays and most recently Stephen Graham among their number, and every actor manages to bring their A-Game to the table to make their characters incredibly nuanced and full of depth. There is no one-dimensional protagonist here and even the main characters themselves are not above suspicion, with plenty of twists and turns that lead up to Season 5's mystery which remains the most unpredictable of the year so far.
- Milo
40. Bates Motel
The cast, the writing, the tragedy of it all. A prequel to
Psycho
,
Bates Motel
was never going to allow a happy ending for the characters we knew. For the new ones, the characters we hadn't met before, maybe, just maybe, we could root for them. For Emma. For Dylan. For Caleb.
Every season, and the series as a whole, was tightly written and beautifully shot, with lighter, happier moments that almost gave you hope, and then that inevitable soul-destroying darkness. This was a television show that made us feel heavier; it wasn't something to be binged but rather to be watched at a slower pace, to take the time to absorb every moment and let that episode settle within our minds before throwing ourselves into the next.
The mark of good TV is something that lingers in your mind, in your heart. It is a show that stays with you long after that final scene has aired.
Bates Motel
is forever etched into those who watched it.
It made viewers feel.
Discomfort. Horror. Unease. Sadness. Fear.
But also joy. Love. Hope.
And that's what made Bates Motel so engrossing.
-Bex
39. Sense8
Sense8 created a unique world filled with equally unique characters. Sensates are an evolutionary species of Homo sapiens called Homo sensorium. On the surface, the premise sounds repetitive, but the devil is in the details.
The way this species function is mind-blowing. Each Sensate is part of a "cluster" of eight people who share their lives. Not only can they communicate and "visit" with each other across continents, but they can also see, and sometimes feel, what other cluster members see and feel. They can share knowledge (both intellectual and physical) in a way that, on several occasions, literally saved a life. This level of sharing made for some really interesting and dynamic action sequences. (And for those of you who don't mind R-rated programming...it also makes for some really unique sex scenes.)
The 'detail' that makes
Sense8
really stand out is the characters. The series sported an international cast and international locations. (It is easy to believe the cost of the show was difficult to maintain.) Watching these characters as they struggled to figure out what was happening to them, then going on to support each other through emotional challenges and physical danger was some of the most compelling television of the last decade.
-Prpleight
38. Jane the Virgin
I'm not going to lie. I tuned into the first episode of this drama expecting a train wreck, and I was completely in love with the show from the end of that first episode.
Jane the Virgin
is not at all what you expect from the title, but what it is is a clever show that delivers brilliant acting and writing every single episode. You will laugh, you will cry, you will be very, very disappointed to learn that every Telenovela ends after 100 episodes. Gina Rodriguez received a well earned Golden Globe for her role as Jane Villanueva. Jaime Camil as Jane's father and telenovela star Rogelio de la Vega is also fantastic. Justin Baldoni (Rafael) and Brett Dier (Michael) play Jane's two love interests. Andrea Navedo plays Jane's mother Xo and Ivonne Coll plays her grandmother. Yael Grobglas rounds out the main cast as Petra, Rafael's first wife. At its heart, the story is that of the three Villaneuva women - as well as Jane's quest to find love and become a novelist. The show is very meta - being a telenovela about a telenovela - at least in part. The show makes terrific use of magic realism - you will be touched every time someone's heart glows with love, and you will laugh every time the statuary in Church sings about sex as soon as someone is married! But the show also manages to highlight a number of real-world, newsworthy issues like the plight of undocumented refugees and immigrants. If you haven't given
Jane the Virgin
a chance, I can't recommend it enough - my husband often laughed even harder than I did, and he thought I was crazy when I told him to watch it!
-Lisa
37. Once Upon a Time
Once Upon a Time
still holds a special place in my heart. Despite the flaws that it accumulated over time, I still remember the stories I loved seeing being adapted. The interpretation of Frozen was so well done, Elizabeth Mitchell as Ingrid (the Snow Queen) was one of my favorite guest additions, and the end of her arc was so beautifully done, especially with the music and network TV CGI. I have such fond memories of watching that. Music and costumes were one of the true wonders of this show. They might not have had the budget for expensive sets but you could still feel the sense of magic from watching the scenes with the talented actors, as well as the lovely score and the gorgeous costumes (Regina had such truly amazing Evil Queen outfits). One of the things I loved (even if they sometimes went in a bit of a circle) was the complicated villains who weren't always as clear cut as we'd expected them to be. I liked how the layers revealed itself, highlighting the reasons why they would do things and how they got to be this way. Sometimes they were very well executed, sometimes a little convoluted, and sometimes I wished it was done a little differently but I'm still happy to have watched it. Maybe it's because I loved Disney and fairy tales growing up that I felt such a connection to this, so much so that I followed this show entirely through development (which no one did or had heard of at my school).
I remember exactly where I was when OUAT was picked up during ABC's Upfronts, I know I might've been a bit late (as I wasn't able to follow those things so closely as I do now but I remember so clearly going on the computer after school and watching the trailer and seeing those posters for the show, I saved them all and would always show my parents it, they became knowledgeable about the show because of me, I even got offered a place on SpoilerTV because of my love for the show, my sharing of BTS photos in the comment section that I found/saw because of the amazing fans and friends I meet online because of OUAT). There was so much possibility from the premise that feeling me with hope. Many shows can tire an audience or lose them along the way but I still loved the characters and I know it's because of the actors behind them. They gave so much of their heart to these stories written on paper that they became so memorable despite whatever you may have thought of the show. I think what I miss most is the happiness I felt from watching the first season, the sense of wonder and pure joy that came from seeing your favorite fairytale characters (heroes or villains or anything in between) come to life and find themselves in our world and how the mystery behind it all was unravelling. That first season, which I own on DVD, will always mean a lot to me. ABC hasn't made a drama that has been able to hold me like this one and like their old shows have in a long time.
- Nirat
36. Banshee
As I am sure many of you are already aware,
Banshee
quickly became a firm favourite of many of the staff here on the site during its four seasons on Cinemax. It's a unique piece of television. With its mix of straight talking, hard hitting characters, intense, poignant plots and mind-blowing action sequences it's hard not to find yourself drawn in and hooked from the off. Admittedly, it's not everyone's cup of tea, and the show sometimes gets labelled as trashy pulp TV due to the violence and nudity, but I think that's being overly simplistic.
Yes, it does have a cast of characters that include a con-man and a Mafioso's daughter successfully passing off under new identities, the latter while being married to the town's Mayor, an Ex-Amish crime lord and his niece/lover, Native American gangsters, corrupt soldiers, and a cross dressing hacker. And yes, there is a fair bit of sex, nudity and violence. But at its heart it's a show about redemption with its characters constantly questioning if they are worth redeeming, or at the very least attempting to make the scale tip in their favour. With this emotional crux driving the story forward it's hard not to fall for these characters and want them to become better versions of themselves.
- Sandi
35. Veep
Veep
premiered in 2012 and ended in 2019. During that time it went from a satirical comedy about the lengths one woman will go to in order to become President of the United States to a bizarro mirror image of the political landscape of the United States after 2016. Selina Meyer was no longer a character to laugh at - she became a comparison to the real-life depths of horror those in power could sink to. But with sharp writing and outstanding acting
Veep
was always entertaining. Comedy is hard; satire even harder. Veep excelled while showing us the absurdities of politics. We laughed until we cried when that mirror became just a bit too accurate.
- Abby Crofton
34. Superstore
From the surface, many would look at a TV show where its entire world is set within the bright blue walls of a fictional superstore and assume it was a simplistic, low-level comedy. Instead of falling into the traps and predictable rhythms of workplace comedies past,
Superstore
consistently breaks barriers and defies odds creating a nuanced world with an ensemble cast of diverse and lovable characters.
Superstore
does a phenomenal job of ensuring that every character and every storyline is rooted in some form of reality. Viewers can almost always find something to relate to within every single episode. Season after season,
Superstore
has proven itself to be unabashedly bold. Tackling issues like deportation, racism, women's rights, unionization, and other hot-button social issues is commonplace within the world of Cloud 9. Even though they handle big situations like deportation, the show never comes across as if it is trying to fill shoes that it's not ready to fill. The humor is always at the forefront, and the Cloud 9 Store's 1217 employees never fail viewers feel at home. There is romance, there is humor, there iss sadness, there iss drama, but most of all, there's a whole lot of heart.
Superstore
is a workplace unlike any other, and each season continues to prove that it has so much life to live and so many more stories to tell.
-Sierra Schade
33. The 100
Dystopian fiction has rarely been quite this … bleak. Which is saying something.
The 100
is a brutal, almost Lord of the Flies-esque story of humans tearing each other apart trying to survive in a post-apocalyptic world. Time and again, the protagonists – most often their beleaguered leader Clarke – have been required to make unthinkable choices, and then try to find a way to live with the consequences, pushing into extremes that most series avoid. Occasionally, the need of the writers to be as grim as possible has dragged the series down, especially when character arcs and relationships have suffered for it; but at its best, it finds a balance between the characters desperation to live and their attempts to reconnect with their humanity. To me, how dark the series gets makes the moments of hope, love, mercy, or forgiveness rewarded even more powerful. Whenever it finds that elusive harmony between the two and served its many characters well, this series is something special.
The 100
has also introduced a smorgasbord of memorable new talent like Eliza Taylor, Bob Morley, Alycia Debnam-Carey, Lindsey Morgan, Marie Avgeropoulos, Christopher Larkin, Tati Gabrielle, and countless more, as well as giving more established actors such as Paige Turco, Isaiah Washington, and Henry Ian Cusick plenty of intense material to work with. However the show ends next year, I'm excited to see what so many of these actors and writers do next. And there's one way in which the show has changed my views forever – I will never look at a lever the same way again.
-Jennifer Panzera
32. The Vampire Diaries
Okay, so this show means a lot to me. It is the first show I ever went nuts over, it's what got me started with this TV madness. It's also the first drama I ever started watching online. And can you blame me? Sure, towards the end of the show, the quality had started to decline. And yes, it had lots of love triangles. But putting that aside, you have to admit that those first seasons were really good. I was on the edge of my seat every week and after finishing an episode, I'd start counting down to the next. Nearly every episode in the first season(s) ended on a cliffhanger. I loved that. Nothing engages you to tune back in next week like a jaw dropping ending. And while the show ended a few years ago, its legacy still lives on with not one but two spin-offs.
-Jamie Coudeville
31. Mad Men
On my personal list, this is #1. Like a dense-but-thrilling Dostoevsky novel,
Mad Men
made it clear from the very first episode that it was unlike anything else on television. Premiering on pre-
Breaking Bad
AMC, the series initially drew minuscule numbers and grew season-to-season thanks to word of mouth and heavy critical praise. Matthew Weiner created a world so fully realized that it truly felt as though he was taking the audience back in time each week. Through the story of Don Draper (Jon Hamm) and his associates, Weiner shone a light on the differences – and some shocking similarities – between 1960s New York and the world we live in today. Themes of sexism, racism, marriage, and parenting were all touched on, as was the idea of how we see ourselves and how we treat others as a result. Tour-de-force performances from Hamm, Elisabeth Moss, John Slattery, Christina Hendricks, January Jones, and Vincent Kartheiser is more than enough reason to watch, but it is the entire package that makes
Mad Men
so special. The slow-burning stories was brought to life with incredible sets, beautiful costumes, era-defining music, and some of the best writing ever on the small screen. If you haven't watched
Mad Men
yet, you might be crazy yourself.
-Maximilian Conte
30. Crazy Ex-Girlfriend
Premiering in 2015,
Crazy Ex-Girlfriend
was the story of Rebecca Bunch (played by Rachel Bloom), a woman living in NYC who decides to move to West Covina to follow her heart. An hour-long comedic musical drama, we followed Rebecca's journey for four seasons as she developed close friendships, went through several love interests, but most importantly: she came to terms with her mental health diagnosis and moved forward with her life to find true happiness. This show was brilliantly written, subverted a lot of tropes, tackled on topics that are not common in broadcast television, and will go down in history as one of the best representations of mental health in TV. It is a show very dear to me since I relate to Rebecca a lot (and I think at some point everyone does relate to her, or to the musical numbers), and it definitely earned this high rank in this list. Crazy Ex might be finished now, but if you haven't watched it already, definitely go check it out!
-Alejandra Molina
29. One Day at a Time
A show so good I've almost come around on laugh tracks. Almost. Quite possibly the best example of how to do a reboot,
One Day at a Time
is based on the 1975 CBS comedy of the same name. At the time, ODaaT was revolutionary for being about a single mom and her two daughters; now, it is a single Cuban mom Penelope Alvarez, a veteran dealing with anxiety and depression, living with her opinionated mother Lydia, and kids Elena and Alex. The show is structured similarly to the original series, with special lessons and the dreaded laugh track, which is a good thing. Putting a more diverse, modern family, especially a Latinx (note: not a Latin Kleenex) family, into such a traditional American sitcom format is a statement in itself: This is what American families look like now.
The show covers so many issues facing people today with all too rare kindness and understanding, including Elena coming out, Schneider's addiction, Lydia's struggle to let go of Cuba, Alex trying to grow from a self-obsessed boy into a considerate man, and Penelope coping with mental health issues. The group therapy sessions, led by OG ODaaT's Mackenzie Phillips, are one of the funniest parts of the show while also being a constant reminder of why these kinds of tools can be so helpful. I admire the details that are included in tackling these topics, such as thinking up a gender-neutral way for Elena to refer to Syd or Schneider noting that it was special when Penelope asked him to pick up Alex from a baseball game because "nobody ever asks the addict to do that kind of stuff."
Of course, I can't write about this show without mentioning its phenomenal cast, especially the three leading ladies. Isabella Gomez was given a lot to handle as a nerdy, opinionated social justice activist coming to terms with her sexuality, particularly in scenes with her estranged father Victor, and I think she absolutely nailed it. EGOT winner Rita Moreno is typically fantastic, bringing constant humor and vibrancy to every scene she's in, and then breaking my heart in her moments of drama (not to be confused with Lydia's dramatic moments, which she has a lot of and are amazing). And oh, Justina Machado … she's just so good. She plays every facet of her character to perfection, coaxing out laughs and tears from me in equal measure, often in the same scene. There are quite a few actors I've wondered this about, some of whom I've mentioned in other write-ups on this list, but seriously – how does Justina Machado still not have an Emmy?!?! At least thanks to an overwhelming swell of fan support, she'll get another shot. ODaaT is the first Netflix cancelled show to get a new home, and it's not hard to see why this is the one so many fans went to bat for, or why another network was willing to give a second chance. I think the world would be less dimmer without the Alvarez family.
-Jennifer Panzera
28. The Handmaid's Tale
Based on the novel of the same name by Margaret Atwood, the show covered that novel in the first season. Subsequent seasons have continued the story of June Osborne as she finds her true calling and strength in leading the fight against the oppressive, fascist, and misogynist Gilead. The show features stunning cinematography and perfect musical choices, both popular songs and an original score. The show also boasts an amazing, award-winning cast, including Elisabeth Moss, Ann Dowd, Yvonne Strahovski, Joseph Fiennes, Samira Wiley, O-T Fagbenle, Bradley Whitford, and Alexis Bledel. Many of the themes, such as the oppression of women and reducing them to reproductive vessels, resonates with too many current news stories, making the show extremely timely and pertinent, encouraging women to speak up and not tolerate injustice. The fascist themes resonate with current politics and the female empowerment messages underscore the #Metoo movement.
-Lisa
27. Sherlock
Our favourite detective has had many incarnations, but quality-wise, maybe none of them can reach BBC's
Sherlock
. Benedict Cumberbatch's acting is superb, as is everyone else's on the show, and the writing is so brilliant it's hard to keep up with it sometimes. The fact that there are so few episodes and they have such a cinematic quality and length only makes it more of a gem, something to be watched and re-watched, and that will probably withstand the test of time better than most.
- Luana AC
26. Big Little Lies
This show was definitely a surprise. Yes, the talent is amazing, and one of the main things that attracted people to the show, but the cinematography, the mystery, the exploration of these women's lives and feelings, is what kept everyone going, other than the mesmerizing performances, of course. There's something special about a show that forces you to look at every single detail to figure out what is really going on, a show that engages the viewer and doesn't underestimate anyone. There are many options out there for "easy" TV, something that will simply entertain you and not ask anything from you (except maybe some suspension of disbelief), but
Big Little Lies
is not that show, and it doesn't want to be.
- Luana AC
25. Broadchurch
There is a lot of excellent British TV out there, and the fact that most series are only 6 episodes (or event 3) long makes the word "filler" non-existent in that world.
Broadchurch
, far from your run of the mill procedural show, is a fast-paced, breathtaking, star-making gem of a show. Olivia Coleman, last year's Best Actress Oscar winner? In it. Jodie Whittaker, your new Doctor? In it. David Tennant, of too-many-shows-to-name fame? IN IT. The first season's coverage of the murder of an 11 year old boy, reveals the chilling secrets of a small coastal town and the lives they destroyed in the process. The acting is stellar, the cinematography will make you want to take long walks over deserted beaches (careful of those cliffs though, they're more dangerous than you may think at first), the score will haunt you far longer than you'd think possible, and the characters' intricate backgrounds and ever crossing paths will leave you wanting more.
- Cecile L
24. Westworld
What do you get when you combine every western movie ever into one television series and give it a sci-fi undertone that becomes more and more prominent as the series progresses? This genre-bending epic is based on Jurassic Park creator Michael Crichton's original 1973 film starring
The Magnificent Seven
actor Yul Brynner which is in every bit worth watching on its own, but thanks to the involvement of Jonathan Nolan and Lisa Joy, HBO's hit series pushes the idea to a new level with plenty of complex themes given all the more depth by incredibly nuanced performances. Few shows on television have a cast as rich and as talented as Thandie Newton, Anthony Hopkins, Tessa Thompson, Jimmi Simpson, Evan Rachel Wood, Ed Harris, Jeffrey Right and James Marsden. The show introduces us to a futuristic amusement park for rich vacationers looking to live out their darkest fantasies in the wild west in a lawless frontier where few rules apply, exploring what happens when the android hosts who call the park their home start to rebel against their creators. It is high concept and deeply satisfying with multiple twists and turns – and with season three well on the way and a fourth already renewed, now is the perfect time to get on board if you haven't seen it already.
- Milo
23. Lucifer
Based on a comic book character,
Lucifer
has a very simple premise: The devil taking a vacation from hell in Los Angeles and learning how to deal with humans, feelings and feeling human in the process.With a charming and talented cast, lead by the amazing Tom Ellis, this show that started as a regular procedural has evolved a lot since its first season. The case of the week actually serves most of the time as a background to the main story, that episode by episode has shown the development of Lucifer (and friends) by dealing with very human feelings such as self love and acceptance, redemption, family, friendship, love, vulnerability, empathy and many other earthly matters, which end up giving humanity to all this celestial characters.
The whole cast and its chemistry are another highlight about this show. Lauren German, Kevin Alejandro, Rachael Harris, DB Woodside, Lesley-Ann Brandt, Aimee García, Scarlett Estevez and every actor that has had a regular or recurring role every season have given their best and complete the great work of the lead. Their individual performances and character interactions are definitely not to be missed.
The loyalty of its fans all over the world proved to be strong enough when it was tested with its untimely cancellation by its original network, FOX, after the shocking 3rd season finale. The online campaign #SaveLucifer, promoted by people from everywhere and supported by the show's cast, succeeded when Netflix brought it back for a shortened but superb fourth season. Now that it was announced the show will be ending after season 5, it is time to catch up with this story that just can improve the great work that has already been made.
- María Sol
22. Parks and Recreation
This is my favorite show of all time. It's just the best. I started watching
Parks and Rec
at the start of season three, and it was love at first sad Jerry face. Like all Michael Schur shows, it has a perfect cast that not only fits their individual characters, but any of the actors can be put together in a scene and have fantastic chemistry. You can't talk about
Parks and Rec
without mentioning Nick Offerman's standout moustachioed libertarian Ron "I Can Do What I Want" Swanson, but then there's the apathetic but loyal April Ludgate, adorkable Ben Wyatt, my lowkey favourite Donna Meagle dropping the best lines in every scene she's in, Jean-Ralphio singing about being technically homeless in Ron's ear, and … all of them. They're all amazing. Then there's the positivity of the series, which manages to promote good, hard work and constantly showcases the best in people and the government without overlooking the potential failings of either. But what I love most about this show is Leslie Knope.
Leslie Knope is kind and controlling, determined and earnest, hilarious and inspiring; she's obsessed with waffles and is a competitive gift giver. She never gives up on helping her small town no matter how many times the people in it let her down. She can be frustrating, she's flawed, but she's still someone I hope that I'm like at my best. Amy Poehler, Michael Schur, and the rest of the
Parks and Rec
writers created something exceptional with this character. I leave with you with my favourite quote about her from her protégé April: "For Leslie, her true purpose on Earth, her true meaning, is making people's lives better."
- Jennifer Panzera
21. Doctor Who
This isn't like any other show you have seen. As in if you don't like what you see in an episode shown this week, then you may well end up loving what it shown next week as it will be set somewhere completely different, be written and directed by someone else, and have an almost complete cast change. Also, the episodes in a season only tenuously link together to a finale at the end of the thirteen instalments, so it doesn't even matter if you miss any of them either. What you do get is epic adventures told through the eyes of the Doctor or their Companion as they travel through time and space in a stolen, and occasionally temperamental, TARDIS – yes, she is a sentient spaceship, grown on the Doctor's home planet called Gallifrey.
As the world's longest-running science fiction series,
Doctor Who
has influenced several generations of TV writers and producers before it was relaunched in 2005. Arguably none more so than the man who took over the reins in 2010 and led the show during its surge in popularity over the start of this decade, Steven Moffat. Known for his love of timey-wimey storytelling he crafted stories which tied together over time in ways which delighted and intrigued the fans. His successor in 2018, Chris Chibnall, is also a lifelong fan of the show, having been an active member of Doctor Who Appreciation Society as a teenager through to being head writer for Who spin-off
Torchwood
through its first two seasons. His choice in casting Jodie Whittaker was a controversial one for some fans, but many are happy to finally see a female Doctor being cast thirty years after it was first suggested by Tom Baker when he left the show.
As a time-travelling alien who has survived several thousand years by regenerating into a new body every time the current one is too sick or near death, there are times when the Doctor has bumped into him/herself unintentionally. This is only reserved for landmark occasions in the show's history, however, but as 2013 was the fiftieth anniversary of the show fans were treated by getting to see all surviving Doctors meet up for the first time in different ways across various official and semi-official productions. As for the anniversary episode itself, The Day of the Doctor, it holds the Guinness World Record for the world's largest-ever simulcast of a TV drama for as it was broadcast live to 94 countries.
- Sandi
2.
Doctor Who
is a show that's been going on for ages and had a large following in the UK, but saw a worldwide rise in the early 2010's during Matt Smith's run. Known for being one of the longest-running programs on television, the show celebrated its 50th anniversary in 2013. The rotating cast and unique premise add to its longevity. Ordinary people are whisked into a little blue box with an immortal alien with the ability to change faces and introduced to a greater universe of wonder and mystery, as well as a look into the past and possibly the future. Meanwhile, the Doctor struggles with his decision to destroy his people for the sake of the universe and aims to save as many people as he can to make up for it.
This show has a great deal of meaning to me, as well as the millions of other fans out there. What started as a simple educational children's show has morphed into a beautiful story filled with hope and love. I have never loved a show as much as I love this one and I probably never will. Whenever I'm feeling down, I will go back to it to be reminded of how wonderful things can be, despite how terrible the world can be. "The way I see it, every life is a pile of good things and bad things. The good things don't always soften the bad things, but vice versa, the bad things don't always spoil the good things and make them unimportant."
- Zoé Fleury
20.This is Us
This is Us
is simply brilliant television storytelling at its finest. It makes you feel. It sucks you into the world of the Pearson universe. And you are halfway through the first season, invested, caring for those characters when your world is blown up cause Jack, played by the comparable Milo Ventimiglia made the ultimate sacrifice. But wait, he's still there in their lives and in your life through the brilliant use of flashback scenes. And they are powerful, and just like the family who lost their hero, you also feel that loss. Mandy Moore, who plays Rebecca in three different timelines shows us her acting talents we first discovered watching her in the movie "A Walk to Remember". The casting of the "Triplets" Kate, Kevin and Randall in three different timelines is perfect at each age group. This is what makes this show so brilliant, the seamlessness of going from one timeline to another and yet it's flawless. Three different actors and actresses play each of the three siblings and yet you never notice it. With the supporting cast and extended family of Beth, Toby, and Miguel, to Randall and Beth's girls, or Randall's biological dad, William, or the introduction of Jack's younger brother Nicky - they all add to the mosaic that is the Pearsons. You will cry, laugh and wonder what just happened, but no matter what, you will keep coming back for more because you feel like part of their family and you just have to know what happens next. You are simply along for the ride, no matter where it leads you. That is the experience of watching
This is Us
.
- Gina Kern
19. KILLING EVE
From
Killing Eve's
very first episode, this brilliantly written and acted series took the model for psychological thrillers, threw it out the window and remoulded the genre in its own unique image. I was hooked upon its opening moments when Jodie Comer casually dumped a bowl of ice cream into a little girl's lap. This sexually charged, surprise you at every turn cat and mouse game between the complex and oft times puzzling MI6 agent, Eve Polastri, and the twisted and compelling assassin she chases, Villanelle, would not have worked were it not for the off the charts chemistry of the actresses who portray them. Sandra Oh and Jodie Comer give the performances of their careers playing these multi-layered characters who are as alike as they are different, and the show is never better than when these two acting powerhouses share the screen together.
- Donna
18. Brooklyn Nine-Nine
A fan-favorite comedy that premiered in 2013,
Brooklyn Nine-Nine
is a sitcom about the daily lives of the detectives in the Nine-Nine precinct as they adjust to the new captain, Raymond Holt (Andre Braugher) who is serious and follows guidelines, the complete opposite of detective Jake Peralta (Andy Samberg), who is more relaxed and upbeat, and has an excellent arrest record. They are joined by Detective Amy Santiago (Melissa Fumero), who loves rules and a good colour-coded binder and is very competitive, Detective Rosa Diaz (Stephanie Beatriz) who is very private, smart and badass, Detective Charles Boyle (Joe Lo Truglio), Jake's best friend and is very hardworking, as well as Lieutenant Terry Jeffords (Terry Crews) who is caring and supervises the squad.
This comedy has won a lot of people's hearts because of how relatable the characters are, and watching their shenanigans is very entertaining and fun. This show provides great representation, with a very diverse cast and it is a provider of bisexual representation in TV. Originally it aired on Fox, but it got cancelled after 5 seasons, yet the fans' outcry was so loud that NBC brought it back and now it is entering its 7th season. Definitely one of the best sitcoms of this decade, and if you haven't checked it out, do so!
- Alejandra Molin
17. The Good Place
The Good Place
is an extraordinary sitcom. The sitcom has perfected the art of character development by making that its entire basis. Literally. The premise of the show is to make every character learn from their mistakes, accept their flaws, and grow to be better human beings. Through insanely witty comedy, heartfelt performances, and unexpected twists,
The Good Place
manages to shine with every episode. Ever since its jaw-dropping season 1 finale, it has kept viewers on their toes while also giving us a deep lesson about morality. Kristen Bell and Ted Danson are obviously perfect but the supporting cast (D'arcy Carden, Jameela Jamil, William Jackson Harper, Manny Jacinto) are breakout performers. It's exactly the kind of comedy our world needs right now. It has set a really high standard for any other comedy shows that want to present an out-of-the-box idea through storytelling and that's why it's in the Top 20.
- Saloni Gajjar
16. Chernobyl
When HBO dropped the first footage for its miniseries
Chernobyl
, many people commented that it had an apocalyptic atmosphere. Those unfamiliar with the story referenced the real-life events as a disaster that was prevented. The miniseries' creator and writer Craig Mazin (The Hangover; The Huntsman: Winter's War) stressed this was a dramatization not a documentary and announced a companion podcast to give viewers the facts that couldn't fit into the short runtime of the episodes. That
Chernoby
l references actual events and people contributes to the searing intensity of the show, but the miniseries is also a work of art that is masterpiece calibre. Every ounce of dread, majesty, sorrow, and courage is felt by the viewer in their bones, thanks to the flawless score, editing, and direction. The lead cast, Jared Harris, Stellan Skarsgård, Emily Watson, and Jessie Buckley, has been heralded for their compelling performances, but there's not a single weak note among any of the players. The miniseries has many unique qualities. It doesn't feel or look like anything else that has been on TV in a while. It is set in the past, but its themes are universal and timeless. Unlike many TV dramas, it doesn't have one single shock value moment.
Chernobyl
celebrates the best parts of humanity without becoming overly sentimental and condemns the most dangerous parts without being heavy-handed. There is no cheerful spin at the conclusion, yet you still leave with a feeling of triumph. Only a show exceptionally well-crafted can leave you with such haunted admiration.
- Ellys Cartin
15.Sharp Objects
How many initially "stand-alone", stellar, series can boast the fact that they stayed that way and didn't fall prey to an unnecessary second season? Not nearly enough.
Sharp Objects
is that rare gift of a show that only comes once in a while. Riveting, heartbreaking, and haunting all at once, it is made stronger by its uniqueness and lack of follow-ups. An adaptation of Gillian Flynn's novel, it could have been hit or miss. I disliked
Gone Girl
(book and movie), so I was on the fence about trying this one. But the show elevated the source material in the best possible way and delivered a dreamy - or rather nightmarish - depth of summer, dramatic, set of episodes. "Don't tell Mama" is a sentence you'll have a hard time getting out of your head after watching Amy Adams slowly spiral back into her character's muggy hometown. It is hard to pinpoint what works best: the deep South setting covering everything in a fine sheen of sweat, yet chilling you to the bone as soon as it reveals its many (figurative or literal) skeletons, the incredibly messed-up family dynamic, or the double mystery of who hurt those young girls, including the long-dead Marianne. What's more, this show revealed Eliza Scanlen as a star and had Chris Messina walking around a deserted road in tight detective-gear, both of which I'll eternally be grateful for.
- Cecile L
14. Grey's Anatomy
Meredith Grey's story has become one of the longest shows running in TV history, and yet it always finds a way to remain fresh, which also probably has something to do with the amazing cast that keeps being reshaped. Of course, it's had its ups and downs, but still millions of people await eagerly for every single outing, and that is not something that can be taken away. It not only brought Shonda Rhimes to light but also Ellen Pompeo, people that continue to fight for women's rights in every way they can. Yes, the show is entertaining and heartfelt, but it also has managed to talk about deep issues in touching and respectful ways. Many people, after a show has run for too long, start calling out for a tasteful exit, but in this case, perhaps, we find an exception to the rule, medicine keeps changing every day and people continue to change as well, so perhaps there's enough material there for years to come.
- Luana AC
2. While
Grey's Anatomy
may have been around prior to ten years ago, it has been one of the standout dramas of this past decade. Created by Shonda Rhimes it is now in its 16th season, last year it became the 8th longest-running scripted primetime TV series.
Who could have predicted, when Meredith Grey and her class of Surgical residents came onto our screens, we would still be enthralled with them over a decade later? Only a handful a few of the original cast remain but it does not stop us tuning in every week to see who will find love and become the best surgeons they can be. Of course, watching the show, you will know no love story is safe and relationships never run smooth. It isn't just the lives of the character's that keep us watching,
Greys' Anatomy
gives us storylines that are relatable and they don't shy away from to tackling current events.
From Grey's, we had two spin-off series,
Private Practice
, which ran 2007-2013 and recently
Station 19
which is about to enter its third season.
Grey's Anatomy
will be around for awhile and can still make you laugh and cry during any episode.
- Zandarl
13. Outlander
Outlander
is based on a series of novels about Claire, a nurse who, just after the end of World War II, steps through a ring of stones into the 18th century and finds her soulmate. The first two seasons focus on Claire and Scottish Highlander Jamie Fraser discovering each other, loving each other, and rescuing each other against the backdrop of the Scottish people's struggles against the English occupation of Scotland. On the eve of the disastrous battle on Culloden Moor, Claire returns to the 20th century. Twenty years later, Claire travels back through time to reunite with Jamie and they find themselves finally able to build a life together. There is a lot of romance in this show, but the jeopardy they face are by no means fluff (some sequences are not for the faint of heart). They face each challenge together. It is a joy to watch a story in which the woman does not become a moron every time her man walks into the room. This couple respects each other as much as they love each other.
- Prpleight
12. Game of Thrones
Despite how anyone feels about its final season,
Game of Thrones
is still an overall accomplishment for what premium television can now provide. It proved how even an epic medieval fantasy based on George RR Martin's unfinished book series, could become accessible to a wider international audience, being full of highly intellectual socio political intrigue, had some of the best, if not the best, battles ever choreographed on film, and had a wonderful cast and assortment of characters that realistically struggled, as they vied for power or just tried to stay alive!
Game of Thrones
was filmed all over the world and had showcased some of the most advanced special effects, as it brought Daenarys' ever-growing dragons, the Starks' direwolves, or even the army of the dead to life! There was a kind of fever that came from theorizing plot and mythology points or rooting for your favourite character or ship that seemed at times as mad or ruthless as some characters in the series themselves! Many will now try to adapt other beloved fantasy series to television or streaming, and while some might be successful, I doubt we will ever see something that quite captures the spirit and vitality of what
Game of Thrones
meant to millions upon millions of people for a long time.
- Darthlocke4
11.The Haunting of Hill House
Raise your hand if you thought
Haunting
would be this good in the days leading up to its premiere?
The Haunting of Hill House
took a familiar genre and turned it completely upside down. As much character drama than horror (though there were quite a few scary bits), the first of this anthology series focused on the effects a haunted house had on a family who had stayed there years ago, exploring themes of trauma, loss, addiction and grief.
Each of the first five episodes focused on one of the five children of the Crain family respectively, giving ample time to dig deep into the psychological nuances of each character. When the family is reunited in episode six, masterfully played out in a one-shot style, the characters had been developed with such complexity and depth that their interactions felt so real and so relatable. This is all not to mention the exceptional camera work and post-editing - weaving from past to present, and from room to room almost seamlessly, as the episode explored the dynamics between the dysfunctional Crain family.
The master of horror Stephen King called
The Haunting of Hill House
"close to a work of genius" and, really, one could not define this show any better.
Haunting
was pure masterclass in its craftsmanship and storytelling, it is the type of show that should not only be watched to be entertained, but also studied. This is how you put together great television.
- Kollin