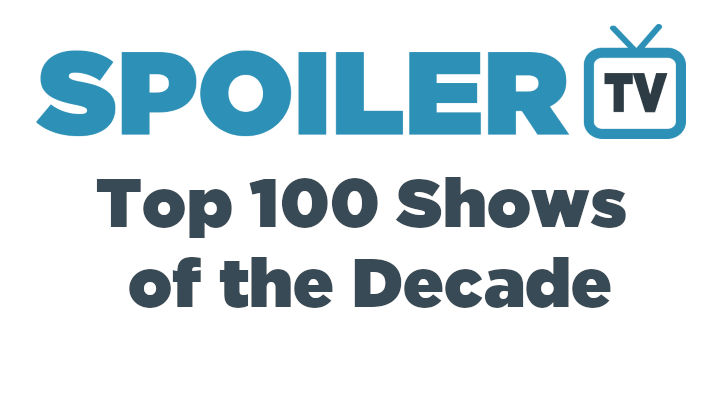 We are fast approaching a new decade and with that, the SpoilerTV team has voted on our top 100 shows of the 2010s.

A whopping 293 dramas and sitcoms received at least one vote by a member of the team and, thanks to the community for helping break the several tiebreakers we had, the list is now complete. Every week we will list 15 shows as we count down to our Top Ten week and our number 1.

Some rules to note - any show that debuted from 2007-2009 and aired more than half their run in the 2010s was eligible. Why you will see such late 2000 hits like Breaking Bad, Fringe, and Mad Men.

Also, special consideration has been given to long-running series' that premiered pre-2007, but have aired throughout the entire decade - Supernatural, Grey's Anatomy, and Doctor Who - however, only the seasons they aired from 2010-2019 were considered.

This week begins with #70 and will make its way down to #56.

To see previous posts, please click on the below links:

Honourable Mention-86
85-71

70. The Marvelous Mrs. Maisel


Rachel Brosnahan brings to life one of the best representations of a woman in the 50's and 60's. After trying to do everything that is considered "correct" she decides to carve her own path and begins a journey that's constantly going against the current and defies everything people have normalized about women, and their place in the world. Written by Amy Sherman-Palladino, The Marvelous Mrs. Maisel is a fast-paced comedy-drama, something that also goes against what we'd expect from a story set in that particular moment in time, and it presents many crazy situations that come from that conviction to not follow the rules. It also contains this rule-breaking spirit that made it such a surprising hit and secured a place on this list.

69. Schitt's Creek
If there is a TV equivalent to putting on a warm blanket and feeling comfortable, that is what Schitt's Creek is. The Rose family had it all on paper until they didn't, which led them to a quirky town called Schitt's Creek. At first, the sharp comedic writing carried the show, but slowly Schitt's Creek became a beacon of hope and love for viewers navigating the trying times in the outside world. The sweet embrace that Dan and Eugene Levy built with their team made it known that all are welcome and none are turned away. Through endearing character growth and deeply enriching stories, Schitt's Creek defined itself as truly generational storytelling. The world at large is better for having a show like Schitt's Creek in it.

-TheTVGirl

68. Modern Family


At the end of its eleventh and final season, next year Modern Family will have aired around 250 episodes. Looking back to its first season in 2009 it is helpful to remember just how great it was right out of the gate. Premiering to almost universal praise on ABC it reinvented the family sitcom. Modern Family ushered out the days of a hot mom and a schlubby dad dealing with kids and work to a canned laugh track. It was not the first single-camera comedy but it was probably the most successful. It was also not the first show to have gay characters in its main cast but it did do a lot to illustrate that gay people are the same as everyone else, just people in search of love, family and fulfillment. America followed Mitch and Cam's relationship at the same time the United States was legalizing same-sex marriage in real-life. Even if you didn't know a gay person you knew Mitch and Cam. Modern Family ushered in this decade in spectacular fashion. Here's hoping it ends the decade, and its run, just as well.

-Abby Crofton

67. Bodyguard
Bodyguard came from seemingly nowhere to become a record-breaking cult classic in just six episodes that aired beginning in late August 2018, but when you take a closer look at the key players in the political thriller miniseries, the pedigree for success was certainly there. Jed Mercurio (Line of Duty) created the series and also wrote every episode, and key stars Richard Madden and Keeley Hawes each have several big-name projects on their resumes.

Bodyguard's initial concept was fantastic. A war veteran who suffers from PTSD is assigned as the principal protection officer for a politician whose politics and stances go firmly against his own beliefs. Despite this, David Budd and Julia Montague begin a steamy affair, but the dramatic first half of the series set up a truly spectacular second-half transformation in which David Budd finds himself on the run and trying to prove his innocence after his one-time fling is assassinated. Bodyguard's six-episodeepisode run was on the shorter side among miniseries standards, but it never missed a beat. It truly blew me away, and everyone I've recommended the series to has had the same reaction.

-Jimmy

66. True Detective
Nic Pizzolatto's true crime anthology has now completed three, self-contained seasons. Its first season with Matthew McConaughey and Woody Harrelson was a huge critical success and won four Emmys. The show has brilliant cinematography to go along with terrific writing and acting. There is plenty of suspense to go with the mystery. The first season was shot in Arkansas but set in Louisiana and followed a pair of homicide detectives in their 17-year pursuit of a serial killer. McConaughey, in particular, was brilliant as his character slowly unravelled. The story was told primarily in a series of flashbacks. The second season, starring Colin Farrell, Rachel McAdams, and Vince Vaughan was largely panned, particularly for Vaughan's performance. The season followed a group of detectives from several different departments as they investigated a murder in Ventura, California. The show really returned to form for season three which starred Oscar-winning actor Mahershala Ali and Stephen Dorff over three separate time periods as detectives in the Ozarks as they try to solve the disappearance of two children. Carmen Ejogo also starred as Ali's wife who writes a book about the incidence which catapults her to fame. All three leads are terrific, but Ali was particularly outstanding portraying a character who, in the present timeline, was also dealing with progressing dementia. True Detective Seasons 1 and 3 are highly recommended!

-Lisa

65. Parenthood
I was always going to watch Parenthood because 1. Jason Katims (of Friday Night Lights fame) was at the helm and 2. It featured Lauren Graham, aka one Lorelai Gilmore. But you know how some shows seem great on paper and turn out to be disappointing? Parenthood was the opposite. It was a show about a family, first and foremost, and you couldn't help but want to join the wonderful fold that was the Bravermans. I certainly wouldn't say no to being invited to Bonnie & Zeek's house, or one of their famous family dinners, either. The whole cast was fantastic, and each storyline is brought on with care and subtleness, playing out naturally but almost always hitting the mark (and bringing tears... mostly mine). It managed to somehow perfectly balance emotion and humor, storylines for all the characters whether adults, teens, or children, and addressed subjects that aren't often depicted on TV. Although I'm glad the show ended on its terms and didn't get dragged out, I miss catching up on their lives and feeling like everything was going to be OK for an hour. If you haven't yet, give this (comfort) show a shot. It is more than worth it.

Cecile L

64. The Walking Dead


Based on the graphic novel of the same name, the show has at times differed widely from that storyline and at other times, such as Glenn's (Steven Yeun) horrific death, paid homage to the comic storyline. The show features terrific cinematography to go along with amazing, primarily practical special effects due to Greg Nicotero's magic. The show has also featured a number of wonderful actors, including Chandler Riggs, Danai Gurira, Melissa McBride, Norman Reedus, and Andrew Lincoln. Through various storylines, the show looks at what power does to leaders and what it takes to survive in an Apocalypse and to remain human.

-Lisa

The Walking Dead is one of the few shows, if not the only, that truly rivalled Game of Thrones in terms of its sheer impact on pop culture throughout the decade.

Having now just entered its tenth season, the zombie survival horror show has continued to endure with no end in sight, though some detractors (increasing by the season) have felt that The Walking Dead has gone way past its expiration date.

Nevertheless, the show continues to go on and what has made The Walking Dead such a success is its timeless theme. On the surface, the show seems like just another zombie drama, but digging deeper, The Walking Dead philosophically explores humanity and the choices the survivors as human beings are willing to make in the most extreme situations, as the world crumbles around them.

Zombies had been all the rage throughout the decade, and it is all owing to this AMC hit drama. Some would dispute its quality, especially in the later years, but there is no denying the cultural sensation that is The Walking Dead.

-Kollin Lore

63. How to Get Away With Murder
This is one of the most brilliant thrillers of this decade, filled with jaw-dropping moments and outstanding performances. Oscar-winner Viola Davis stars as Professor Annalise Keating, and she's f*cking amazing. This show, even though the storylines are great, wouldn't be what it is without her. Viola Davis portrays a brave, strong, determined and unapologetic black woman that the television landscape was missing (Davis was the first black woman to win the Emmy for Outstanding Lead Actress in a Drama Series for her role in this show). How to Get Away with Murder is always able to keep me on my toes and never ceases to amaze me, mystery after mystery. I think a lot of people feel the same way, and needless to say, we will deeply miss it when it comes to an end in Winter 2020.
-Lip

62. Castle
A show about a writer and his muse, created by a writer for his muse. There was a beauty in the simplicity of Castle. A procedural, in a sea of procedurals, with tropes galore, that stood out – because of its leads. Because of chemistry.
Castle was a love story, hindered by walls and trauma - and Josh. Kate Beckett was a force of nature, with the brains, endurance, and strength to be the best kind of role model for many. And Richard Castle was a lovable goof with a heart of gold.

Castle made many people write again. So enthralled by this story of the writer and his muse, the show inspired excellence in fanfiction writing and fans not only produced quality fanfics but many have since gone on to become published writers. Castle prevails to this day. It was a comfort show, one you could turn to on bad days, to wrap around you like a favourite comforter and warm your heart. The fandom is as strong as ever, still supporting each other in creative endeavours. And the love story, Castle and Beckett? They're timeless.

-Bex

61. The Magicians


Fantasy shows often fall into well-trod patterns. They bend towards glossy, tidy conclusions that guarantee no one is left too forlorn by the aftermath. The Magicians didn't get the memo. Based on a series of equally subversive books that ultimately opt for the happy ending, the show carves out its own identity. There's a magical school, other realms, and all manner of creatures and spells. It appears to be business as usual for a young adult fantasy adventure. Don't be fooled. From the first moments that Quentin (Jason Ralph) and Julia (Stella Maeve) attempt to gain admittance to Brakebills, the series enthrals and unsettles in equal measure. The Magicians doesn't hold back from exploring more mature themes of sexuality, recovery, and brutality. A good portion of its most beautiful episodes revolves around the standout performances of Hale Appleman and Summer Bishil whose near inseparable characters Eliot and Margo deftly juggle the funniest and weirdest and saddest and most kickass storylines. In later seasons, the show sails away from its source material, taking creative risks that are almost always satisfying. You can't ever put the show in a box, because it's always changing its shape. The Magicians is the rare show that you can't take your eyes off of. Just when you think you've figured out its tricks, it surprises you again.

-Ellys Cartin

60. Hannibal
Bryan Fuller is no stranger to creating shows that are multi-layered and are visually stunning or artistically unique. His adaptation of Thomas Harris' iconic Hannibal Lecter books was no exception, as he was able to read between the lines of Harris' work by fleshing out a lot of the novels' ideas, while also making the Hannibal series not so gritty like most of the film adaptations by providing a Gothic and tastefully atmospheric scape that always felt like Hannibal himself. The cast was another thing to admire, as Mads Mikkelsen captured the flavor of a younger vibrantly curious Hannibal, while Laurence Fishburne made for one the most present and powerfully stoic Jack Crawfords, and Hugh Dancy made for the most innocent and unsuspecting of stray dogs in Will Graham. It was truly one of the best psychological thrillers about serial killers ever made. I hope one day, Fuller can finish what he started, because his metamorphosis is near perfection.

-Darthlocke4

59. The Originals
A spin-off from The Vampire Diaries, The Originals chronicled the ups and downs of the Mikaelson family. Following Elijah, Klaus, Rebekah, Kol, Fin, and eventually Freya, we learned that family always comes first. The centuries long story of their lives and multiple deaths was told and acted with so much emotion and just like a real family, with humor.

I could see so much of my own family in the Mikaelsons. Vampires and hybrids aside, they were brothers and sisters before all else. Fighting, making up, and fighting some more, The Originals revealed one of the greatest lessons that we can learn. No matter what, the love of family should be "Always and forever."

-NaomiAnna

58. White Collar
When I want to recommend White Collar to someone, my first question is usually "Have you seen Catch Me If You Can?". Even if the answer is yes or no, the next thing I say is usually "You should watch White Collar, it's amazing!".

White Collar started in 2009 and lasted for six years, finishing in 2014, which in my opinion, was too soon. The show has two main characters that it is based around, Neal Caffery (The Con-Artist) played by Matt Bomer and Peter Burke (The FBI Agent) played by Tim DeKay. In the pilot, we are introduced to Neal as he escapes from prison to find his missing girlfriend, and Peter as the agent sent in to catch him. Quickly, the show threw them together, solving cases involving art heists or forgery even sometimes murder and bank robberies. We were also introduced to many other characters in season one which I came to love instantly (especially mozzie!!). We've got Elizabeth Burke/Mrs Suit (Tiffany Thiessen), Mozzie (Willie Garson), Clinton Jones (Sharif Atkins), Diana Berrigan (Marsha Thomason) and Diahann Carroll (June). This is the show on Netflix that I always go to, I've seen it all at least twice! The characters personalities and chemistry were fantastic, nothing feels forced and watching the characters develop and become friends and family was beautiful to watch. Even if you aren't a fan of cop shows with civilian partners or shows with shorts heists, I would still highly recommend White Collar for its overarching story from each season and the characters - both aspects are done incredibly well. I'd recommend – as episodes to try the show out – Burke's Seven, Power Play and obviously The Pilot, just a few of my favourite to try.

- Sarah R

57. The Expanse


Based on the best-selling novels by James SA Corey, The Expanse imagines what the world would look like in the future preceding Star Trek. There is no FTL, humans have not yet explored other galaxies, but they have reached and colonized the far reaches of their own system.

What makes The Expanse so great is that it really is in a genre of its own - it is considered a hard sci-fi space opera, but it also mixes elements of horror, political thrillers, film noir, and murder mysteries.

The show can be a slog to some as the world of The Expanse is so rich and so dense, but once you get familiarized with the world and all the characters who inhabit it, it is quite the ride to be on. I did not think that I could get a hard-on from watching a spaceship leave its station, but The Expanse somehow achieved that when the Nauvoo launched in Season 2. You really do feel like you are going along for the ride, thanks in large part to the absolutely breathtaking visuals and soaring music. As far as some of the battle scenes in this show goes, don't get me started.

The Expanse also has an amazing cast who really own their characters, all of whom are so thoughtfully layered. Among them, Amos Burton - a man with sociopathic tendencies who does not quite understand emotion, yet is driven by an innate compassion and loyalty to those he cares for. The latter of whom - Naomi, Jim, Alex, and others along the way - continue to steer him on the path of righteousness despite him having no moral compass. Amos is just so wonderfully drawn out and actor Wes Chatham absolutely nails this role to a tee.

The Expanse recently made TV history having been cancelled by Syfy then revived by Amazon Prime, following an astounding campaign by actor Cas Anvar and his PR team, and the fans who raised enough money to fly a #SavetheExpanse banner over Amazon's headquarters and launch a miniature 3d model of the Rocinante into space! It makes sense that Amazon Prime would bring back The Expanse because the space opera imagines a future that is much closer than we think, a world that visionary founder of Amazon Jeff Bezos often dreamt of.

The Expanse will go down as one of the great space operas to ever grace the small screen because of its incredible world-building, its genre-bending storytelling, and its soul, deep at the heart of the narrative. Amazon made the right choice to bring The Expanse back, hopefully it stays to tell its whole story.

-Kollin Lore

56. 13 Reasons Why
Where to start? This show was an absolute revolution on TV/streaming history, the following seasons have normalized it, to a degree, but nothing can take away the impact the first season had on so many people around the world. Hannah's story was deep, and hurtful, and sometimes misunderstood. And even then, it was proving to be the perfect portrayal of adolescence, showing how even the little things people tend to dismiss, can be felt so intensely, and even become a turning point, for someone else. To many, this was an invitation to explore their own pasts and feelings, to others, a reminder that our actions have consequences, and sometimes we can be unaware of the damage we are capable of inflicting upon others. And that, especially in this moment in time, is not something to be brushed aside.

-Luana

What are your thoughts on the rankings so far!? Please see below for Honourable Mention - 71!!

Again, links for below:

85-71
Comments


---
Bones (Honourable Mention)
*Editor's Note*
Bones received enough votes to place #99! However, upon further review, this 2005-2017 crime procedural drama has been deemed ineligible. Only shows that debuted before 2007 were allowed if they had aired the entire decade. Bones somehow fell through the cracks having gone through the team voting, the fan tiebreakers and the write ups before being noticed. Having aired a good chunk of the decade, it is only right to honour Bones instead of omitting it and thus, we bump it down two spots to Honourable Mention.
Bones started in 2005 and lasted a very accomplished 12 years, running until 2017. The main cast of the first season was comprised of Emily Deschanel (Dr Temperance Brennan/Bones), David Boreanaz (FBI Special Agent Seeley Booth), Michaela Conlin (Angela Montenegro), T.J. Thyne (Dr Jack Hodgins) and Eric Millegan (Dr Zach Addy). At this time, the only shows that involved science were the 3 CSI shows (of which I am also a fan) and it gave viewers a new perspective to your average crime procedural. Watching it myself, I found it easy to empathize and relate to the quirky nerds who worked at the Jeffersonian, since my childhood was spent as being the quirky and slightly awkward nerd who loved science. Each week, the show gave us a new, weird and wonderful/disgusting murder where the characters pursued the truth based on the scientific evidence. Bones and the Jeffersonian crew (squints) looked at the evidence, which usually included a completely ridiculous experiment from Dr Hodgins and Dr Addy and some awesome art from Angela. Booth and Bones would meet up at a coffee shop (at least 3 times per episode!!), discuss the evidence and by the end of the 45 minutes, catch the bad guy and solve the case.
The characters didn't always get on, mainly Booth and squints, but throughout the series I watched all their personalities and relationships develop and change, making them all a close-knit family who always came together at the end of each episode. I loved the way the BONES family wasn't filled with characters who were one dimensional or all the same but different with their own strengths and weaknesses, making every one of them loveably human. If you are looking for a show with well designed and developed characters, good storylines, interesting big bads and sometimes some educational science, then I will stop here and recommend you watch the pilot. Trust me when I say that you will not be disappointed.
- Sarah R
100. Southland
Southland
, from the first episode till the end, pulled you into this gritty, realistic representation of what it means to be a police officer aka cop in a large American city. The storylines were intense and you learned to care about the characters. The actors delivered every episode. Michael Cudlitz, who played John Cooper the veteran cop who passes along his wisdom to rookie cop Ben Sherman played by Ben McKenzie, was the heart and soul of this show. The supporting cast was just as powerful and included C. Thomas Howell, Regina King, and Shawn Hatosy to name but a few. The storytelling was not always pretty, but nevertheless powerful and real. One of the few shows real-life police officers didn't cringe watching.
- Gina Kern
99. Peaky Blinders
This was a show I never saw coming. A period crime drama about Irish gangsters didn't seem like my cup of tea, but boy was I wrong. Strong acting and just plain ole' great storytelling helped make
Peaky Blinders
one of the best shows on television.
As always, Cillian Murphy completely embodied the role of Tommy Shelby as did Paul Anderson as the crazy big brother, Arthur Shelby.
Though not large in stature, Tommy possesses the heart and courage you'd expect of someone ten times his size. His interactions and relationships with his family are what propels the plot. How the Shelby's react to their changing environment and the many enemies they collect keeps you invested in what will come of them.
Tommy emerging from the hall intending to run for Parliament had to be one of the best and most triumphant season endings I had ever seen. Luckily, more series are on the horizon to complete the story of the Shelby clan.
- NaomiAnna
98. The Knick
I love this show! From director Steven Soderbergh, this turn of the century medical drama only lasted for two seasons from 2014-15, but it left a lasting impression on me. Set in 1900 New York City at the fictional Knickerbocker Hospital, it was loosely based on the historical figure Dr. William Stewart Halsted.
Clive Owen portrayed Dr. John Thackery, a cocaine-addicted surgical genius who kicked his cocaine habit by picking up a heroin one. The supporting cast included a brilliant pre-
This Is Us
Chris Sullivan, Andre Holland, Juliet Rylance, Andre Holland and newcomer Eve Hewson. The cast was stellar as were the writing and visuals. I am a history buff which is probably why I was drawn to
The Knick
, but I was hooked from the first few minutes. It was like stepping back in time; Soderbergh's attention to detail was superb. The series covered many fascinating subjects such as: women's rights, or thereof when women were basically considered property, eugenics, an African American doctor trying to make a name for himself in 1900 NYC, abortion, discriminatory class system, the heartbreak of death during a time without vaccines or antibiotics, a Typhoid Mary esque story, early practices of medical hygiene (imagine your doctor not thinking it's important to wash his hands!). I was sad that
The Knick
ended after twenty episodes, but like another one of my favorites,
The Leftovers
, sometimes a show is so amazing that two to three seasons is enough. When I look at what has happened to
The Handmaid's Tale
after a disappointing third season, I am convinced of this more than ever.
- Claire Serowinski
97. The Man in the High Castle
The Man in the High Castle
is still Amazon's finest show. I still remember the feeling Season 1 gave me when I binged it. The world they created was unlike anything I'd seen before plus the complex characters were an instant draw. The character of Juliana Crane is by far one of the strongest characters I've ever seen in a TV show. You are constantly engaged with her story and her point of view. Her determination is powerful, you root for her no matter what. The acting on
High Castle
is beyond superb and it is a real travesty that it isn't being recognized by the award shows. Alexa Davalos & Rufus Sewell, in particular, are phenomenal, showcasing the vulnerability, strength and determination in their characters. Honestly, all the characters in
High Castle
are fascinating and each actor does a wonderful job bringing them to life. I've found myself, many times, to be enthralled by the intricate character layers/backstory. The mythology that is revealed with every season continues to be such an exciting and intriguing revelations, especially with the strong world-building (the set design team doesn't get enough credit for their talent). This story is just so well written, it always makes you understand the motivations behind a character's choice and it is also deeply engaging. The struggles the characters face still feel relevant, humanity is still there despite the circumstances. It is never black and white. That is one of the reasons this show is such an amazing show, it subverts your expectations on what you think you'd expect from the setting and situations. I know aspects of this piece of writing are vague but I feel like it is better to go into this show unaware of some things like I did as I enjoyed it that way. I'm truly grateful to have watched it and I won't forget it.
The Man In the High Castle
deserves more attention than it ever received and I am so happy to see it being able to conclude on its own terms this November.
- Nirat
96. You're the Worst
Love stories come in all sizes and shapes which is why
You're The Worst
is one of the most endearing shows of the decade. This show stepped in the mud of what happens when two imperfect people find each other and carve their own path to love and one's definition of happiness. Jimmy Shive Overly and Gretchen Cutler are a mess both together and individually, but who isn't? Through the show's 5 seasons the viewer was taken on a journey that made them feel like their imperfections are still valid and should be seen through the lens of scripted television. They tackled Gretchen's depression in a realistic and touching manner without the perfect bow of a 'cure' at the end. They showed that people are flawed and can do awful things to one another, yet still recover through understanding and devotion. You're the Worst was truly engaging and underrated television that stays with the viewer even after the screen fades to black and is well deserving of a spot in this list.
- TheTVGirl
95. Pretty Little Liars
Pretty Little Liars
wasn't just addictive, it was a literal obsession for millions around the world. If you didn't live under a rock, you must have heard about -A at least once. Not surprisingly this show ended up being one of the most watched teen dramas of the decade: it was visually stunning, it kept you guessing with its mysterious characters and it was able to build one of the biggest mysteries on television, while tackling important issues like bullying. Even though it was a murder mystery, the friendship between Aria, Emily, Hanna and Spencer was the core of the show. It is the love for these characters that made the fans stay no matter what, and we will miss them forever.
- Lip
94. Penny Dreadful
Showrunner and writer John Logan's ability to turn 19th century prose into modern television scriptwriting was nothing short of masterful. And to see the dialogue acted out with such captivating performances by an incredibly talented cast, including Eva Green, Rory Kinnear, Timothy Dalton, Harry Treadaway, Billie Piper, and Josh Hartnett, made this gothic horror show all the more magical to behold.
Chief among this cast was Eva Green as Ms. Vanessa Ives. Over the course of the decade in television, we had seen some incredible performances by actresses such as Tatiana Maslaney, Jessica Lange, and Viola Davis, but far often overlooked was Eva Green's revelatory performance. In
Penny Dreadful
we saw her portraying the duality of both this defiantly faithful and vulnerable Catholic woman in fear of the darkness overtaking her, and then this dastardly and insanely, possessed woman. It was simply captivating to watch Green seamlessly switch from one personality to the other. The highlight of the show was the only three scenes Green shared with Rory Kinnear's John Clare. The understanding between these two kindred spirits - one who is ugly on the outside, but has the soul of a poet, the other physically alluring but filled with darkness - evoked such raw emotion and at times, because their lives couldn't be any more different, heartbreak. Their interactions, though few and far between, really acted as the crux of what defined
Penny Dreadful
as a show - poignant, emotional, and deliciously provocative.
- Kollin
93. iZombie
iZombie
is a show that caught me, and many other viewers, off guard. I stumbled upon it by accident and was expecting a cheesy drama, but instead, I was left with a true appreciation for the characters and the world that it brought to life. The show recently aired its final season, and even at its weakest moments, the creativity and excitement of the show were still capable of holding my attention in a way that many shows cannot do. The show was a surprisingly delightful blend of crime, comedy, drama, and sometimes even horror. Unlike many other zombie-centric shows,
iZombie
managed to keep friendship and humanity at the core of its story which allowed for it to connect with viewers in a way that many of them never initially expected.
iZombie
has always remained self-aware and has never tried to be anything that it's not. Combine this with a well-rounded cast of characters, and you have the perfect recipe for an entertaining show where you're never left feeling unsatisfied.
- Sierra Schade
92. Star Trek: Discovery
Every bit as worthy of the
Star Trek
name as the more established shows among its franchise, Discovery is a serialised, big budget sci-fi extravaganza that doubles down on the insanity with trips to the mirrorverse, big space battles, double agents and Klingon Wars in its first season alone. The second season moves away from its Klingon-centric focus towards a more optimistic approach, featuring a young Spock and a pitch-perfect portrayal of Captain Pike by Anson Mount that sees Pike enters the ranks of one of Star Trek's greatest Captains, offering as the perfect counterpart to Jason Isaacs' duplicitous Gabriel Lorca. Performances from Sonequa Martin-Green as Michael Burnham, Spock's half-brother and de-facto protagonist alongside Shazad Latif, Michelle Yeoh, Wilson Cruz, Anthony Rapp, Doug Jones and Mary Wiseman brought compelling depth to this diverse and inclusive series that is clearly carefully plotted with each season following a different storyline across mostly serialised episodes. The investigation behind the identity of the Red Angel was one of the highlights of Season 2, and with the CBS All-Access series renewed for another season that looks set to move the series away from its current status as a prequel to the franchise, wrapping up loose ends in the process, now is the perfect time to get on board one of the best series currently airing.
- Milo
91. GLOW
I'm not a fan of wrestling but decided to check out
Glow
anyway, and am thrilled I did. It has everything - eighties nostalgia mixed with the dark side of the decade, including LGBTQ issues such as homophobia and the AIDS crisis. Bash's struggle with his sexuality is heartbreaking while Artie comes out after a hate crime, empowered by the horrific actions of others. It is a fun show to watch, although devastating at times and it deserves several more seasons.
- klutzy_girl
90. BoJack Horseman
BoJack Horseman
is a defining show for this generation. There is such depth in its humor, especially in the way it tackles the difficulty of dealing with depression and alcoholism through its central character. BoJack is a complex, flawed but very well-written protagonist. The way the show reflects Hollywood -- our obsession with it and the narcissism of everyone involved in the industry -- is fantastic. I love how the show takes real-life actors, movies, and situations and involves them in its world. The voice cast, especially Will Arnett and Amy Sedaris, is magnificent. BoJack Horseman is a show you don't expect to resonate with but it surprises you. Episodes like "Ruthie," "Time's Arrow," "Free Churro," "Yes And" are the biggest proof of how an animated show about talking animals will churn you emotionally.
- Saloni Gajjar
89. Longmire
I have never been particularly drawn to crime dramas nor series with a western feel so my immense love for
Longmire
took me by surprise. When I began watching the series off a recommendation of a family member, I was convinced I would need to force myself to continue watching. It only took one episode for the characters, the relationships, the storylines and the scenery to grab me and there was no looking back.
The cast feel as though they were made for their roles. Robert Taylor's portrayal of the silent, strong and morally good Sheriff Walt is one I will never forget. Katee Sackhoff as Deputy Vic and Lou Diamond Phillips as Henry Standing Bear also deserve equal praise for their amazing and emotional portrayals of their characters. The series is visually stunning and is accompanied by well selected music that often aids in driving the storylines. The characters are relatable and the relationships feel deep and well crafted.
Longmire
has a certain charm about it which comes from a mixture of compelling dialogue, tackling relevant issues with care and the slow but satisfying way the episodes introduce you to the characters and the world they reside in.
- Raina
88. Supergirl
The adventures of the Girl of Steel have had quite the journey. The show first aired in 2015 on CBS to critical acclaim but struggled in the ratings. The network and producers showed their faith in the show by moving it the CW network for its second season where the show gained footing and has grown into one of the strongest shows on the network. The move to the CW allowed the show to broaden its storytelling and address meatier storylines. It recently completed what many feel was its strongest season.
From the beginning,
Supergirl
was the show female superhero fans had longed for, a quirky Kara Danvers in her secret identity becoming the hero Supergirl. The show has the action comic book fans wanted. But it has something more, that intangible factor that elevates it to something special. What made and continues to make
Supergirl
a standout series was the casting of Melissa Benoist as Supergirl. The success of the show rests firmly and confidently on her shoulders. In four seasons, fans have watched Benoist's Kara and Supergirl grow from awkward girl into a confident woman and superhero. At the core of what makes Supergirl special is its heart, whether it be from the charming mentor/mentee relationship of Kara/Cat Grant (sadly Calista Flockhart departed the show when it moved its production from Los Angeles to Vancouver), or the warmth and support of friends.
However, there is no doubt that the very heart and foundation of Supergirl is the bond shared between Kara and her sister, Alex Danvers. The genuine sisterly bond of love and affection between Benoist and her co-star, Chyler Leigh as Alex, translates easily onto screen into Alex and Kara, easily making the Danvers sisters the most important relationship on the show. Since the first time they grasped hands in the pilot, moments between these provide the series some of its most powerful moments. The show illustrated just how powerful that bond was in the fourth season with a risky storyline involving erasing Alex's memory of Supergirl. Ultimately, their bond was so powerful it broke through showing that the Danvers Sisters are truly El Mayarah, stronger together. Add in the wonderful David Harewood as their father figure J'onn J'onzz and you have one of the strongest family units on television.
Another factor that makes
Supergirl
a standout is their courage in tackling difficult social issues. In four seasons they've tackled such topics as LBGTQ issues with Alex's beautifully told coming out story; immigration and hate crimes with the Agent Liberty storyline; racism with James Olsen; losing a loved one to dementia; women's rights and in season four became the first show to feature a transgender superhero with the addition of Nicole Maines as Nia Nal, Dreamer. One final factor in the continued growth and success of
Supergirl
is the show's respect and love of the comic book genre. They've paid homage to iconic comic book moments, brought in iconic comic book villains such as the marvelous Jon Cryer as super villain Lex Luthor, and brilliantly cast guest stars such as Lynda Carter, Carl Lumbly, Dean Cain, Helen Slater, Teri Hatcher, Laura Vandervoort and Kevin Sorbo, to name a few, all noted for playing other comic book heroes. Famous comic book fan, director Kevin Smith has even come and directed multiple episodes, publicly declaring his love of the show.
Supergirl
has grown into a show with quality acting, ambitious writing, movie level stunts and effects that deserves far more respect from the industry than it receives. The upcoming Season 5 will likely show that
Supergirl
continues to grow stronger.
- DJRiter
87. The OA
The OA
has been canceled way before its time, but Brit Marlings and Zal Batmanglij gave its viewers one of the most unique, genre-bending cosmic odysseys of our time. Starting out being about a blind girl returning home seven years later with sight, the series chronicles the mystical unknowns of the beyond, as it becomes a harrowing story about people being taken hostage for near death experience research only to transform into a love story that extends itself to the mystery of parallel universes! It visually was almost unlike anything else on television, willing to explore mysteries or conspiracies in the most surprising of ways! It also was very character driven, making sure the mysteries never took precedence over the heart strings that characters were often providing.
- Darthlocke4
86. Humans
Humans is one of the most realistic and raw sci-fi shows I have ever seen. Set in a parallel version of our familiar world where Synths are used in everyday operations, this show follows the story of two families trying to find their place in society. There is the Elsters - David, the creator of the Synths; Leo, his son who was turned half Synth after an accident; then Mia, Niska, Fred, Max, and Karen, the first Synths - and the Hawkins - your typical dysfunctional upper middle class human family who navigate their meaning in a world where work is autonomized. As Synths are found to have emotion, uprisings begin and human fear manifests.
Humans
is completely surreal and haunting upon first watch, but the second watch gives it such a different feel - moreso than most other shows. The characters reveal bits and pieces of themselves slowly and you get a completely different character in the end.
Humans
is one of the few shows I restarted the second time andd I finished watching. The show is so stunning and it is a crime it never got a proper ending.
- Zoé Fleury
85. The Good Fight
The world has gone insane and
The Good Fight
is here to remind you of that. And it does so brilliantly by incorporating the controversial US president as its main villain. Throughout its 3rd season, the show points out how dreadful it can be to live under the Trump administration. Two of the main characters, portrayed by the always fabulous Christine Baranski and the glorious Audra McDonald, even join an anti-Trump group and actively work toward getting him out of the White House. While the show was already excellent before it started, focusing on the disaster that is the current US administration, it got more relevant and more daring once it started commenting on real-life politics. There is an episode about the President's golden shower tape and an episode in which Lucca, a black lawyer, is accused by a white woman of stealing her very own baby. The show, in general, focuses a lot on race and on the inequality that comes with the topic. However, the series also clarifies that there are many different shades of grey between all the black and white: Diane Lockhart, one of the main characters, despises the president with every fibre of her being and is a member of the resistance group while her husband is actively working for the Trump family. Still, their relationship is not very much affected by their differing views. A plot further showing how life is really never just black and white is the storyline around the anti-Trump group. Over the course of season 3, the resistance group resorts to ruthless methods, not stopping short of killing people. The show is decidedly anti-Trump, but also makes it clear that not everyone fighting him is necessarily fighting the good fight. This show is a significant outlet of criticism that, in my opinion, should be protected at all costs.
-Julia Krassnik
84. Good Omens
Good Omens being turned into a show is said to be Terry Pratchett's dying wish. Based on the book that he and Neil Gaiman wrote 30 years prior, this show is about the end of the world going oh so terribly wrong. An angel and a demon become friends, the Antichrist doesn't really fancy being so, and John Hamm just wanted to be a part of it all. It is a wonderfully humorous story and is a delight to watch from start to finish. It's also quite unique in its way of telling the story. This show has started a lot of internet controversy (there was that one time a church started a petition to get it cancelled from Netflix, despite the fact that it was already over, and it was an Amazon Prime show) and inspired some incredibly passionate fans.
As a big fan of the books, I was jumping with joy from the moment the news came out. David Tennant and Michael Sheen was the most genius casting and just made me even more excited. The minute it came out, I went on a binge. It exceeded my expectations and I have rewatched it multiple times just to catch all the wonderful little Easter eggs. This is not a show to miss.
-Zoé Fleury
83. Mr. Robot
For as long as computers have been around, there have been cliche-ridden super-genius characters capable of using their television powers to hack into the most secure servers and systems in an instant. It is exceedingly rare to see this subject matter portrayed realistically, but that is exactly what showrunner Sam Esmail managed to achieve with
Mr. Robot
. Esmail's groundbreaking vision and direction rapidly elevated
Mr. Robot
into the top tier of television, and the series was very much deserving of its Golden Globe win in 2016 for Best Television Series - Drama, with lead actor Rami Malek picking up the Primetime Emmy Award for Outstanding Lead Actor in a Drama series in the same year.
As Elliot Alderson sets about dismantling the enormously powerful global conglomeMre, E-Corp,
Mr. Robot
brings with it a look and feel that's yet to be replicated since it premiered. Its cinematography is award-winning and truly unique, with my favourite example coming in Season 3's fifth episode, which was shot in a way that allowed the episode to be viewed as one long take. The series' sound design and the score are equally impressive.
A superb catalogue of supporting cast and characters keeps
Mr. Robot
engaging and thought-provoking, and that combined with some superb, dynamic storytelling and many of the other finer aspects that makes this series as well-regarded as it is, should be more than enough to convince someone that is interested in computer-savvy themes to give this series a shot. They won't be disappointed.
-Jimmy
82. Teen Wolf
It took me forever to try
Teen Wolf
. I had so many excuses for why I wouldn't like it: it was a teen show. It was on MTV. I was sick of werewolves. Luckily, I was finally talked into it and I was hooked from the pilot. Very few shows have pilots that move as quickly as
Teen Wolf
's did and yet it still took time to establish the characters and the all-important bromance of Scott and Stiles.
Teen Wolf
ended up being nothing like I expected. It was a quick-paced adventure story that never forgot that its heart lies in the relationships its characters formed to help them through the worst times and to celebrate the victories. Like Buffy before him, Scott had his core pack, each with their own talents and character development with the females just as likely to kick butt as the males. However, unlike Buffy, the parent and child relationships were equally important, especially as the series progressed. It was a shock to see how positively most of the parents were portrayed and the mutual respect shown. That's not something you see on most teen shows. Also, because of its usual 2-parts per season format, things that would take months to be revealed on other shows play out in 10 episodes so nothing feels drawn out, especially in the early seasons. While
Teen Wolf
goes from good to better in seasons 1 and 2, season 3 is where it really hits its stride. Season 3A had one of the best bromance scenes in 'Motel California' and developed its female characters more thoroughly, especially Lydia. Season 3B is still one of the most enjoyable seasons I have ever watched and it allows Dylan O'Brien to stretch as an actor, taking the beloved Stiles character from sarcastic best friend and lovable goofball to something much more raw and emotional. Overall,
Teen Wolf
is far better than I ever hoped it would be and I am so glad I took a chance on it. The adventures of Scott and Stiles and the rest of the pack are not to be missed.
-Dahne
81. Halt and Catch Fire
One of the best shows that nobody watched,
Halt and Catch Fire
is more than just an imitation of of
Mad Men
, first focusing on the computer industry in the 1980s but then evolving each season into something special. With a perfect lead quartet of Lee Pace, Kerry Bische, Mackenzie Davis and Scoot McNairy, this character driven storyline spotlighted the key role of women in the tech industry set against an instantly iconic era-defining soundtrack and theme song (curated official playlists are available on Spotify). Taking place between the first version of Microsoft Word in 1983 and the invention of the Windows 95,
Halt and Catch Fire
never questioned the audience's disbelief, keeping their expectations grounded and exploring the sacrifices that the characters have to make to run a tech company from the ground up. And what's most important of all is that
Halt and Catch Fire
kept its subtle, entrancing tone right all the way to the end, with the audience falling in love with the characters every season right up to a finale that at once manages to be both heartbreaking and incredibly optimistic.
-Milo
80. Salvation
As an alternative to repeat programming during the summer of 2017, CBS took a risk with Salvation, a 10-episode series based on the premise that an asteroid is going to collide with earth, bringing all life to an end in 186 days and there are only a handful of people that can save the planet.
Salvation
paid off for the network, big, with this high-concept series that featured some very impressive computer effects, and was surprisingly effective, considering it aired on CBS, a network not known for successful sci-fi series. It had an interesting premise, borrowing from the plot of the successful film,
Deep Impact
. While true, it was high-concept, this premise would not have been successful for a full series run but seemed perfect for suspenseful summer-fare. The pilot was well written, well-acted, and did an excellent job setting up the ticking clock for the end of the world, and it was smart. The whole first episode was the set-up, and introduced and positioned players on an intriguing chess board with just the right amount of conspiracy thrown in. They came to grips with the discovery of the asteroid and then made a series of moves as they learned to trust each other enough to work together to save the world. The cast was very appealing and had very nice chemistry together.
Salvation's
second season set out to prove the network's faith in this unique show was justified. And it did just that and more. From the very first episode of the second season, the show elevated its quality and storytelling giving their characters added layers, never letting up on the intrigue and intensity of the situation at hand and most of all, well-written and at times jaw-dropping twists. So yes, the show proved the network did the right thing in giving them a second season, but they did something else, they expertly used those same tools to lay out exactly why this show deserved a third season. Smart, intelligent characters and a well-written and gripping story. The final two episodes of the season and it turned out to be the series – Hail Marry and Get Ready - put an exclamation point on the biggest reason of all, a third season was needed because this wasn't the end of the
Salvation
story! Quite the contrary, this story was just getting started and it is this writer's opinion CBS made a mistake in letting it go!
-DJRiter
79. Chicago Fire
A show that sparks a decade defining franchise deserves a spot on the 'best of list' and that is what
Chicago Fire
is to the 2010s. As we have navigated the later 2000s, first responder scripted television seemed to fade to the background until 2012 when Dick Wolf decided to spotlight a City's heros through the perspective of firefighters and paramedics.
Chicago Fire
defines 'found family' through its heroic characters and engaging storylines. To put it in the 'procedural' box and move on would be a disservice to what the show did for NBC and the city of Chicago. We follow these characters and care about their heartache, journey and triumphs. Each fall it is like coming home when the engines roar and our fictional characters don their gear to go entertain and touch the viewer for another season. I am not sure when the mothership will close its doors as we move forward, but I sure am grateful for the ride
Chicago Fire
has taken us on thus far.
-TheTVGirl
78. Grace and Frankie
In a world where sexism and ageism are omnipresent -in particular in film and television- a show like
Grace and Frankie
is a gift from the (female) gods of television. Jane Fonda and Lily Tomlin dismantle one ageist stereotype after another and shine a light on what getting older really is like – the good as well as the bad. The entire cast has an exceptionally great chemistry, in particular Fonda and Tomlin who have been friends in real life pretty much ever since they were embryos. The show does not shy away from talking about sex beyond sixty and even built an entire storyline around vibrators. Furthermore, the series spotlights two gay men in their late seventies in a committed relationship and dares to let a woman have a relationship with a man who is about 15 years her junior. Show me another show that does that, I'll wait.
-Julia Krassnik
77. Community
Community
is a show that was ahead of its time and almost designed for the streaming era, despite airing for most of its life on NBC. It featured a host of recurring jokes and very subtle nuances that might only be caught while binge-watching. Backed up by a severely underrated cast, this show gave us Joel McHale, Ken Jeong, Alison Brie, Danny Pudi, and a pre-Childish Gambino Donald Glover. This show, like another NBC critical darling,
Superstore
, is one of those rare instances in television where a complete group of strangers with no apparent similarities can be friends and is actually believable. The best episodes were the most absurd, like the multiple paintball episodes and ones that suspend reality like during the Darkest Timeline. While it was never a smash hit during its initial run, the cult-like following of this absurd series is one that, like its fan base calls for, deserves SIX SEASONS AND A MOVIE!
-David Latimer
76. Dead to Me
Created by Liz Feldman, starring Christina Applegate and Linda Cardellini, this 30-minute black comedy will catch your attention since the very first episode. Filled with twists you never see coming, incredible performances by these two talented actresses and witty dialogue, this show is about Jen (Applegate), a widow who begins going to a grief group and meets Judy (Cardellini), who then become quick friends as Jen searches for answers as to who killed her husband, but it leads her to many shocking discoveries along the way. It also has excellent cinematography, and morally-grey characters for the most part. It has all the makings of an award winning show, and it already has been renewed for a season 2 (which is awesome, considering the big cliffhanger it ended its season 1 with).
-Alejandra Molina
I've always taken a liking to black comedies for depicting bleak subject matters in a rather unconventional way. That being said, I'm also sceptical towards such content because certain topics don't always land smoothly within the genre.
Dead to Me
, however, remains alluring for the fact that it carefully examines the difficulties surrounding grief through a rather disjointed friendship. Christina Applegate and Linda Cardellini's chemistry makes the rapport between their characters Jen and Judy believable as it Is embedded within pain and humour. Viewers become invested in their dynamic as we quickly realize that their unique bond prompts the two to persist amidst personal turmoil. The sunny yet vibrant Californian backdrop effectively created a stark contrast with the dark storytelling that unravelled throughout the season. Most importantly,
Dead to Me
placed Christina Applegate's talent at the forefront by probing deeply into Jen's emotional devastation through a variety of angles. This not only showcased Christina's range, but it solidified the fact that after 4 decades she remains a notable force to be seen onscreen.
William Koné
75. Russian Doll
Produced by Amy Poehler and the brainchild of Natasha Lyonne, I don't think it was a surprise that
Russian Doll
would be good. But I don't think anyone was quite ready for the head-tripping, time-looping, philosophically challenging genius that was this show's first season about a woman who keeps dying and waking up to repeat the day over and over, Groundhog style. Like most of the best shows dealing with the impossible, the series roots itself in the foibles of two regular people; computer programmer Nadia (Lyonne) and routine obsessed Alan (Charlie Bennett). It dug into all the messy things they wanted to hide from and why they were on such self-destructive paths before the universe (or whatever) decided to intervene, and forged a connection between the pair as the world literally disappeared around them. And that's on top of being surprisingly, darkly funny, with the recurring deaths (and attempts to avoid them) often twisted into effective morbid humor. It is one of the most original series in recent memory and made it onto this list after only one season. I can't wait to see what it does next.
-Jennifer Panzera
74. Orange Is the New Black
Though it wasn't even Netflix's first original series, it does feel like "Orange Is the New Black" – based on Piper Kerman's memoir of the same name about her experiences in a minimum-security women's prison – was the first show of our modern Binge TV era, the one you cleared your schedule for the day it dropped and watched as many episodes of as you could before your eyes drooped shut. While it began as the fictional Piper's fish-out-of-water story, its core of characters quickly expanded out into an impressive ensemble diverse in age, race, and sexuality. The show also had an incredibly deep bench; a side character could seamlessly slide into the main narrative without it feeling contrived. "Orange Is the New Black" also deserves accolades for the way it balanced its comedic and dramatic elements, both in the themes of individual seasons as well as within episodes. And while it wobbled in later seasons, the show always remained topical, as we saw with the immigration focus of the last season. Finally, its influence is felt on-camera and behind-the-scenes in the shows we love today – "GLOW," "Russian Doll," and "The Handmaid's Tale" to name a few. So if you've never seen it before, as the theme song goes, you've got time. And it's well worth the time.
-popcultureguy (PC)
73. The Bold Type
This show is the perfect example of a new way to portray young women as fully fledged out characters, with their strengths and their flaws, it has all the ingredients to be an entertaining show we could've categorized as a rom-com, but it decides to tackle real, deep issues, women everywhere have to deal with every day, going from discrimination to sexual assault, and yet, it still manages to maintain the entertaining factor and show one of the best female friendships on TV right now. We can only hope for more shows like this one in the future.
- Luana
72. Leverage
I am a massive fan of heist movies and finding a show that does a heist every episode, it was a dream come true!
Leverage
started in 2008 and had five beautiful years before ending in 2012. The cast is composed of Elliot Spencer (Christian Kane) the hitter, Alec Hardison (Aldis Hodge) the hacker, Parker (Beth Riesgraf) the thief, Sophie Deveraux (Gina Bellman) the grifter and Nate Ford (Timothy Hutton) a former insurance investigator now the brains of the operation. Together, each episode, the team pulled off awesome and ridiculous cons on the episode bad guy/girl/company while bickering like old married couples. Each season expanded on the personality and backstory of each character, giving you (the audience) a chance to connect with each of them. All the characters worked so well together, the chemistry between them made everything – the action, the comedy, the drama – just flowed perfectly and in the end made this show one of my top ten shows to recommend to people even if they aren't heist fans. Altogether it made for some high action and hilarious comedy each episode, especially when nothing went according to plan. I would highly recommend
Leverage
to anyone, even more so to those have enjoyed the Ocean's trilogy and/or Ocean's eight or enjoy
Robin Hood
with a modern twist.
-Sarah R
71. Justified
This show centred on US Marshall Raylan Givens (Timothy Olyphant) who has a past that he just can't seem to get away from. After his unorthodox and generally violent methods land him in hot water, he finds himself sent back to Kentucky and embroiled in the criminal goings on of his hometown, Harlan. The series was based on a series of books by Elmore Leonard and was helmed by Graham Yost. The dialogue and acting were really terrific and the storylines maintained their excellence throughout the entire run of the series. The series also starred Walton Goggins as Boyd Crowder and old friend of Givens now turned adversary. Goggins should have received multiple awards for his performance and he is one of those "villains" you just keep pulling for. Margo Martindale did receive an Emmy for her run as Mags Bennett and Jeremy Davies won one for his portrayal of Dickie Bennett. It's a modern wild west - complete with Givens ever so present and much beloved Stetson. This show really had it all - great writing, great acting, terrific storylines, and wonderful cinematography.
- Lisa