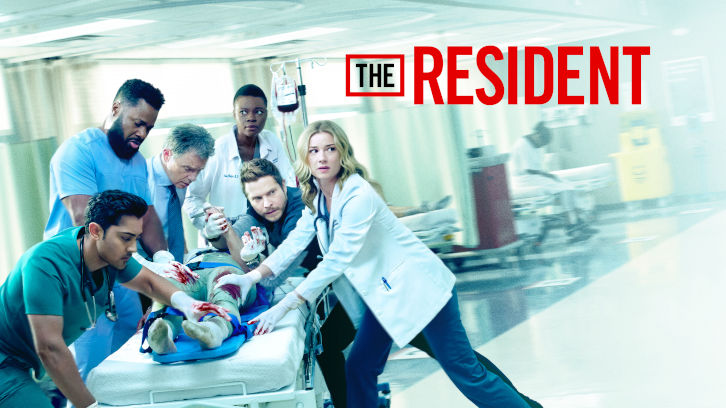 This week's episode's premise promised some high intensity which I feel wasn't completely delivered. « Saints and Sinners » started off with a car chase, and could have continued with a heart pumping, stress inducing episode. The urgency of the hostage situation somehow fell flat throughout the hour. Still, a lot happened in this episode to move the story forward and despite the clumsy way they followed up the detectives arrival at the hospital, it was still a good episode.

A city wide car chase ended at Chastain. Not knowing, that the driver was a police man, Conrad had the emergency room locked and the patients evacuated. The uncertainty only lasted a few seconds before both the detective and the criminal, impaled on a metal rod, were being treated in the emergency room. The criminal needed to survive; he was the only chance of locating the hostage. I personally felt like the urgency of the situation and the fact that some one's life was on the balance could have been far better utilised. The detective seemed to be working alone on the case despite there being many uniformed officers in the hospital, none of them pushing for answers, so I did not feel as much pressure as I should have.


"Saint's, Sinners and everything in between; we treat them all. It doesn't matter what they've done before they come through our doors." -Devon
Treating a murderer brought the question of treating everyone equally to light. Devon doesn't care who his patient is, he doesn't treat him any differently. He doesn't endorse Conrad's actions to save the hostage: torture. Devon believes that maybe the criminal will have a change of heart. He believes it, despite the fact that the man wouldn't even save his own daughter from a life threatening condition. That's pretty cold.
In another wing of the hospital, Nic spent some time on Cain's service. The neurosurgeon is impressed that she has won her game of chess against Bell and managed to re-open the free clinic. He wants the best, so he mandates her to do his pre-ops for the day. When Nic realises one of his patients might have been scheduled for an unnecessary surgery, she tells Cain who doesn't appreciate her not trusting his judgement. Later proving her patient's ailments could be treated with medication in lieu of surgery, Cain needs to cancel the surgery. This means thousands of dollars that will not be billed, which the neurosurgeon is not happy about.
"It should come as no surprise that I want to offer you a permanent position on my neurosurgery staff." -Cain
Nic tells it as it is, and Cain does not seem to appreciate this quality to her, or does he? He's hard to follow. He even told the patient how he wasn't the one behind her diagnosis, which shouldn't be something someone with such a huge ego would do. Still, despite her stopping the surgery, he still wants her on his service. I personally did not understand their dynamic here at all. I understand wanting the best on his service, but wouldn't their different approach to patient care only cause friction? He is one tough one to follow.
Saint & Sinners had us witness an operation including Cain and Austin, with Nolan as their third pair of hands. As they are scrubbing in, it is easy to see how the both surgeons have big egos. Neither one will let the other step on his toes. They both want the lead. This dynamic could have had dramatic consequences in the operating room, but when the patient started coding, all took their respective places and helped out one another. It's great to see that their egos are not more important than the patient. By the end of the operation, they seem to have some new found respect for on another.
"Well done Dr. Number One." -Cain
Bell's storyline was mostly unrelated to what was happening at the hospital; he was off doing his own thing. Grayson is back in the picture, and I had not realised how much I had missed him. I love the relationship he has with Bell. Bell convinces Grayson's rich father to invest in a supplement company, a company that will showcase his name. Bell had refused to invest in the company in the name of Chastain, he said he wanted to protect her from Red Rock, but is that really the case? I still don't if Bell is trustworthy. Is he? I believe the partnership between the three stakeholders of the company will be interesting to watch.
In the end, there might be more to Jessie's death than initially thought. It was good of Conrad to have told Nic right away. This way, he is avoiding unnecessary drama. When Conrad's patient drops dead after his tests came back negative, and he was about to be discharged, he learns from the morgue that 6 more patients who have had dialysis at Chastain have died in the past month from pulmonary embolisms. We did not get to witness Nic's full reaction to the news. It's hard, but she seemed willing to continue digging deeper, even if it was surely going to hurt.
All in all, the episode was good, but it could have been a lot better. I give it a 6.5/10.