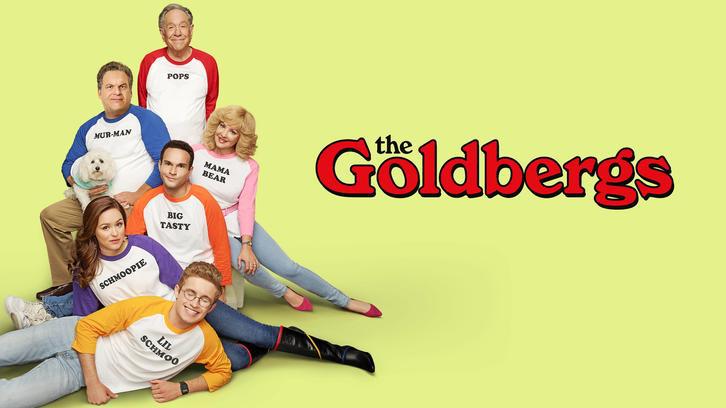 With Adam now being an upperclassman, that means it's time to start thinking about colleges. Of course, with only Adam at home now, Beverly is there to over-help with the decisions, including creating a vision board for Adam to hang over his bed. Let the smothering begin.

Meanwhile, Geoff's decision to take a gap year is starting to annoy Erica because he spends most of his time sitting in her dorm room with nothing to do. She tells him to find a purpose and she pushes him onto his friend group, JTP, to make it happen. Together, they decide to start a food delivery service (an 80's version of Postmates).

With a new school year comes new and tougher teachers. Adam, much like myself, is used to being the creative and visual learner, so he's accustomed to making video projects for school in lieu of writing papers. Adam's new teacher, Mr. Woodburn, says no to Adam's proposition and tells him to write a 1000 word essay on Sandra Day O'Connor. But Adam has a plan. He decides to exploit his mother's need for Adam's love by having her act as his "study buddy," when in reality, she will actually write the paper for him.

Geoff's new business, Food in a Geoffy (great name), is an immediate success. There are a ton of customers and a lot to manage. Unfortunately, JTP turns out to be horrible employees, with most of the food being eaten before it gets to the customers, and the business turns a very small profit for the workload. Even the "President and CEO," Barry, is causing problems by spending all of the profits on things like golf clubs. However, Geoff insists to Erica that the business is great and that finding a purpose is what's most important.

Adam gets his paper back from Mr. Woodburn and gets a C grade. Confused by this, he asks why and Mr. Woodburn points out multiple spelling, grammar, and factual inaccuracies in the paper. It turns out that Adam didn't give the paper a final read before turning in his mother's work. When he shows the grade to Beverly, she goes full smother mode and confronts the principal and his teacher about it. Unfortunately, this reveals to them that she in fact wrote the paper, which makes the punishment even worse. Adam now receives an F on the paper for cheating and is suspended for two weeks. Beverly protests the punishment and another option is presented of having Adam sit on the traditional "shame bench" outside the nurse's office. Adam would prefer the latter, but Beverly decides she'd rather spend two weeks teaching Adam so the original punishment stands.

Erica takes Geoff out to a movie to help ease his stress from the business. This proves to be unsuccessful, as even the popcorn she buys for him triggers stress from the job. Barry enters the theater and tells Geoff he needs to leave because a customer (Murray Goldberg) was given the wrong order and he needs to fix it. He leaves immediately and must find out where Murray's cheesesteak was mistakenly delivered. After visiting several customers (all of which are former cast members of Cheers as part of ABC's Cast from the Past week), Geoff finds out that one of the customers (played by Kirstie Alley) got the sandwich and ate it. Murray still insists that the problem must be resolved.

Beverly sets up a schedule for Adam during his suspension and it's just Adam and Beverly time (with snuggle breaks included). Adam protests and reveals that he tricked his mother into writing the paper for him and that he doesn't want to spend time with her because she's become more overbearing than ever.

Adam takes the "shame bench" punishment instead and insults are hurled at him from teachers and students alike. Even Beverly is there to throw in a few jabs. He then apologizes for tricking her and she apologizes for being overbearing. He asks why she was even pushing for college and she says it's all they could do together now that Erica and Barry are gone. She can't promise not to push or do his work anymore, so Adam says they can no longer be study buddies, but he will need to take study breaks so she can be there for him then.

Erica tells Geoff she is shutting down the business because it is causing Geoff so much stress. He says that he has to keep the business because he was bothering her so much but she insists that seeing him so stressed was worse and that they will help find his passion together.

In the end tag scene, Beverly serves the Food in a Geoffy customers (the Cheers cast) beer while they make small talk and callbacks to their former characters. It's a brazen marketing tool but we're all suckers for nostalgia, even if the cameos were completely irrelevant to the story.


What did you think? Did you like the Cheers cameos? Leave a comment below!