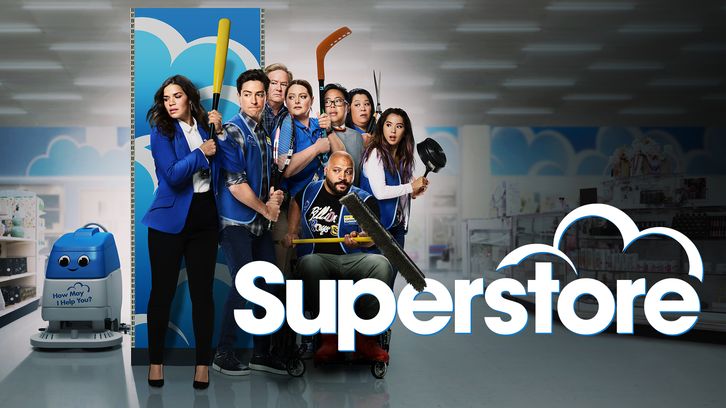 The latest episode of Superstore starts off with an age-old question: do the raccoons have keys or are they breaking into the store? My bet is they have keys, swiped during Glenn's reign as store manager. Can I propose an animated spinoff about the Cloud 9 raccoons and their secret lives in the store? NBC, feel free to email me.

In the first few minutes we also learn that Carol is taking some time off for personal reasons. Everyone agrees that it's really because of Sandra and Jerry's engagement. The employees wonder which one she's going to Gone Girl. I'd say both better watch out.

In happier engagement news, Dina is Sandra's maid of honor, a pick more down to a lack of alternatives rather than actual friendship and affection. Dina lays down the law on her MoH duties right at the beginning: she has a list of things she must do and she will not deviate from that list. So says the international network (aka, the internet). The list is silent on the matter of engagement parties, so Dina is adamant that she won't be throwing one.

Sandra thinks that Dina is just playing coy, and gets increasing excited for what she believes will be a surprise engagement party. She even gets a new store polo for the occasion. Jonah, feeling bad about the disappointment Sandra is in for, decides to host a party himself, which incurs Dina's wrath since it'll make her look bad for not throwing one herself.

While it was sort of funny to see Dina make Jonah eat an entire cake himself, this plot was the second one Dina has been involved in this still-young season that seemed off. Last week it didn't make much sense that she'd follow Marcus' crazy schemes to break Mateo out of detention and this week she was way too mean. It's like she's regressed as a character back to her season one portrayal, where she was written more like an antagonist for Amy and Jonah. The subsequent seasons have made her more likeable, and while she's always been gruff and exasperated with Sandra, the level of her disdain in this episode doesn't feel natural to the character's growth.

The two other story lines of this episode fare much better. Cheyenne is clearing out Mateo's work locker since even if he does get out of detention he won't be able to return to work. Glenn, whose locker is near the floor and bending down there is using up the last 100 of his knee bends, asks to switch to Mateo's old locker. But Marcus also wants the locker and since he's already living in Mateo's house and has formed a bond with Mateo's tiya it's only fair that he also takes over Mateo's locker.

Cheyenne needs to be convinced who to give the locker to, so Glenn and Marcus try to outdo each other with competing sodas (Marcus' inclusion of a Snickers bar obviously wins) and tickets to Disneyland. Unfortunately for Glenn and Marcus, Cheyenne has no authority to assign lockers and just wanted free stuff. But we do learn that Marcus once had a spider's nest removed from his stomach and that he was able to keep the spiders. And now I've got that scene from Alien in my head.

The main story line has Amy trying to get testimonials for Mateo to help him get out on bond and out of detention. Mateo's lawyer tells Amy that her statement that Mateo is an important part of the store isn't enough; he's representing a Nobel prize winner who probably won't be released.

Unfortunately the Cloud Niners don't really have that many good things to say about Mateo. He doesn't give any F's, which isn't that unique since Sayid also doesn't give any F's, and he's sort of mean. So they decide to fudge the truth, which leads to Justine telling the lawyer that Mateo donated a liver to her ("Give that vino to me-no!"), but the lawyer is unconvinced.

When Amy mentions in passing that the ICE raid was corporate's way of shutting down the union talk the lawyer tells her that immigration checks can't take place during labor actions. They just need proof of corporate's misdeeds. Jeff, recruited by Amy to offer a testimonial for Mateo, turns out to have been present in the meeting where that authorization occurred, but he's unwilling to go on the record and risk his job - he just bought a third Subaru and that thing ain't paying for itself.

Jeff comes around when Cheyenne luckily brings in the box of Mateo's things from his locker and Jeff sees a photo of he and Mateo from when they were a couple. Moved that Mateo kept it, he decides to go on the record. We learn that Cheyenne's entrance maybe wasn't so lucky - the photo is from Jeff's profile picture and the entire thing was staged by Amy and Cheyenne to pull at Jeff's heartstrings. And it worked!

The episode ends with all three plots colliding in a way that had me, surprisingly, tearing up a little. Dina finally agrees to an engagement party but it's going to be the next day at 7 am at the store and Sandra has to provide everything, including real glasses. We cut to Sandra showing up to the store on her day off, all dressed up and looking awesome, to find everyone already eating cake. But then Mateo is revealed - he's out of detention! Sandra grabs him in a big hug as he tries to apologize for taking over her party and I'm smiling and sniffling like a bag of mushy feelings.
The show ends, and my sniffles increase, with a dedication to Linda Porter, who played Myrtle and who passed away this week. Rest in peace, Ms. Porter.
Odds and Ends:
Favorite blink and you miss it moment: Glen the Robot is back!
Employment update: There's a new Cloud Niner, Euguene, and he's super excited to scrub the walls.
Foreshadowing or throwaway?: Jerry gets attached to Garrett after Garrett shows him the tiniest bit of human decency. Jerry even asks him to be his best man, with the bachelor party at Dollywood (I'm so jealous right now. Dollywood is on my bucket list). Garrett doesn't answer but he and Dina as best man and maid of honor makes too much story sense; he's got to do it.
Favorite quote: "I once ate a pencil because I thought it was chocolate."
Who else is glad Mateo is back? Any guesses on his role since he can't work at the store anymore? Leave any comments below!