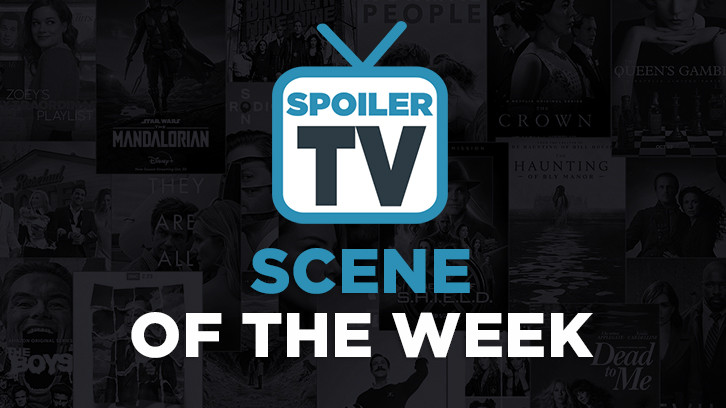 A weekly feature in which we're trying to find the most compelling, best acted, written, directed and just generally great, memorable scenes that we've seen in past seven days on TV.

9-1-1, "Sink or Swim", September 30, 2019, Actors: Jennifer Love Hewitt, Debra Christofferson, Sterling Sulieman and more, The Scenes: Maddie's call with Jonas & Sue hangs up on a call
Abby: The tsunami finally hits and we see all the devastation it causes. The show cuts to a scene already in progress: Maddie on the phone with Jonas, who is trapped in his attic in quickly rising water. It's a short but powerful scene as it rollercoasters from worry to hope to despair. When the line drops Maddie only has seconds to mourn, gather herself, and then go on to the next call. Sulieman's portrayal of Jonas, with a sense of humor present even in the worst situation, elevated a quick appearance into a more memorable scene.
Jennise: I strongly agree with Abby about Maddie's scene with Jonas, but this scene pushed me over the edge. As Maddie gathered herself for the next call after losing Jonas I began to wonder how anyone does that job and remains emotionally centered. Any job in the medical and emergency fields for that matter. Then we got this small scene with another operator arguing with Sue about hanging up her phone. The operator can't bring herself to hang up the phone, to give up on the possibility of saving someone. She just can't so Sue has to disconnect the call. The operator goes to take a break....how do any of these people return to their desk after days like this? It was another powerful scene in an episode loaded with them.

EVIL, "177 Minutes", October 3, 2019, Actors: Mike Colter, Michael Emerson, The Scene: Leland appears as David prays
Laura B: Micheal Emerson is doing such a great job at playing one of creepiest characters I have ever seen and I also knew the minute that he was cast that he would be a delight, particularly opposite the stoic and collected Mike Colter. So far, it has been just that, an absolute delight! What I really loved though about this scene was both the way David's little attic apartment looked and was filmed, the Kings have never really done anything quite so atmospheric, but also of course because we don't know if Leland in this scene is a figment of David's imagination or if Leland is the devil incarnate after all and has astral projected into David's space of prayer.

GREY'S ANATOMY, "Back in the Saddle", October 3, 2019, Actors: Caterina Scorsone, Chris Carmack
The Scene: Link and Amelia talk in the Green Room
Luana: I loved how these two opened up to each other, and though I don't trust life to be that perfect he said the perfect things to her. It only makes sense they would be scared out of their minds. Actually, in today's world, you're out of your mind if you're not scared of something, but I'm glad they got to be open and honest and they got on the same page about it.

NCIS, "Into the Light", October 1, 2019, Actors: Mark Harmon, Cote de Pablo
The Scene: Ziva and Gibbs talk
Klutzy girl: I loved their confrontation at the end of the episode, where they both laid out their pain, and Gibbs admitted he didn't look for her because he was afraid of finding out she was actually dead. I haven't watched in years but I'm so glad Ziva's back and have enjoyed her episodes.

NCIS: LOS ANGELES, "Let Fate Decide", September 29, 2019, Actors: David James Elliott, Catherine Bell
The Scene: Harm and Mac reunite
Klutzy girl: Although this didn't quite turn as planned, especially since I waited over a decade for them to appear in a spin-off, it was so nice to see them again. The hug was amazing and it was so great to see them together again, despite my overall disappointment in the storyline. I've definitely missed these two.

NEW AMSTERDAM, "The Big Picture", October 1, 2019, Actors: Ryan Eggold, Anupam Kher, Freema Agyeman, The Scenes: Vijay and Max talk on the roof & Helen tries to comfort Max
Justyna: Max spends the entire episode trying to take care of everyone but himself. He comes up with an idea to get to know his colleagues better, all in an effort to try to improve their life and work. Throughout the hour we see dr. Kapoor's attempts to check how Max is doing despite Dr. Goodwin clearly avoiding him and the conversation that he can feel is coming. Eventually Vijay finds Max on the roof and does his best to express how worried he is about his friend and offer some comfort in his time of need. He does that by sharing the details of his own experience with grief and the way he was able to keep the memory of his wife with him for all these years. I always enjoy listening to his stories. The way Anupam Kher portrays his character in those moments makes them truly memorable to me. This heartfelt confession helps Max to open up about his own pain and that's when things get really heartbreaking. The fact that the one thing that everyone in the hospital appears to be missing is time clearly hits Max harder than he allows himself to admit. By the end of the episode he manages to "solve time" for so many people who will get to rest and spend more time with their loved ones. But for him... time, time with his wife, time spent together as a family with their child, is also the one thing that Max can never get back. His friends are worried that Max pretends that nothing happened and refuses to grieve but the truth is much sadder than that. Max simply can't let go and deal with his grief because he has to stay strong for his daughter. He's all she has now and everything he does is for her. Ryan Eggold is truly wonderful in the scene. He makes the viewers feel and understand all the emotions that his character is struggling with. Holding on till the breaking point. It's beautiful to see kindness and support between all the great characters on the show and this scene is another proof of that. Kudos to cast & crew for all their work.
Luana: It's nice that Vijay opened up to Max, but once again it was Ryan Eggold who stole the show, you can just see how broken he is but he can't even think about it or he won't be able to get up from the floor. I know eventually we'll see him break down, but for Luna's sake, I'm glad it's not now.
DJRiter: On the rooftop where Kapoor talks to Max about grief by telling him how he started cooking all of his wife's recipes to keep her close after she died. A very touching moment beautifully played by both actors.
Naomi: Dr. Sharpe tries to comfort Dr. Goodwin. In an elevator alone for a moment, the two doctors are in an intimate space. Helen takes the opportunity to reach out to Max about the accident and the death of his wife. She apologizes for earlier saying he was lucky and then gently encourages him to lean on her if he needs to grieve. Max insists that she stops bringing up the accident and reveals that what he wants most is to not discuss his wife's death at all. It is so hard to watch Max as he tries to keep going knowing there is a gaping hole in his life. All of his colleagues see this hole, but Max is not ready to allow them to help him begin to fill it.

SANDITON, "Episode 1.6", September 29, 2019, Actors: Rose Williams, Theo James, The Scene: Charlotte and Sidney dance
Laura B: In wonderful Jane Austen fare, our two love interests finally dance! And also true to things that pertain to Sense and Sensibility, there is a love interest from Sidney's past, recently widowed, coming to ruin everything for Charlotte's newfound romantic feelings. I'm captivated by the Colonel Brandon's ex, but with his daughter's name, Willoughby, and Miss Gray mash-up here! The dance itself though was exquisite! Beautiful choreography, beautiful ballroom, and tantalizing smoldering acting! Well done!

STUMPTOWN, "Missed Connections", October 2, 2019, Actors: Cobie Smulders, Jake Johnson
The Scene: Dex tells Grey about Benny
DJRiter: In a flashback to the time when they were first getting to know one another a rarely vulnerable Dex tells Grey about Benny and about how he joined the service to follow her and then was killed. This was some great work from Smulders showing even more layers to her complex character.

SUPERSTORE, "Testimonials", October 3, 2019, Actors: Nico Santos, Kaliko Kauahi and more, The Scene: Mateo reunites with his coworkers
Sierra: After a heartbreaking season four finale where beloved employee Mateo was detained by ICE, we were finally able to see him reunited with his fellow coworkers. The moment was a complete shock. As Sandra entered the break room for what we expected to be her engagement party, the crowd broke and we saw that Mateo had stolen her thunder in the best way possible. Seeing Sandra and Mateo hug in the break room surrounded by all of their coworkers who were equally relieved felt incredibly rewarding. There's still a lot to go before Mateo is completely off the hook and free once again, but after watching him get detained and seeing him behind the glass wall at the detention center, this scene felt like a well-earned first step.

THE AFFAIR, "506", September 29, 2019, Actors: Anna Paquin, Michael Braun, The Scene: Joanie talks to EJ at his apartment
Laura B: Anna Paquin did such an amazing job all throughout the episode, as her character finally had the episode to herself. A lot of people online don't seem to understand or appreciate this storyline or character, but I think if you ever listened to Fiona Apple's incredible folklore-like theme song at the beginning of each episode, one might understand that this was always a multigenerational story, about a dying woman reaching out to the beyond to some child created by tragic circumstances. For the immediate story, it's about the consequences of Noah's and Alison's affair and how far-reaching those consequences are. Joanie's future signifies the erosion of truth between fact and fiction, as she's on a journey of self-discovery through learning the truth about Alison's death and who she really was. This episode just gave The Affair its soul back! I ultimately chose this scene, because it's where Joanie chose to talk about herself and ultimately explain herself to EJ and the audience alike.

THE GOOD PLACE, "A Girl from Arizona" (Part 2)", October 3, 2019, Actors: Kristen Bell, Ted Danson, The Scene: Michael helps Eleanor with her doubts
Justyna: Eleanor has been doing her best to stay strong and try to manage the impossible situation that she found herself in. This girl from Arizona has suddenly become responsible for the one and only chance to save humanity. Considering the gravity of the problem it's no wonder that all the ideas she has tried so far haven't been all that successful. She's already feeling worried and discouraged when her friends confront her about the recent failures and start to question her leadership. It's her breaking point and all she wants is to quit and leave the decisions to someone else. When Michael finds her she expresses how truly lost, scared and heartbroken she feels and Kristen Bell is absolutely wonderful in her performance. It's all too much for a normal girl from Arizona who had a hard time managing her own life and now finds herself responsible for everyone. Fortunately Michael is far from the demon we met back in season one, he has become a true friend of Eleanor and he genuinely wants her to succeed. That's why he tells her something about their story from his perspective, about more than 800 times that Eleanor has beaten him in a task that was meant to be just "a breeze" for him. He admits that as much as he tries he'll never be able to truly understand what it means to human being and he tells his friend all the reasons why she's the only person that can do this impossible thing and actually save them. All she has to do is to keep trying, no matter how many mistakes she makes along the way. I absolutely love these two together. The friendship between Michael and Eleanor has become one of my favorite parts of the show and this scene is yet another example why. Kudos!
Klutzy girl: Michael talks Eleanor down after she tries to quit. I love their relationship, and how he reassured her that she, a girl from Arizona, is the only one who can do this.

THIS IS US, "The Pool: Part Two", October 1, 2019, Actors: Justin Hartley and more
The Scene: Kevin talks to JD
Luana: Justin Hartley was just great here, seeing how lost he feels about his life, how no matter how much he's accomplished it all feels hollow somehow. That moment he describes how easy it is being told what to do and then once again having to go back to being himself and making his own choices, that sight was absolutely heartbreaking. Just wonderful work by Hartley.