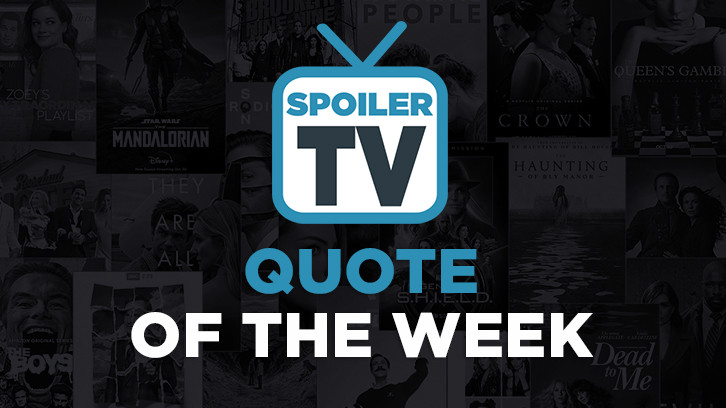 A weekly feature highlighting the best quotes on TV as picked by the SpoilerTV team. We'd love to hear your picks too so please sound off in the comments below.




American Horror Story
-
1. Brooke: "You're an actor?" Xavier: "Yeah. Not one of those happy to get a role on a soap opera or a Coca Cola commercial types. I'm a serious actor. I trained with Stella Adler. I'm method." (Prpleight)
2. Trevor: "I bet myself I'd bang her by the end of the summer." Chet: "How does one go about making a bet with themselves?" (Prpleight)
3. Trevor: "Also, if you look closely at the end of the opening credits of Three's Company, when John Ritter and the girls are on bikes near the boardwalk, you can see me in the background. Shot it right in front of my condo." Ray: "I love that show." Madison: "No. No. No. Wait, you were in the Jane Fonda Workout video." Trevor: "Originally, yes. First row. Right next to Miss Fonda herself. I call her Jane." Brooke: "I've seen that video a bunch of times. You're not in it." Trevor: "Not in the one that went out to the public. We shot the original for two days, but when they tested it with an audience, they realized I was pulling focus from Jane. Well, a certain part of it was." Madison: "That thing was flopping around like a baby elephant's trunk." (Prpleight)
Bluff City Law
-
1. Della: "That girl grew up with a hero for a father, a hero she found out was all too human. Every time somebody told her how lucky she was, think how that pulled her apart to keep your secrets behind that beautiful smile. Elijah, you're my friend and I love you, but don't be an a**. You helped build that wall around her and you will keep knocking it down."
2. Sydney: "Edgar is my client. It's my job to find him justice. Everyone likes to talk about how this kind of work is noble or rewarding, but what they don't tell you is, if you lose, it destroys you."
3. Della: "How bad?" Anthony: "Two hours. She's been here 2 hours and already she's upended 2 years worth of work."
Carol's Second Act
-
1. Carol: "You think that's intense. Try teaching 40 ninth graders how to dissect a frog. You'll find out who the serial killers are." ~So very true.
2. Carol: "Look, the patient's wife called me in here. You know I think there's something more going on with him." Daniel: "Oh my gosh, do you? Did you crack the case?" Carol: "Yes, by listening. I'm a regular Angela Lansbury." Caleb: "Stop talking about your friends."
3. Carol: "I was trying to help…" Dr. Jacobs: "You can help by following orders." Carol: "Yes, I made a mistake, but I…" Dr. Jacobs: "Dr. Kinney, this isn't about one mistake. This is about you. Being a doctor is not an item to check off your bucket list. Someone who can't follow orders is someone who can't be a good doctor." Carol: "I don't even have a bucket list. I have a vision board."
Fresh Off the Boat
-
1. Jessica: "Honey, this may come as a surprise to you, but I'm not very good at accepting help. Mostly because I never need it." Honey: "Never." Jessica: "I'm just so used to being able to give you advice and you just taking it. But now that you have 2 kids of your own, which is still one less than 3, I guess you'll have advice to give me too sometimes." Honey: "So can we be friends again?" Jessica: "Yes, just know that 98% of the time I won't need any help." Honey: "Well, I'll be there for that 2%."
2. Marvin: "If this is a game, then The English Patient is a war movie. It's been 90 minutes and no one has scored."
3. Louis: "United States vs China in the World Cup final. I'm going to forget all about this in 24 hours, but right now this is my world."
The Goldbergs
-
1. Murray: "Your mom worked her a** off to plan you a great vacation and I didn't know why, but damn it, I do now." Beverly: "Murray, what are you saying?" Murray: "I'm not sure about the future, but right here, right now, there's no amount of money I wouldn't spend for my family to have a great vacation." Adam: "Dad's suddenly thoughtful. He must have banged his head in the accident." Beverly: "Are you serious?" Murray: "To keep this family together, I would spend every last penny."
2. VO: "We finally made it to the Happiest Place on Earth, and as magical as it was, thanks to my mom, I realized the best part of the Goldberg vacation was the journey. To this day, we still travel as a family. Of course, it never gets easier, but I wouldn't trade it for the world."
3. Adam: "Star Wars just opened a ride there. It's called Star Tours. You get to travel to the forest moon of Endor." Beverly: "And I Endor you. Boop!" Adam: "Even you can't ruin this. Star Wars teaming up with Disney is just so big."
Killjoys
-
1. Del Seyah: "I'm never going to be nice, but I'm going to try to be good." (Prpleight)
Magnum PI
-
1. Higgins: "Okay, what is your obsession with me becoming your partner?" Magnum: "What obsession? It's not an obsession." Higgins: "Oh please. Pushing and pushing at me. Why is it so incredibly important?" Magnum: "You want me to tell you what's important?" Higgins: "Uh, yes. Am I being too subtle?" Magnum: "I think I'm better at my job with you than I am without you."
2. Higgins: "You know, when I was first getting to know him, I thought this job was just a paycheck for Magnum, or a diversion, but I soon realized that he genuinely wants to help people."
3. Katsumoto: "Let's get our roles straight. I investigate crimes and clear suspects." Magnum: "And I…" Katsumoto: "Get in my way."
Perfect Harmony
-
1. Arthur: "This is a generation of delicate snowflakes and terrible chair duckers."
2. Arthur: "Oh, you do have sarcasm here. What's next? Bagels?"
3. Arthur: "If there is a reason for me to keep on living, you have to send me a sign. (Hallelujah Chorus starts playing.) No, no, no, no, no, no. This will not be the last thing I hear on earth."
4. Arthur: "Open vowels. You've heard of vowels. They're the things that Pat Sajak makes you pay for."
Prodigal Son
-
1. Jessica: "Camomile should help...and if it doesn't, I have pills. Relax, they're practically over the counter. I have anxiety meds and mood stabilizers, even some quaaludes stashed from the 80's, although I would rather not share those unless it's really an emergency or a very good cocktail party." Malcolm: "I'm afraid pills alone will not fix what is wrong with us." Jessica: "If you take enough they will."
2. Malcolm: "I know you're helping him." Martin: "My drawings. H-How did you get those?" Malcolm: "From our killer. Who is he? Why are you helping him?" Martin: "I'm not." Malcolm: "Of course you are. You drew these for him. They're proof." Martin: "No, they're from my study. Journal 19, top shelf." (Malcolm checks) Martin: "See. They were stolen. I've been robbed. This is an outrage." Malcolm: "Three women have died." Martin: "Sure yes, that's an outrage too. There can be multiple outrages." (Raina and Dahne)
3. Malcolm: "Next time you call someone crazy, ask for their gun first."
Schooled
-
1. Wilma: "Okay, you clowns are dismissed. Go disappoint some other teacher." ~Oh for the power to be this honest in education today.
2. CB: "Still going strong like Brad and Gwyneth." Coop: "Brad and Gwynnie are Splitsville." Glascott: "But they got the same haircut." ~I laughed so hard at this because I can still picture this People cover.
3. Tom Scott: "I got a C- on my anatomy test. That Operation game is very misleading."
Single Parents
-
1. Miggy: "That man IRL ghosted you and you never got a reason?" Poppy: "We all know the reason Miggy. It's because I asked him out. That's all it took to set his old fashioned brain on fire and send him running into the night." Miggy: "I can't believe you actually had to go through that." Poppy: "Thank you." Miggy: "And now I'll have to go murder Douglas." Poppy: "Wha...no, no, no, no, no. Just leave him alone. You know that fact that he has to live the rest of his life as Douglas is punishment enough." Miggy: "Okay, but only because you're a Queen, an icon, a survivor." (Prpleight and Dahne)
2. Angie: "I'm sorry that I let an email ruin our summer. It's just...I'd be writing it, you know, ripping him a new one and then, I don't know. All this deeper stuff started coming out. Like, you know, how hard it was having a baby on my own and how to this day, I still half-expect everyone in my life to just walk out on me. It's why I can't bring myself to send it. I never want stupid Derek to know how badly he hurt me, ever."
3. Poppy: "Why didn't you tell me?" Douglas: "Because I didn't want you to think of me as a weak old man." Poppy: "So you wanted me to think of you as a jerk instead?" Douglas: "A lot of people already think of me that way. See 'jerk' is kind of where I live." Poppy: "Look buddy, if we're gonna do this, you're gonna have to work on your big boy communication skills."
Stumptown
-
1. Took: "Hey, hey, keep it down. Someone hears you and it's death by Yelp."
2. Hoffman: "The boyfriend said that you forced your way into the motel and took Nina against her will." Dex: "She's 17. She's not allowed to have her own will."
3. Dex: "Yes, okay. That's water and power, folks. Now we play for beer and cable."
4. Miles: "Miss Parios?" Dex: "Yeah." Miles: "Detective Hoffman, PPB. Can you tell me what happened here, ma'am?" Dex: "Listen, I already told two other cops the whole story, so I don't really feel like I need to get into it." Miles: "Okay, but the thing is, see, kidnapping is pretty serious business, so you'll probably have to tell a few more of us down at the station." Dex: "Nah, I don't think so." Miles: "Excuse me?" Dex: "As long as she's out there, I need to be looking for her. The station is up, FYI, not down. I don't know why people say that." (Raina)
Sunnyside
-
1. Garrett: "You know, when you're born in America, you never really have to learn how lucky you are. I don't want to take that for granted anymore. If you'll have me as your teacher, I'll learn whatever I have to. I'll help you with the paperwork. I'll help you study. I'll know the Constitution better than...the guy who wrote the Constitution."
2. Garrett: "How would that even work? I look nothing like either of you." Jun Ho: "Oh no, no, no. It's fine. Our dad has this guy. He can make anybody look like anybody." Mei Lin: "He's like Picasso with a scalpel." Garrett: "Yeah. Nobody wants to look like a Picasso so I'm gonna go ahead and say no to that one."
3. Mei Lin: "Why can't this be like high school? Whenever we had trouble, our dad would just have one little conversation with our teacher and we'd get all A's." Hakim: "He bribed them?" Jun Ho: "Hakim, I wouldn't call getting your family back a bribe, but sure." Brady: "Yo guys, it's becoming clear your dad is a legit supervillain."
The Unicorn
-
1. Delia: "You see how bad it's gotten around here." Forrest: "I see." Delia: "It's like the Disney Channel version of Grey Gardens."
2. Grace: "Hey dad, can Andrew and I spend $5.95 to buy another Fortnite skin?' Wade: "Oh Grace, come on, you know better than that. Just spend the extra $2 bucks and get something practical like the shield potion or the bouncer trap." Delia: "Oh my God, you should not know that."
3. Wade: "I don't really know who I am anymore, so whenever I do this, it can't be because of the tragedy in my life."
Young Sheldon
-
1. Sheldon: "He found human contact revolting." Mary: "Well, that's kind of a lonely way to live, don't you think?" Sheldon: "Well, he wasn't entirely alone. At the end of his life, he became good friends with a brown pigeon." Mary: "Great." (Julia)
2. Sheldon: "You think I have mental problems?" Mary: "Well, not problems. I'm just worried about your future, and when I see you moving subatomic particles around in the air, that makes..." Sheldon: "Subatomic particles are real! You talk to an invisible man in the sky who grants wishes. If anyone's mental, it's you." (Julia)
3. Sheldon: "My mother believes I'm mentally unstable. And since there's a genetic component and I'm her child, I suppose it's possible." (Julia)