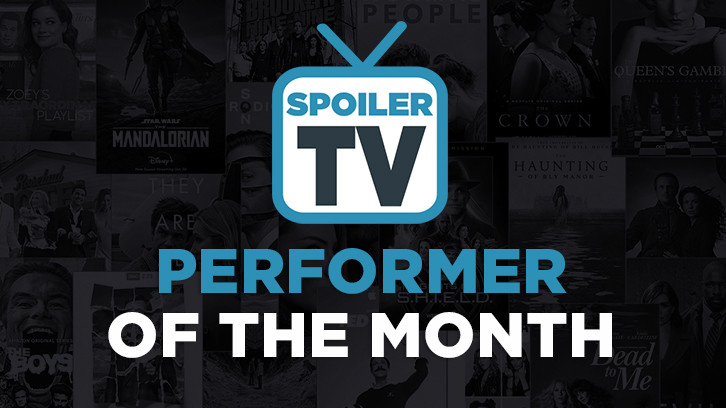 Results:

This proved to be a very memorable round of this feature. For only the second time ever we have a singular winner who also left a historic mark on the feature.


9-1-1's
Oliver Stark becomes only the second ever performer to win the honor of being called both the Readers' Choice and Staff Choice winner for his portrayal of Evan "Buck" Buckley on the hit FOX series. He joins
Grey's Anatomy's
Camilla Luddington who was the first to claim the joint title earlier this year. Not one to be outdone, he fought his way into Performer of the Month history in his own right by becoming the first ever performer to win for two separate episodes. Our staff nominated him for
Kid's Today
(3x1) while our readers nominated him for
Sink Or Swim
(3x2). His performance was so impactful, memorable, and compelling that he quickly soared to the top of both polls. While he had incredible competition he never lost the top spots once he gained hold of them. His portrayal of Buck struggling to deal with the fallout of his injury from last season mixed with his astounding heroism as he fought to protect Christopher (Gavin McHugh) and dozens of other victims of the tsunami left an indomitable impression on the audience. Stark's performances in these two episodes won't soon be forgotten. It takes a truly unprecedented performance to secure both titles of this feature and he did that with ease. For all these reasons, and all that will be covered in his winner article, Oliver Stark is SpoilerTV's Readers' and Staff Choice Performer of September.
The winner article for Oliver Stark will be up later this month. In the meantime please feel free to use the comments section below to discuss him and all of his amazing fellow nominees.
Original Post:
September saw the return of all of our favorite shows and the introduction of many new ones. From all of the amazing performances delivered throughout the month, the performers in the below poll were nominated. They are some of the best of the best and it will be very fun and interesting to see who will prevail.
Now it's time to determine who will be our September Readers' Choice Performer of the Month. The results will remain hidden for the duration of voting. The results of this poll and the Staff voting will be revealed after the poll closes.
2018 Staff's Choice Performer of the Year: Sandra Oh
2018 Reader's Choice Performer of the Year: Alycia Debnam-Carey
January Winners:
Readers' Choice: Jared Padalecki (Sam Winchester) - Supernatural
Staff Choice: Andre Braugher (Captain Raymond Holt) - Brooklyn Nine-Nine
February Winners:
Readers' Choice: Jensen Ackles (Dean Winchester) - Supernatural
Staff Choice: Hale Appleman (Eliot/The Monster) - The Magicians
March Winner:
Readers' and Staff Choice: Camilla Luddington (Dr. Jo Karev) - Grey's Anatomy
April Winners:
Readers' Choice: Matthew Daddario (Alec Lightwood) - Shadowhunters
Staff Choice: Jodie Comer (Villanelle) - Killing Eve
May Winners:
Readers' Choice: Tom Ellis (Lucifer Morningstar) - Lucifer
Staff Choice: Chyler Leigh (Alex Danvers) - Supergirl
June Winners:
Readers' Choice: Suranne Jones (Anne Lister) - Gentleman Jack
Staff Choice: Jared Harris (Valery Legasov) - Chernobyl
July Winners:
Readers' Choice: Alycia Debnam-Carey (Alicia Clark) - Fear The Walking Dead
Staff Choice: Nicole Kidman (Celeste Wright) - Big Little Lies
August Winners:
Readers' Choice: Hannah John-Kamen (Dutch/Aneela) - Killjoys
Staff Choice: Cara Delevingne (Vignette Stonemoss) - Carnival Row
Please remember that a performer can only win once in 2019. After that win, they will be ineligible to win again in 2019, but they will secure a spot in our year-end Performer of the Year contest.
Now comes the hard part where you can
only vote for 1 performer
. The poll will be live until
Friday, October 11th at 6 pm ET
. After you vote be sure to make a pitch in the comments section for what the performer you voted for most deserves to win.