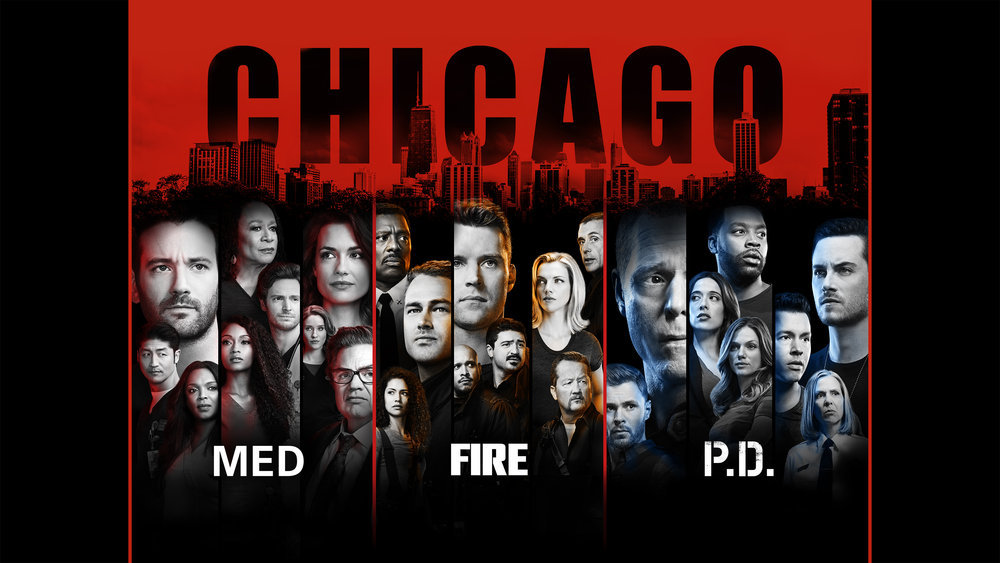 The annual One Chicago crossover event has come and gone but it was quite the eventful night! The three shows worked together to stop the citizens of Chicago from being infected by a mega bug. With an event this big, you know we just had to do a roundtable review! Myself (BW), Jessica (JV) and Ellys (EC) discuss all things infection and once you read our thoughts, please drop your own below!

How did you feel this Crossover stacked up against others they have done in the past? Did the premise of an infection level crisis raise the stakes like never before?

JV:
I thought this crossover was pretty good. The stakes were definitely high as the entire city was at risk and could get sick at any moment. But my favorite crossover was where they caught Shay's killer, and I don't think that any other crossover can compete with that one.
EC:
Though I've watched parts of Chicago Med and Chicago Fire over the years, this was my first One Chicago Crossover. I watched these three episodes as if they were a movie, and it was a very good movie. The nature of the infection (shudder and pass the Purell) set up the stakes nicely; it also seamlessly incorporated characters from all three shows into all three episodes for the most part.
BW:
I felt that this was probably one of the better events they've done. They mixed it up and didn't have a fire that was suspicious, but instead showed other things first responders must work together on. The idea that a killer in the form of an infection that we can't see made things very intense and intriguing.
Having all three shows on the same night seemed to make things flow better again this year. Did you feel a difference in tone when they switched over at the top of the hour between shows?
JV:
I liked that all three shows were on the same night. I honestly couldn't tell a difference in tone between the three hours, and I enjoyed that it felt like a three-hour movie instead of three different shows.
EC:
Having this crossover spread across more than one night would have been awful. The episodes are a package deal that needs to be watched in one sitting. Putting all the Chicago shows on one night is one of the smartest decisions NBC has ever made.
BW:
I will echo the sentiment that having all the shows on one night was a great choice by NBC. That is even more evident when the crossover comes along. I didn't feel a change in tone at all and that is what makes this event feel so special. The cast and crew have clearly become a well oiled machine over the years when it is time to do this. It makes it more realistic that these three divisions of Fire, Med and PD would work in lock step in a situation like this.
Character interactions between the shows are a big part of these events, who did you enjoy seeing interact and whom do you wish would've shared more screen time together? Are there any characters you wanted to see more of?
JV:
I always like when Boden and Voight interact. They both have strong personalities but will fight to protect their team. Their relationship is very different from when Chicago Fire first started. I also like it when the Halstead brothers team up. I wish we could have seen Burgess more with the Fire characters especially Casey (since he's one of my favorites). And, of course, I'll always miss the Dawson siblings and their relationship.
EC:
I've seen more of Chicago Med than anything else, but I haven't seen the past couple seasons so I wondered why this Connor 2.0 doctor was getting all the screen time with April and not Doctor Choi. That said, I enjoyed the interactions within the existing units the most, although Natalie and Hailey's connection felt like a real friendship to me that I would look forward to more of. Speechless's Kyla Kenedy's guest arc as Autumn was a highlight too.
BW:
I think the thing I loved about this one was the opening scene with all of them just hanging out at the Bears tailgate. Usually they start interacting after all hell has broken loose but this time we got to see them with their hair down a bit outside of their respective shows and Molly's. I loved the Halstead brothers working together and being concerned for one another. We have lost the Dawson siblings but still have that familial touch with Jay and Will. I do wish that the three leaders in Goodwin, Voight and Boden could have had some significant screen time as a trio. I also loved Matt and Jay playing catch in the beginning, but that is all we got of them together and I have always wanted them to work together in a bigger capacity. For characters I wanted to see more of, that would be Casey. I just felt after the initial discovery, they didn't do much with him and they could have. I also wish we got more some of the
'secondary'
fire characters at the tailgate.
If you have dropped any of these shows in the past, is there anything that piqued your interest to return to the ones you no longer watch?
JV:
I still watch all three shows, but I've been considering putting Med in my binge pile. This crossover really didn't do anything to change my mind especially since Maggie (my favorite from Med) wasn't in the episode very much.
EC:
After this crossover, I want to watch more episodes of Chicago PD this season for sure, and I will certainly be checking in on Chicago Fire. Those team dynamics appealed the most to me, and there seemed to be more characters within those two shows while Chicago Med largely just focused on the same 5 characters. I am half-tempted to tune back in to Chicago Med if the Natalie/Will thing wasn't still being dragged out.
BW:
Nothing about my decision to no longer watch MED changed here. I am just not attached to those characters at all. I will say that seeing the PD crew did make me miss them, especially that final showdown where Jay almost infected himself. It reminded me how invested I used to be in his character and still am. I also remembered what a great impression Hailey had made on me when I dropped the show and her interactions while in quarantine were wonderful, so maybe I will return to PD and reignite that love I used to have for the show thanks to Hailey and Jay.
On the romance front, did this crossover plant the seeds for good things to come for some couples as they continue on in their own contained show? What were some of the cute moments you enjoyed? And on the opposite side, is there trouble in paradise for some?
JV:
I thought the scenes between Mouch and Platt were cute. I hope we get more scenes between them especially since they are the only successful couple from different shows. I'm also somewhat surprised P.D. is revisiting Ruzek and Burgess. I think if they're going to be a couple again, this should be it. No more one-night stands or teasing us with "will-they-won't-they". It'll be interesting to see if this relationship is continued.
I feel really bad for Cruz. Talk about kicking a guy when he's down. His best friend died, and now Chloe broke up with him. I thought those two were solid so I'm kind of confused about what happened. I'm also wondering if the writers did this to set Cruz up with someone else? I guess we'll see.
EC:
How could Chloe (Kristen Gutoskie) break up with Joe (Joe Minoso) when he was going to propose that very night? I honestly expected them to circle back to that story during the crossover, and something about it didn't feel right. On the total opposite end of things, Chicago PD's Officer Kim and Officer Adam escalated their relationship to the hand holding and going home together stage, and what little I saw of their chemistry seemed really cute. Not Stella and Severide on Chicago Fire levels of adorable and perfect but it's too early for that. I was very distracted during the Chicago Med parts because sometimes I got the sense that April was flirting with Connor 2.0 which felt weird. And while I liked the dynamic Will had with the CDC lady, I'm not about to get invested in it!
BW:
Trudy and Mouch were adorable as always, they always bring the light and steadiness in situations like this and I am grateful for their marriage in this universe. Next we have the absolute adorableness of Severide and Stella. The fact that he said
'our'
kids and grandkids when talking about growing old together was swoon worthy. Gone is the bed hopping Kelly of the past now that he has the right woman by his side! Of course I have to mention Burgess and Ruzek. I have loosely followed what has been happening with them because I used to be so invested in their relationship until it turned messy. I hope this isn't just a one-night stand never to be spoken of again. It is obvious these two will always circle back to each other, so the writers need to make a concrete decision and stick with it this time.
On the sad front, poor Cruz! It felt so abrupt and cruel given the fact that he just lost his best friend. Was this because Kristin Gutoskie got another gig and can't come in every few episodes? Or was there something else that is yet to be revealed? Time will tell.
Any other stray thoughts you'd like to share about this one?
JV:
My first thought while watching this crossover was that it was weird to hear Al Michael's voice during a TV show instead of during a football game. I thought Upton was really good with the younger girl in quarantine. She kept her calm while everyone else panicked and escaped. I'm glad that they were able to kill Seldon before anyone else, especially Halstead, got infected.
EC:
A very thrilling set of episodes. The ticking clock, the evacuation ,the chilling empty street, the tense showdown at the end, all the great character sequences fighting fires and putting together clues! The scene with the people trapped in the laboratory was especially intense. I genuinely thought they might not be able to save them. A brilliant TV event all around.
BW:
This crossover was one of the better ones they've done. It did drag a bit in the middle while they nailed down who did this and what the pathogen was, but they picked it up at the end to have a great conclusion. I do wish we had one big group shot a Molly's at the end but some of them were busy *cough* Ruzek and Burgess *cough*. These events are appointment television every year and I love that this is a legacy they are building for the franchise. I also wanted to say that shot of the empty Oktoberfest parade route was wonderfully shot! It added to the tension, but I felt a bit bad for the citizens of Chicago who probably had their route interrupted to get that shot. All in all I am very pleased with this one and will be more vigilant about breaks in my skin just in case.
That is it for us, Chi-hards! What a thrilling event that felt movie-like. Now it is your turn.... What were your thoughts on this one. Drop a comment below and thanks for reading!